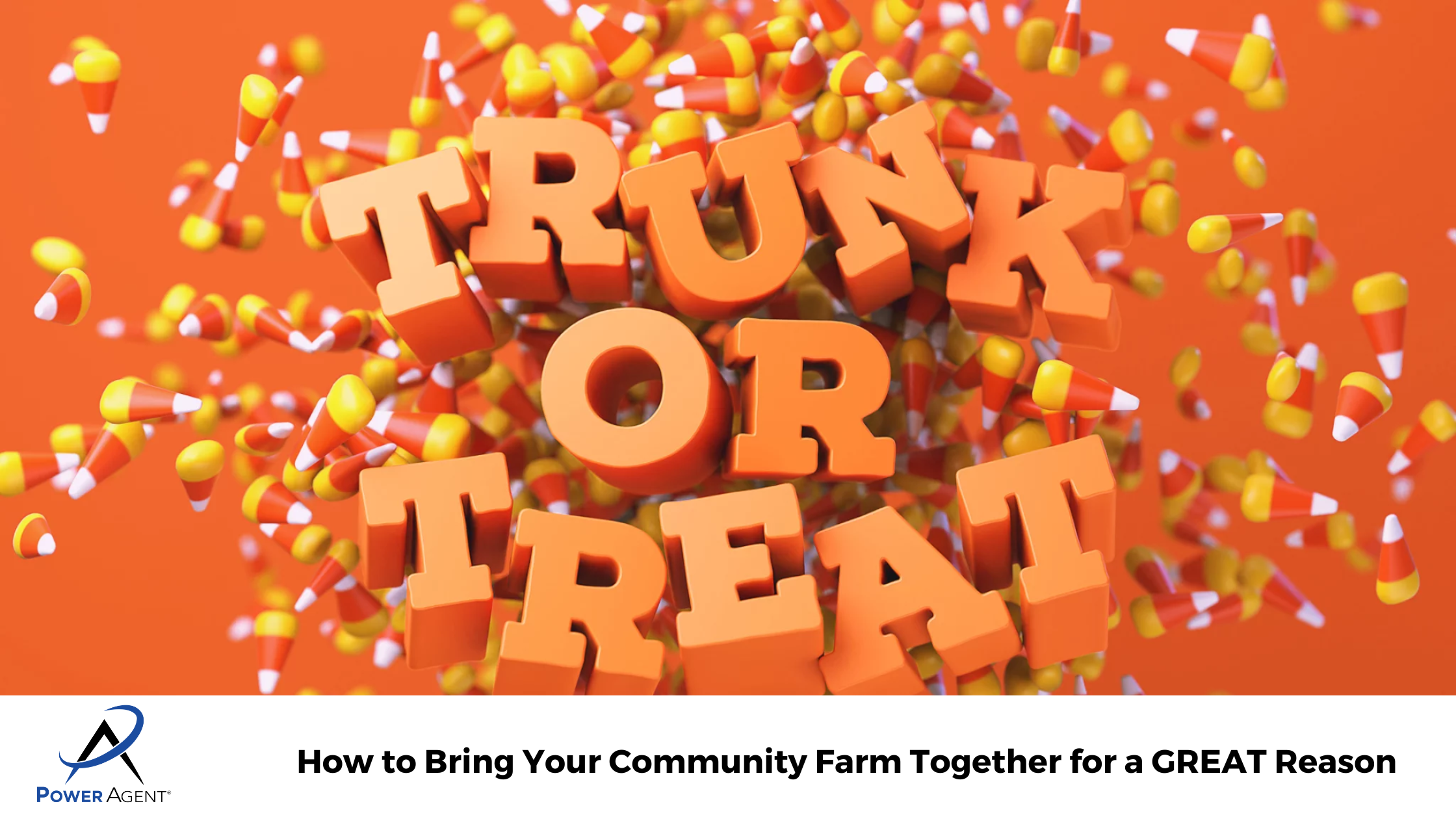 August 30, 2021
Trunk or Treating
How to Bring Your Community Farm Together for a GREAT Reason
Ever been to a Trunk or Treat?
These awesome events bring community members together for fun and celebration — and also keep kids safer during the Halloween season. I got together with my business partner, Julie Escobar, about what we can do to help agents this season. We LOVED the idea of real estate agents hosting or sponsoring this classic Halloween event, especially for agents who are already branding themselves as Neighborhood Specialists in their market area. It's the perfect time of year for your farm to come to YOU instead of the other way around. And it helps kids. How's that for a win-win?
Julie is a former PTA President many times over — so kind of like that Farmer's commercial, she knows a thing or two, because she's seen a thing or two. So she dove into the project with that experience in mind and helped us to create something that I think is really special.
As you may know, we're all about three things in this company:
Helping agents design careers and lives worth smiling about. We have a lot of fun – on our coaching calls, live events, in our Facebook group, in our office — the works. Because a life without laughing is — well —  not much of alife right? I like to say that S.T.R.E.S.S. in our business is a reminder to Stop Taking Real Estate So Seriously. So, how can we help? By delivering the tools, training, and coaching that help you succeed with more ease, less stress, and a lot more joy. By taking some of the fear out of prospecting, negotiating, and farming — and substituting it with results-producing strategies and skills.
Helping coach agents to move their mindsets and skillsets from selling to serving. This is a huge difference-maker. The shift in how you communicate and interact with buyers, sellers, and past clients is almost immediate. Agents tell us that they feel more authentic, confident, and empowered when they approach their business and business base from a place of service rather than trying to always "sell" something in a world where people just don't want to be "sold".
Kids. For those of you who know my story – this is a no-brainer. Helping children in whatever capacity we can is a priority for our organization. It's why we started a charity specifically to give back to kids that need help. As real estate agents, what you do has a profound effect on families. By helping people find and own homes – you help their children have a better future. It matters — a lot. We thought this idea of a trunk or treat was a fun way to take that up a notch!
So, that's our WHY! 
Now, the what. Some of you may have not ever even heard of a trunk or treat! Let alone, have any idea why hosting a trunk or treat as a real estate agent would be good for your community, kids — and your business!
Let's break it down for you!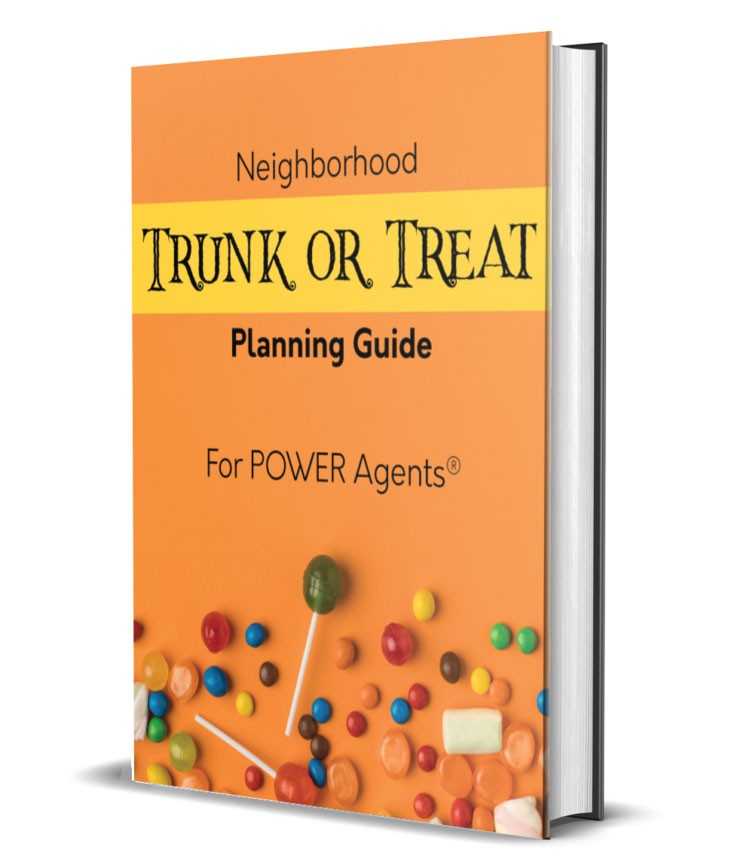 This long-time church and PTA staple is a hit!  A Trunk or Treat is a family-friendly, community-minded event that creates a safe environment for children to trick or treat during the Halloween season. Parents, organizers, community members, and families all come together in a parking lot, decorate their car and truck trunks (and fill them with treats), get in the spirit by putting on costumes, then letting kids "trick or treat" by going from trunk to trunk to fill up their pumpkins, candy bags — or as we've all seen — pillowcase!
It's like a tailgating party for Halloweeners! 
Often, organizers will have simple carnival games, raffles, food, cotton candy, face-painting, contests, and more "festival" type activities as well to make the event even more special for the kids!
As an individual real estate agent, team, or even an entire office, this is a great way to create a positive connection with the families in the neighborhoods you service.
OR – you may wish to contact the PTA Presidents of local elementary schools to see if they are looking for sponsors for an event of their own!
Either way, there are a lot of moving parts, so gather yourself a committee and get started early!
To help, we've prepared this 14-page Trunk or Treat Guide for you to walk you through the process!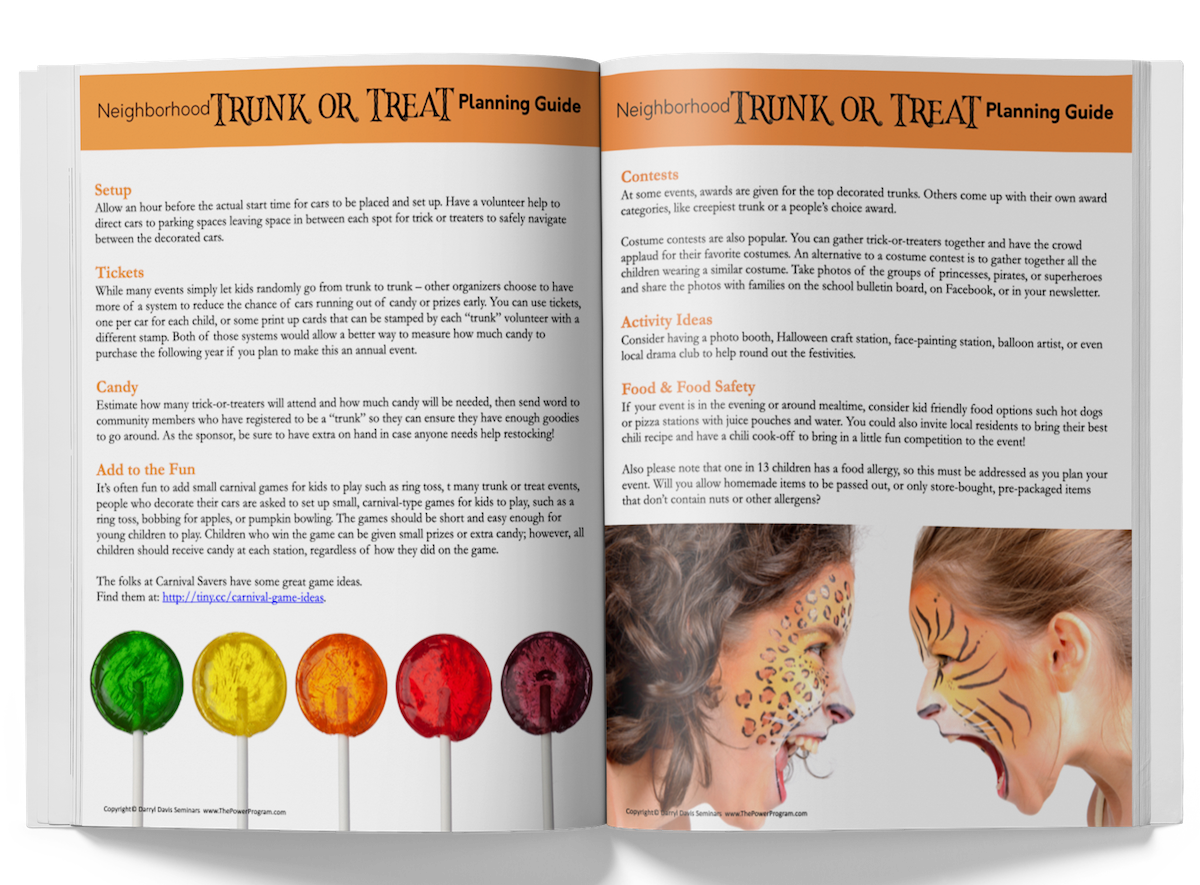 It includes:
A step-by-step guide to organizing a Trunk or Treat
Easily customized flyers
Copy and paste – easily customized letters
Checklists
Example photos
Volunteer sign up forms
and more!
Take your Neighborhood Specialist game to the NEXT LEVEL and start organizing this fun TREAT of an event for your farm and sphere! 

Not a Power Agent? Click here to get your copy!
Not yet a Power Agent®? Did you know that for less than a dollar a day, you can have access to hundreds of marketing, prospecting, and objection handling tools – live weekly coaching, podcasts, webinars, and more?  In fact – we'll give you the first 30 days for just $5! Start your Power Agent® trial and have total access to every tool we have including letters, dialogues, training tips, webinars on demand, eBooks, and marketing tools.
If you're ready to have everything you need to handle whatever the market tosses your way — get started today! 
Need help? Contact our team today at (800) 395-3905!