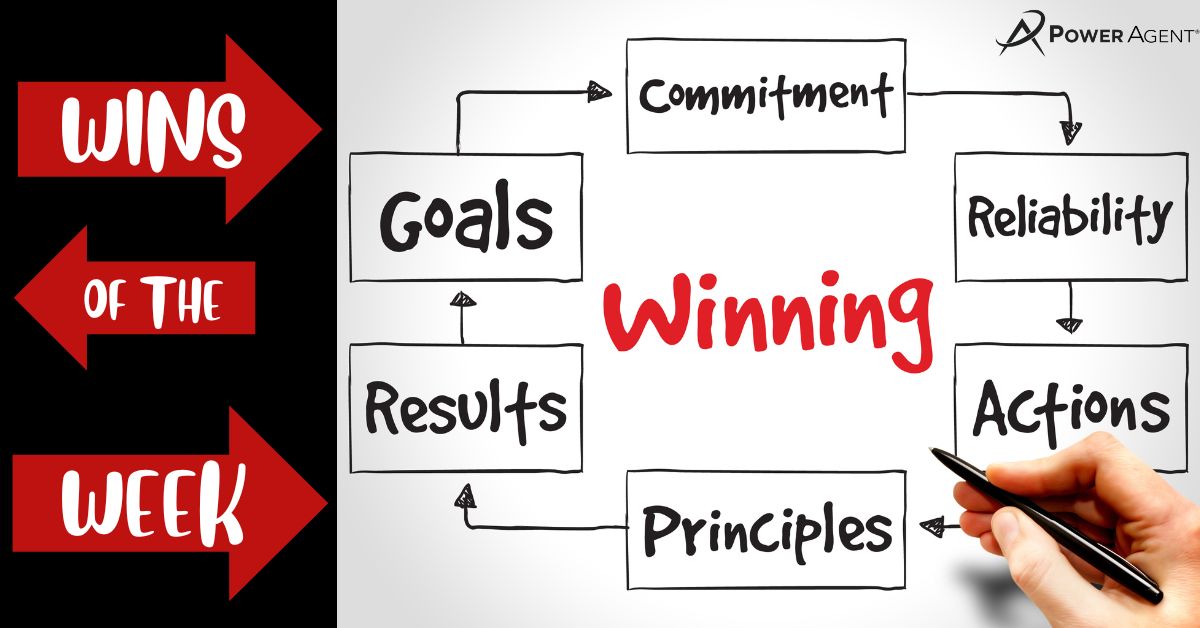 October 20, 2022
Weekly Real Estate 'Wins' Build Confidence and Business
Our Monday Mindset Coaching Call with the one and only – Darryl Davis is a surefire way to start the week off ready to win!
We begin each call with a "WIN PARTY", where our coaching members, who we fondly refer to as POWER AGENTS®, share their real estate wins from the previous week and how our coaching program is helping them achieve success in this business.  This week we had some INCREDIBLE wins!
Help us celebrate these real estate successes:
14 New Listings

 11 Closings

3 Signed Up for the Next Level Event

3 Open Houses

3 New Contracts

3 New Referrals

Had 4 Closings in 4 Weeks, with Another Closing Scheduled in a Few

Weeks

Got a Sale Pending

Learned How to Create a Hyperlink to Use in their Emails

Reconnected with Past Clients

Signed up for REDX

Sold a House

Saved a Deal from Falling Through

Working through a Tough Inspection Resolution

Followed Up on a Delayed Survey and Evaluation Certificate Just in Time for a Closing This Week

Scheduled a Showing for a Newly Referred Buyer – Set Goals for Making Calls and Following Up

Sent Out Farming Emails

Hosted an Open House and Picked Up New Leads

Had a Fabulous Client Event

Got a New Buyer Last Thursday, Showed them a Home on Saturday, & They Made an Offer

Implemented Six Different Options for their Sellers

Started their Business Plan and Identified Their Touches for their Sphere


Had their First Listing Appointment in a New

Territory

Resolving Closing Issues on Two Files

Sent Out Letters

Found Out that they're ranked #14 Listing Agent in their County


Started Using

AMCards

to Send Out Sphere of Influence Birthday Cards



Started Posting on Social Media

Listed a House and Got 18 Interested Buyers

Did a SMILE Stop for a Past Client with Business Cards and Girl Scout Cookies

Helped A Past Client Remove Three Small Birch Trees

Quit a Team and Brokerage that Wasn't a Right Fit & Joined a Supportive Brokerage that will Help Get them to the Next Level

Got Two New Clients

Committed to Using their CRM

Scheduled a Listing Appointment

Received Two Offers on a Listing

Started Taking the SRES Course

Reconnected with a Past Client who was Ready to Buy a Secondary Property

Got their Short Sale and Foreclosure Certification

Sent out their First Mailing

Got Invited to a Client's Home for a Party

Listed a House and Put it Under Contract in Less than a Week


Printed New Marketing Materials from the Classroom



Got Two Buyer's Offers Accepted


Met with a Fellow POWER AGENT® at a Lunch & Learn
We LOVE celebrating these wins each week and LOVE seeing the changes these weekly real estate coaching calls make in our members' lives!
See why celebrating small wins PAYS BIG!
Ready to share YOUR real estate wins for the week?
POWER AGENTS® – Be sure to join us on the next Coaching Call to share those triumphs and cheer the weekly WINS of your fellow POWER AGENTS®! 
Real Estate Coaching is an essential piece for agents eager to create transformative results in their careers and life and create the kind of 
real estate success stories
 they see in other agents.
If you're not yet a Power Agents®- no stress!
You can try us on for size for less than a cup of Starbucks!  
You can open the door for an all-access 30-day trial of this extraordinary, success-fueling program for just $5.  
That's it. $5. No contract. No long-term obligation.
Just a wide and wonderful network of success-minded agents with a love of learning and a passion for helping one another, plus Darryl, plus our terrific team, plus a classroom literally packed to the rim with tools and training for every conceivable aspect of your business.  
Imagine what you could do if you had just a snippet of what's inside The Power Program®! Just a fraction! 
Hope to see you on the "inside"! Here's to your success!