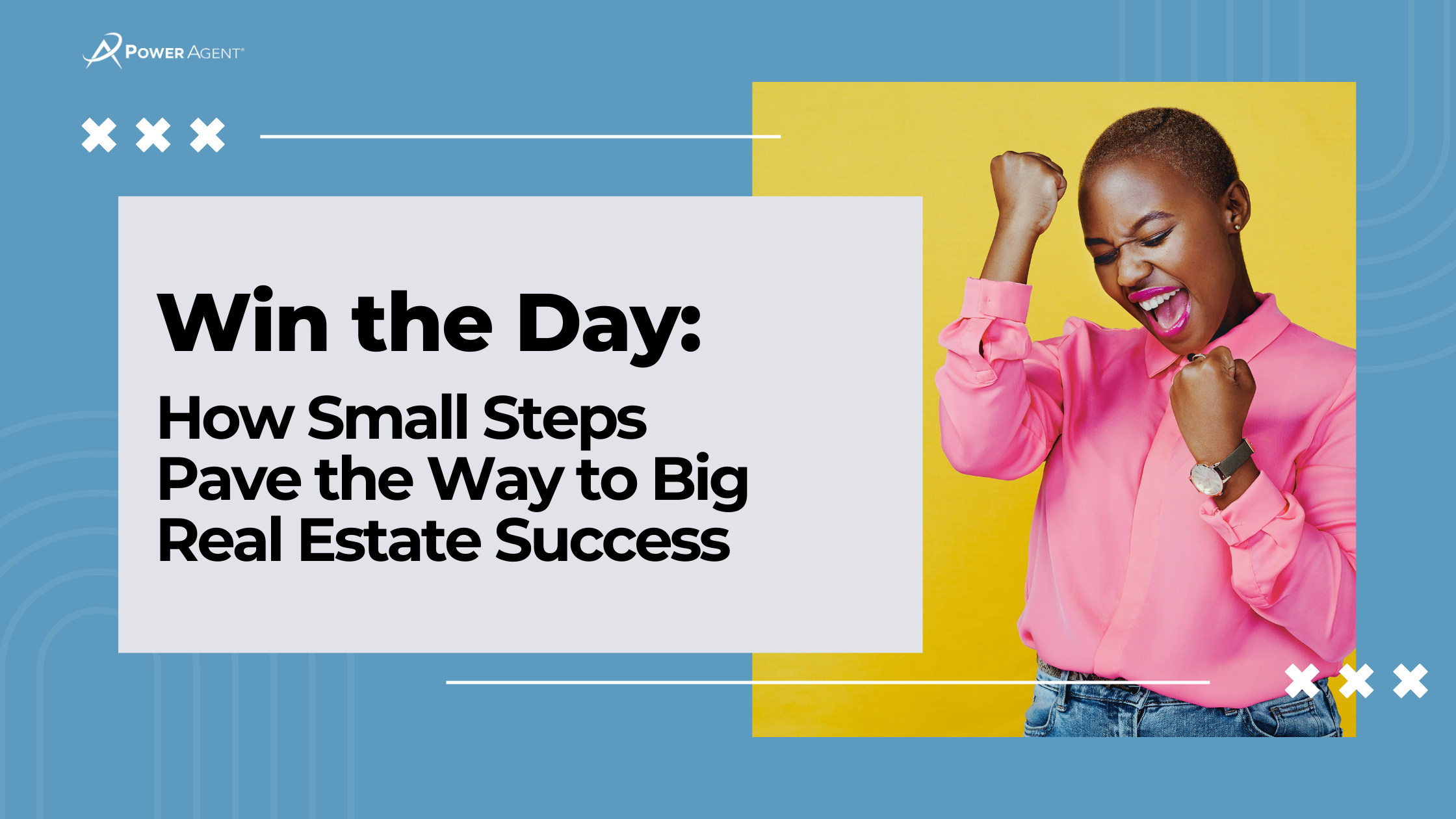 June 29, 2023
Win the Day: How Small Steps Pave the Way to Big Real Estate Success 
To navigate success in today's too often chaotic world, it's more powerful to focus on daily wins than long-term goals.
Real estate professionals are often reminded about the importance of long-term goals. About plotting career paths five and ten years down the line, drafting ambitious sales targets, and the dream of "owning" vast farming areas. While we're not knocking any of those things – sometimes focusing on what will or won't happen in the future can become so overwhelming that it actually distracts us from living in the moment and focusing on just what we need to do to crush the day (in the best possible way).  
Inch by Inch 
Here's a little life lesson Darryl shares often, "Inch by inch, life's a cinch, yard by yard, it's hard." What that means is that when we try to take on everything that's ahead of us all at once, that's hard. BUT if we instead take it day by day… it's manageable.   
Here's an idea – let's start taking things day-by-day and inch-by-inch for a little while. We think it might make a big impact. We've seen it at work in our weekly coaching calls. A few months ago, we added "wins of the week" to the top of our Monday calls, and we now encourage members to write down all their wins so that they can share them with their fellow agents. It's been incredible and, for some, transformative. They stopped looking for what was going wrong and really started looking for the wins. It's been a powerful exercise that has become a staple.  
Here's an example of some of their wins: 
The Magic of Daily Wins 
So, what's the magic behind prioritizing daily victories over long-term goals? The answer lies in understanding the power of consistent daily action. Each small win adds up and creates momentum. This momentum is not only empowering but also cultivates resilience and tenacity, two key attributes for a successful real estate career – and a better life. In contrast, long-term goals can often seem daunting and unreachable, causing anxiety and paralysis. 
By committing to winning the day, every day, you focus on actions you CAN control, celebrate small successes, and foster an environment of continuous learning and growth. In essence, daily wins are stepping stones to your bigger goals, and they offer immediate feedback, which allows for rapid adjustment and improvement, which also makes you more agile in your problem-solving!  
Related reading: LifeHack – How to Celebrate Small Wins to Achieve Big Goals 
Here are Some Strategies to Win the Day in Real Estate 
Create a Daily Plan:

Every morning, outline your tasks for the day. Prioritize them based on their significance to your business. A clear plan enables you to focus on one thing at a time, reducing overwhelm, and increasing productivity. In our weekly calendar for POWER AGENTS®, we give them one suggested activity per day that helps them move closer to their goals. We also have sections on the side for them to write down the three things they want to accomplish, the tools they will use, the things they should let go of, a space for gratitude – and a spot for them to write down how many families they'd like to help. This helps keep things simple and focused, and prioritized. 
Incorporate Daily Prospecting:

Cultivating new relationships is the lifeblood of real estate. Dedicate a part of your day to prospecting activities such as making phone calls, sending emails, and networking. We're not even talking cold calling for six hours, but an hour a day works; it's manageable and gets you into a habit that will make prospecting easier and easier the more you do it. Here is a sample of an Activity Tracker we give our members to help them stay on track without feeling overwhelmed. 
Focus on Key Performance Indicators (KPIs):

Identify the metrics that directly influence your business. These could be the number of calls made, appointments set, or listings obtained. Keeping a close eye on these KPIs ensures that you're focused on actions that yield results. This is an important part of being agile, as we talked about earlier. For example, if you are making 50 calls a day but not scheduling an appointment – then just continuing to make 50 calls a day doesn't make sense. You have to figure out what about those calls is failing to earn the appointment. We had this come up just recently on a coaching call, so Darryl role-played with the agent, and the light bulb went off, spotlighting the problem.  Yay! This then led to agents teaming up for role-playing sessions this week so they could improve their batting average – and their confidence! 
Related reading: What a Successful Daily Schedule For A Real Estate Agent Looks Like 
Celebrate Each Win:

Wins don't even have to even look like a high-ticket item like a listing or closing. Wins can look like organizing your desk, sending out notecards to your sphere, knocking on doors, having a great conversation with a past client, having a productive conversation with a potential client, or striking up a real estate conversation in a store that led to you handing out a business card. They can be personal wins as well, such as taking a much-needed walk, getting out of a comfort zone and trying a new strategy, taking a course or tapping into a training session, or having an ah-ha moment that made you smile. This positivity keeps you motivated and reinforces the 'win the day' mindset. 
Continual Learning and Adjustment:

Part of winning the day involves learning from both successes and setbacks. Regularly reflect on your activities, evaluate what's working, what's not working – and even what brings you joy and what causes you stress. Then adjust your strategies accordingly. One additional thought on this is to be open to making mistakes and be kind to yourself when you do. Progress doesn't happen by staying in the status quo. It's important to keep reaching and trying new things on for size to learn what can work for you. 
Related reading: Eight SELF Management Strategies for Life and Business 
This is a good time to stay focused on the here and now. On the wins of the day. On not trying to win agent of the year, but on being a little better than you were yesterday. Stay focused on the good stuff, like building relationships with new people in your market and staying top of mind with the ones who already know you, like you, and trust you.  
Related reading: Forbes – Why Thinking Small Is The Secret To Big Success 
It's time to embrace a new paradigm of success in the real estate world. By moving away from a distant future focus and towards a daily-win mentality, we set ourselves up for success. This isn't to say that we should disregard long-term goals entirely, but rather view them as the cumulative result of many small victories. 
Remember, each day is an opportunity to progress, learn, and grow. Inch by inch, success in real estate is indeed a cinch. So, start today – win the day, every day, and watch as those wins lead you to unprecedented heights in your real estate career.
Learn more about the POWER AGENT® PROGRAM. 
Join Darryl's Inner Circle Facebook Group. We are always posting fresh ideas, training tools, strategies, and templates, and hosting important, timely discussions with real estate professionals across the globe who are committed to their Next Level of success and life.  
Subscribe to our newsletter. Click the button below to fill out a simple form and tap into new resources, free downloads, premium content, and exciting promotions. 
Reach out and talk to us. Not sure if this coaching program and community is right for you? Click that blue chat button on the bottom right of the screen, or call us at the number in the header. We are here to help!

Not a POWER AGENT® yet? Give us a go! This comprehensive program provides affordable coaching, training, and customizable marketing tools for real estate agents. It's proven to help thousands of agents significantly boost their listing inventory, solidify their business, cultivate lifelong customers, enhance authenticity and confidence, reduce stress, and craft fulfilling careers and lives. 
Contact our team today to sign up or get the answers you need: (631)929-5555
Calling All Real Estate Agents 
Not a POWER AGENT®? Give our program a go! Our POWER Program® offers practical and affordable coaching, training, and customizable marketing tools designed just for real estate agents. With a track record that speaks for itself, our program has propelled thousands of agents in expanding their listing portfolios, solidifying their business operations, building lifelong clients, and increasing their authenticity and confidence. It's not just about reducing stress; it's about crafting a career and lifestyle that sparks joy and fulfillment.