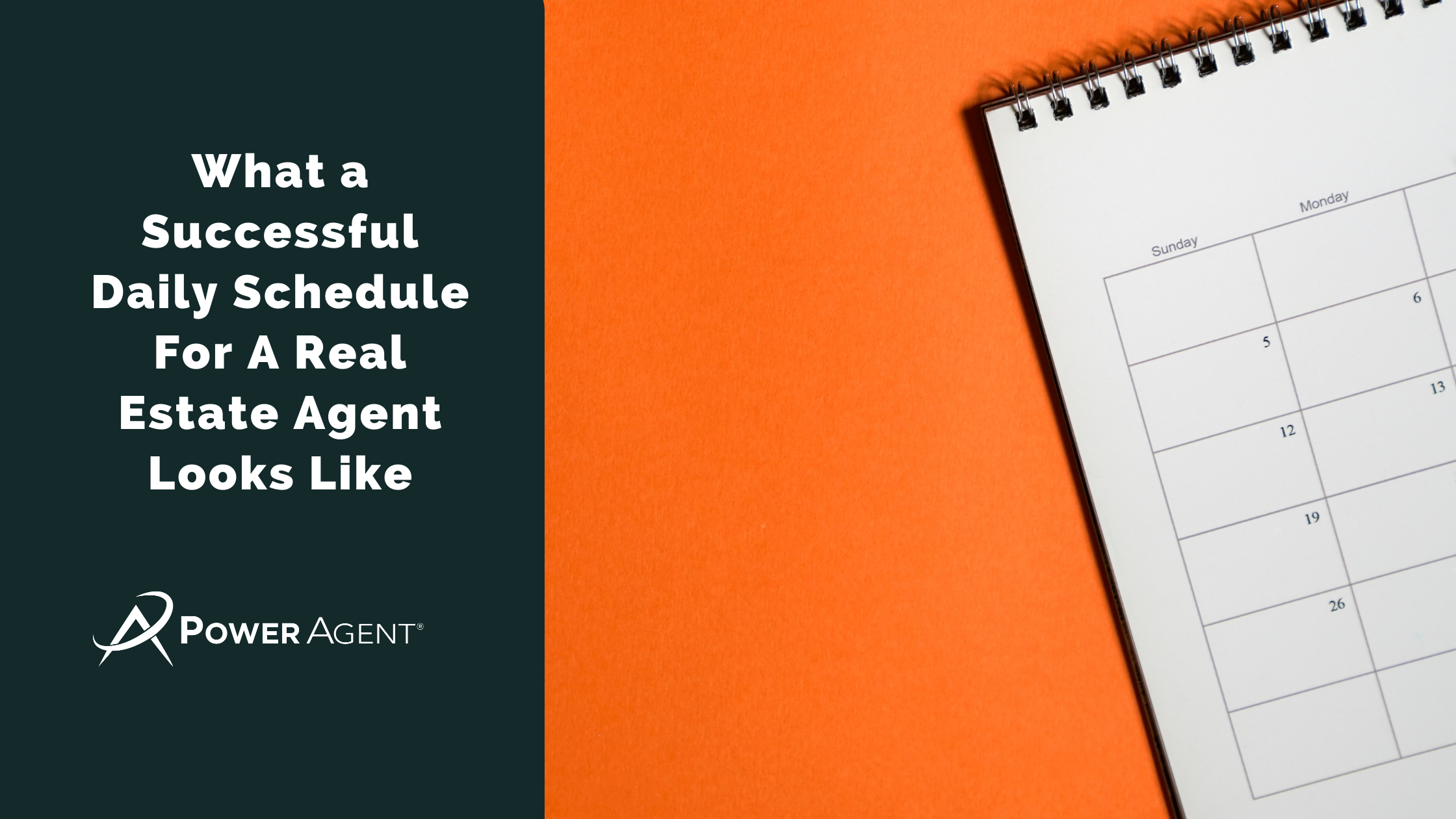 September 7, 2023
What a Successful Daily Schedule For A Real Estate Agent Looks Like
"How do I keep from burning out?", "How do I find more balance?" Sound familiar? Let's dive into time management that can help you smile more and stress less.
Being a real estate agent can feel like a 24/7 undertaking, especially now. We get it. We've been there. There are easy changes that you can make in how you manage your day so that you spend less time drowning in tasks and more time enjoying your family and personal time. After all, that freedom and flexibility are why many of you became agents in the first place, right? 
With a little coaching, agents everywhere are getting a handle on their time. They are accomplishing more and in less time. We designed weekly and monthly calendars for you with tips, suggestions, and reminders that can help agents be better prepared each week so they can reach their monthly goals. 
Remember That You are a Businessperson, Not Just a Real Estate Agent
You might know just about everything there is to know about real estate – housing markets, pricing, real estate legalities, etc. – but if you are utterly clueless about how to run a business, you are going to have some challenges.  
Schedule some time each week to read articles or watch webinars on good business strategies to help you with those parts of the business that aren't covered by real estate training. This can include training videos on tech or apps that real estate agents find useful or improving your communication skills or SEO understanding.  This time you spend should be considered sharpening your skills and tools – so none of it is wasted!
Related reading: Real Estate Express – These 10 Skills Are Critical to Your Success in Real Estate 
Creating a Schedule of Success
You know you best, so when you sit down with your calendar, there are things to consider. When in the day are you most motivated? What family activities are planned that you need to work around? What are the things you like doing best? What do you NOT like doing?   
Break down your tasks into daily action items and have a weekly focus. Choose at least one task a day that will help you grow your business, build up referrals, or help you create connections with clients.   
We LOVE to start each week with the "Top 3 Things to Accomplish" daily list. Break your big to-do list for the week into the top MUST-DO's for the week. What are the tasks that you WILL do, come hell or high water? Knock them out as early as possible for an extra dose of accomplishment and energy. 
Related reading: Creating a Time Management Breakthrough 
Things You'll Find on a Successful Real Estate Agent's Daily Schedule
Speaking to someone every day about selling their home

 

Speaking to someone every day about buying a home

 

Touching base with at least one person in your sphere or farm

 

Calling a FSBO or Expired

 

Scheduling or hosting an Open House

 

Time blocking

 

An hour of real estate training or coaching or both

 

Practice or skill-building

 

Learning about successful business tips

 

Gratitude

 
TIP: To save yourself time and boost your efficiency, automate as many things in your business as you can. A great CRM will be able to send out emails on a schedule so you never have to worry about it.  
Related reading: Grow Your Real Estate Businesses With These Best Practices 
A 6-Figure Prospecting Formula For 2022 Success
How much time each day do you need to spend prospecting to completely change your business? Three? Five? No! ONE HOUR a day! That's it, and you propel your potential to earn a solid six figures. What would that look like for you? For your family? For your future? Don't believe me? Let's do the math:  
1 hour/day prospecting X 5 days a week = 5 hours ​ 
5 hours X 4 weeks = 20 hours a month ​

 

1 appointment per hour = 20 listing appointments 
20 appointments = 5 listings ​ 
5 listings = 3 listings sold ​

 

$10,000 commission X 3 listings sold = $30,000 ​

 

$30,000 X 12 months = $360,000 
What time of day should you call?
What time works best for YOU? Are you a morning person or an evening person? Are you the kind of person who will put off a task all day if it makes you nervous or uncomfortable? If so, then I recommend you get it knocked out first thing in the morning. Getting the things you don't like doing completed first will get them out of the way so you can move on to the things you love doing. 
TIP: Consider asking another real estate agent to roleplay with you so you can practice your prospecting calls. This will help you get more comfortable while in a safe space where it's perfectly fine to mess up! 
Tracking Your Conversations and Activity
We love our tracking tools, especially our daily activity tracker! It's a simple list of tasks that you can do every day to move your business forward. No thinking, no stressing, it's all there for you, so you can see what you've done every day and all week.  
We have TONS (literally) of tracking pages that you can use in your business to help you keep tabs on what you've accomplished in our Time and Money Management tab in the POWER Program® Classroom.  
Calling All Real Estate Agents!
Are you ready to start taking things to the Next Level®? We have the tips, tricks, and tools you need to get your buyers and sellers off the fence and live from their commitments!  
POWER AGENTS®, We have TONS (literally) of tracking pages that you can use in your business to help you keep tabs on what you've accomplished in our Time and Money Management tab in the POWER Program® Classroom.  
Never Miss a POWER AGENT® Training Event Again! Click here to subscribe to our BRAND NEW Calendar feature! Trainings, brainstorming sessions, and top agent interviews will automatically be added to your calendar, so you never miss out.     
---

Get the latest real estate training tips delivered to your inbox!
Haven't joined the POWER AGENT® Program yet? Try us out! Our all-in-one program is a cost-effective solution that includes coaching, training, and customizable marketing tools tailor-made for real estate agents. Our tried-and-tested approach has already helped thousands of agents skyrocket their listing inventory, strengthen their business, nurture long-lasting client relationships, ramp up their confidence, dial down anxiety, and carve out rewarding careers and personal lives.