October 15, 2018
Working With Orphans
POWERFACT:  Calling "Orphans" is a service strategy that is a differentiator for agents that helps the agent, the broker, the company and the consumer!
In most companies, there are files of past closed transactions that were handled by agents that are no longer with the organization. In the business, we call those 'orphans' — here's a strategy to re-invest in nurturing those contacts for now and future business. There's never been a better time to take advantage of EVERY opportunity to drive listing leads. This strategy helps you, your broker, your company, and the customer.
Step one: Get with your broker and see what orphan files might be available from the last 1-5 years.
Step two:  Get permission to send a letter from your broker explaining that you will be the one now servicing those clients for the company. (Power Agents®, you'll find the word doc for this in Prospecting.) An alternative to the broker letter is to customize and have it come from you and explain that you'll be taking over service from the prior agent on the company's behalf.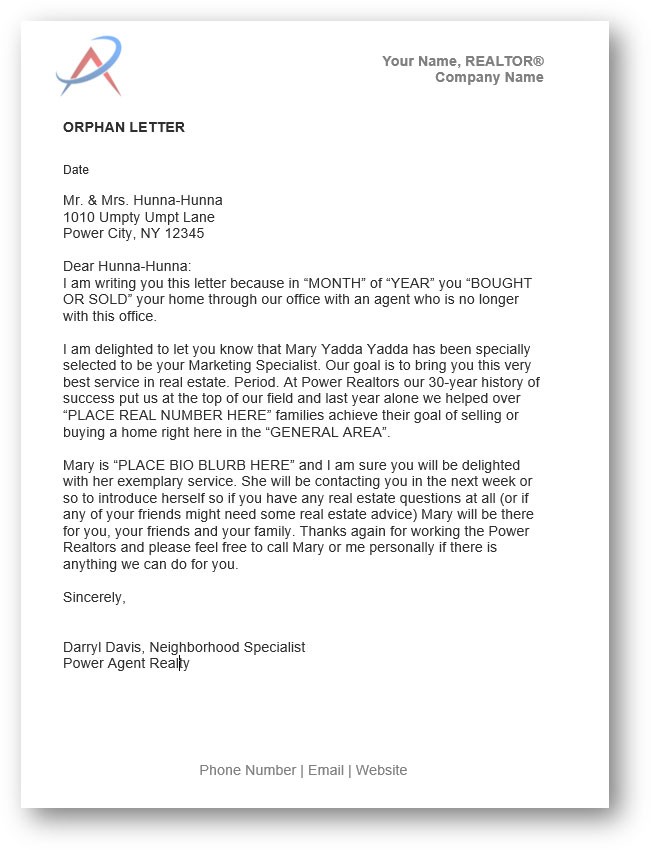 Step three:  Follow up with the suggested dialogue in the video. Power Agents, you'll find a copy of the dialogue in the Prospecting Tab of your classroom under Dialogue Orphan Adoption. You'll also find dialogues for FSBOs, Expireds, FRBOs, Voicemails and more.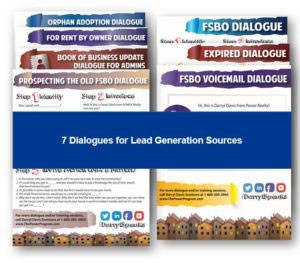 Step four:  Offer a free updated annual Comparative Market Analysis report.
Step five:  Set up a campaign to follow up with these folks every few months via email, snail mail, or in person.  The goal is to develop a relationship with them and transition them from prospect to your sphere of influence. 
Getting creative with your prospecting strategies in a market that continues to be crazy-competitive is the mark of a savvy business professional. What can you do to continuously bring value and raise your exposure in your area? How can you differentiate from your competitors? How can you promote yourself the service provider that makes the most sense for buyers and sellers?  Getting the right answers for your business often starts with great questions like these.
Keep learning and growing in mindset, tools, strategy, and skills. That's what we are here to help you do! 
Please join us for this month's webinar, October 30th at Noon Eastern — The Do's & Don'ts for a Successful Farming Campaign: Planting the Seeds for a Profitable 2019. 
During This FREE One Hour Webinar Training You Will Learn:
How big your farm area should be
How to create a marketing calendar and what you should send out for the next 12 months
How to promote yourself WITHOUT spending a PENNY (I love teaching this one)
What are the best items to promote to homeowners to make the phone ring off the hook
How to create the top-of-mind awareness with homeowners so when they decide to sell their home, they think of you first as the agent to call
How to create an awesome slogan
What are the three best mailing pieces you can design once and never worry about designing pieces again
Where you should spend your money and what is an absolute waste
How long it takes to start generating listing leads
The best dialogue for calling and door knocking
And Much, Much, More…
We're here to help. Click on our Suggestion Box to send your ideas or contact us at info@thepowerprogram.com.
If you're not CURRENTLY a Power Agent, now's the time to try us for the next 30 days. You'll have all the tools, training, and coaching you need to handle objections and list like a pro. Your 30 day trial gives you total access to every tool we have including letters, dialogues, training tips, webinars on demand, eBooks, and marketing tools.
If you're ready to have everything you need to handle whatever the market tosses your way — get started today! 
Need help? Contact our team today at (800) 395-3905!