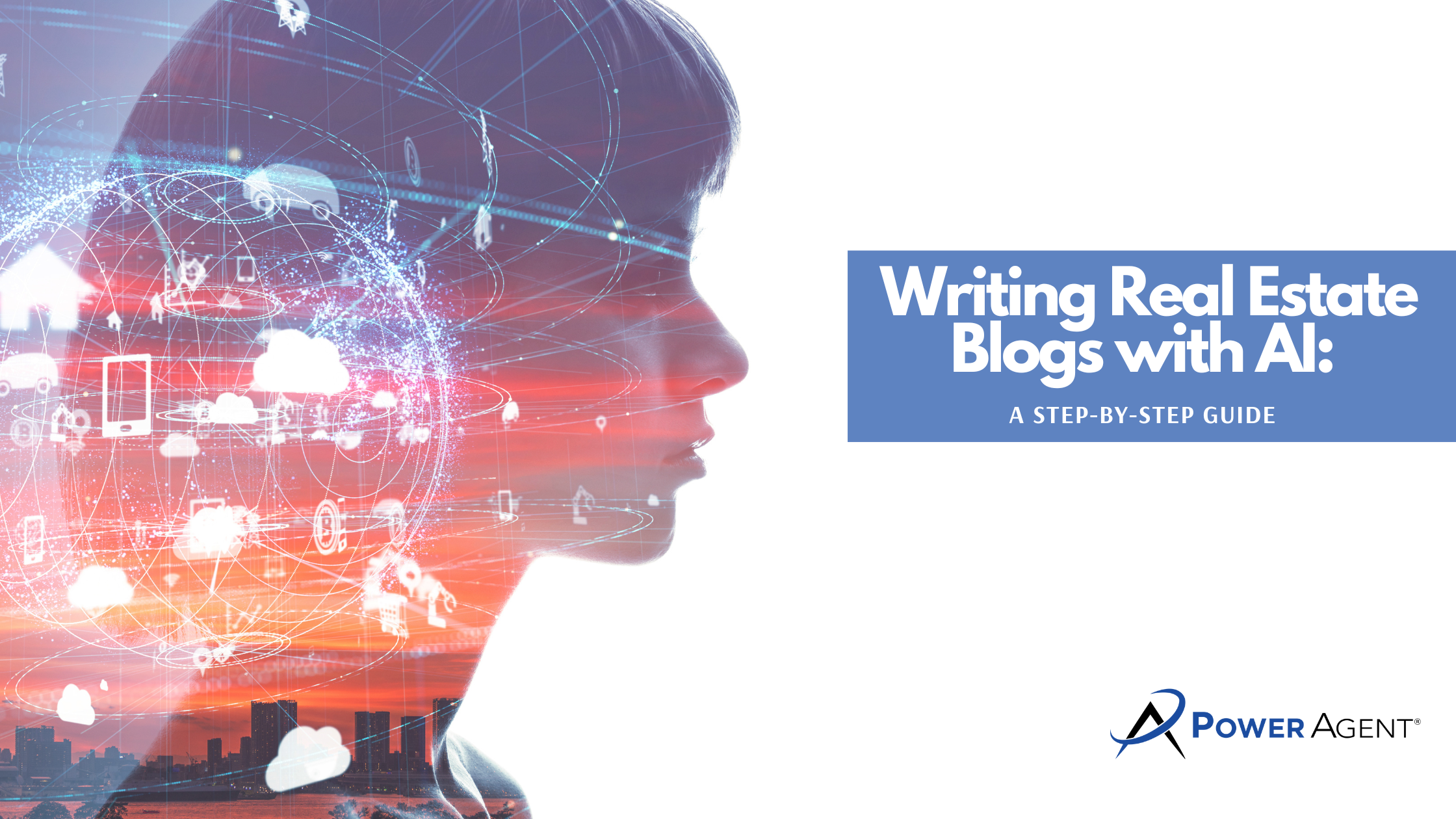 February 12, 2023
Writing Real Estate Blogs with AI: A Step-by-Step Guide 
Want to create a real estate blog to build your brand and share information with your sphere and farm using AI? Here's what you need to know!
As a real estate agent, you probably already know the importance of having a positive online presence. You need to be visible, provide helpful information, and have an engaging brand. Maybe you are looking around to see what other agents are doing, and voilà!  You see some fantastic real estate blogs and think, "I need one of those!" BUT, if you're like many agents – there's one big problem — you aren't a writer!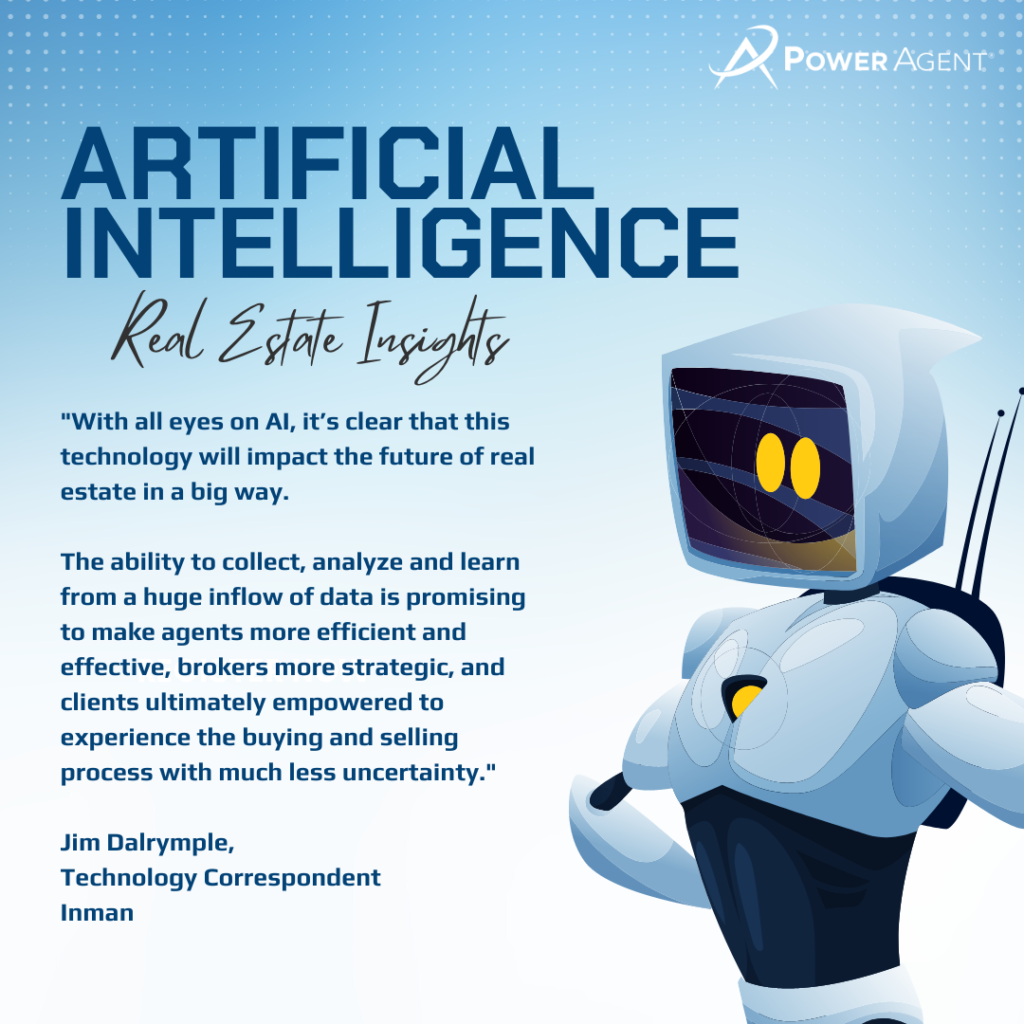 Writing real estate blogs can be a daunting task. You have to take complex concepts and make them accessible, enjoyable, and engaging. You may find yourself stuck or overwhelmed trying to come up with blog ideas each month. Instead of focusing on prospecting and picking up the phone to call leads and talk to clients, you're worried about sentence structure and keywords!  
Have no fear; we've got you covered! With the rise of artificial intelligence (AI) in various industries, it is now possible to use AI to help write your real estate blogs quickly and effectively, so you can focus on other aspects of your business. The best part about this? Some AIs are so good that you can't even tell the difference! 
What is Artificial Intelligence?
AI is a technology that enables machines to perform tasks that typically require human intelligence. For example, AI-enabled machines can recognize images and interpret spoken language. In terms of writing, AI can be used to generate content that would otherwise take hours or days to produce. 
How Does AI Help with Writing?
Using AI technology to write real estate blogs allows you to produce content quickly and accurately. It can also save time by helping you generate ideas for topics and providing suggestions for improving the quality of your writing. Additionally, AI can help boost the visibility of your blog by helping you identify the best keywords for SEO optimization. Finally, it can help ensure accuracy by automatically detecting errors in grammar or spelling, as well as ensuring consistency across multiple posts. 
For real estate professionals looking to maximize their blogging productivity and efficiency, leveraging artificial intelligence is an effective way to get ahead of your competition while still producing high-quality work. 
Top-Notch AI Blogging Sites
There are a lot of great AI websites that can help you produce content, no matter what your budget is. Here at POWER Headquarters, we really love Jasper.ai! (A big nod to our fearless leader and top resident technology geek Darryl Davis for always having a finger on the pulse of what's new and innovative that can help us all do our jobs more effectively and efficiently so we can be on our game to help agents always have what they need!)
There is a cost to using Jasper, but it is rated one of the best AI software platforms in existence and comes with a LOT of other features for every aspect of your business.  
We are also fans of OpenAI's ChatGPT, which is free to use and can produce great content. All you need is a question or a title, and it will scour the internet and compile information for you to use without the stress of plagiarism.  
For a more in-depth list and review of AI software that's out there, check out Writing Beginner's article – Best AO Blog Writer (11 Best AI tools Tested) to see more options to fit your needs and budget. ZDNet also has an article that reviews AI blog writing software: The best AI writers: ChatGPT and other exciting alternatives to try. 
Where to Get Started
Once you have your blog website created and ready to be filled with real estate wisdom, tips, and inspiration. You've chosen your AI software. Now, it's time to create some content, but where should you start? 
 1. Brainstorming with AI Tools
AI tools are excellent for generating ideas for your blog posts. For example, you can use an AI-powered keyword tool like AnswerThePublic to quickly generate a list of relevant topics that people are searching for on Google related to your niche. This can give you fresh ideas for blog posts that will speak directly to the interests of your audience. 
You can also use AI-generated content inspiration tools to get a better sense of what topics are trending in real estate right now. For example, if you're looking to write about local real estate news, an AI-powered tool like Feedly can help you stay up-to-date on relevant news sources so that you never miss a beat when it comes to keeping your readers informed. 
2. Identifying Target Audience 
AI tools can help you identify the target audience for your blog by analyzing the language used in your posts. This information can then be used to optimize the content for that particular audience. For example, suppose you are targeting first-time homebuyers. In that case, AI algorithms can help identify relevant topics such as "Tips for Buying Your First Home" or "How to Save Money on Your Mortgage Payments," which could be included in future blogs. 
 3. Content Creation
Once you have identified your target audience, AI tools can also be used to generate content ideas based on key search terms and phrases related to the topic. For instance, if you are writing about first-time homebuyers, AI algorithms could suggest keywords such as "mortgage rates," "down payment assistance programs," and "home loan options." These keywords can then be used as starting points for generating content ideas and creating engaging blog posts for readers. 
4. Editing & Proofreading
AI tools are also helpful when it comes to editing and proofreading text. Using natural language processing (NLP), these tools can detect spelling mistakes, grammar errors, typos, and other issues that traditional spellcheckers or manual proofreading processes might not catch. This allows writers to produce high-quality content quickly and easily without having to spend too much time editing their work afterward. Additionally, some AI tools even offer automated suggestions on how to improve or optimize sentences for better readability. Here at POWER Headquarters, we love using Grammarly.  
You Can Use AI For More Than Just Blogs
You can even use AI to automatically generate responses to FAQs about real estate topics so that you don't have to answer every question manually on social media or via email. This type of automation is especially valuable when it comes time for agents to respond quickly during busy periods such as open house events or during peak buying seasons when inquiries from prospects are coming in fast and furious! 
So, what are some of the other features that AI writing software can provide? 
Content summaries         

 

Product descriptions

 

Company and personal biographies

 

Headlines and titles

 

Landing pages

 

FAQ's

 

Real estate listing descriptions

 

Social media posts

 

…and so much more!

 
The Disclaimer
As great as AI technology is, it will never be a replacement for a human being (much to the relief of writers everywhere!). Always read through your AI-produced article to ensure it's communicating what you want it to, as well as add your own style and branding information. Include your flair and language so that your readers will have no doubt that it's you! 
Conclusion
Using artificial intelligence (AI) technology for writing real estate blogs, agents can produce content more quickly than ever before without sacrificing quality or accuracy, all while being budget-friendly! With AI's ability to suggest topics and keywords and detect errors in grammar or spelling, agents can optimize their blogging efforts for maximum efficiency and effectiveness in order to stay ahead of the competition.  
Power Agents®, our completely customizable monthly newsletters are also an excellent resource for strong, relevant real estate content for your clients and blog readers! There are more than 700 marketing and training tools in your classroom that you can use in a wide spectrum of ways to help brand yourself as the professional in your market! 
---

Get the latest real estate training tips delivered to your inbox!
Not a POWER AGENT® yet? Give us a go! This comprehensive program provides affordable coaching, training, and customizable marketing tools for real estate agents. It's proven to help thousands of agents significantly boost their listing inventory, solidify their business, cultivate lifelong customers, enhance authenticity and confidence, reduce stress, and craft fulfilling careers and lives.
Learn more about becoming a PowerAgent®!
Contact our team today to sign up or get the answers you need: (800) 395-3905!