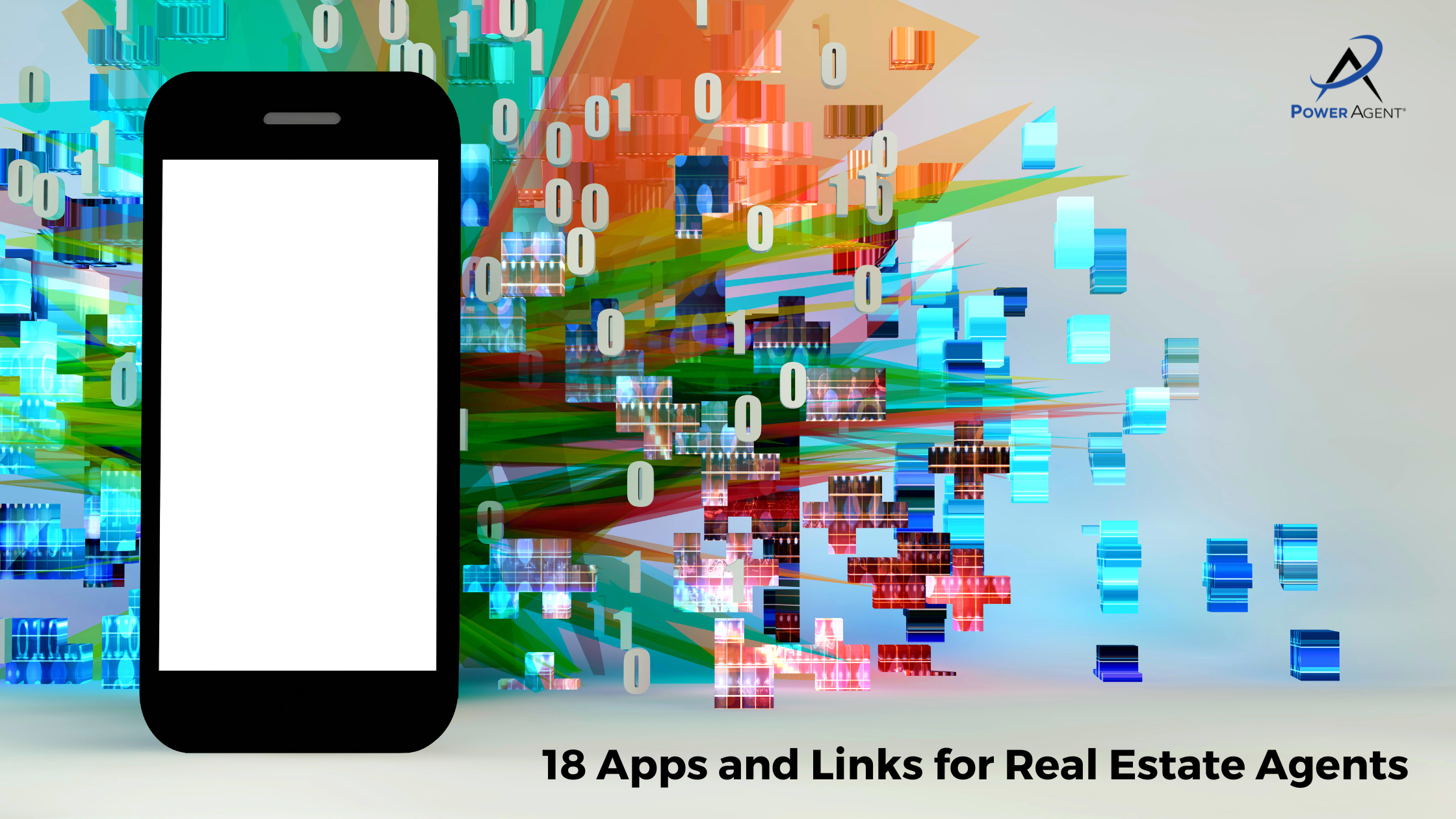 February 6, 2022
18 Apps and Links for Real Estate Agents
Big Thanks to our Power Agents® for sharing some of their favorite apps and links for real estate in our Brainstorming Sessions!
We love it when our members come together for a brainstorming session. So much so, that we are incorporating these incredible mastermind sessions once a month starting this year. There's just an exceptional brain trust that happens when hundreds of committed real estate professionals come together to both learn and teach!
The goal in these real estate mastermind sessions is for each agent to bring at least one tool, strategy, idea, or solution to the table. Then we jump in, start sharing, then capture all of the ideas in a real estate success guide for that session, and make that available alongside an on-demand recording of the call! That's a lot to tap into, right? YOU BET!
In December, real estate apps and links really seem to be at the forefront of what our members wanted to share, so we pulled some of the best of them to share with the world!
Let's break down 18 of them for you!
Oggvo: Oggvo can help you automate and manage your client reviews. It can also help you safeguard your online reputation by not publishing less than savory reviews right away, giving you an opportunity to mend any issues to obtain a more favorable response from the client.  A quick tip: One Power Agent® found that simply asking clients "How can I serve you better?" has gained him positive Google reviews.
Remine is a site that agents can use to search a database of over 150 million properties all over the United States. The search can be filtered in a variety of ways, zip code, price, vacant properties, etc.
Landglide is a parcel data and property line map application that gives you access to records in over 3000 counties, covering 95% of the U.S. population. Some of the data you can find includes property owner and address, sale price, acreage, square footage, transfer date, school district, building description, and tax information. x
Bitly brings together your social media digital marketing and client care through link management. They also offer branded links, mobile links, campaign analytics and QR codes.
Slydial is an app that allows you to leave a personalized ringless voicemail that you can send out an individual or up to 10 numbers at once with your own recorded message.
Streettext uses lead capture technology & advertising on Facebook to generate leads and encourage meaningful relationships between agent and client.
RIPL can help agents create short videos, slideshow home profiles, and branded image posts to share on their social accounts.
Flowcode offers custom QR code designs, unlimited codes that won't expire, advanced analytics, bulk code creation, and more.
QR Code Monkey offers a free QR code generator for individual codes, but they also offer bulk code creation, scan statistics, and more design options with a subscription.
HiHello creates digital business cards and offers a of ways to distribute them. It also offers an address book that organizes your new contact's information every time your digital business card is shared. Business cards are customizable with virtual backgrounds and email signatures.
Popl is a digital business card that you can share by simply tapping your smartphone to another smartphone. The person you're sharing your information with doesn't even need to have Poplor download any apps to receive it.
AMCards.com. Power Agent® Eileen Olejarski referred a friend of hers to a REALTOR® in New York, to help her friend sell their home. The New York agent sent a picture of her friend at the closing to Eileen. Eileen put the picture on an AMCard greeting card and sent it with a brownie to her friend, congratulating her on the closing. Touched by the sentiment, the friend hired Eileen to sell a property that they'd purchased in Florida. The brownies clinched the deal!  Power Agents®, head to the greeting card tab in your site to sign up for AMCards and get your monthly fee waived, first three cards for free, and wholesale pricing! Not a member? No problem, head to
American Greetings offers a subscription for $4.99 a month for digital greeting cards. One of our Power Agents® uses them for touchpoints with her clients throughout the year such as holidays, birthdays and well wishes. The digital cards have the added bonus of giving the recipient a way to respond. The greetings in the cards can be customized. They offer both physical and digital greeting cards as well as the ability to attach a gift card to a digital greeting card.
Mailbox Power is a company that sends personalized gifts for any occasion. Various gifts include gourmet food, engraved gifts, greeting cards, and gift cards.
Authorify: Many Power Agents® use Authorify. It's a company that publishes ghostwritten books with your name, likeness, and information on the cover & credits you as an author. It's an impressive thing to include in packets sent to potential clients. They offer over twenty different real estate-related book topics, such as expired listings, books for sellers, buyers, investing, probate. And more! They have subscriptions that will send you 20 copies of her book every month for a monthly fee.
Reminder Media produces a personally branded magazine both in digital form and in a high-gloss print, which can be distributed to your clients or sphere of influence. Power Agent® Carl Haefele has used this company for a couple of years and has seen a return on his investment.
Canva.com A Power Agent® suggested using Canva to design flyers and content to share on her social media. Canva is an online design and publishing tool that is also a favorite here with the Power Agent®team!
Market Dwellings is a shop on Etsy that specializes in unique realty-related marketing materials.
These were just eighteen of the FORTY-EIGHT brainstorming ideas members came up with during our time together. Kudos to you all for generously sharing your time and the most popular and productive apps and tools for real estate professionals in this crazy market!
Power Agent® Resources
Power Agents®, head to the Darryl's Picks tab in your classroom to pick up this valuable ideas guide from December's brainstorming session! There you can also tap into the magic of EIGHT incredible brainstorming session, PLUS exceptional Success Series interviews with top-producing real estate agents!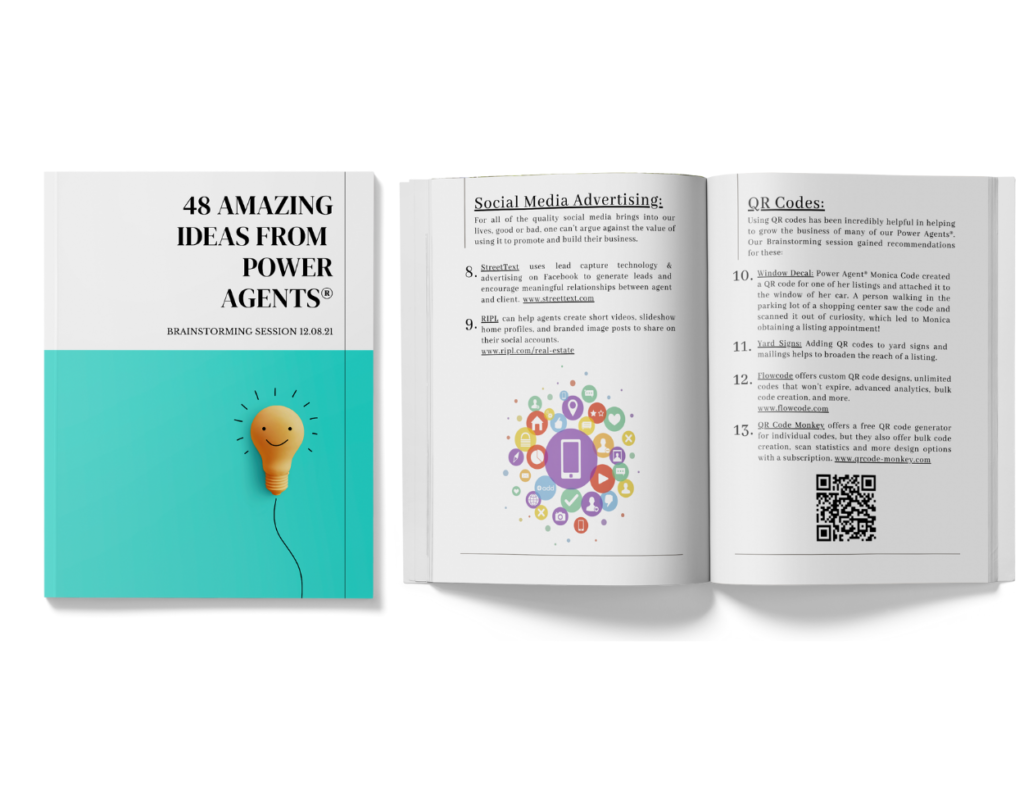 What's Next?
Members, be sure to join us for our next brainstorming session! We are hoping to schedule them for the first Thursday of every month at Noon Eastern! Head to your Dashboard for webinar registration details!
Don't Forget Your Power Agent
®

Directory Profile

These brainstorming sessions usually create a whirlwind of referrals and agent connections. The best way for your fellow members to find you is to be sure to fill in your Power Agent® Directory Profile!

Pay special attention to the areas served, make sure you add your photo, and the best contact information for you. We are seeing revenue-sparking referrals weekly between agents! Make sure you're in there mixing it up!

Tip:  Read How to Tap Into the Referral Gold of Your Power Agent Directory!
---
Get the latest real estate training tips delivered to your inbox!
Ready to start brainstorming yourself and tapping into referral magic and insights on the best apps, tools, and training you need to succeed?  Join us for this week's free webinar at www.PowerAgentWebinar.com.  Then learn How to Get the Best Valued Real Estate Coaching for $1.55 Per Day! 
Contact our team today to sign up or get the answers you need: (800) 395-3905! 
About Darryl Davis, CSP, Darryl Davis Seminars and the Power Agent® Team
We deliver proven, valuable listing and sales technique training that empowers real estate sales professionals to be more effective and present when they are face-to-face with a buyer or seller. We accomplish this through an online training system and marketing platform at a cost-effective price. We differ from our competitors by teaching a more consultative, relationship-centric training which focuses on helping agents to serve, not sell, and to coach not close. 
A one-stop-shop for real estate agent success, we deliver the competitive, timely, affordable real estate coaching, training, and customizable marketing tools that allow sales agents to dramatically increase listing inventory, build a stronger business foundation, create customers for life, feel more authentic and confident, have less stress, and design a career and life worth smiling about. 
If you're an agent, we invite you to tap into the platform that has everything you need to succeed with more ease. If you are a broker, industry leader, or education director – we invite you to learn more about how to bring Darryl in for your next sales or leadership meeting and the topics that can help your team get to their personal and professional Next Level®.