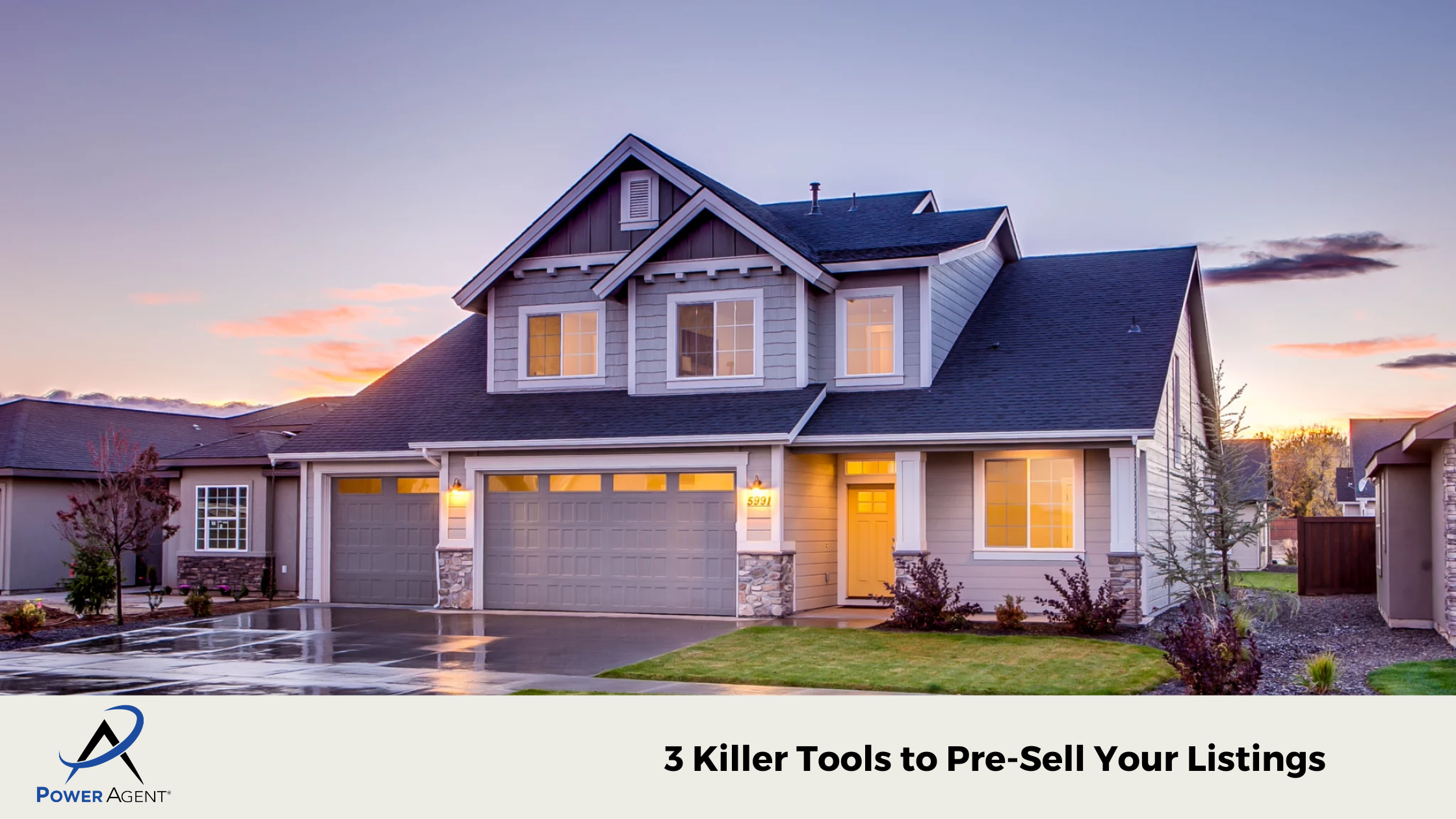 February 12, 2021
3 Killer Tools to Pre-Sell Your Listings
Powerfact:  Selling the intangible has been a challenge for as long as real estate has been a business. How to make clients see what doesn't exist, but can, and will. Selling a property before it's been built is now attainable, realistic, and well within your reach.
Tools for Pre-Sale Success
Selling the intangible has been a challenge for as long as real estate has been a business. How to make clients see what doesn't exist, but can, and will. Selling a property before it's been built is now attainable, realistic, and well within your reach.
Real Estate Renderings are a powerful marketing tool that successful agents are aware of for property promotion, leading buyers to property opportunities.
You can use 3D technology to your advantage. Your competitors already are. How do you think they overcame questionably styled rooms, necessary repairs, and empty rooms?
They use Item Removal, Virtual Renovation, and Virtual Staging to generate leads and to showcase the dream that property contains.
And for a build that doesn't exist yet beyond the plans? They are using 3D Renderings to virtually generate a representation of the construction project that is to come. You know you have a great investment on your hands – but the key to making your clients see it are high-quality 3D Renders and Virtual Tours.
It's time to create something from next to nothing.
Here are 3 Easy Ways to Communicate to Your Buyers What is Being Built and Ignite Their Excitement
1. 3D Renderings
Created digitally, 3D Renders cost a mere fraction of what it takes to build a mock-up or spec home. Moving beyond traditional display homes and takeaway brochures, 3D renders allow you to sell your development through traditional marketing channels, digital avenues, and beyond.
Internal, External, and 360° Renders are the foundation for any pre-construction marketing package and have led to millions of dollars in pre-sold real estate for our clients. They are photo-realistic and seeing client's reactions when you tell them it's a computer-generated render is priceless. These accurate and immersive depictions are shifting the way homebuyers purchase or lease their next house or apartment.
Renders allow buyers to visualize themselves in a property.
No professional photography necessary, these digital images can be used in leaflets, posters, advertisements, websites, materials, and listings.
Existing empty spaces can also benefit from rendering. Virtual Staging eliminates the costly investment of traditional home staging. Replacing it with affordable ultra-realistic computer-generated property styling.

2. 3D Floor Plans
It's time you bid adieu to the idea of hard-to-read black and white simple lines of floor plans. Construction drawings, or floor plans, need to look good in their own right. When a homeowner is looking for their next move, or a commercial tenant are looking for their shopfront, they should be able see where they're heading. Visualizing themselves in a space is virtually impossible in a stark and cold black and white floor plan.
A 3D Floor Plan gives a buyer a better understanding of the property layout. It communicates how the design spaces could be used.
As well as assisting with space planning, a 3D floor plan complete with virtual staging, allows a buyer to see the materials that will be installed. You're giving your prospective buyers a fully immersive experience of what they could come to expect in real life.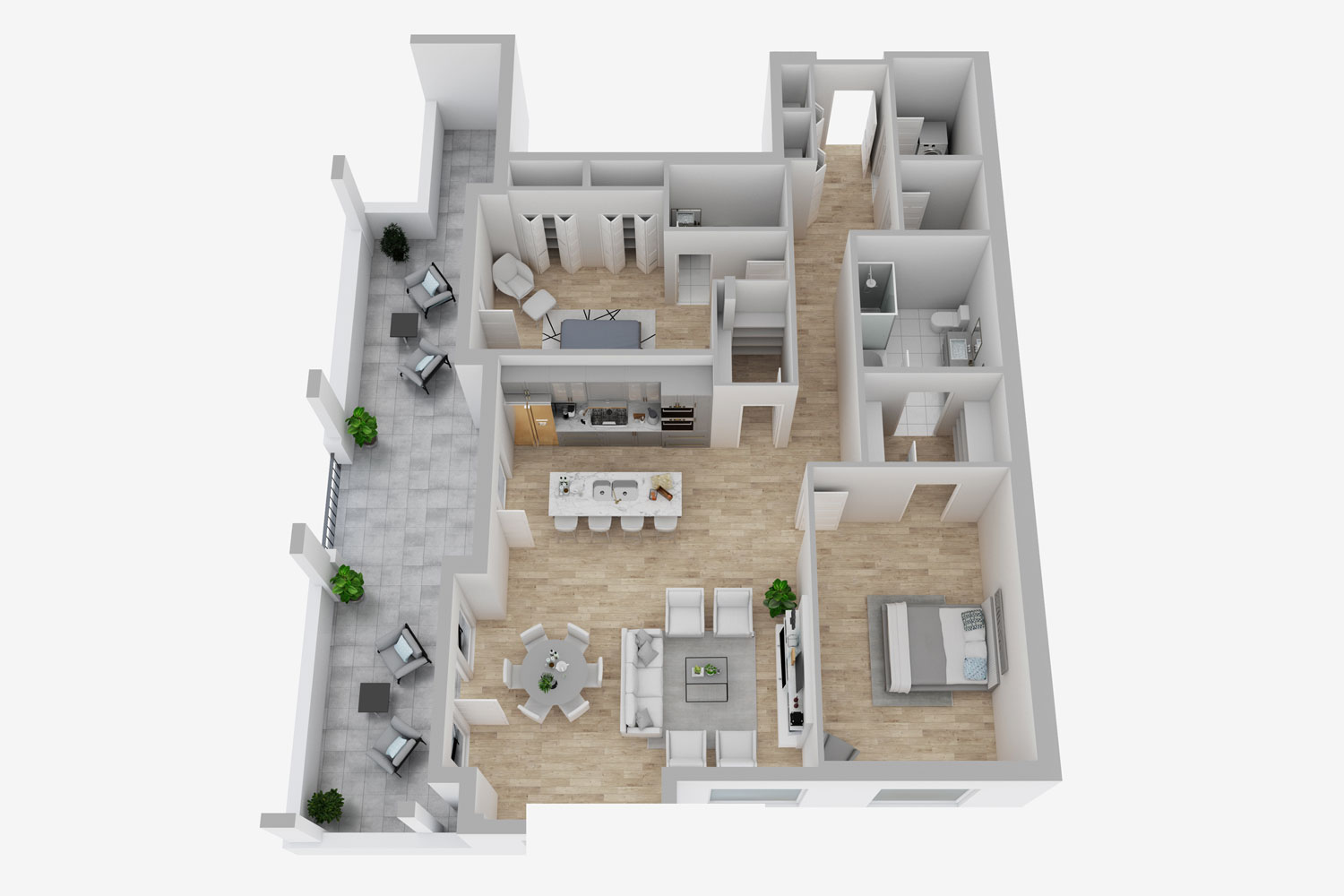 A 3D Floor Plan of this Botanica apartment allows buyers to see themselves in the layout.
3. 3D Render Virtual Tour
The savviest of development marketing agents are using 360° render virtual tours, as they've presented themselves as the best possible way to display an unbuilt property. And they slide in for the most modest of budgets.
This is cutting edge technology where a 360° Virtual Tour can be built from a render. Via an easy to share URL, clients can view the unbuilt property from anywhere in the world. It's a fully interactive experience where views can jump from 360° hotspot to hotspot. Each vantage point gives a full view in every direction exactly as the eye would see as if a person was standing there.
This technology allows a customer or client to view the property top to bottom in their own space, at their own pace—opening a project up to interstate and even international investors.
Now, it is possible for potential purchasers to immerse themselves in the unbuilt property: they can look in any direction and move from room to room; options can be added to switch between furniture styles or to remove furniture completely.
For display homes, the various developer finishing packages can be included, enabling the purchaser to toggle between different colors, floor finishes, and cabinetry—and clients can even have their own finishes and fittings included.
Botanica 360° Virtual Tour – View in larger size here.
We so appreciate the ideas here from our friends at BoxBrownie! Truly amazing marketing professionals.  See below for a link to get your $40 coupon code!
---
Get the Darryl Davis Newsletter!

Power Agents, you'll find a terrific, content-rich webinar on demand in our Tech Tools and Training tab in the classroom that has some clever marketing strategies from our friends at BoxBrownie.com as well as a $40 credit coupon to help you try them on for size! Enjoy!
Not yet a Power Agent®? Click here to learn more about how you can access hundreds of marketing, prospecting, and objection handling tools – live weekly coaching, podcasts, webinars, and more!
Need help? Contact our team today at (800) 395-3905!