June 13, 2019
8 Great Ways to Jumpstart a Stalled Listing
POWERFACT: A listing that won't sell can be more of a liability than an asset. Know how to get them back on track when they stall. 
One of the top ten questions we get on our weekly coaching calls is from agents struggling to breathe life into a stalled listing. While there are many reasons a listing might not get the attention you need to get it sold, there are some things you can do to try to jump start the action, get buyers through the door, and come away with a contract. Let's dive in.
1.Lower the price
Not a little price reduction either. Something that makes a statement. Repeatedly dropping the price in small increments sends exactly the wrong message and is very difficult to recover from.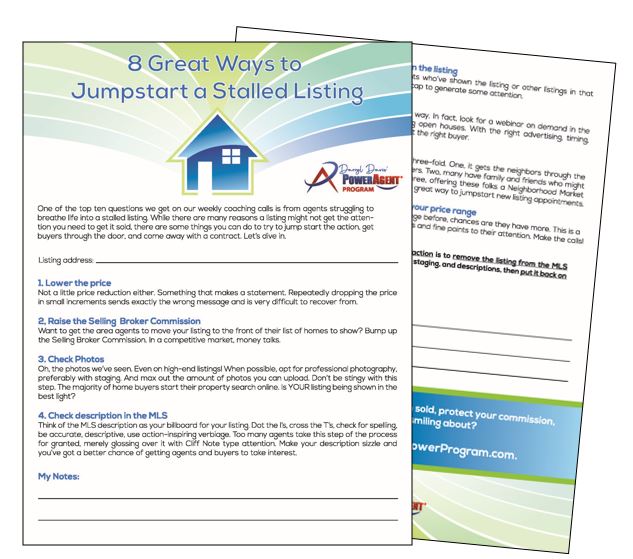 2.Raise the Selling  Broker Commission
Want to get the area agents to move your listing to the front of their list of homes to show? Bump up the Selling Broker Commission. In a competitive market, money talks.
3.Check Photos
Oh, the photos we've seen. Even on high-end listings! When possible, opt for professional photography, preferably with staging. And max out the amount of photos you can upload. Don't be stingy with this step. The majority of home buyers start their property search online. Is YOUR listing being shown in the best light?
4.Check description in the MLS
Think of the MLS description as your billboard for your listing. Dot the I's, cross the T's, check for spelling, be accurate, descriptive, use action-inspiring verbiage. Too many agents take this step of the process for granted, merely glossing over it with Cliff Note type attention. Make your description sizzle and you've got a better chance of getting agents and buyers to take interest.
5.Call agents who have previously shown the listing
Sometimes all it takes is a phone call to agents who've shown the listing or other listings in that neighborhood with a "here's what's different" recap to generate some attention.
6.Host Open Houses
We are a big fan of open houses held the right way. In fact, look for a webinar on demand in the classroom on how to double your income using open houses. With the right advertising, timing, presentation, and follow-up, you could attract just the right buyer.
7.Host Neighborhood Open Houses
The purpose for a neighborhood open house is three-fold. One, it gets the neighbors through the home first, so you can separate lookers from buyers. Two, many have family and friends who might be interested in living in the same community. Three, offering these folks a Neighborhood Market Report to show them what they home is worth is a great way to jumpstart new listing appointments.
8.Call area agents who have sold homes in your price range
If an agent has had a buyer in your listing's price range before, chances are they have more. This is a great opportunity to help bring your listing's features and fine points to their attention. Make the calls!
When all else fails, sometimes the best possible action is to remove the listing from the MLS altogether, make your corrections in price, photos, staging, and descriptions, then put it back on the market as a fresh listing with a big splash.
Power Agents® — We created this awesome download that you can print and make notes on for any of your listings that might need a little attention. Find it in your Servicing Listings Tab in the Classroom. 
Listen in to last week's call:
Not yet a Power Agent®? Did you know that for less than a dollar a day, you can have access to hundreds of marketing, prospecting, and objection handling tools – live weekly coaching, podcasts, webinars, and more?  In fact – we'll give you the first 30 days for just $5! Start your Power Agent® trial and have total access to every tool we have including letters, dialogues, training tips, webinars on demand, eBooks, and marketing tools.
If you're ready to have everything you need to handle whatever the market tosses your way — get started today!