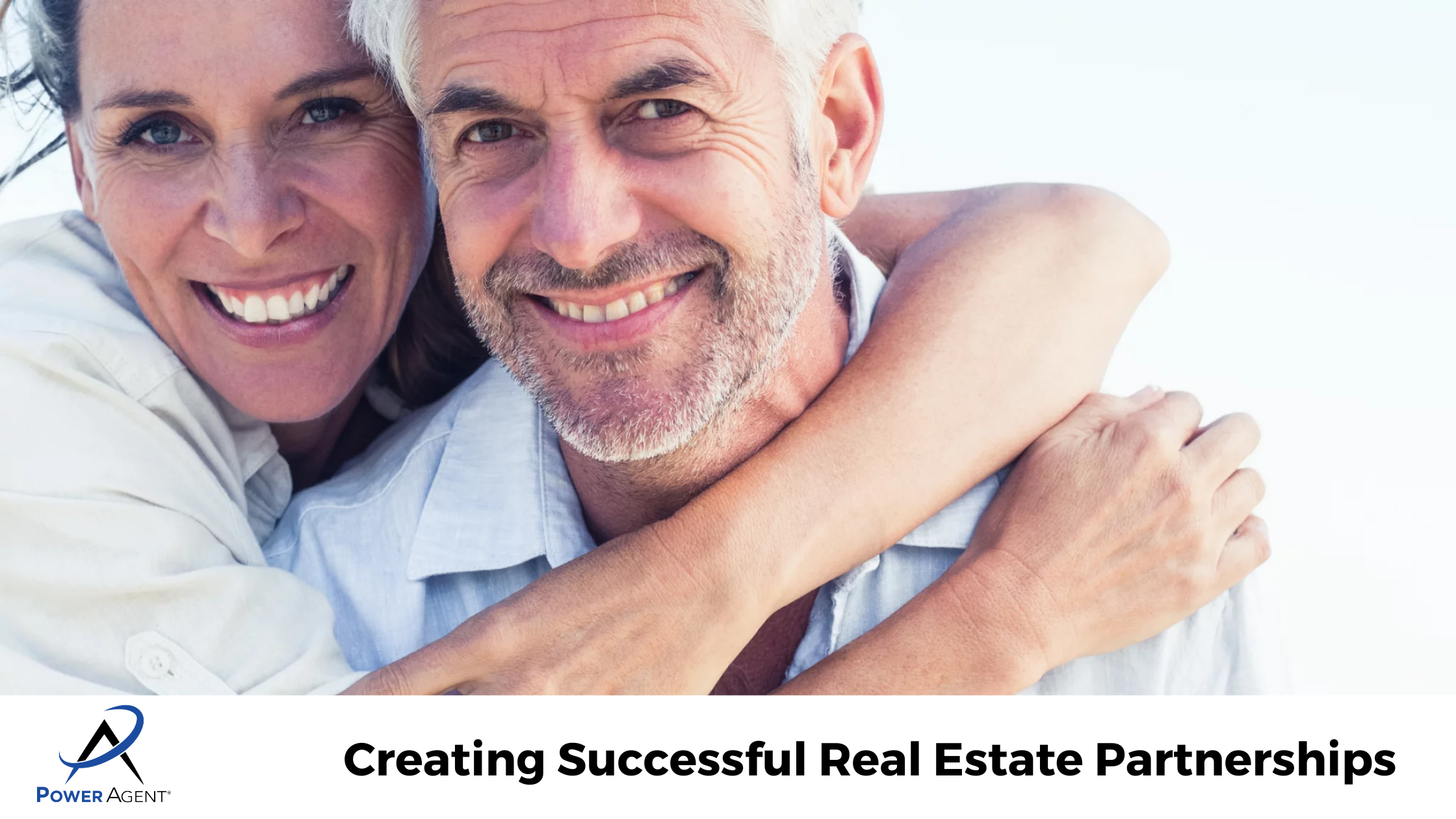 September 18, 2021
Creating Successful Real Estate Partnerships 
Creating a partnership can be exciting when it works well, but stressful when it doesn't. Focusing on complementary roles means everyone is happy with what they do.
With the pandemic putting a lot of people out of work, the real estate industry has been fortunate to gain enthusiastic new agents. One of our Power Agents® and his newly licensed wife decided to be business partners, and he asked for advice on how to design their business and best practices for a married team. 
I'm going to broaden this so that my advice works for any team or partnership that a real estate agent might get involved with. Check out this article by The Balance: Small Business which you might find helpful, "5 Ways To Create A Winning Business Partnership and Agreement." 
The Challenge of a Partnership
Let's be honest. Working in a partnership, particularly with a spouse, can be a challenge, but that doesn't mean it's a bad idea. As you know, my wife works with me at Power Headquarters, and what I have discovered in my personal experience (and this goes for other partnerships also) is to try and find those tasks that make their heart smile. What is it they like to do? Where do they shine? Let them focus on that. 
When they are doing things they don't like to do, or if they are getting frustrated, or their hearts aren't in it, they aren't going to perform well, period. If the more experienced agent can handle the other things, including those things that nobody likes to do, your partner will not be burdened by the things she doesn't like to do, and she can get good and strong at those things that make her smile.  
Focus on Developing the Skills They Enjoy Most
Let her be the agents that lights up the room when she steps into it, and let her be the one that makes the personal connections, and networks. If those are the things she really enjoys doing, then let her do it, and grow her skills in that area. 
Or, if she prefers doing the background work and the follow up, release her to do the things she is best at, and the parts of the job she loves most. The best partnerships have people whose skills complement each other, because that way, everyone wins! 
On the flip side, if she's doing things she doesn't like, and your doing things you aren't as good at, both of you will be stressed, and then it turns into a nightmare.  
Be careful how you talk to one another. Sometimes, when you are working with a spouse, or other family member or good friend, the conversation can shift to sound too business-like, and even sometimes downright bossy. It can damage the relationship, so be respectful of each other, and mindful of how you talk to each other. Remember the love and friendship that runs beneath this all. 
TIP: This article by Entrepreneur outlines "13 Tips To Creating The Perfect Partnership." 
What To Do When Things Become Stressful
When the pandemic hit, and suddenly spouses that were business partners were in lockdown at home together, and there was no space, and no breaks and there was a lot of stress. It's OK to give your partner space is a necessity when you are around each other 24/7, and the most important thing is that making sure the relationship stays strong is more important than the business. If the business starts getting in the way of the relationship, then you need to shut it down. 
What's Next?
Are you ready to start taking things to the Next Level®? If you don't already know what you need to do to get to your next level, we can help!  
Power Agents®, for more strategies and tools for helping homeowners in need and getting prepared, check out the Disaster Plans and other content in the Farming, Self Promotion, and Mailings tab in the Classroom. Whether you need a boost of confidence or empowering dialogues, we are here to help you get the skills you need to be the go-to agent for the buyers and sellers in your farm area. 
---
Get the Darryl Davis Newsletter!
Not yet a Power Agent®? Did you know that for LESS than the cost of a Starbucks coffee, you can have access to hundreds of marketing, prospecting, and objection handling tools – live weekly coaching, podcasts, webinars, and more? And as a bonus, get our FREE copy of our incredibly valuable: The 12 Best Strategies to Generate Listing Leads in the Next 30 Days!   
Start your Power Agent®  trial and have total access to every tool we have including letters, dialogues, training tips, webinars on demand, eGuides, and marketing tools for just $5. 
Contact our team today to sign up or get the answers you need: (800) 395-3905!