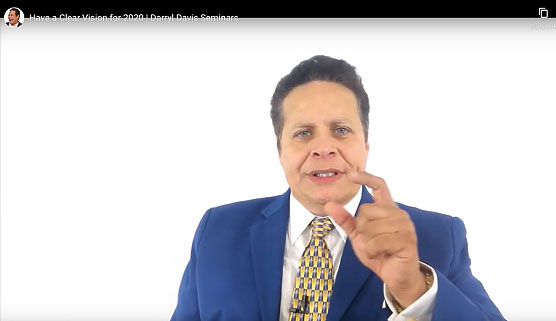 September 16, 2019
Creating Your 2020 Vision
By Darryl Davis, CSP
Want to make 2020 your breakout year personally and professionally? Then quit waiting for January. As much as I love a great business planning first of the year kick-off, what really makes me SMILE is when I see agents pre-planning their first quarter early long before it rolls around. With 2020 ahead of us, what a perfect opportunity to talk about clarity and vision.
Where do you want to SEE yourself in the next 15 months? What do you want your business to look like? How would it feel if you were hitting your goals? What could you do for yourself and your family if you were able to create a financial breakthrough that had you living with more ease, without the stress and worry about where your next commission was going to come from?
There's an old saying, "Seeing is believing." I often prefer the flip side of that phrase, "You've got to believe it to see it." In other words, if you can envision yourself as a successful real estate professional, thriving in every market condition, providing well for your family, and delivering service to your customers and community – then it will be difficult to create that reality. So, how do you create that kind of clear vision?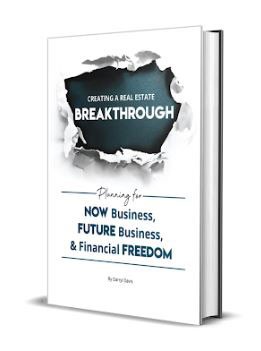 For many of you, the first thing you'll have to do is to take a good long look at old limited belief systems. If they aren't serving you – they need to be replaced – immediately. All the shoulda, coulda, woulda's need to get sent packing and positive affirmation and kind self-talk need to take their place. That's not just "woo-woo" talk – that's fact. I love this quote by John Demartini, "Whatever we think about and thank about we bring about." Let that sink in. What are you thinking about? If it's not a solid, crystal-clear vision of what you want in the coming year, it's time to create that focus.
Secondly, long before the actual business planning takes place, dig in and find your purpose. What's your WHY? Why do you want to succeed? What makes you eager to jump out of bed in the morning and do what you do? For most people, that's not about achieving a specific award or buying a dream car – it's something bigger than themselves.
I love author and motivator Simon Sinek's take on finding his why, ""My why is to inspire people to do the things that inspire them so, together, each of us can change our world for the better. Now I can do that in a million ways: I can write a book. I can give a talk. I can give advice to someone. That's who I am as a friend. That's who I am as a brother. That's who I am as a son. It's who I am. And my opportunity is to find the creative ways in which I can bring who I am and inject life into it."
Your purpose – or why – helps to fuel your passion. It helps you have the energy to do what you need to do every day to fulfill that purpose. It helps to make even the most common tasks more exciting, and when you tap into it – it will lead you to inspired new ways of looking at life and work!
Lastly, you've got to start really paying attention to profit and treating your business like a business. Too many times I've seen agents lose their gusto for their career because they failed to manage their money well or invest in themselves and their business effectively. We have such an extraordinary opportunity in our industry to create wealth through real estate investment – yet the vast majority of agents never tap into that opportunity.  That's what I'd like to help make a difference.
That's why I'm hosted a webinar to really help you all find Absolute Clarity for Your 2020 Vision.
Let's do this together!
Power Agents, before the webinar download the Breakthrough Business Plan from your Time Management Tab here. 
Not yet a Power Agent®? Did you know that for less than a dollar a day, you can have access to hundreds of marketing, prospecting, and objection handling tools – live weekly coaching, podcasts, webinars, and more?  In fact – we'll give you the first 30 days for just $5! Start your Power Agent® trial and have total access to every tool we have including letters, dialogues, training tips, webinars on demand, eBooks, and marketing tools.
If you're ready to have everything you need to handle whatever the market tosses your way — get started today! 
Need help? Contact our team today at (800) 395-3905!