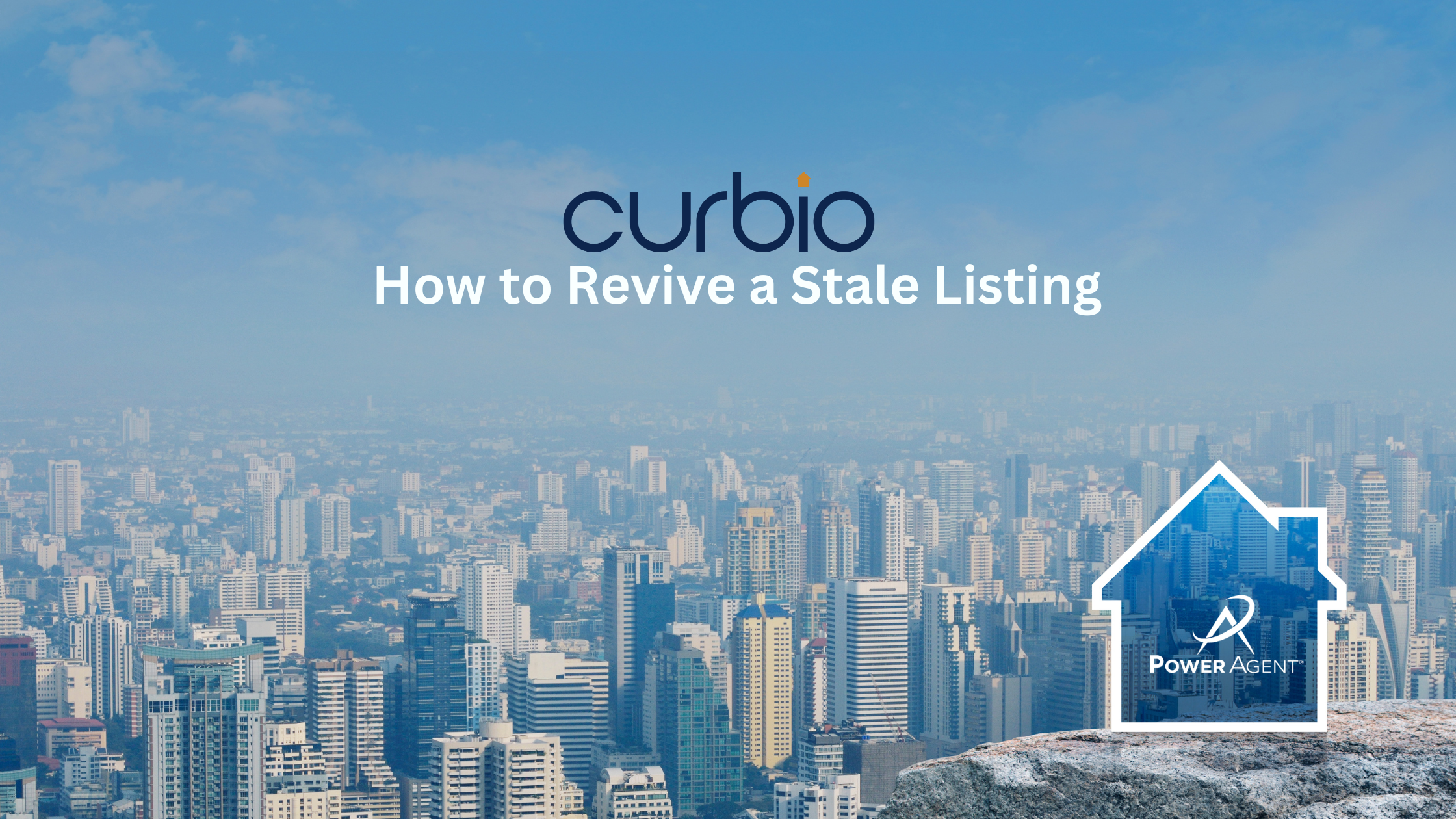 January 8, 2023
Curbio Insights: How to Revive a Stale Listing  
Let's start by addressing the elephant in the room: Can stale listings be revived? We say yes! 
We get this question a lot! We asked our friends at Curbio to bring us THEIR perspective on the topic! Here's what they shared!
You have a listing that's been sitting on the market, and try as you might; it just isn't moving. The days-on-market are piling up, and so are the frustrated texts from your seller. While you're brainstorming how to revive your stale listing, your seller is at home Googling: 

When listings go stale (and even the best real estate agents will face this issue), it can strain client-agent relationships. So, we've put together a short guide to show you how to revive your stale listing, so the only thing your client will be searching for is: 

Five strategies that hit the refresh button on stale listings
We know how nerve-wracking it can be to watch your listing sit…and sit…and sit some more. When your listing isn't getting the attention it deserves, it's time to re-evaluate and revive your stale listing before it's too late. Here's how! 
One: Get homes buyer-ready.
If the home is outdated, needs work, or could benefit from depersonalization, coach your seller to invest in pre-sale renovations. With Curbio, you can make smart updates quickly that will help increase the sale price and get the home sold quicker — all with no upfront payment from your seller and no added stress for you. 
Two: Reassess the listing photography.
High-quality real estate photography brings buyers to the yard. Sometimes listings sit on the MLS because they feature smartphone snaps instead of well-lit, in-focus, high-resolution images. As attention spans continue to shrink in the age of digital, you'll capture more views with quality photos that highlight homes' best features. You can also revive your listing by hosting a virtual tour so buyers can visualize the home without having to set foot in it. This is ideal for people searching for homes that don't live in the area. 
Three: Ask for feedback.
If you've ever shown a property that isn't moving to potential buyers who you never see or hear from again, maybe there's something you're missing that turns buyers off. Knowledge is power, and asking for feedback will help you and your sellers make informed decisions to help the home sell faster. 
Four: Professionally stage the property.
If homes are completely empty or, on the other hand, overly busy with sellers' style and personal touches, it's better to enhance the staging. Well-staged homes sell for 17% more on average than un-staged homes. Further, 95% of professionally staged homes sell in 11 days or fewer. Staging essentially depersonalizes spaces but still makes them feel at home. As a result, potential buyers are invited to fully envision their own personal touches in each room without being distracted by the sellers' belongings. 
Five: Address big issues.
Have issues come up on inspections that have ruined sales? Maybe the roof needs to be replaced, or the HVAC is past its prime. Curbio can help. We'll repair/replace anything that's preventing the home from being sold — and your sellers won't pay a dime for the work until closing. 
A stale listing isn't the end — it's an opportunity
In an industry where referrals are everything, the last thing you want is a dissatisfied client. But where do you find the time to manage a contractor and trust them to make strategic updates on top of everything else you're doing? 
That's where Curbio comes in. With an average ROI of 269%, homes that have been updated with Curbio sell for an average of 28% more. Additionally, time is of the essence when it comes to selling which is why Curbio is proud that we finish projects 50% faster than the national average. And we deliver all of that value to your client without you lifting a finger, which is why agents use us as their secret weapon again and again. Our platform offers real-time updates and access to your designated Project Manager, who will take over every step of the process so you can take your time back.  
Lastly – Curbio doesn't require any upfront cost from your client. They pay when they sell. No interest. No fees. No catch. Get started today at curbio.com. 
POWER AGENTS® – Curbio is a Preferred Partner! Look in Tech Tools and Training for an exclusive coupon for 35 Pre-Listing Professional Photos! Curbio's partnership with HomeVisit should be enough to cover up to a 4,500 sq ft home.  
---

Get the latest real estate training tips delivered to your inbox!
 Not yet a POWER AGENT®? Did you know that for LESS than the cost of a Starbucks coffee, you can have access to hundreds of marketing, prospecting, and objection-handling tools – live weekly coaching, podcasts, webinars, and more?     
Start your POWER AGENT® trial and have total access to every tool we have, including letters, dialogues, training tips, webinars on demand, e-Guides, and marketing tools for just $5.    
Contact our team today to sign up or get the answers you need: 631-929-5555!