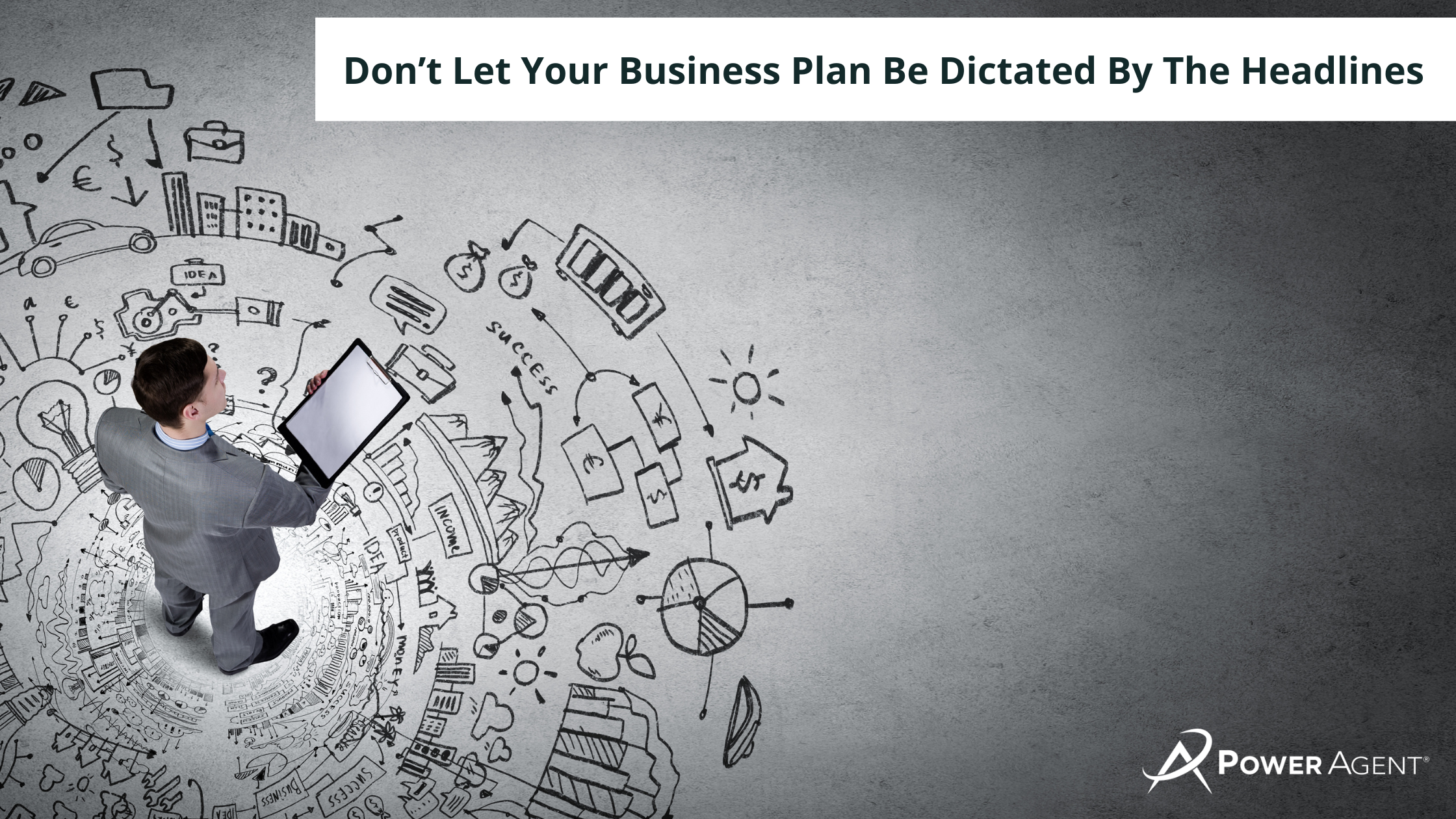 June 26, 2022
Don't Let Your Business Plan Be Dictated By The Headlines
As a real estate coach, I'm seeing and hearing a lot of fear in agents because they are reacting to the "sky is falling" headline news.
Over the last several months, the interest rates began to rise. If you look back to where they were in October and compare that to yesterday, they have doubled. Now, the markets are starting to shift, homes are taking longer to sell, and they aren't selling for the crazy high prices they once were. The number of mortgage applications for first-time homebuyers has fallen considerably, and when you look at the housing industry as a whole, there is a lot that we have yet to learn and understand.   
Many agents are anxious about what is happening and are looking for answers wherever they might find them. Now, I don't have a crystal ball to give you the answers, but I can tell you this. First, The Power Team and I are here for you. We've got you! Second, all markets are great for agents.   
A Tale of Two Markets…or Is It Three?
We usually talk about the real estate industry having two markets: Buyer's and seller's markets. However, there is a third market that rarely gets a mention — the fair market, or as I like to call it, "the sweet spot market." This is the market that most real estate agents thrive in. That's not to say you can't be highly successful in any other market, because over the last two years, where some agents threw in the towel and left their real estate career, others remained but had their worst year, and still others have seen their best years.  
The fair market, or agent's market, is what we are moving towards now, and while a shift in the market will require a shift in our mindset and skills, you can thrive! This can be your best year! 
Related Reading: The Key To Pricing Properties Right in a Balanced Market 
A Little Bit of History
Back when I was a real estate agent, the interest rates were 13-14%. Your jaw might be dropping, and you might be thinking, "There's no way you could sell homes with those interest rates!" Well, if that were true, I wouldn't have been doing 6 real estate transactions monthly, and the average time for a house to be on the market was 6 to 7 months. It doesn't matter what kind of market we are in; you can be successful…as long as you shift with it. 
What's Happening In the Industry Has Nothing to Do With Your Success
Whether the interest rates, inventory, or the whole industry is running amok, going from low to high, to astronomical to practically underground, none of those things have anything to do with your success. Doing the right activities, having the right mindset to operate in your current market, and not getting twisted about the fact that it's changing can lead you to the same success as you can have in any other market.  
Related Reading: Real Estate is Always Good, Even If The Market Shifts 
Related Reading: Market Maker – What to Do in a Shifting Real Estate Market
Who This Changing Market Really Affects
Rising interest rates like what we are seeing now will affect your buyers and sellers more than they will affect you. Buyers may not be able to get the home they want, and sellers may have trouble selling their homes because they must stay within their budget.   
Paying $2000 a month on the mortgage for a home with 2.5% interest will look a lot different than $2000 a month with 5%, or even 7% interest. It's still the same $2000, but the interest rate will affect their buying power considerably.   
Their purchasing power goes down, and when they start looking at homes within their price range, most buyers aren't going to like what they see. My son, for example, is looking at buying his first home here on Long Island. He was out looking at homes, which here on Long Island are about $400,000 to $500,000, and he was disappointed and said, "Dad, for that kind of money, these aren't very nice houses, and the ones I do like are so expensive."  
Back in the days when I was a real estate agent, I would have buyers looking at $100,000 houses and thinking it was so expensive, but now? That's cheap! This $500,000 is going to look cheap in 10 – 20 years. Thankfully, the market operates like a pendulum. It will always go back and forth because that's just the nature of real estate. When you can understand this, we can be successful no matter what housing market we are in.  
Related Reading: Investopedia – Explaining Rising Interest Rates and Real Estate to Clients 
Calling All Real Estate Agents!
Are you ready to start taking things to the Next Level®? We have the tips, tricks, and tools you need to find success…in any market! 
POWER AGENTS®, you can check out the Tech Tools and Training tab in the Classroom for training, tools, and ideas to be ready for success, no matter what the market looks like. Don't forget about our Webinars-On-Demand feature! Whether you need inspiration, motivation, or content, we have it! 
Never Miss a POWER AGENT® Training Event Again! Click here to subscribe to our BRAND NEW Calendar feature! Training, brainstorming sessions, and top agent interviews will automatically be added to your calendar, so you never miss out.   
---

Get the latest real estate training tips delivered to your inbox!
Not yet a POWER AGENT®? Did you know that for LESS than the cost of a happy meal, you can have access to hundreds of marketing, prospecting, and objection handling tools – live weekly coaching, podcasts, webinars, and more? Including this awesome open house checklist!     
Start your POWER AGENT®  trial and have total access to every tool we have including letters, dialogues, training tips, webinars on-demand, e-Guides, and marketing tools for just $5. 
Contact our team today to sign up or get the answers you need: (631) 929-5555!