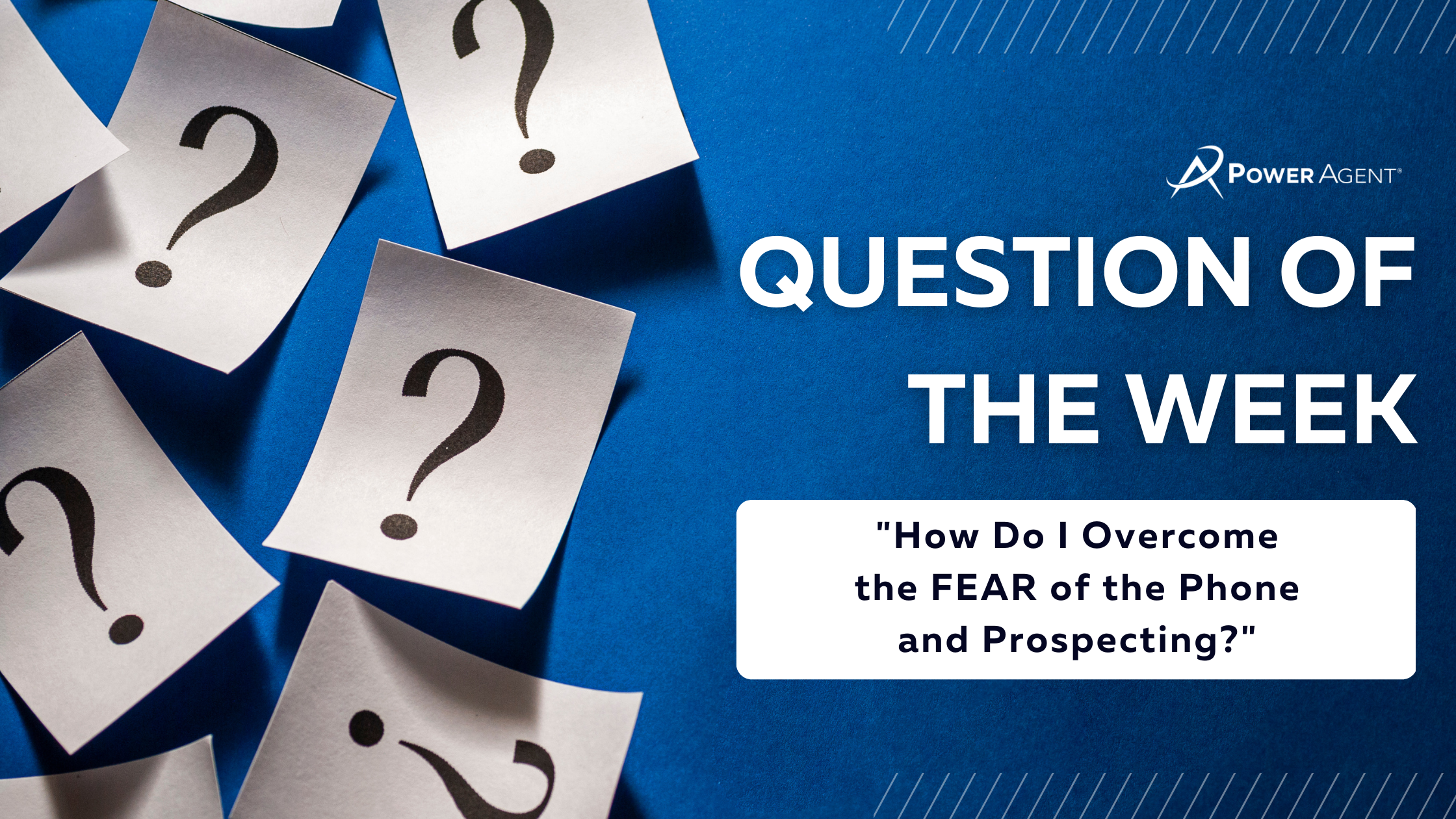 March 27, 2023
"How do I overcome the FEAR of the phone and prospecting?"
Question of the Week: Overcoming the Fear That Stops Agents in Their Tracks
Fear and call reluctance top the list of reasons agents not succeeding because they literally stop themselves before they even start. Not just new agents. We're talking about even experienced agents with 10+ years in the business who are stuck in limbo because, for the first time in a long time, some of them have to pick up the phone. They have to prospect. They have to work harder and differently than they ever have. I teach them to shift their objective.
If you ask a group of a hundred agents what their goal is when making prospecting calls, 92 will tell you, "To get an appointment." That's the wrong answer 100% of the time.
Why? Because it sets up a win-lose situation. Get the appointment, and you win. Don't get the appointment, and you lose. Agents don't like those odds, and no one wants to subject themselves to rejection over and over.
I teach agents to call with the objective of developing a relationship with the person on the other end of the line. To come from a place of service, not sales – because let me tell you – people can tell! They know who's calling to "take" something like an appointment versus someone who is letting them know they are a resource and asking questions about how they can help.
There's a process to breaking through fear and getting to the other side. It's quite extraordinary to see the light bulbs go off and agents embrace prospecting – and, believe it or not, come to love it. To have fun with it. To understand that there's nothing to be afraid of. In fact, there's a whole new world of getting to know people and helping them that doesn't seem salesy or pitchy or out of authenticity for who they are. Once that happens? Wow. The sky is the limit!
Related Reading: Have No Fear Prospecting Tips
Got a burning question you'd like to see answered? Click here and ask away!
Ready to put fear in the rearview and succeed with more ease? Try our POWER AGENT Coaching on for size! 30 days, 4 coaching calls, everything you need for just $5! Click here to learn more.
Interested in a fear-busting workshop for your organization? No problem! Book Darryl to motivate your team, move them past fear and roadblocks, and into the tools and strategies they need to take this market on for all it's worth! Email us at GaleC@DarrylSpeaks.com to learn more.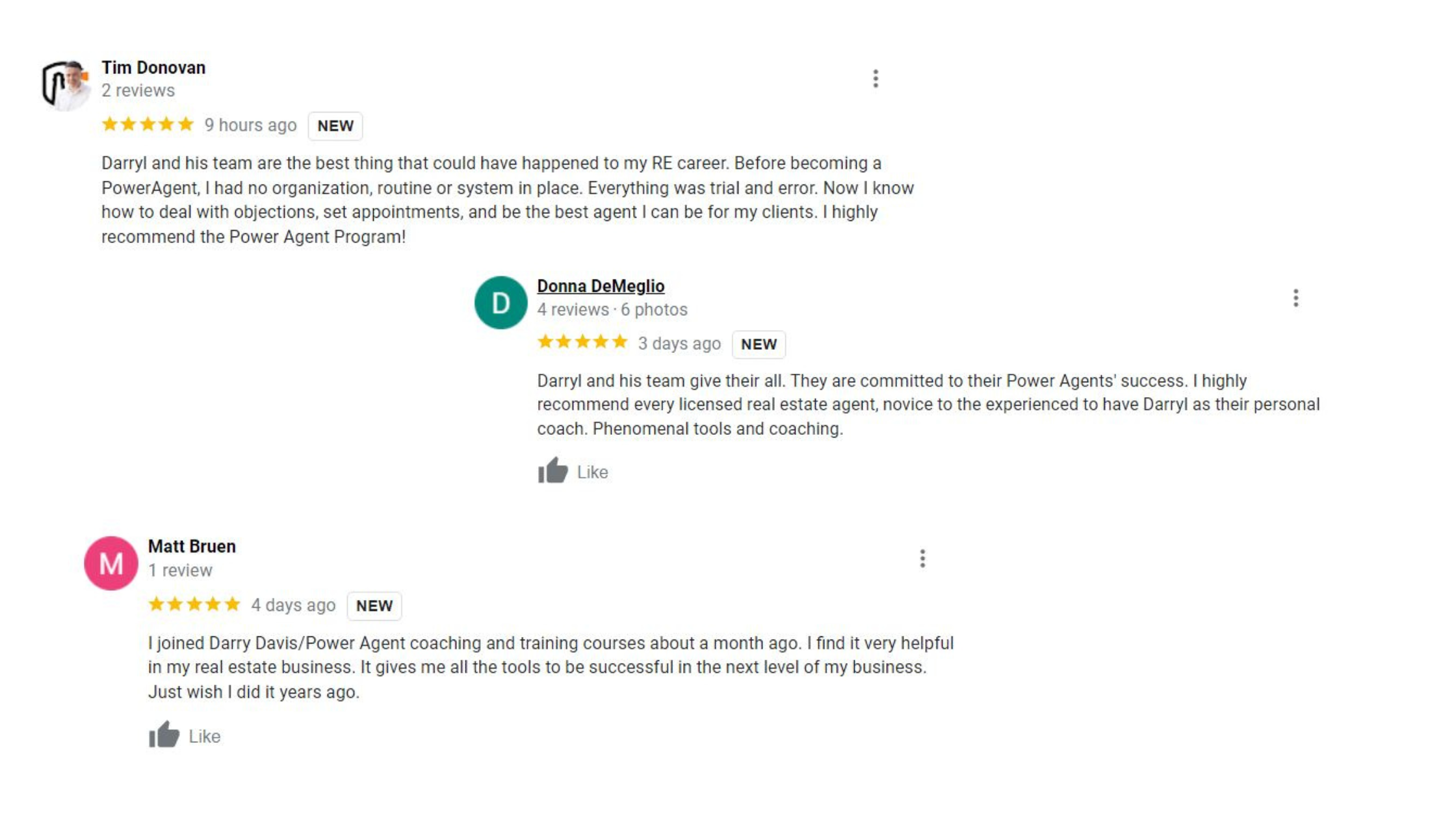 Darryl Davis is an award-winning international speaker, real estate and business coach, and best-selling author of three books, all published by McGraw Hill Publishers.
For more than 35 years, Darryl has spoken to and trained more than 100,000 sales professionals around the globe to more than double their production year after year. His book, How to Become a Power Agent in Real Estate, tops Amazon's charts for one of the most sold books to real estate agents.
He was awarded the Certified Speaking Professional (CSP) designation by the National Speaker's Association which is given to less than 2% of all speakers worldwide.
Whether from a stage or Zooming into a virtual room, Darryl's extraordinary humor, relatability, and natural gift for teaching real-world, results-producing skills and mindsets to audiences have made him a client favorite throughout his career.
Audiences will laugh, learn, and ultimately walk away better prepared for a changing world, with the tools, skills, and training they need to build their businesses with more ease and less stress and to design lives and careers worth smiling about.