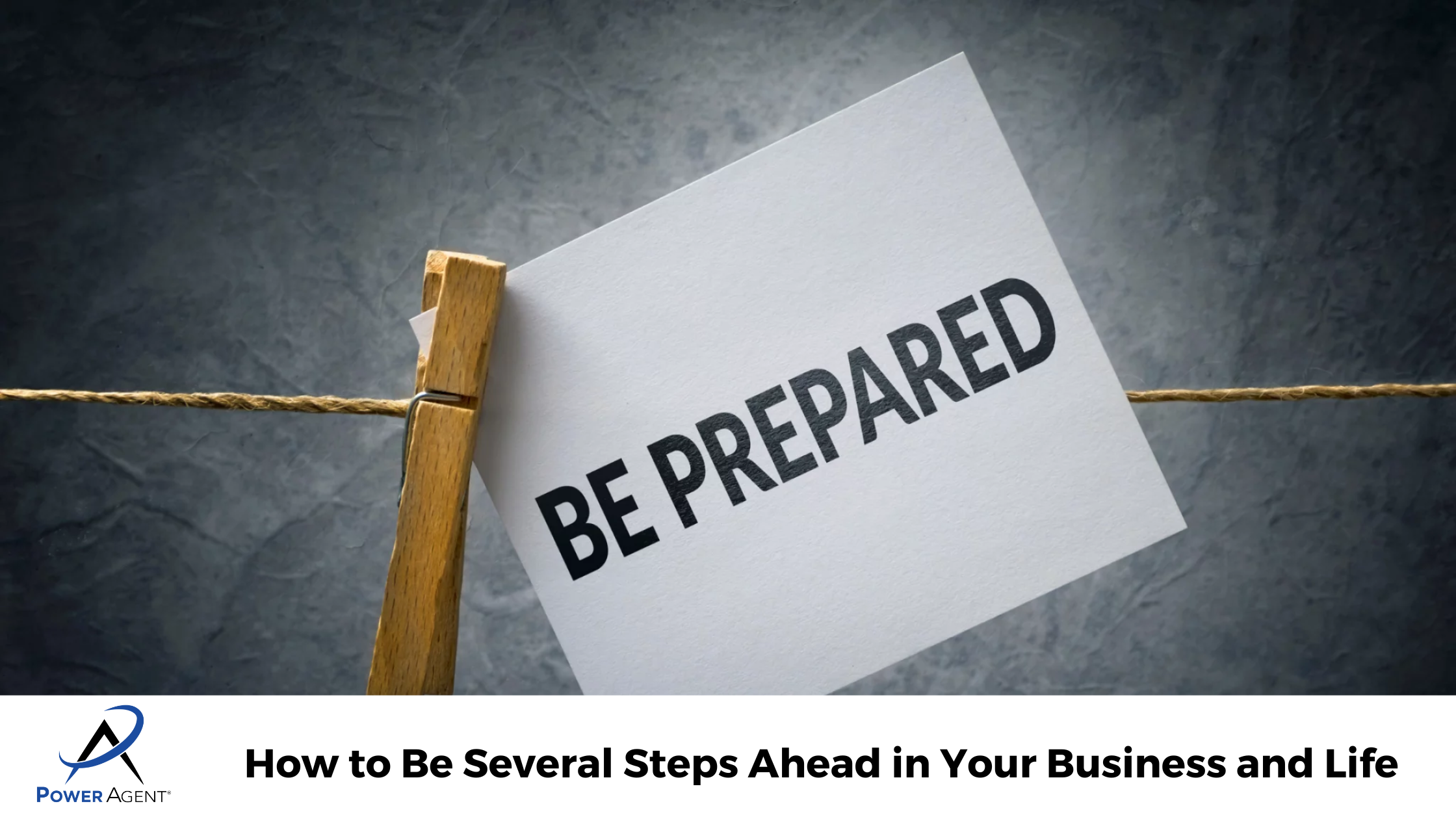 December 12, 2021
How to Be Several Steps Ahead in Your Business and Life
We've all heard the saying about what "assuming" does, but there are some occasions when assuming the worst can help you prepare for the best.
Most real estate agents find themselves focusing their self-promotion efforts on one area, whether it's buyers, sellers, or a chosen niche. That isn't always where an agent stays, however.  
One of our Power Agents® wanted to be prepared as he was transitioning from working exclusively with buyers to working with sellers. Successfully getting his first listing to go into contract, he asked me what he could do to be prepared to take these sellers through to closing with the least number of hiccups or issues.  
TIP: Read this related article on being prepared in case of disasters, "Being Prepared Isn't Just For Scouts." 
When "Assuming" Is a Good Thing
Theodore Roosevelt once said, "Make preparations in advance. You never have trouble if you are prepared for it." He's right — any problems that might arise will never be troublesome if you are prepared for them to begin with. 
The best way to be prepared for any issues is to assume that the other agent isn't going to do their job. Now, I'm not saying that the agent on the other side of your transactions will be bad, or incompetent — in all likelihood, they will be wonderful, and you can trust them and work well with them. But I do say it's smart to stay focused on managing your contract-to-closing timeframe with your finger on the pulse of the transaction. When you assume everyone else isn't doing everything they should be doing, it will keep you vigilant to make sure that everything is done properly. 
The second way to be prepared is to really stay on top of the dates. This means you are making sure that the loan application is in on time, the inspection is scheduled, etc. I'm sure we have all found ourselves in a situation where you are being reassured that you are being taken care of, and then a few weeks go by, and suddenly, there is paperwork that is needed NOW that nobody remembered to fill out, and you are left with a big problem and no time. Now, when selling condos or co-op housing, there are going to be other things to stay on top of as well, such as board approvals and any additional bank requirements. 
It's a good idea to ask the other agent if it's alright to check in with them regarding the loan application status so that you can keep on top of it without bothering the loan officer, and get the buyer's contact information as well in case you have questions. Of course, you don't want to be in so much contact that you are annoying, but agreeing to a regular check-in interval is a good idea. 
TIP: Check out this great article by Jungle of Life, "The Importance of Preparation." 
The Turkey Analogy
For anyone that has cooked a holiday turkey, you know that the turkey is going to take several hours to cook. You also know that standing in front of the oven the whole time isn't going to make that turkey cook any faster, so what do you do? You spend that time cooking other things, but you still occasionally crack open the oven door to check on the turkey's progress. Is it browning well? Is it getting too dry? You make sure it's still on track to be done when you expect it to be done, and it's the same with the real estate transaction. You keep on top of things, but get to work on other things while you wait between check in times. 
What's Next?
Are you ready to start taking things to the Next Level®? If you don't already know what you need to do to get to your next level, we can help!  
Power Agents®, for all the tools, resources, and strategies for ensuring you are prepared from contract to closing, head to the Servicing Sellers tab in the Classroom.  Whether you need a boost of confidence, or empowering dialogues, we are here to help you get the skills you need to be the go-to agent for the buyers and sellers in your farm area. 
---

Get the latest real estate training tips delivered to your inbox!
Not yet a Power Agent®? Did you know that for LESS than the cost of a Starbucks coffee, you can have access to hundreds of marketing, prospecting, and objection handling tools – live weekly coaching, podcasts, webinars, and more? And as a bonus, get our FREE copy of our incredibly valuable: "The Farming Field Guide: Plant the Seeds To Generate New Listings and Referrals." 
Start your Power Agent®  trial and have total access to every tool we have including letters, dialogues, training tips, webinars on demand, eGuides, and marketing tools for just $5. 
Contact our team today to sign up or get the answers you need: (800) 395-3905!