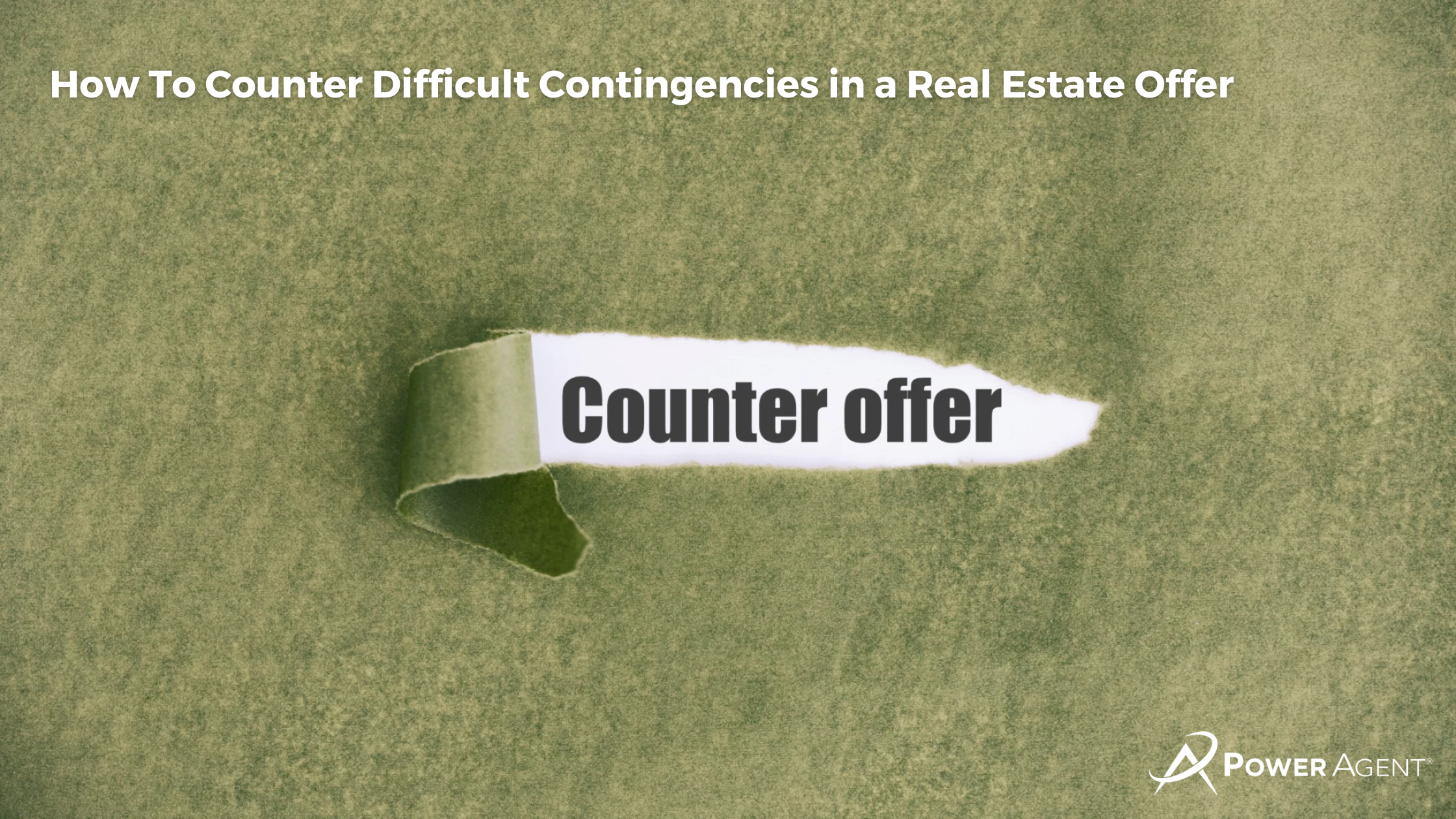 March 27, 2022
How To Counter Difficult Contingencies in a Real Estate Offer
A home offer with tough contingencies attached can be frustrating for a real estate agent. One key is to stay calm and help your clients stay committed.
Have you ever had an offer for your listing that had some difficult contingencies attached? Maybe the buyer wanted to have total control over what fixtures and appliances were included in the sale, or they wanted to be able to back out of the deal at any time. Whatever the case may be, it can be tough to know how to handle an offer like that. In this blog post, we'll give you some tips on how to deal with a difficult offer so that you can get the best outcome for your client. 
TIP: This guide from Seattle Mortgage Planners outlines many of the common contingencies listing agents and sellers are faced with, and how to manage them.  
Knowing What Your Sellers are Committed To
One of our Power Agents® recently had an offer come in on her listing, but the buyers included a contingency on the offer that hinged on the buyers being able to sell their own home within 30 days. This real estate agent's heart sank, knowing that even in a hot market, the buyer's home may not sell, and even worse, that a 30-day wait would be too long for her sellers. As happy as she was to get an offer on her listing, there were too many uncertainties, and she knew that this offer was going to infringe on what she knew her sellers were committed to — moving into their new home as soon as possible. She agonized over how to present this offer to the sellers, wondering if she should recommend taking it or rejecting it. 
TIP: This related article dives into how to keep your clients focused on their commitments when they start getting off track.  
Looking At the Big Picture
I asked this Power Agent® what the market was like in her area, reminding her that if the market was still hot in her location, there would be a very good chance the buyer's home would sell. I also asked if she believed she could find another buyer quickly, should this current offer fall through? She believed that she had priced this home well, and she could find new buyers within the next few weeks. By taking a few minutes to think it over and discuss all the possible scenarios, this agent felt a lot better about this situation. Once we stepped back to look at the big picture and ask the right "what if" questions, we could clarify the situation and see the options more clearly.  
Creating a Counter-Offer
If you find yourself in a similar scenario and you believe you could sell the home to another buyer quickly, then you can be a little stricter in your expectations from this buyer, especially if your sellers have timelines and commitments of their own to consider. If your buyers are not in a good position to sell if this deal falls apart, then you will have to take whatever you can get, even if it's a contingency like the buyers selling their home. However, this doesn't mean you have no options, after all, they call it "negotiation" for a reason! You can explain to the buyer that no, you can't accept that contingency, the buyer needs to go into the contract willing to close, no matter what, even if they don't sell their house, and then work with them to create a workable deal for both parties. 
TIP: Forbes' article, "10 Tips to Win a Real Estate Negotiation" has some great tactics to use while negotiating the deal.  
Another negotiation point you can use is in your counteroffer is to tell the buyer "No" to the home-selling contingency, but because they still have a house to sell, they will accept the offer if the buyers list their home with the agent that is currently helping them make the offer. Not only will you look like a hero to the buyer's agent because you are helping them get a listing, but you are also helping your seller — If the other agent now has two deals riding on this, they are going to work extra hard to make sure everything works out. This is a win-win for everyone! 
TIP: Check out this related article, "The Negotiation Dance: Why Partnering with the Other Agent is in Everyone's Best Interests." 
What's Next?
Are you ready to start taking things to the Next Level®? If you don't already know what you need to do to get to your next level, we can help!  
Power Agents®, for more strategies and tools for helping negotiate the best deals for your client while partnering with the other agent to make it happen, check out the amazing content in the Negotiating Offers tab. With these guides, tips, and tools, you will become the expert in negotiating win-win deals.   
---

Get the latest real estate training tips delivered to your inbox!
Not yet a Power Agent®? Did you know that for LESS than the cost of a Starbucks coffee, you can have access to hundreds of marketing, prospecting, and objection handling tools – live weekly coaching, podcasts, webinars, and more?  
Start your Power Agent®  trial and have total access to every tool we have including letters, dialogues, training tips, webinars on-demand, eGuides, and marketing tools for just $5. 
Contact our team today to sign up or to get the answers you need: (800) 395-3905!