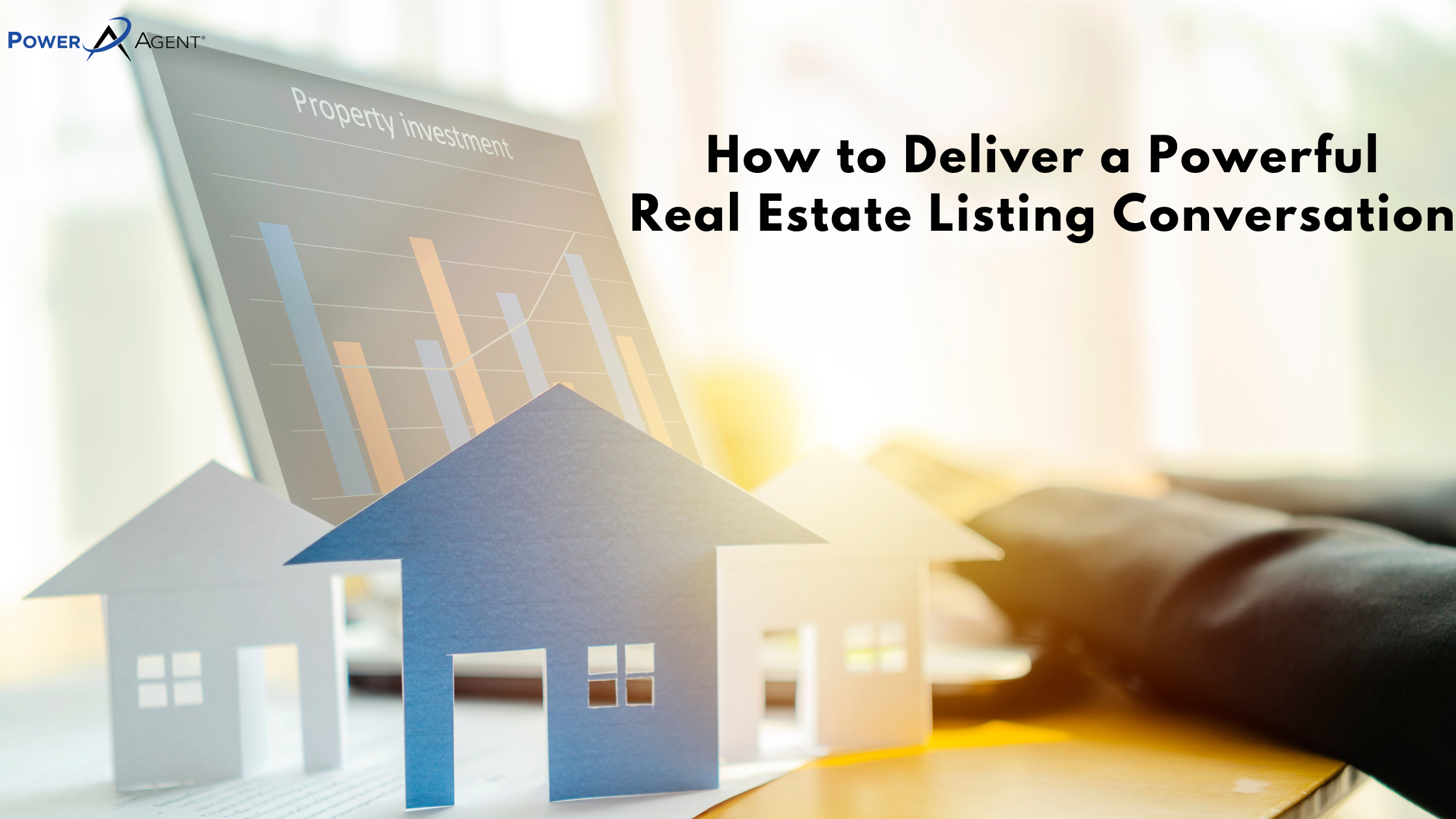 August 23, 2023
How to Deliver a Powerful Real Estate Listing Conversation
One of the top skills to learn in this business is how to crush (in a great way) and win your real estate listing conversation.
Creating a Listing Conversation that Wows
When you get a call from someone looking to sell their home – or a "yes, come over" when you are making your prospecting calls, knowing how to navigate that conversation with confidence, ease, and authority is critical.
TIP: This incredible article by RPR has several suggestions for how to create a stellar listing presentation.  
Take Your Tools to the Kitchen Table
Before you even begin your conversation, take your tools (listing books, folders, briefcase, etc.) to the kitchen table, then don't sit down. Ask the sellers for a quick tour of the home so you can get a lay of the land – and use this experience to start breaking the ice and building rapport with them by asking questions. Once you feel like you've seen enough and are at a good comfort level with the sellers – go back to the kitchen table!
Think of Your Time Together as a Conversation, Not a Presentation
Homeowners hire the agent they like best. That's why it's important to be fully present and treat your time together as a conversation – not a presentation or show. That means no canned scripts or "rehearsed" presentations. Don't get us wrong – you should be prepared and practiced – but in the art of speaking from your heart, not just your head. Knowing your listing book backwards and forwards so you can reference it and use it as a tool – but not be tied to delivering it line by line. The best conversations are when you use metaphors and analogies to connect the sellers with the tools and services you offer. 
Learn more about using metaphors and analogies here. 
POWER AGENTS – Watch Darryl's full webinar on How to Be Crazy Confident on Every Listing Appointment here.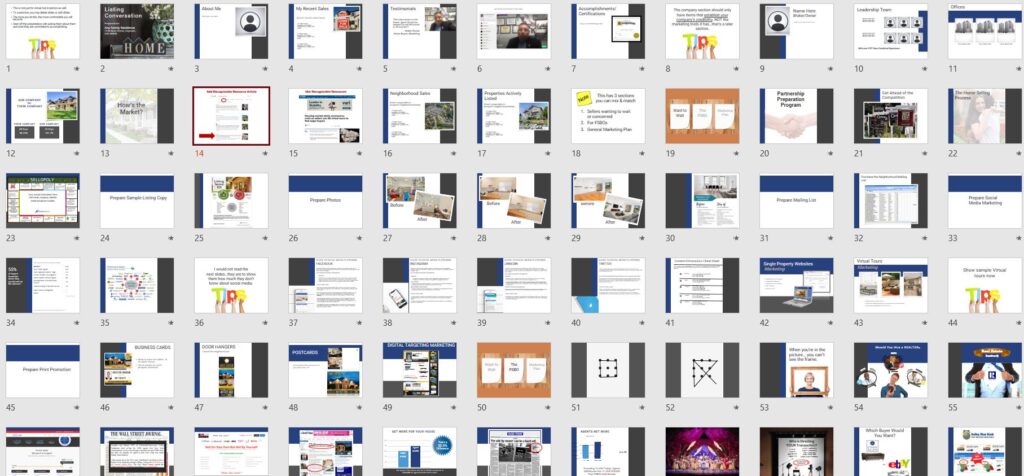 Creating Slides for the Listing Presentation
Whether you are conducting this conversation in person or virtually, have more slides than you think you will need. When people are listening to you, homeowners tend to focus on the slides. This is especially true during a virtual conversation when they are unable to engage with you, so being able to change the slides more frequently will prevent them from losing interest when they are looking at the same slide for too long.
PRO TIP: Think of your listing presentation like a movie when you put it together. Rather than have only one slide with all the information on that subject, spread it over three to create more variety. 
What Real Estate Agent Information Should You Include?
There is a lot of information to include, but everything you put in should communicate two things: the value in the real estate industry and the value of choosing YOU to be the agent to help them.
Here is a list of information to include: 
Information about who YOU are as a real estate agent and as a person. This includes what you do as a real estate professional. Also, include your credentials and professional memberships, as well as community groups that you are a part of.

 

Information about your company: Talk about the history of your brokerage and what they stand for, and why you chose to work with them. Just like you spent time establishing your credibility, now is the time to establish the credibility of your brokerage.

 

Information about your team, if you have one. If you have a leadership team, sales trainer, or assistant, talk about the strength and success of the team, especially how they are working behind the scenes to help the homeowner sell their home.

 

Testimonials from past clients reassure your potential sellers that you are excellent at what you do.

 

Information and statistics about your success compared to other brokerages, whether over the last quarter or the last year (use whatever numbers make you look better!)

 

Information on the

local

housing market. This can include current information from their neighborhood, as well as a broader overview of the housing market in the city and state. However, most homeowners care most about what is happening locally. Stats on neighborhood sales, number of listings, how many days on market, and anything else that will help educate the homeowner about what's happening.

 

Reasons why homeowners should work with a real estate agent, even if it isn't you. Many homeowners don't see the value in the real estate industry as a whole, so explaining the level of protection and representation they receive by using an agent to show why they shouldn't try to sell their home on their own.

 

Show a homeowner where the majority of buyers come from, whether it's the internet, other real estate agents, yard signs, open houses, etc.

 

An overview of the home-selling process. Include information about getting the home ready to be listed, as well as staging tips, how to prepare quickly for showings, as well as information about open houses.

 

Details on how you market your listings and show them your marketing materials. You can include sample listing descriptions, and show sample photos (i.e.: before and after pictures if you use a service like Box Brownie.)

 

Information on how real estate agents have access to better-qualified buyers who are able and willing to pay more for a home. You can include information on how people get more for their homes with an agent rather than selling on their own.

 
TIP: If you are using the Power Program® Listing Presentation, there are 103 customizable slides for you to use as part of your listing presentation. You can use the slides you like and remove the ones you don't want.  
Dialogues for Handling Common Objections
Objections are as common to the listing conversation as white is to rice, and knowing what to say (and how to say it) can be the difference between getting that listing and leaving with nothing.  
When talking to homeowners who are thinking about selling on their own, you can use this dialogue to explain why they should use a real estate agent to sell their home:  
"If you were sick, you would call a doctor. If you were getting sued, you would look for an attorney to represent you. When it comes time to doing your taxes, you would likely find an accountant. You know that you need help with those things. Now, let's go back to the attorney. If you were being sued, and you were thinking about representing yourself, would you be confident in your knowledge of the law to get yourself out of this legal trouble? There is so much you don't know, and you could land up in a lot of hot water without using an attorney who knows the law forwards, backwards, and sideways. It's the same thing with hiring a real estate professional to sell your home. They know the market and industry forward, backwards, and sideways, and will be your best resource when it comes to your most important asset."  
When you are talking to the homeowner about what you do to market their home, and you know they are considering selling on their own, you can say: 
"Selling your own home means your reach is limited. Not hiring an agent means you are missing out on approximately 99% of the market. Now, I'm not saying this because I want you to list with me. If you don't like me or you don't trust me then you shouldn't list with me. But, you do need to find a real estate agent because you shouldn't try to sell your home on your own, especially as the market and industry grows more and more complicated. There is a company called For Sale By Owner, and even the CEO, Colby Sambrotto, struggled for six months to sell his condo in New York City on his own and eventually sold it for more than he thought he could just by using a real estate agent. Same thing for the CEO of BuyOwner, Al Bennati, who couldn't sell his own home on his own and had to hire a real estate agent. If these people who are pushing people to sell their home on their own but aren't even able to do it themselves, doesn't the fact they finally sold their home with an agent speak volumes?" 
So how do you handle that stubborn potential seller who says something like, "I don't need an agent."  While the market used to be so hot that FSBOs could get their home sold, the market is shifting, and the party is over! Some homeowners still hold to what the market used to be, so convincing these homeowners that they still need an agent can be a tough sell. Here's how you can address that with some statistics: 
"There was a study done by the National Association of Realtors® years ago who looked at FSBO home sales versus real estate agent sales and using the same market statistics, what they discovered was this: The average FSBO sales price was approximately 21% lower than homes sold by real estate professionals. Those homeowners that want to sell on their own to save the cost of the commission almost always get far more for their home than the cost of commission."  
The Power of Working with A Real Estate Professional
Your listing presentation will be filled with reasons why this homeowner should hire you because at the heart of this conversation is you communicating your value through the whole transaction. It's about you giving them peace of mind because you are a professional, and you can provide the coaching and the wisdom needed for them to sell their home successfully and for more than they would get by selling it on their own. 
TIP: For more ideas on how to perfect your listing conversation, check out our article on Inman: "Stop Presenting and Start Conversing: The Art of the Listing Conversation" 
What's Next?
Are you ready to start taking things to the Next Level®? If you don't already know what you need to do to get to your next level, we can help!  
Power Agents®, for more examples of dialogues, metaphors, analogies, and tips for creating an amazing Open House, check out the Servicing Sellers tab in the Classroom. Whether you need a boost of confidence or empowering strategies, Darryl will help you get the skills you need to be the go-to agent for the buyers and sellers in your farm area. 
---

Get the latest real estate training tips delivered to your inbox!
Not a POWER AGENT® yet? Give us a go! This comprehensive program provides affordable coaching, training, and customizable marketing tools for real estate agents. It's proven to help thousands of agents significantly boost their listing inventory, solidify their business, cultivate lifelong customers, enhance authenticity and confidence, reduce stress, and craft fulfilling careers and lives.
Start your Power Agent®  trial and have total access to every tool we have , including letters, dialogues, training tips, webinars on demand, eGuides, and marketing tools.
Contact our team today to sign up or get the answers you need: (631)929-5555