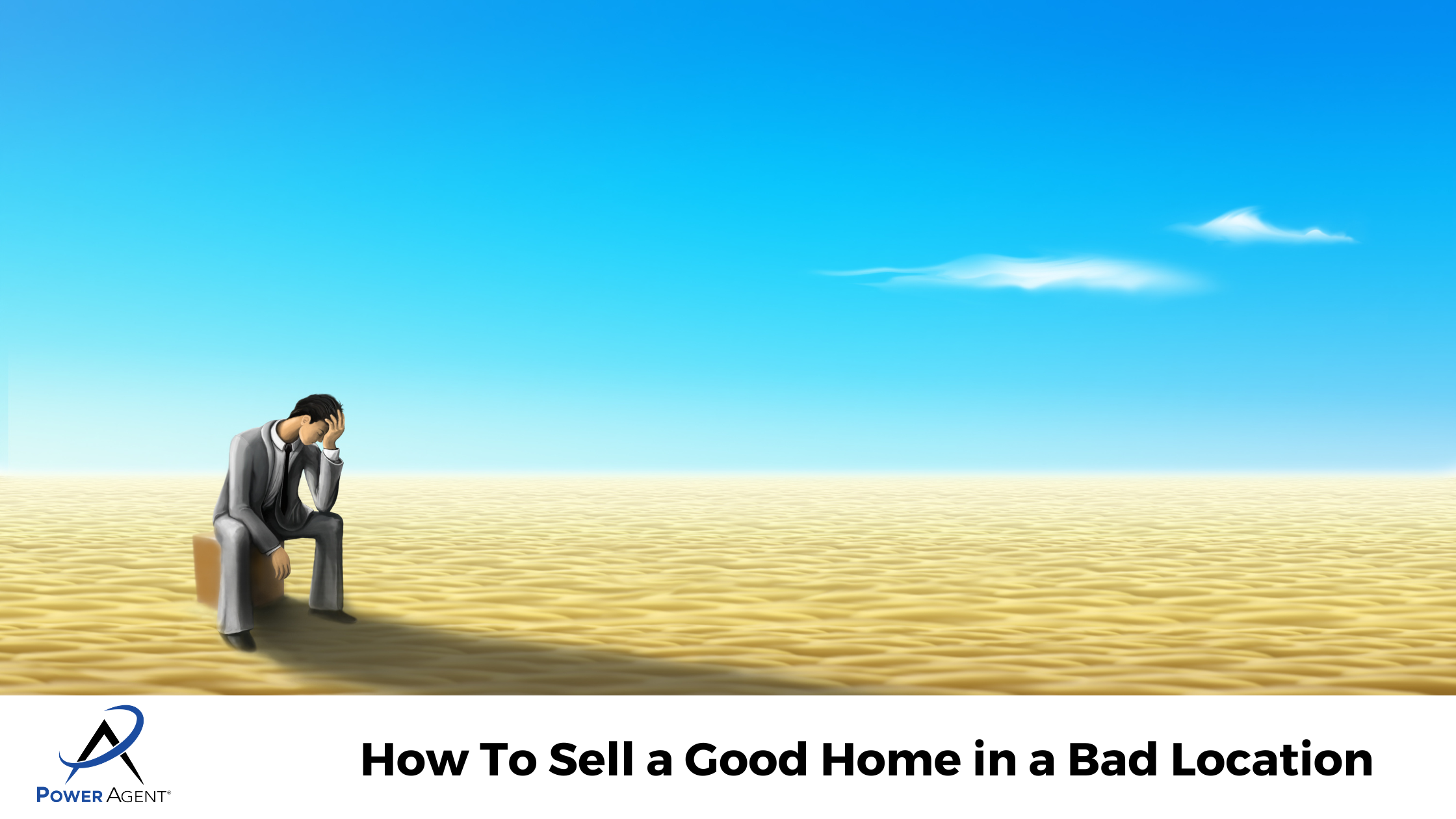 November 6, 2021
How To Sell a Good Home in a Bad Location 
Even when selling a home in a bad location seems impossible, adjusting the price accordingly can combat nearly any issue.
It's exciting! You booked a listing conversation appointment, you get all your things together, and you finally pull up to the house, ready to rock and get hired…and then you see the giant electrical transformer substation right behind it. Great.  
This was the experience one of our Power Agents® recently, who had booked an appointment with a couple who owned a large, lovely home in a beautiful family-oriented neighborhood. Their home had already been on the market for 3 months without getting an offer, and it was taken down because the listing was nearing the point of getting stale and earning itself a bad reputation. 
How A Listing Gets A Bad Reputation
There are a number of ways that a house can start getting the sort of reputation that the Wicked Witch of the West would approve of. Being on the market too long because it's priced too high is one of the biggest contributors to this bad rep, and there is a quick analogy I like to use. Think of a loaf of bread at the grocery store. If it sits there too long, it gets stale. When it gets stale, the manager has to slash the price considerably in order to sell it.  
A listing is considered stale when it's been on the market a lot longer than the average listing. If the average is 3 months, then sitting on the market past 6 months is getting well into the stale bread territory.  
Then there is the issue of timing. The right house at the right price but the wrong time isn't going to sell either. Trying to sell while there is a lot of competition is going to make that sale harder, even if it's priced well and it's in great shape. 
In fact, one of the best times to sell is during the holiday season, as there is much less competition. It also communicates to buyers that you are a serious seller, and so they will attract serious buyers who are willing to pay more for the home, especially if it means they can be in their new home to celebrate Christmas. If they wait until after the holidays, then there is a surge of listings and their home will have a lot more competition to beat. 
TIP: Power Agents®, we have a couple of flyers in the Listing Appointment tab in the Classroom that outline "The 11 Reasons To List During The Holidays." There is also a webinar titled "How To Use the Upcoming Holidays to Generate More Business" that will also give you some insights and dialogues when speaking to homeowners. 
Pricing A Home Right
Selling a home with an electrical substation behind it is not impossible, but it does mean that you will have to price it a little more aggressively in order to sell it. The fact that it's there certainly needs to be addressed, and the best way to do that is through the price. There is very little in this world that is so terrible that lowering the price can't solve the issue. You want the buyers saying, "I really don't like having that electrical substation there, but this price is so good that we can't pass it up." 
Having that price adjustment conversation with the homeowner isn't always easy, but this is what you can say to them: "There is nothing else like this in the area, so I'm not sure how to price it so that it's both possible and realistic."  
Using Your Instincts
That being said, as licensed real estate agents, you should know your market so well that you don't even need to look at comps to determine what a house is worth. It's your area of expertise — I should be able to give you an address, tell you how many bedrooms and bathrooms and the square footage, and you should know what to price it at.  
TIP: Check out this article by Success: "Go With Your Gut: The Science of Instinct" 
When I was talking with this Power Agent®, I asked her what she thought this house would be worth without the electrical substation behind it. She had no trouble naming a number. I asked what she thought it would be worth with the substation, and after hesitating for a moment, named another number, but then added. "But I have nothing in the paperwork to show the homeowner to justify that number." That was when I realized what the real problem was…she wasn't trusting her instincts.  
The Cat Analogy
Let's say I have a cat, and the cat isn't doing so well with his health. I took him to the vet, and the vet ran all these tests — bloodwork, x-rays, the works — but can't find anything wrong. Now, my instincts are telling me that something is definitely wrong, even without any evidence, and I even suspect I know what it is, it's just a matter of finding the proof.  
It's the same with pricing real estate. You have your instincts that tell you what the price should be, even if you have no justification for it.  
Sometimes, when we have been relying on having the data and evidence for so long, we forget that we CAN trust our instincts, even when there is no evidence for it. We are so accustomed to showing the homeowners the facts on paper that the idea of "going with our gut" feels wrong. There is such a thing as over-thinking, and that can be detrimental to making decisions. 
If you find yourself at this point with a homeowner, knowing what the price should be but having no evidence means we should be transparent about it. "What we do know doesn't work is the current price. What we also know is that if your home wasn't next to this electrical substation, we could get this price. The fact that the price we listed it at isn't working tells us that we need to price it lower, I'm thinking $X is our magic number. Now, there will be one of two things that will happen: If we are pricing too low, we're going to get multiple offers above that price. If we are priced right, we will probably get one offer, and it may come in a little below our price, but we will try to pull that number up as much as possible." 
How Properties Appreciate in Value
The last couple of years with the pandemic have changed the way real estate appreciates, but traditionally, every property goes up approximately 12% over the year. Now, that doesn't mean it's 1% every month, there are actually 2 pockets during the year where there is a surge in pricing — summertime and over the holidays. That means that listing right now to sell over the holidays increases the value of your home.  
TIP: This article by Land Century looks at the different factors that affect how a home appreciates in value.  
What's Next?
Are you ready to start taking things to the Next Level®? We have everything you need to develop new skills and master the ones you already have!  
Power Agents®, for some great ideas on how to spread some love, make your clients SMILES with the amazing content in the Servicing Sellers tab in the Classroom. Also, check out the Listing Appointment tab for additional resources. 
---

Get the latest real estate training tips delivered to your inbox!
Not yet a Power Agent®? Did you know that for LESS than the cost of a Starbucks coffee, you can have access to hundreds of marketing, prospecting, and objection handling tools – live weekly coaching, podcasts, webinars, and more? Check out this FREE resource: "The 12 Best Strategies to Generate Listing Leads in the Next 30 Days!"  to see how we can help you do just that! 
Start your Power Agent®  trial and have total access to every tool we have including letters, dialogues, training tips, webinars on demand, eGuides, and marketing tools for just $5. 
Contact our team today to sign up or get the answers you need: (800) 395-3905!