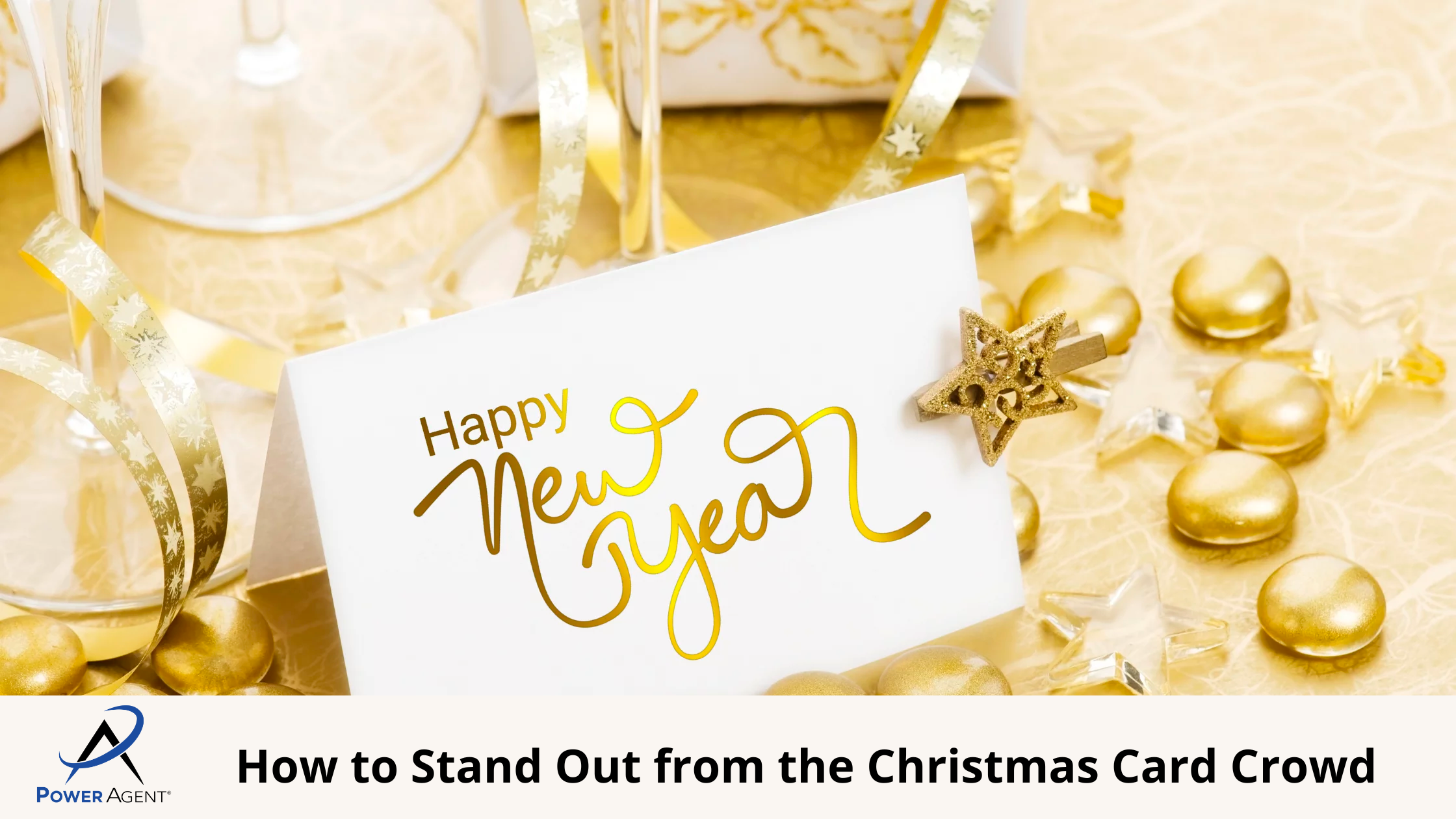 December 15, 2022
How to Stand Out from the Christmas Card Crowd
Holiday cards are filling mailboxes far and wide – how do you ensure your message isn't missed?

 

We've

got you

. 

 
First things first 
Darryl recently shared on a coaching call that step one is to reach out with a phone call BEFORE you send a card. If the ONLY thing you are sending your sphere every year is a holiday card, then it will not "land" with past clients as a sincere holiday greeting. Pick up the phone – tell them you have been thinking of them, and wish them a happy holiday.  
Secondly, send a New Year's Card INSTEAD
Why? Because timing is everything. Sending a greeting card a few weeks AFTER everyone else does will help you not get lost in the slew of holiday mail and packages filling mailboxes in the month of December. PLUS – it will give you the time to speak to more clients before the ball drops on January first. That's a win-win.   
Say Hello to AM Cards
We tapped into the wisdom of our friend and industry partner, Curtis Lewsey, who is a speaker and the founder of AM Cards. He is a huge advocate for "appreciation marketing"; he literally wrote the book on it! Using greeting cards to stay connected and show appreciation to your past clients is one of the best ways to help show your past clients that you value them, not only for their business but as human beings. 
According to Curtis, "1 out of 100 of your past clients will die, 3 will relocate, 5 will buy from a friend, 9 will be stolen by a competitor, 14 will leave on price point, and 68 will leave because of perceived indifference." Creating touch points to show your past clients that you care throughout the year is the best way to continuously cultivate relationships, stay top of mind, and have them come back (and bring their friends!) 
Power Agent® Offer: Are you a POWER Agent®? Get your account set-up fee waived and the first three cards free HERE! 
A Different Perspective  
New Year cards offer you a unique way to connect with your past clients during the holiday season because you are choosing an image or message that speaks to a fresh start and new beginnings. A well-crafted New Year card can be just as festive as a traditional Christmas card, but it brings a different viewpoint that isn't commonly seen. Your past clients will remember you as one who brings hope and focuses on the wonderful things to come, not what's coming to an end. 
By waiting until the new year, your message can be more business focused and forward-looking into the year of possibilities. 
Personalization Is Key  
When sending out New Year cards, personalization is key if you want to leave an impression. You could choose to include a handwritten note inside each card or even send along a small gift like the DELICIOUS brownies that AM Cards provide. This extra step shows people that you really care about them and helps set your card apart from the rest of the pile.   
Related reading: Shutterfly – 50 Sample Business Holiday Card Messages 
If none of the Shutterfly messages catch your eye, you can write a message like this:  
"I want to wish you a happy new year! 2023 is already looking like it will be a year of change and opportunity. I want you to know that I am here for you and just a phone call away. If I can help you in any way, please reach out to me. I appreciate you!"  
The beautiful thing about this wording is that you can send this to everyone, regardless of the situation when you last spoke to them, and there is an open-ended invitation to call with questions.  
Marketing Opportunities  
Sending out New Year cards also provides great marketing opportunities for your business! You can include information about upcoming events or promotions on the back of your card or use it to thank customers for their support in 2022. This allows you to stay top of mind with your clients while giving them something special they'll enjoy receiving in their mailbox.    
When you are a real estate professional, sending them in the new year reaches people who are starting to think about buying or selling now that they have gotten through the holidays. That means that you are the first real estate agent they see, and getting a card with a message of hope and fresh starts will resonate with them.  
How To Reconnect with Past Clients  
"What if I haven't been in touch with my past clients all year? Can I still send a card without seeming disingenuous?" YES! However – as we said earlier – pick up the phone first! 
For this call, remember, you don't have to be apologetic, and you don't even need to have a big reason to reach out because the holidays are a good reason enough. There is so much going on in the housing market and in our industry right now that it makes for the perfect reason to reach out to people who may have questions about how change might affect them. 
Conclusion 
As 2022 draws to a close, why not switch things up by sending out New Year cards this holiday season? You have nothing to lose and everything to gain! Not only does this provide an opportunity for creative expression and personal connection, but it also allows for some unique marketing and connecting opportunities for your business! So go ahead—break away from the crowd and make sure 2023 starts off with style! 
Calling All Real Estate Agents!  
Are you ready to start taking things to the Next Level®? We have the tips, tricks, and tools you need to find success…at any age!   
POWER AGENTS®, you can check out the Social Media Shareables tab in the Classroom for holiday-themed social media posts! Whether you need inspiration, motivation, or validation, we have it!    
Never Miss a POWER AGENT® Training Event Again! Click here to subscribe to our BRAND NEW Calendar feature! Training, brainstorming sessions, and top agent interviews will automatically be added to your calendar, so you never miss out.  
---

Get the latest real estate training tips delivered to your inbox!
Not yet a POWER AGENT®? Did you know that for LESS than the cost of a Starbucks coffee, you can have access to hundreds of marketing, prospecting, and objection-handling tools – live weekly coaching, podcasts, webinars, and more?   
Start your POWER AGENT®  trial and have total access to every tool we have, including letters, dialogues, training tips, webinars on demand, e-Guides, and marketing tools for just $5.  
Contact our team today to sign up or get the answers you need: 631-929-5555!