August 20, 2018
Listing Surge Strategy: Call For Rent By Owners
POWERFACT:  Part-time investors often do not have the cash flow to hold properties that are without tenants for long, help them reduce their financial burden by getting that empty rental sold.
One listing lead source that I love to share with agents are FRBOs – or rental properties that are owned by part-time investors. Most agents overlook these leads. According to statistics, nearly 7% of rentals are unoccupied. Many of these owners do not have sufficient cash to carry these properties long-term without a tenant. That's where you come in.
Watch the video below for the prospecting call dialogue:
You can find these leads from your local rental listings, or use a service such as The RedX (www.DarrylSpecial.com – promo code SMILE) to drop those leads into your email inbox. That promo code will allow new customers to RedX to get a 30-day free trial and special pricing. They are also a great resource for FSBO and Expired leads.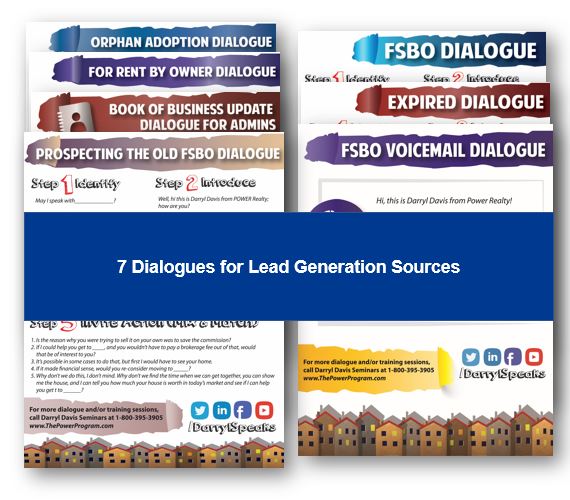 Now is the time to think outside the box and to really put the pedal down on your marketing efforts to build listing inventory. On our Coaching Call today, we talked at length about working FSBOs and the best approaches to working these NOW market lead sources. We even role-played with several Power Agents® to be sure everyone gets comfortable with these prospecting methods.
On last week's post, for example, we talked about calling OLD FSBOs & Expireds as another overlooked source of listings. Read that here. 
Power Agents®, you'll find dialogues for these and several other lead demographics in the Prospecting tab of your Classroom.
For those of you who missed last week's webinar, How to Generate a Listing SURGE in the Next 90 Days, we've made the recorded version available on-demand here for all to watch and learn from. On the webinar, Darryl shared many many of these lead strategies and more. Be sure to watch
Not CURRENTLY a Power Agent? For less than a dollar a day, you can have access to hundreds of marketing, prospecting, and objection handling tools – live weekly coaching, podcasts, webinars, and more.  Your free trial gives you total access to every tool we have including letters, dialogues, training tips, webinars on demand, eBooks, and marketing tools.
If you're ready to have everything you need to handle whatever the market tosses your way — get started today! 

Need help? Contact our team today at (800) 395-3905!