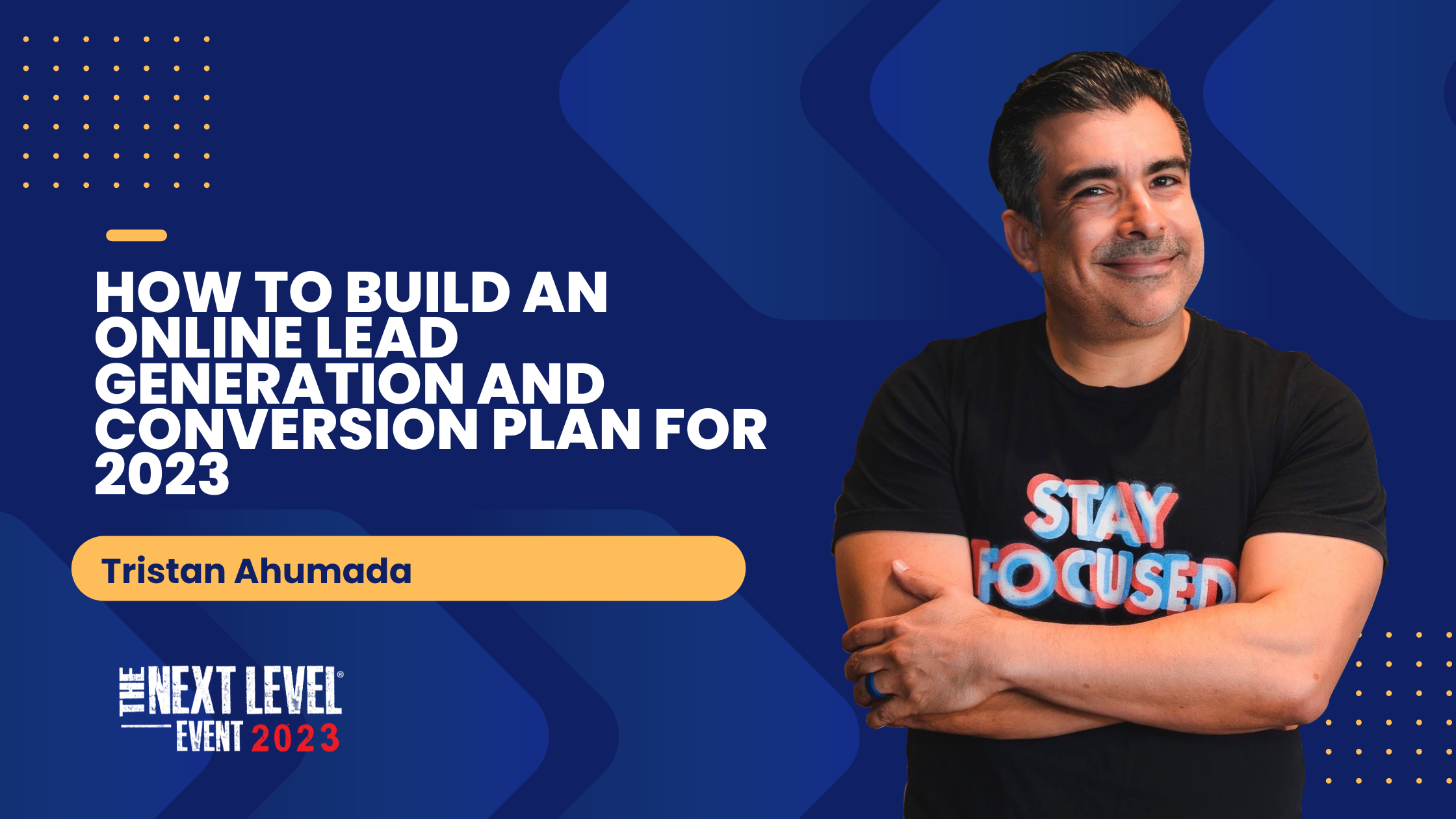 December 4, 2022
Make More Money in 2023 by Converting More Leads
Real Estate lead conversion is a hot topic, which is why we asked conversion specialist and industry expert Tristan Ahumada to weigh in!
Learning the ins and outs of lead conversion could be your team's most effective tool if you comprehend the fundamentals and know how to use them.
The process of guiding someone through the purchasing process and ultimately conducting business with them is known as real estate lead conversion. It is the process of guiding these prospective customers through the buying process to become converted leads, which are then referred to as sales.
If you have a marketing and sales ISA team, they are crucial to this process because they need to convert leads into sales. Their objective is to build a rapport with prospects to move them along the home-buying process and make it easier for your team to convert those leads. If you work as a solo agent, it is your responsibility to cultivate the leads, build a relationship, and conduct diligent follow-up.
Use these tried-and-true methods for converting leads into lifelong customers:
Offer Something of Value
Getting something worthwhile always feels satisfying, regardless of whether there are any conditions. Giveaways and items of value are a solid way to get people interested enough in your business to potentially move forward with a transaction – whether it's buying a home or getting a new listing.
To remind them of your business, you don't need to do anything extravagant or pricey. Giveaways can help your team figure out how best to interact with customers about your brand and convert leads into sales. Once you have that information, you can tailor future promotions and messages to boost sales.
Create a sense of exclusivity for them in your text messages and emails by personalizing your communication. You may achieve this by creating a subscriber-only discount code or coupon.
An exclusive invitation to a client event (free coffee and bagels, movie night, or Santa photos), a personalized marketing plan or comparative market analysis (CMA), or seasonal gifts like holiday dinner or delicious pies, could all be examples of this. Be creative. Look at what others are doing in comparable markets.
Know Your Audience
Data is essential. You can convert more leads if you are aware of the needs and preferences of your customers. Discover your target market. Create offers that encourage people to buy from you once you have the data.
Continually Follow Up
Even though it might seem obvious, it's crucial to contact a potential client again. A potential sale may be sparked by a straightforward email or phone call to a prospect asking if they have any questions.
However, just one follow-up is insufficient. The average salesperson gives up after one follow-up, although 80% of sales require five follow-up calls after the original contact. And 44% of sales reps give up after one follow-up, according to a study by Brevet.
Follow-up is necessary to make your prospects feel important. Customers will remember your brand more if you send them regular emails reminding them of your services.
Leave a 15-minute gap between calls when calling leads who don't pick up the first time; this approach typically increases conversions.
Many people avoid answering unidentified phone numbers. If you call again, they'll assume you're calling about something important. If you call back 15 minutes later, you'll be surprised by how many people pick up.
Utilize Social Media
No matter how proud you are of the website for your business, it does not represent your entire online presence. Social media is a common way for people to get news and stay current, so your business should do the same.
Making your company socially interactive could help you gain customers more quickly. Invite potential customers to your exclusive Facebook group, where you offer beneficial discounts and freebies. When offered the option to buy, it is a much better converter of sales. People who have converted typically encourage other leads to convert by sharing their wonderful experiences in real-time.
Consider which social media sites are most appropriate for your brand. Many real estate leads on Facebook have a high conversion rate. Some agents are even having great success on TikTok.
Pick a few platforms that your target market uses. Create buyer personas based on the people in your target market. Determine the person's age, gender, preferred content, and social media platforms.
Use a CRM
What CRM should I purchase? The majority of real estate coaches will typically reply, "The one you'll use." Whether you are a solo agent or are running a team, you will want a CRM that is simple for you to use on a daily basis and one that suits your needs.
A CRM helps many agents close deals. Using one that automates text and email interactions can speed up the conversion process.
People have different ways of responding to texts, calls, and emails. The best chance to get a response from prospects is to use all three mediums when approaching them.
Hire a coach
The average real estate agent converts only 2% of their leads. We suggest hiring a real estate coach if you want an edge. A coach can help you with a variety of things, such as handling objections, organizing your schedule, and developing the proper mindset. By implementing these tried-and-true strategies, you can increase lead conversion in 2023 and convert more prospects into loyal customers.
Related reading: How Much Does Real Estate Coaching Cost?
Big thanks to Tristan and team for this valuable real estate lead conversion information.
Join us and Tristan Ahumada at the Next Level Event in January, where he will be taking the main stage!
How to Build an Online Lead Generation and Conversion Plan for 2023
When we knew we wanted a session on online lead generation and conversion that would be accompanied by a solid 12-month action plan, the first person on our hot-dial list was Tristan. Truly one of the hardest-working guys in real estate, Tristan believes in working with authenticity and brings a no-BS approach to everything he does. An expert on the strategies, techniques, and follow-up rules for turning online leads into listings, sales, and customers for life – you won't want to miss a moment of Tristan's session. He gets real and to the point, and you'll never look at online leads the same way again.
In this session, you'll learn the following: 
A 12-month action plan for lead generation
​Tristan's "magic" follow-up sequences
​6 super-secret social media tips of top producers
How to stay centered when you're up to your ears in business ideas
How to convert leads faster, smarter, and turn them into your NEXT deal
You won't want to miss a minute of it! Register to see Tristan and all our rock-star, world-class speakers at www.TheNextLevelEvent.com! 
Tristan Ahumada is the CEO of Lab Coat Agents, CMO for Success Magazine, Consultant to Fortune 500 companies, runs a successful Real Estate team in California, expansion teams in the U.S. (in different brokerages), owns his own Brokerage, currently sits on different boards for tech companies, and is also an international speaker. He is also the founder of one of the largest Facebook communities with over 150,000 members.
Tristan is truly one of the hardest-working men in the industry. His love for technology and systems pushes him to test and use the latest products for growth for all businesses around the world, including Real Estate Agents, Brokers, and Leaders.