August 5, 2019
Moments of Truth
POWERFACT: Every time a customer interacts with you, these are opportunities to create the perception of who your company is; who you are, and what you and your business stand for.
A Mission Statement does not live on a piece of paper, but in little Moments of Truth. I am reminded of the story of Jan Carlzon who was the CEO of Scandinavian Airlines. The company was in deep financial trouble when Jan took the helm. One of his first orders of business was to identify every single interaction his team members had with customers to determine where they could elevate and improve that customer's experience. He called them "moments of truth" – because it is in our human connection that we can create extraordinary differences.
Watch this...
As real estate professionals, if we focus on improving our own moments of truth, together we can elevate the perception consumers have of us and of our industry. We can build stronger relationships and bridge communication gaps in more powerful ways than we ever have before.
That's significant, because, in many ways, we've reached a tipping point in our industry culture. Our national association is getting sued. I just read about agents hosting weed-themed open houses. Online services are discounting our value. What are WE doing to raise the bar? To show up with integrity, professionalism, and service?
How can you elevate the moments of truth in your business? 
On a call with prospects
On a call or face-to-face visit members of your sphere
Answering questions
Canvassing (door knocking) in your farm area
On a listing appointment
Hosting an open house
Speaking with other agents
Delivering service to your community
Meeting new people
Attending a board function
Participating in a training or workshop
The more we do to personally elevate public perception of who we are as business professionals, the more we can create a shift throughout our industry as a whole.
Sometimes awareness is the an awesome first step when we are looking to step up our game! We've created a checklist we wanted to share with you!
Click on the graphic below to download: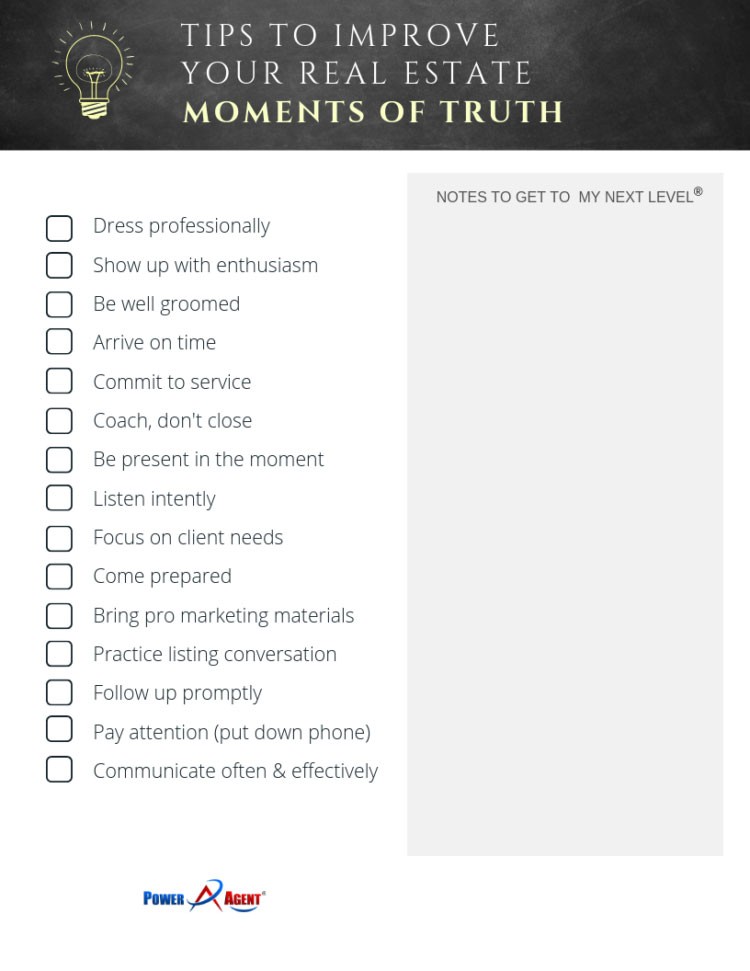 Your ability to communicate your professionalism and value matter — a lot! That's why we did an entire webinar recently on the topic!
You can watch it on demand here.  
Power Agents – Click here to get the slide deck and the bonuses from the webinar. We've added lots of the new tools featured in the webinar to the Listing Appointment Tab in your Classroom such as NAR By the Numbers, 100 Hours to Sell a House, and Two Prices for Every Home!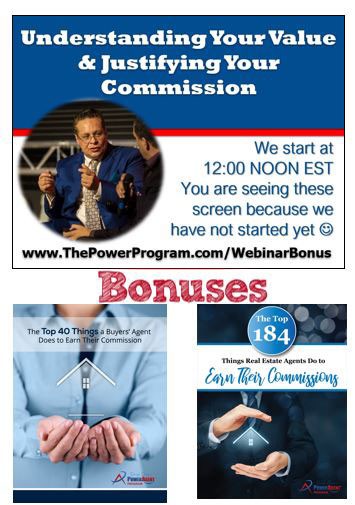 Not yet a Power Agent®? Did you know that for less than a dollar a day, you can have access to hundreds of marketing, prospecting, and objection handling tools – live weekly coaching, podcasts, webinars, and more?  In fact – we'll give you the first 30 days for just $5! Start your Power Agent® trial and have total access to every tool we have including letters, dialogues, training tips, webinars on demand, eBooks, and marketing tools.
If you're ready to have everything you need to handle whatever the market tosses your way — get started today!