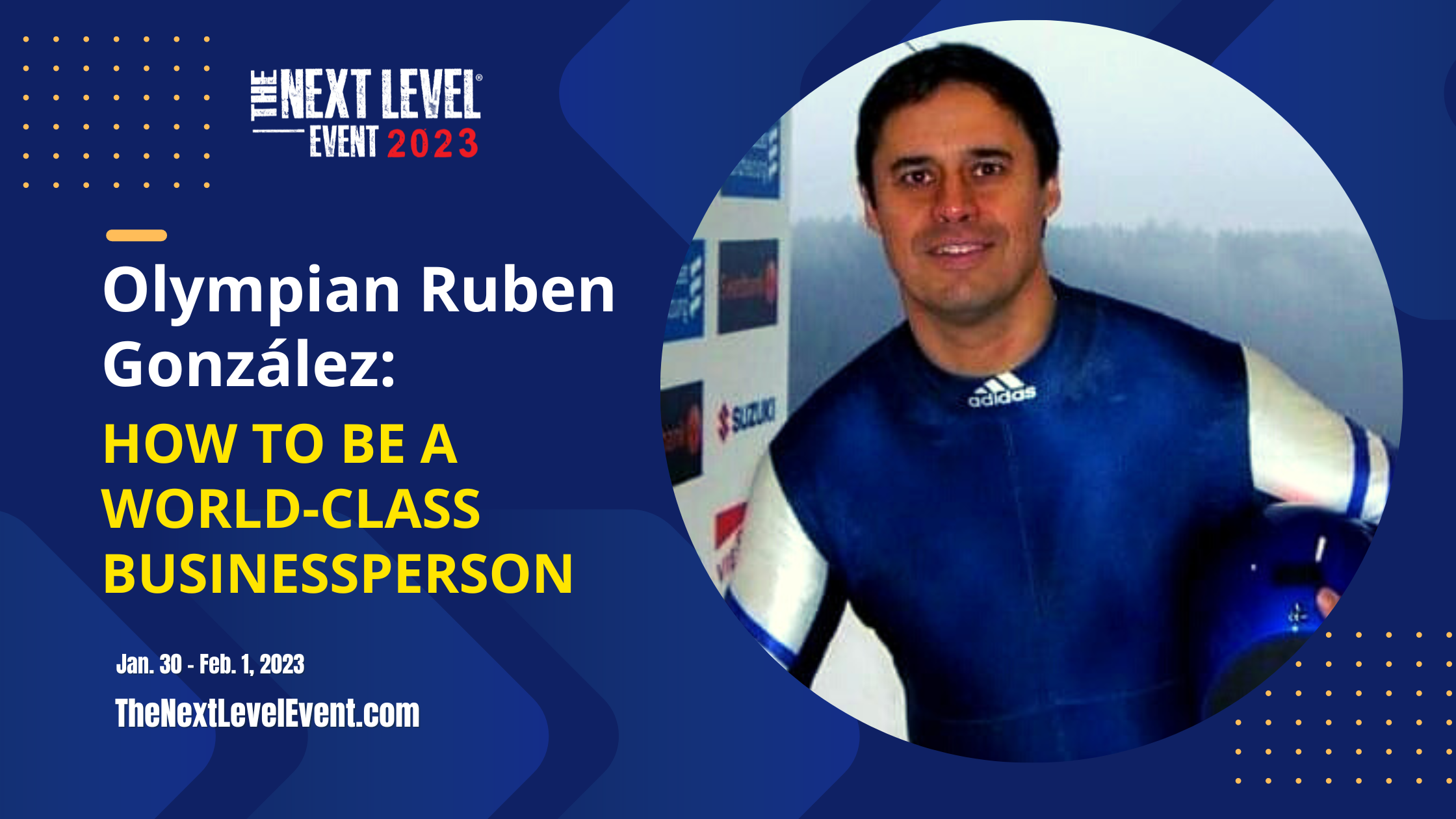 October 20, 2022
Olympian Ruben González: How to Be a World-Class Businessperson 
Performing at a "medal" level in real estate or life requires a NEXT LEVEL® commitment to yourself and your goals.  
To be an Olympian takes years of dedication, commitment, and pushing past limits. The same is true if you want to be a world-class businessperson and real estate professional. 
To learn more, we reached out to veteran Four-Time Olympian, and one of our Next Level Events featured Motivational Keynote Speakers, Ruben González, about what it takes to be a top-performing entrepreneur.  
But first, a little backstory.  
After watching the 1972 Olympics when he was 10 years old, González knew he wanted to be an Olympian, and at the age of 21, he took up the sport of luge. He competed in the men's luge from 1988 to 2010, participated in four separate Winter Olympics, held the honor of torchbearer in the Salt Lake City Olympics due to his inspirational story, and holds the record for being the first athlete to participate in four different Winter Olympic games in four different decades! How's that for dedication and commitment?  
Now, as a motivational speaker and author of several books, Ruben shares his story with audiences everywhere and has no fear of being vulnerable – he reveals his struggles and what he did to reach that place of skill and success.  
Here are Seven Valuable Olympic-like strategies:  
Believe in yourself: "You have to believe that you can achieve anything you set your mind to," says Gonzalez. "If you don't think you can make it to the Olympics, you never will." The same goes for real estate—if you don't believe in your own abilities, you'll never close a deal.
Set realistic goals: "It's not enough just to have big dreams," says Gonzalez. "You need to break those dreams down into achievable goals." When setting goals for your business, make sure they're SMART: specific, measurable, attainable, relevant, and time-bound. This will help you stay focused and on track.
Train hard: "I trained six hours a day, seven days a week—and I loved every minute of it," says Gonzalez. When you're starting out in real estate, learning the ropes can feel like a full-time job in itself. Even if you've been at it awhile and you feel stuck at a level that you're not comfortable with – make sure you're putting in the time to learn about your local market, dig into your listing and sales skills, and stay up to date on the latest industry news.
Surround yourself with positive people: "The people you surround yourself with make all the difference," says Gonzalez. Find a good mentor, join a supportive community, get a solid real estate coach – whatever it takes to create your tribe of people who believe in you and your abilities.
Stay positive despite setbacks: "There will always be obstacles in your path," says Gonzalez. "The key is not to let them get you down." In business (as in sports), there will always be bumps in the road. The important thing is to learn from your mistakes, move on, and keep aiming for your goals.
Be disciplined. "Every success you've ever had or will ever have is the product of your courage to act and the courage to endure." When you're self-employed, it's easy to let things slide and veer off course. But if you want to be successful, you need to maintain a high level of discipline. And, when you have discipline, success will follow.
Never give up on your dreams: "I'm living proof that anything is possible if you put your mind to it," says Gonzalez. "Never give up on your dreams—you never know when they might come true."  
If you want to be an Olympic-level businessperson, you need to think like an Olympian. This means setting your sights high and dreaming big. It means thinking long-term and setting goals that may seem impossible at first but that you're willing to work hard to achieve. That's what Ruben did as an athlete. He dreamed of being an Olympian and made it happen through hard work and dedication. He applies those same principles now to be a world-class keynote speaker, author, and leader.  
Big thanks to Ruben for his insights! We loved learning how to take your business to medal-worthy levels – and we hope you did as well!  
Learning from Rueben LIVE! 
We can't WAIT to see Ruben take the stage at our Next Level Real Estate Training Event in January at Connecticut's premiere Foxwoods Casino and Resort, where he will share:  
How to Be an Olympic-Level Agent 
Through his riveting stories and keen insights, Ruben will bring the Olympics to life for you. A powerfully emotional experience; hearing Ruben tell the story of his quest for the Olympics will give you hope and strength and will move you to take action to achieve your own dreams.  
In this session, you will learn:  
How to condition your mind for success as a professional real estate agent 

How to become unstoppable in the face of challenges, market change, and learning curves  

How to take your commitment to your real estate business and yourself to a higher level 

​How to become confident and laser-focused on building a medal-winning career 
Don't miss this chance to see Ruben and our entire panel of special guest speakers from January 30th-February 1st at one of the most powerful real estate events of the new year.  
Click here for details, early bird registration offers, and more!  
See you in January!  
 Eager for another motivational success story? Read about another of our exciting Next Level Real Estate Event and Conference Speakers Rudy Ruettiger here!  

The NEXT LEVEL Real Estate Event and conference will be a game-changing way to kick-off 2023.  
Join world-class speakers, industry experts, and top-producing panelists, as well as agents from all over North America, for three days of intensive real estate training and tools to reset your mindset, strategies, and skills. This event is designed to help you transform your business into a high-performance machine that will generate repeatable, reliable results year after year!  
Create exponential growth in your business and life by learning how to build a sustainable business system that runs 24/7. We're delivering the cutting-edge marketing strategies, sales and communication skills, and proven systems agents need to increase production quickly without burning out. If you're ready to create more balance between your work and life by taking control over the number of leads you generate and close daily—and what happens when they reach out to you (or don't) – don't miss this event. 
Next Level® Real Estate Event Attendees Can Expect to Learn How to: 
Become a listing machine with inventory-building intensive sessions

 

Position yourself as a sales LEADER in your market

 

Unlock your fullest potential by breaking through fear and limiting belief systems that hold you back

 
Learn more about early bird pricing, VIP ticket options, and SPECIAL-priced sleeping rooms at the casino (but the room blocks are going fast). Check out http://www.TheNextLevelEvent.com