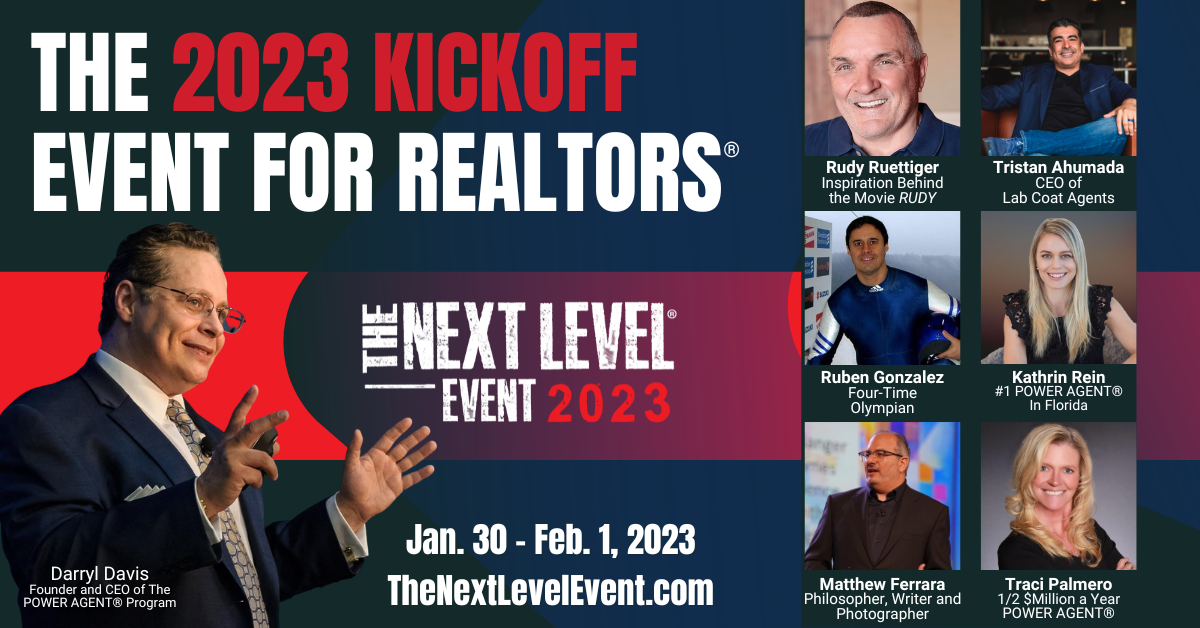 October 14, 2022
The Power of a Live Real Estate Conference 
 When you want to take your business and skills to the NEXT LEVEL – there is nothing quite like a LIVE real estate conference!
People in our real estate industry are always looking for an edge, whether it's the newest tech tool, the hottest lead generation tactic, or the latest way to increase productivity. We are always on the hunt for anything that will give us an advantage, and while we might think, "There's an app for that," one thing there isn't an app for is real estate conferences. There is no shortage of these gatherings that promise to deliver all of the above, but many agents find themselves asking: is it worth it?   
The answer, in short, is yes!  
Related reading: Agent Print – Why Should Agents Attend Real Estate Conferences? 
Here at the POWER Program®, we LOVE providing weekly training via webinar and a whole classroom full on-demand training, but after the last couple of years- we are MORE than THRILLED to invite you to partake in the incredible power of a live event.  
Here's why:  
Networking 
In today's digital world, it's easy to forget the importance of face-to-face interactions. But when you're trying to build relationships and grow your business, there's nothing quite like meeting someone in person. At a live conference, you have the opportunity to network with other attendees, speakers, and sponsors. You can exchange business cards, connect on social media, and even set up future meetings. These connections can be invaluable as you continue to grow your business.   
Related reading: How to Tap Into the Referral Gold in Your POWER AGENT® Directory Today 
Learning from Experts 
While there is no shortage of resources available online, sometimes you just need a little help from an expert – or better yet – a lot of experts. At a live real estate conference, you can get face-time with some of the top minds in the industry and pick their brains about everything from lead generation to time management. You can also get feedback on specific issues you may be facing in your business. 
This is why we put together some of our favorite world-class speakers (Notre Dame Famous Rudy Ruettiger, Four-time Olympian Ruben Gonzalez, Industry Icon Matthew Ferrara, and Success Leader Tristan Ahumada, Tech-Deck Specialist Craig Grant, and Trend Expert Amy Chorew) for three days of intensive training and tools to help real estate professionals reset their mindset, strategies, and skills. This event is designed to transform businesses and create exponential growth by delivering cutting-edge marketing strategies, sales and communication skills, and proven systems attendees need to increase production quickly without burning out.   
See our incredible Speaker Lineup
Inspiration and Motivation 
It's easy to get bogged down in the day-to-day grind of running your real estate business, but when you step away from your desk and immerse yourself in an exciting environment surrounded by like-minded people, it can be incredibly inspiring and motivating. There is an energy that you can't find anywhere else, and a live conference is a perfect opportunity to recharge your batteries and jump-start your creativity. You'll come away feeling invigorated and ready to take on whatever challenges come your way.    
See our NEXT LEVEL Event Agenda
If you're on the fence about whether or not to attend a live real estate conference, we hope this has helped you discover that it's worth your time and investment! From networking opportunities to learning from experts, there are so many benefits to attending a live event. We guarantee that you won't regret it!  
We invite you to join us for our empowering NEXT LEVEL Real Estate Event Conference from January 30-February 1st in Connecticut's premiere Foxwoods Casino and Resort. 
Give us three days, and we'll give you back…
We invite you to join us for our empowering NEXT LEVEL Real Estate Event Conference from January 30-February 1st in Connecticut's premiere Foxwoods Casino and Resort.
Give us three days, and we'll give you back…
Newfound confidence because you will leave with strategies you can immediately implement after returning back home
​A new sense of freedom because you will no longer be held back by fear, procrastination, or negative mindsets
The ability to never again be saddled with scripts (that don't work) and easily and authentically speak from your heart and not your head
The power to embrace, not run from, the characteristics that are uniquely you
Everything you need to generate an extra $100,000 in 2023 with more life balance
Three days of powerful networking and engagement with like-minded agents, industry experts, and some of the best minds in the world for creating breakthroughs personally and professionally