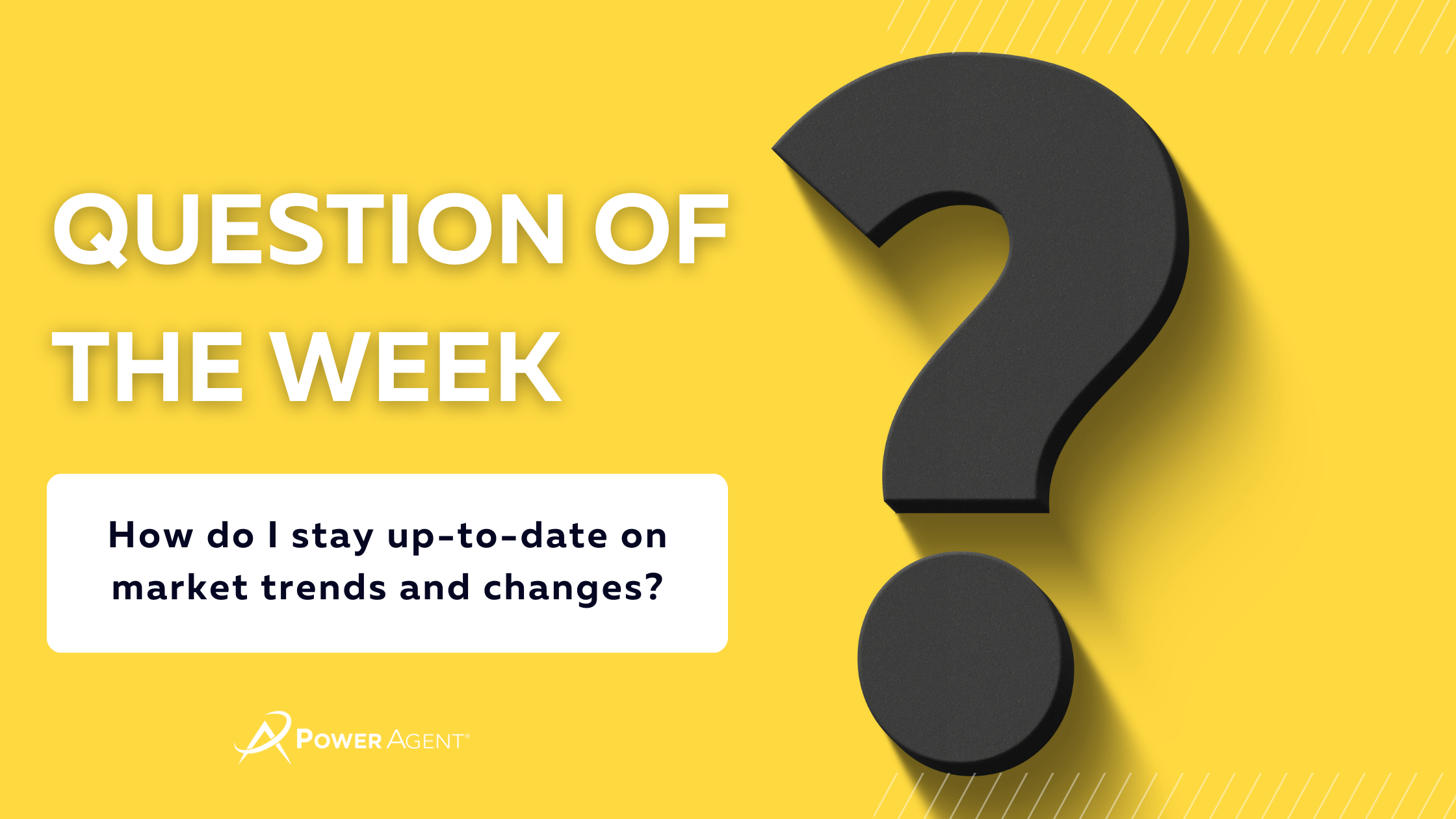 May 31, 2023
Question of the week: How do I stay up-to-date on market trends and changes?
As a real estate agent in today's constantly changing market, keeping up with market trends and changes is crucial to your success.
Here are some foolproof tips to stay informed and ahead of the game:
1. Industry Publications:
Subscribing to industry-specific publications and blogs can provide you with a wealth of knowledge. HousingWire, Realtor Magazine, RISMedia Magazine, and Inman are a few notable ones that offer an extensive range of resources on current market trends, new laws and regulations, and future market forecasts. Consider subscribing to newsletters from these publications, setting up Google alerts for key topics of interest, or dedicating a specific time each week to read the latest news and updates.
2. Attend Seminars and Webinars:
Seminars and webinars are not just for learning. They are excellent platforms for networking with peers and industry experts. Attending webinars, like the ones hosted at www.PowerAgentWebinar.com, can provide you with up-to-date knowledge of the real estate market and also offer you the chance to engage with guest speakers and thought leaders in the industry. Try to diversify the type of seminars and webinars you attend to gain a broader industry perspective.
3. Constant Continuing Education:
Continuing education is not just a requirement for maintaining your real estate license—it's also a crucial avenue for staying updated on changes in the industry. These courses often provide in-depth analyses of current market trends, changes in housing laws, and effective sales strategies. Make the most out of these opportunities by actively participating and asking questions.
4. Use Technology:
In the age of digital innovation, technology is a real estate agent's best friend. From mobile apps that give real-time market updates to CRM software that helps manage customer relationships more efficiently, technology can greatly enhance your ability to stay abreast of market changes. Consider using predictive analytics tools to forecast market trends, virtual reality for property tours, or AI chatbots to improve customer service.
5. Networking:
Forming and maintaining relationships with other professionals in your field can be an invaluable source of knowledge and insights. Attending industry events, joining online forums, and participating in local community events can help you expand your network. Remember, these connections can also lead to referrals and collaborations, so don't underestimate the power of networking.
Implementing these strategies will ensure you can adapt to market changes, stay competitive, and grow your real estate business. Remember, learning is a lifelong process and the key to success in the dynamic world of real estate. Keep expanding your knowledge, stay positive, and as a note of encouragement, never forget to keep smiling.
You may sometimes face hurdles and limiting beliefs that could hinder your progress. It's essential to address these obstacles head-on and seek help when needed. At PowerAgent, we aim to empower real estate agents to overcome these challenges and keep moving forward. Our community and resources provide the tools, strategies, and support you need to excel in your real estate career. We're here to help you succeed.
Lastly, remember that you're not alone. Many successful agents have been in your shoes before. Let their stories inspire you and fuel your drive for success. Every journey is unique, but seeing others achieve their goals can be a powerful motivator to keep pushing forward.
Here are some real-world success stories to inspire you!   

Need inspiration? Help getting past limiting belief systems and fear? That's exactly what we do here. PLUS, we share the skills and strategies agents need to be in a constant state of moving forward in their businesses and lives.  
Here are some real-world success stories to inspire you!  
Learn more about the POWER AGENT® PROGRAM
Join Darryl's Inner Circle Facebook Group
. 
We are always posting fresh ideas, training tools, strategies, and templates, along with hosting important, timely discussions with real estate professionals across the globe who are committed to their Next Level® of success and life.  
Subscribe to our newsletter.
 Fill out a simple form and tap into new resources, free downloads, premium content, and exciting promotions. 
Reach out and talk to us.
 Not sure if this coaching program and community are right for you? Click that blue chat button on the bottom right of the screen, or call us at the number in the header. We are here to help!