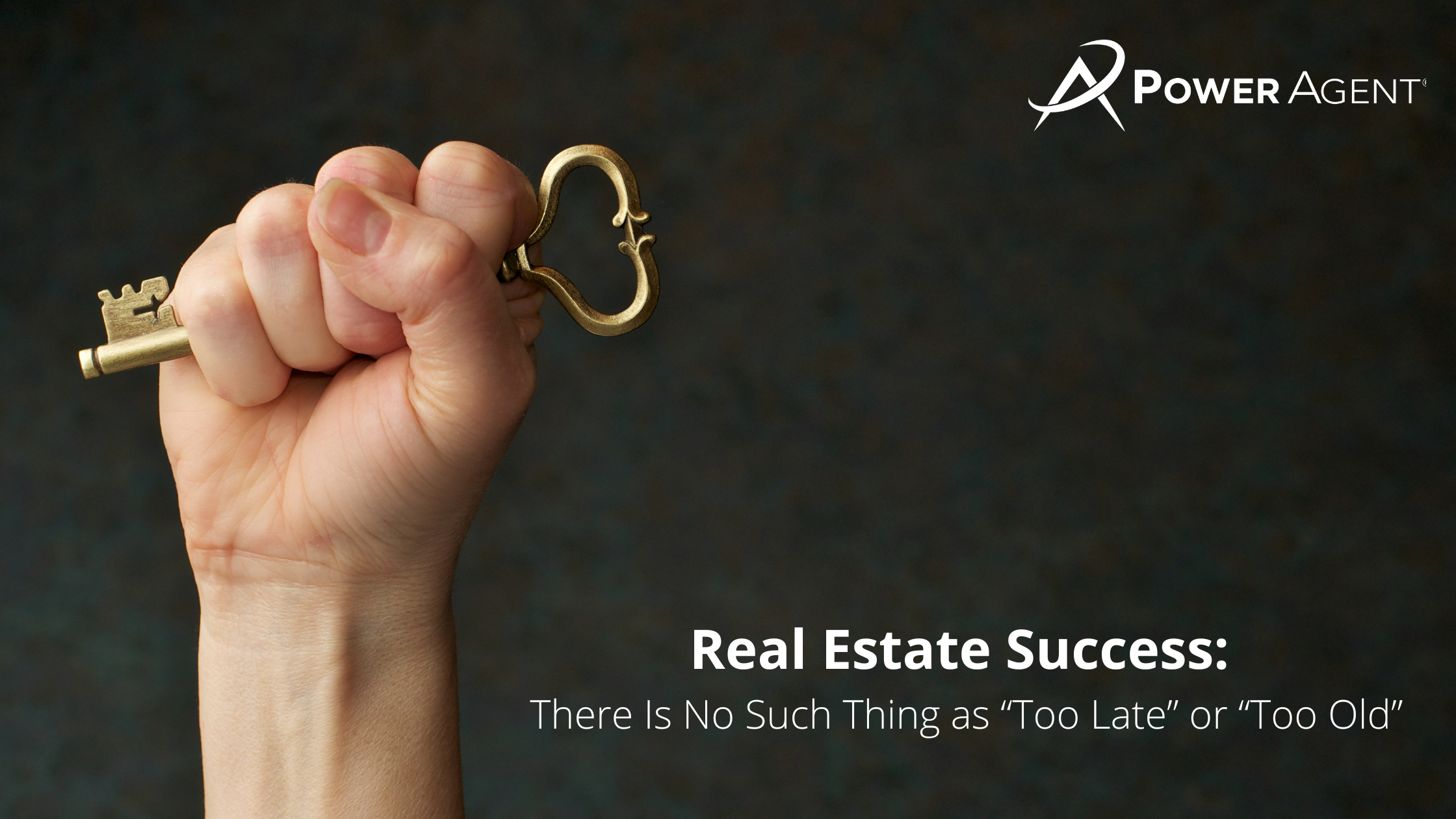 June 26, 2022
Real Estate Success: There Is No Such Thing as "Too Late" or "Too Old"
In many real estate agent's careers, there comes a time when they think, "It's too late to grow into a successful business" or "I'm just too old to be successful." 
Julia Child's first foray into cooking was as a spy in her early 30s, developing a new shark repellant to keep them from accidentally detonating underwater OSS explosives. Years later, after eating a literally life-changing French dish, she knew what she wanted for her life. At age 39, she graduated from cooking school in Paris and began what we all know to be her cooking journey as a cook and teacher of the craft. When she was 49, her first book was published, Mastering the Art of French Cooking. From there, she would write magazine articles, along with a column in The Boston Globe, and would pen 20 more books over the remainder of her life. 
When she was 51, her first cooking show, The French Chef, aired and was a massive hit. She appeared on several other television shows between the ages of 58 to 68, and at 69, she opened The American Institute of Wine & Food. Between the ages of 53 and 88, she won numerous awards for her books and television shows, and at the age of 77, she published what she considered her greatest work, The Way To Cook. At 91, she was awarded the Presidential Medal of Freedom and, later that year, passed away right after finishing her last book, My Life in France. Even after her death, she was inducted into the National Women's Hall of Fame. 
What an incredible story! 
Related Reading: Wikipedia – Julia Child  
No matter where you are in your life and your business, Julia Child is living proof that you are never too old to find success. It might be easy to think that we are the most successful when we are younger, or that we missed the perfect opportunity and will never have another one, or have regrets about choices we made years ago and now it's too late, but there is no such thing as "too late." 
Do What You Love, and You Never Work a Day in Your Life
Not only is Julia Child the perfect example of how it's never too late to find success, but she is also the perfect example of finding success doing what you love. She knew she wanted to cook after eating a dish called French Sole. She claimed that this dish had changed her life (and it did, altering the course of her life dramatically), and she KNEW that she wanted to learn everything there was to know about cooking, particularly French cooking. She fell utterly and hopelessly in love with the whole experience of creating culinary dishes. 
When you love what you do that much, success inevitably follows. Julia Child didn't start her career in cooking to become successful or become a celebrity. She started it because she loved cooking and sharing her knowledge with others.   
When you love helping homeowners as much as Julia Child loved cooking, your success will come too because that passion for helping others buy and sell their home is magnetic, and clients will be drawn to you.   
Related Reading: Share Your Passion to Better Connect with Homeowners 
"Remember, 'No one's more important than people'! In other words, friendship is the most important thing—not career or housework, or one's fatigue—and it needs to be tended and nurtured." – Julia Child

 
Calling All Real Estate Agents!
Are you ready to start taking things to the Next Level®? We have the tips, tricks, and tools you need to find success…at any age! 
POWER AGENTS®, you can check out the Webinars-On-Demand tab in the Classroom for more training of all kinds, and don't forget to check out the Time and Money Management tab too! Whether you need help with dialogues, being more confident and skillful in starting up conversations, or organizing your precious time more efficiently, we have the know-how to help! 
Never Miss a POWER AGENT® Training Event Again! Click here to subscribe to our BRAND NEW Calendar feature!  
Not yet a POWER AGENT®? Did you know that for LESS than the cost of a Starbucks coffee, you can have access to hundreds of marketing, prospecting, and objection handling tools – live weekly coaching, podcasts, webinars, and more?    
Start your POWER AGENT®  trial and have total access to every tool we have including letters, dialogues, training tips, webinars on demand, e-Guides, and marketing tools for just $5. 
Contact our team today to sign up or get the answers you need: (800) 395-3905!