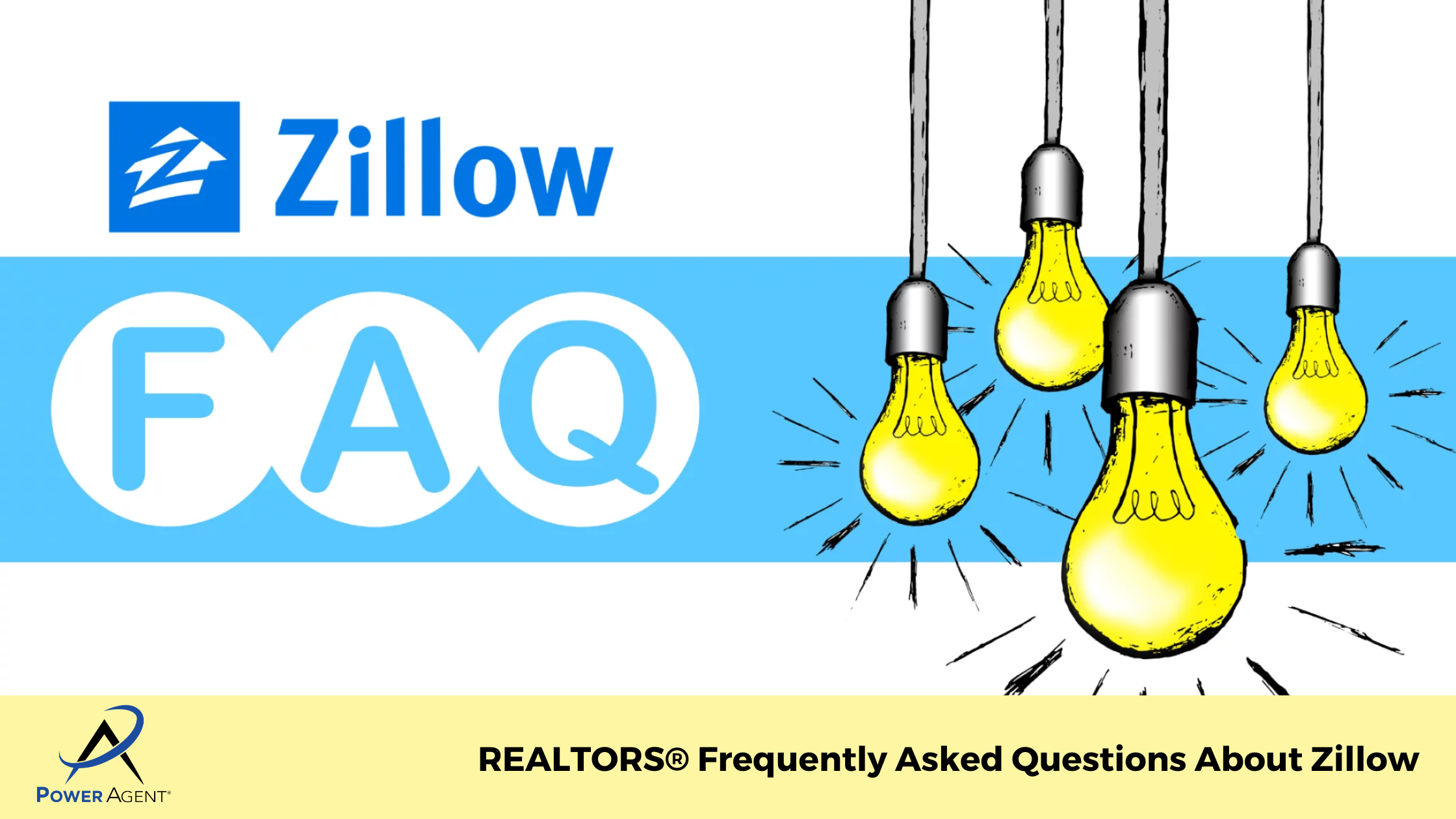 April 24, 2021
REALTORS® Frequently Asked Questions About Zillow
What every real estate agent needs to know about Zillow's decision to become a competing brokerage. 
By Real Estate Coach and Speaker Darryl Davis, CSP
I'm not an attorney.  I don't even play one on TV. But I do have a team who have helped me research and vet the information real estate agents should know as they navigate the real estate disrupter in their marketplace named Zillow. Zillow does not "come in peace", as their former CEO once professed, but instead is a competing brokerage that is coming for the traditional agents' clients.
Zillow Recently Made the Move to Become a Licensed Brokerage 
They have made the move to becoming a licensed brokerage in different states across the U.S., and more are coming online at a rapid pace.
Why is that a problem? When real estate agents hear the word "Zillow" – they still think of them as a media company that provides leads or as a search engine for homes. That is a mistake, because Zillow has expanded their business model and is now a brokerage in direct competition with real estate agents.
The bigger problem is that Zillow is financing that competitive model on revenue from agents themselves who subscribe to Zillow's Premier Agent™ product. Agents are funding their own competition.
The Two Biggest Questions That Real Estate Professionals are Asking
1. As REALTORS®, aren't we prevented from saying anything bad or disparaging about Zillow because of the Code of Ethics?
Let's first look at the actual code that has created this misbelief. The NAR Code of Ethics states: REALTORS® shall not knowingly or recklessly make false or misleading statements about other real estate professionals, their businesses, or their business  .
As you will notice, the code does not say you cannot criticize, comment, complain, etc….it says you cannot make "false or misleading statements".  As an industry, we have every right to criticize any fellow REALTOR® if we think they are acting in bad faith. I would even argue, it's our duty and responsibility to speak up and speak out when a REALTOR® IS acting against the greater good of our industry.
To summarize that point: if we are stating the facts, clearly and truthfully, then it is not an ethics violation.
2. If we discuss boycotting Zillow as an industry, isn't that a violation of Anti-Trust Laws?
First, let's be clear on who we are talking about.
Zillow Group is a corporation and there are several businesses within that organization.
Premier Agent – a subscription service that real estate agents pay for to obtain leads. This product accounts for (as last reported) 89.9% of Zillow's revenue. 
Zillow Homes – a licensed brokerage entity, to streamline Zillow Offers transactions.
Zillow Offers –buys and sells homes just like an investor who buys and flips properties.
Second, we are not talking about boycotting Zillow Group or Zillow Homes the brokerage. We are suggesting that agents should stop giving money to Zillow Premier Agent, their media subsidiary,  
Now, let's look at what the Sherman Act states:
The Sherman Antitrust Act:  It makes it unlawful for "every contract, combination, or conspiracy in restraint of trade," and any "monopolization, attempted monopolization, or conspiracy or combination to monopolize."  Investopedia did a terrific job of breaking down the law in layman's terms here.
Even though we are not using the words "boycott" as an industry, we can boycott any outside vendor we want if we believe that vendor is hurting our industry not helping it. It's no different when we as an industry publicly support or publicly denounce a politician who would hurt our industry, or when the MLB pulled out of Atlanta because they oppose voter suppression, or when companies pulled advertising from the NFL because players knelt during the anthem, or when a politician tells everyone to stop buying Coke.
What Can We Do As An Industry?
So, as an industry, we can publicly boycott any business or person we want. It only becomes an issue when we band together to boycott a business in the same industry — that is when it violates anti-trust laws.  For example, if a group of brokers had a conference call and banded together to not show another broker's listings, then that may likely be a violation.
Therefore, we are not saying brokers should not work with Zillow Homes by not showing their properties; we are not even disparaging Zillow as a brokerage.
What we are legally stating is that it simply doesn't make sense for real estate professionals to continue to support and give money to Zillow's Premier Agent product because they are now a competing brokerage. It is your right, and perhaps even your obligation, to stop funding your competition, and to share your reasoning for that – the facts and research – with your fellow agents and leadership teams.
If you are a Keller Williams agent, would you pay RE/MAX for leads?  If you are a Century 21 agent, would you pay EXIT Realty for advertisement? ESPECIALLY if you knew that doing so would literally be funding their marketing efforts to compete against you?
Of course, you wouldn't.
In essence, that is what agents are doing when they continue to give their advertising dollars to Zillow's Premier Agent product. Remember this – Zillow is taking in over $1.1 billion annually for its Premier Agent subscriptions from agents like you. That represents 89.9% of their Gross Profit…that means about 89.9% of their revenue comes from AGENTS. That means AGENTS are funding Zillow's brokerage efforts to actively compete with agents in more and more markets every day. That means AGENTS are funding Zillow's brokerage efforts to actively compete with agents in more and more markets every day.
Thus, we believe it is a smart business decision to stop paying your competitor for leads that they are using to finance the marketing they are doing against you and your fellow agents. For example, look at what Expedia (another company Richard Barton created) did to travel agents to see the future of our industry if we don't do something about it.
If you have questions or need more information, please contact us.
Our Power Agent® Program team is here for you through this transition and everything else that comes your way. It's not just what we do. It's who we are.
This information is not legal advice, nor is it a substitute for legal advice and no attorney-client or confidential relationship is or will be formed by use of this information. If you have any questions or concerns about the information, you should always consult with a legal professional who is aware of your individual situation, facts, and circumstances.
To ask Darryl to speak on this topic, or for interview inquiries, please contact us. 
Zillow Source Information Files:  
https://www.nar.realtor/about-nar/governing-documents/code-of-ethics/2021-code-of-ethics-standards-of-practice
https://www.ftc.gov/tips-advice/competition-guidance/guide-antitrust-laws/antitrust-laws
https://www.youtube.com/watch?v=wALdj0epdg
Learn more and get additional source information files here…