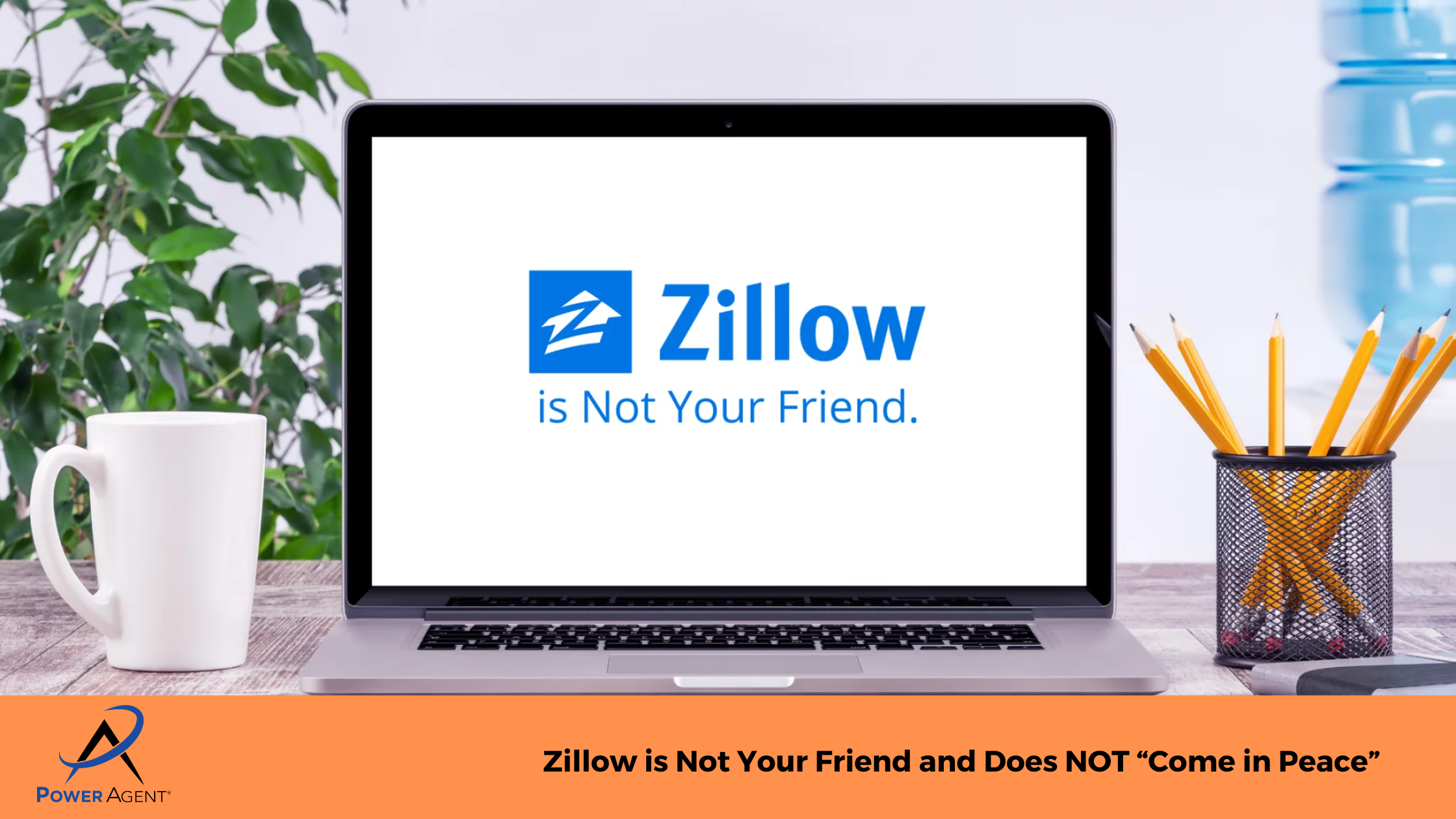 April 19, 2021
Zillow is Not Your Friend and Does NOT "Come in Peace"
Powerfact:  Now that Zillow is a Brokerage – they are a competitor, and not one with your best interests in mind.
By Real Estate Coach and Speaker Darryl Davis, CSP
I want to talk to you up front today to explain why I developed this training webinar about the Zillow changes for you – and why I develop all our training for you.
My job as a coach – your coach — is to do the heavy lifting and the homework every week – to know more than the average agent – to do the deep dives into market conditions, changes, and disruptors. In fact, my team will tell you that the minute we get off our training on Wednesdays I'm working on what you need to know for the next Wednesday webinar. That's my job.
To be here every week and ensure you are aware of what's happening now, where things are headed, and what you can do about.
And here's what I'm going to say about this Zillow topic especially – I'm not an alarmist or a conspiracy theorist. What I am is the coach that looks for the facts – all of them – so I can present them to you with confidence.
Last year, I was here every week helping agents focus on how to get through the pandemic, teaching the new skills, mindsets, tools, and technology you needed to do business in new and sometimes uncomfortable ways because the ways of our business did change.
This year they are changing again -and it's not the pandemic – but Zillow that is the new 198-pound gorilla in the room changing the way we do business. The fact is they are a real estate brokerage. They changed their business model.
Zillow Does Not Come in Peace
They Are No Longer "Working for Us"
Now, they are most definitely a competitor – working against us – and one with very deep pockets.
So I'm going to share the facts. The things you NEED to know so you don't get blindsided.
Then I'm going to give you strategies and tools you HAVE to have so you don't lose business to Zillow.
Because if you don't make changes – and don't adapt – you will lose business to them and as your coach – I don't want to see that happen.Now let's get into this topic, which is, you know, what do we do now that Zillow is a competing broker. And I want to do a disclaimer, a few points with you.
We're Not Anti-Zillow
From time to time, in my training here it may sound like that. What we ARE is actually PRO-AGENT to be quite honest with you, we have to be fully transparent. I should say is that I personally own Zillow stock. So, it's in my best interest that Zillow does better-right?  But – I am a REALTOR® first – it's in my heart.
This is Not Legal Advice
So, if I say something that could get you in trouble, don't do it. We're not politically correct. Which means there's a good chance that I'm probably going to say something that's going to upset somebody, but that's just who I am. Some of this may be painful because I'm going to outline some history about Zillow, where it got to, and where we are now.
Let's start with their 2019 report on their cash. One, Zillow makes their money in the three categories of mortgages, (buying homes through Zillow Offer, and then flipping it). Two, there's this thing called IMT. Now IMT has a few things in it, but the majority of that is earnings from Premier Agent. Now, if you take all of the expenses off of their gross revenue and you come up with their gross net. The Premier Agent product earns them 1.1 BILLION dollars. These are billions, not millions. $1.1 billion is from Premier Agent from agents like you. That means 89.9% of their gross profit is from REALTORS®. You need to keep that in mind.
Now I want to share something with you from NAR is archives in 1993, the current president then was Bill Chee and he was addressing the legislative body of NAR. This speech is actually famously called the Lions Over the Hill speech.
Bill Chee:
"Today I thought I'd spend several minutes giving you a realistic, but very unpleasant assessment of one of the major topics. And that's the MLS service. I believe MLS will be lost to outside organizations and businesses, and that will threaten the stability and operation and membership of this entire organization. Last year, I began to express alarm at the possibility of us losing REALTOR owned MLS systems. This alarm was brought about not only by my past experiences, in dealing with board- controlled MLS systems, but also by fellow REALTORS who found new and innovative MLS products being successfully tested and their hometowns by non-realtors. After our meetings in New Orleans, I appointed a Presidential Advisory Group who assess the REALTOR's competitive position in the marketplace, their unanimous conclusion warned, And I quote, "There is a high probability that the REALTOR organization will lose control and direction of the MLS. As it currently exists. I view the current MLS situation as a few chihuahuas fighting over a bone unaware that a hungry lion is coming over the Hill."
That hungry lion, that Bill Chee predicted in 1993, is now Zillow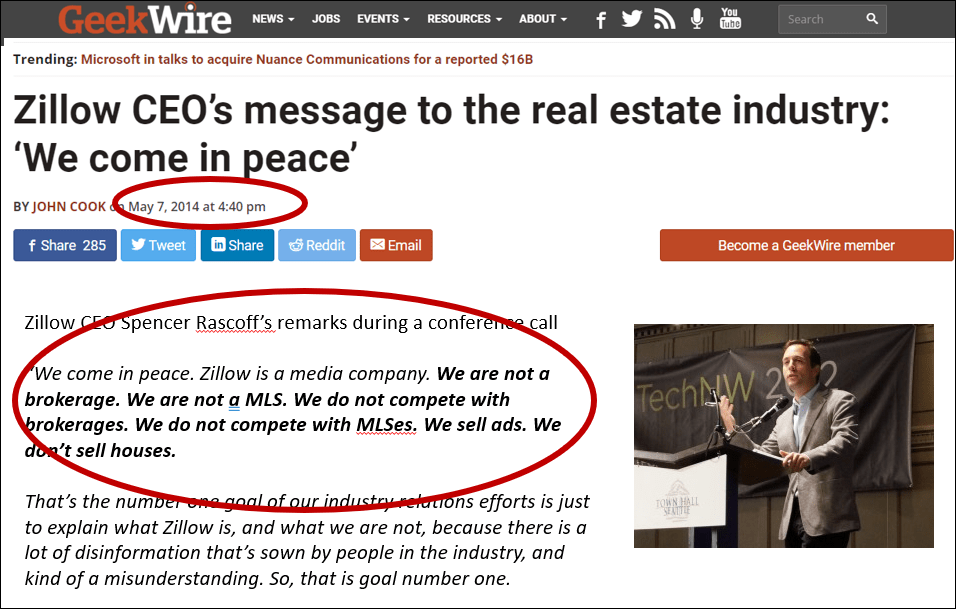 In 2014, the current CEO at the time, Spencer Rascoff, went around the country, telling everyone he could in the real estate industry that, "We come in peace. Zillow is a media company. We're not a brokerage, we're not an MLS. We do not compete with brokerages. We do not compete with MLS. As we sell ads, we don't sell houses."
That was in 2014. That same year Zillow hires Errol Samuelson, to be their Chief Industry Development Officer. Now, what's really important that you understand is that at the time Samuelson was the President of Move, Inc. For those of you don't know, Move Inc. is one of the companies that NAR is a part of. So, essentially Zillow hired the president of one of our companies.
Let me explain further. When the former president of Move, Inc. (A NAR company) left for the rival real estate database Zillow in 2014, it actually erupted into a $2 billion trade theft case. In other words, NAR sued Zillow for $2 billion. Move Inc. accused Errol Samuelson, of breach of contract, fiduciary duty, and misappropriation of trade secrets. And when he went into court, he claimed a health condition led him to destroy evidence from his work computer.
Here's what you need to know. It's not that he disputed that he'd destroyed evidence. He explained why he destroyed the evidence that was about sharing trade secrets.
Let me give you an example that is close to home.  We work with RedX. We love this vendor.  They help agents find listing leads and deliver them right to their inbox every day. Suffice it to say, we have a very close relationship RedX.
Now you all know Julie Escobar. She's my right hand. My left hand. My business partner. Now, let's say RedX recruited and hired Julie away from me. Let me tell you something. I would no longer have a relationship with RedX because you don't do that in business. When somebody does that to you, that tells you who they are. When they're gutting your business partners, that tells you their integrity.
Spencer Rascoff, the Zillow CEO in 2018, was quoted talking to shareholders on a Quarter Three Earning call.  He said, "Zillow group is moving forward down the funnel and closer to the transaction. During this period of transformational innovation in 2019, Zillow group will be a larger business that is much more integrated in the consumer's entire home life cycle."
I got my hands on a screenshot from their meeting. You'll see they've got everyone, buyers, renters, sellers, mortgage companies, real estate agents property managers, everyone – all going to one source.  That source? Zillow. One business who is it? Zillow.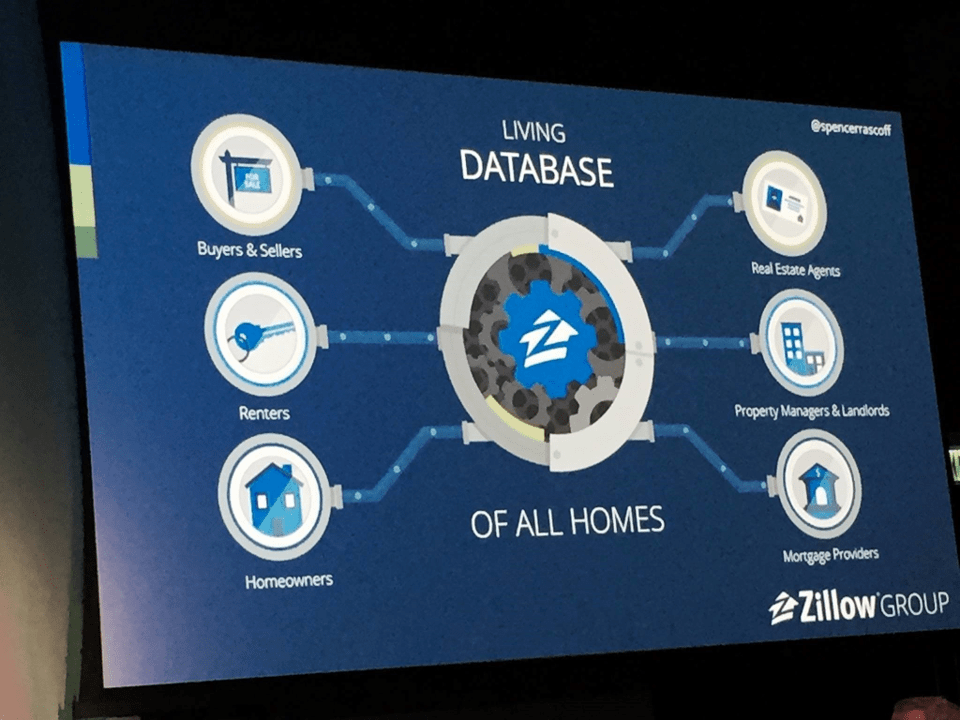 And I just love the expression at the top and the bottom of their logo, "living database of all homes". What does that tell us?
Zillow Wants to be Everything
I went to Zillow's site and I pulled some things to share with you. Let's look at the verbiage that they have about introducing Listing Connect.  "For builders who are not already working with an agent or are not currently listing spec homes in an MLS, Zillow Listing Services will be an alternative option."
From MLS – to ZLS. What do you think about THAT?
Next, I find an article written by the Motley Fool publication in February 2020, with a headline, "Zillow Pursues Brokerage Licenses That It Swears It Doesn't Want.
This article says, "Zillow maintains it doesn't want to be a real estate broker, but as it acquires brokerages licensed across the country, its fourth quarter earnings report shows it is, but a step away from achieving that status, that would mark an important milestone for the real estate information site, because it would leave little reason for agents to not hang their shingle with Zillow. At that point, it would completely own the entire real estate transaction beginning to end."
We're not going to get into them all, but article after article spells out the progression.
RISMEDIA.com: "Zillow Said 'No Intention of Becoming Brokerage' in 2017 Launces 'Zillow Homes' in 2020".
VentureBeat.com: "Can Zillow Uber-ize the hundred-billion-dollar real estate brokerage?"
HousingWire.com: "Gamechanger: Zillow to begin buying and selling houses."
BizJournals.com & San Francisco Business Times: "How Zillow wants to Uber-ize real estate brokerages by cutting out the middlemen."
Who do you think they're talking about when they say 'middleman'?
They're Talking About YOU
Now — Zillow is just like the rest of us – they're a real estate brokerage. But remember Spencer Rascoff's words, "We come in peace. We're a media company. We are not a brokerage, not an MLS. We do not compete with brokers."
If you go to a Zillow's website right now, you'll see an article that says how to sell your house for sale by owner. That's a little disturbing that our vendors are now telling and encouraging people to be for sale by owners, but not really. It's really just to lead capture, to capture homeowners who are thinking about selling because every one of those articles direct homeowners to do the exact same thing.  You guessed it – list with Zillow and sell to Zillow.
It also offers articles with alternatives to a seller agent contract instead of listing with a real estate agent list your home with Zillow, and another article from PR Newswire – "Zillow offers we'll expand service in 2021."
Now, don't get me started on the commercials which boil down to: "You can take a self-guided tour of properties, or if you'd like at the comfort of your own home, you can use our virtual touring. But if you really like to get a guided tour, we can have one of the Zillow licensed agents, whereas an employee of our company to actually bring you through the property virtually and answer any questions that you might have. And of course, when you're ready to purchase the property, you simply can put your offer in with one of our licensed employees here at Zillow, Zillow, we are committed to being the one-stop shop for you. Reinventing the real estate industry."
So Much For Coming in Peace
So, what can we do? Let's start with what you do when faced with any toxic relationship – you have three choices.  Accept it, leave it, or change it.

Accept It:  You can accept that our leadership at NAR has got your back, that this is going to be taken care of. Of course, our current CEO of NAR, Bob Goldberg, said not too long ago, that he's not terrified of Zillow. As a matter of fact, Bob is more concerned about "a mom-and-pop startup and guys or gals in a garage building totally new disruptive products" than he is about Zillow. I don't know about you, but that would be concerning for me that the leader of our association is not worried about the company that is generating $2.7 billion, but he's worried about somebody in a garage.
Swanepoel puts out a report every year that features the most influential executives in the real estate industry. So obviously the fact that there's 1.4 million members in NAR, you would think that we are the force of the real estate industry. And we would hope that our CEO is that number one most influential. Well, Bob is actually at number eight. That's not what really concerns me. What concerns me is the person who is the current CEO of Zillow. Zillow recently just purchased Showing Time. Let me tell you why that's a concern. We have a relationship with NAR. We have a contract with Showing Time. So, this is just another way of Zillow getting into our stuff.
I want to shout out to them, the National Real Estate Post, they put out some really great content.They just published an article about Gary Keller who recently said that this is a fight with Zillow and there's no way around it that he said that real estate agents determined the fate of the industry with the dollar they spend here. He said, "When an agent writes a check to Zillow for Premier Agent, they're actually voting for a Zillow world".
Change It:  Your second option when faced with change is to change your relationship.  What you can do is actually get involved in your local MLS and change the rules in your local MLS to have them spotlight the listing agent. As a matter of fact, you can actually add the listing agents image and photo and contact information as part of the pictures that go into the MLS. That would essentially get rid of the Premier Agent because we're driving business to the listing agent and not some agent that's paying for leads.
The next thing that you can do is advocate with your MLS to end the partnership was Showing Time. Why? Because we have Sentrikey Showing. Now I'm shocked that some of you don't know what that is. Sentrikey Showing is one of NAR companies that is a lockbox company but also has a showing app. That is exactly what Showing Time is. It is the same product, but it's our product. It makes sense for our organization to keep the money in house as opposed to giving it to another vendor that is outside of our family, and actually is now owned by the competing brokerage.
Leave It.  The last thing you can do is leave the bad relationship. Leave the whole process of giving money to your competitor and take your funds and put it into more productive things for yourself and your business.
You know, it's funny Investopia quoted in an article that Zillow relies so heavily on Premier Agent that they would seriously suffer if agents stopped seeing the value and stopped giving them money. Yes, we account for almost 90% of Zillow's gross profit. We are giving them the money to actually open up real estate brokerages that you are not a part of.
All that said, it's time to take action. To invest in yourself and your business in ways that don't involve funding Zillow's ability to compete with you.
They are literally trying to do to the individual real estate agent what Amazon did to malls  and what Expedia did to travel agents — their goal is to take all the business. If that's NOT what you want, and I assume it is not, then dive into this webinar on demand.
You'll hear me explain everything we talked about above, then give you step-by-step details of what you CAN do to build your business, get more listings, grow a referral base you can count on, and create customers for life WITHOUT giving a dime to Zillow.
It's long – more than an hour and a half with questions and coaching at the end – so buckle up and take notes.
Here are some of the immediate reactions from agents
"Thank you for such an informative webinar. I immediately called and canceled my Premier Agent membership, and the rep tried her hardest to convince me that they are not in competition with us. I know better now!" – Jezria Kay Latham, Provident Realty
"Darryl Davis, your passion and your love for us is inspiring!!!! I felt your presentation was filled with facts without prejudice a "fine" line!!!! My broker listened and fired Zillow right afterwards. This is a webinar everyone has to hear." – Larry Gardner, Exit Realty All Pro
"Thank you for an exceptional webinar today and for telling us who the players are. This webinar is definitely worth hearing again and again." – Ida Mazzola, Keller Williams Realty Staten Island
"Darryl motivated me with the Zillow webinar to become an activist and go to my MLS and tell them to stop using Showing Time, which is owned by Zillow, because they are our competitor!" – Janet Livingston, Real Estate Champions