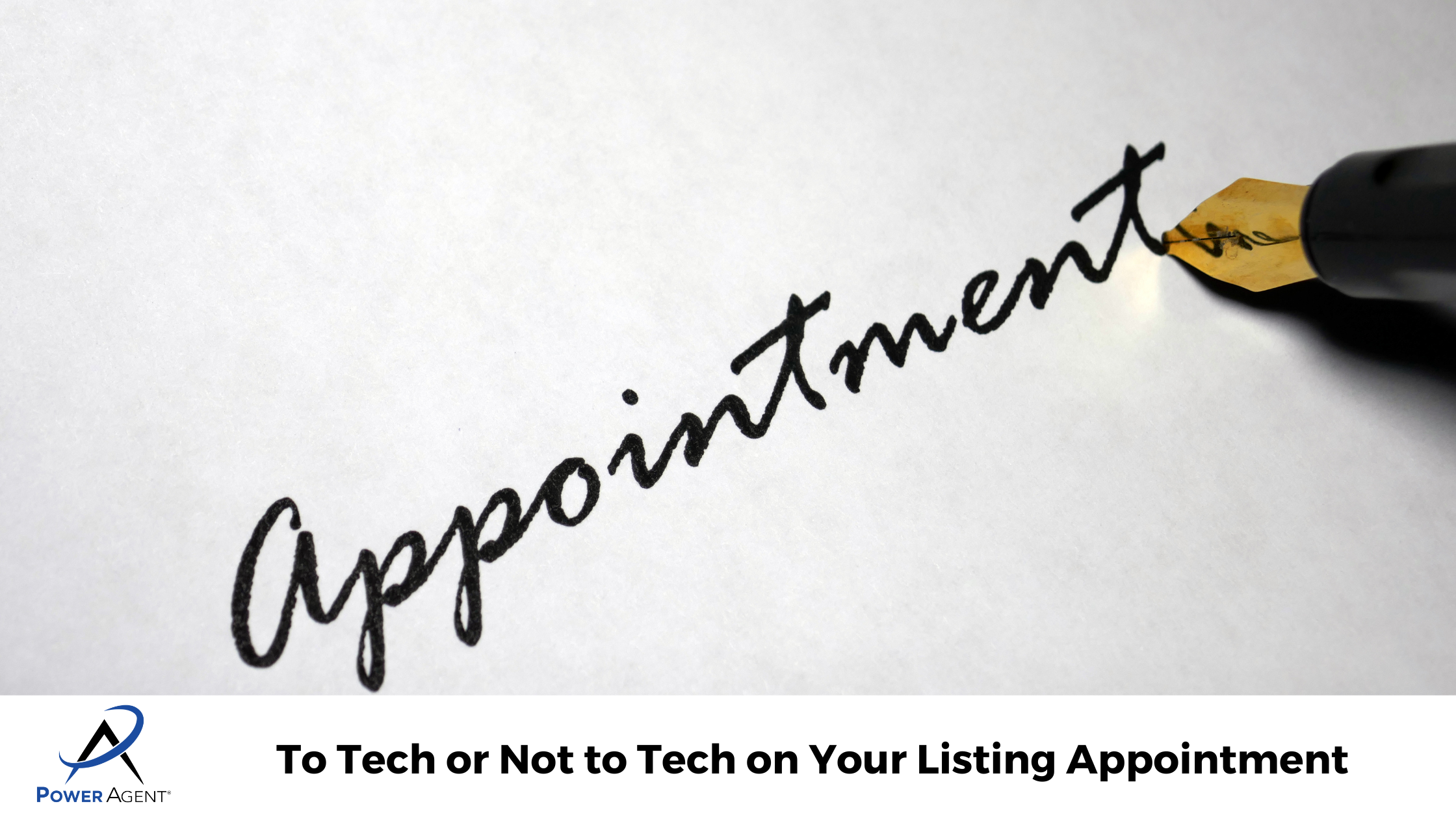 October 18, 2021
To Tech or Not to Tech on Your Listing Appointment
Every agent wants to stand out during their listing appointment from the competition. However, there are pros and cons to using tech tools!
Being in the real estate business is a constant balance between being practical and standing out amidst the plethora of other agents. It's about finding ways to impress your potential clients in a market that is seeing unprecedented lack of inventory. 
The listing conversation is that time for the agent where they have a captive audience (not literally!) where they can prove their value and make an impression, and one way that agents can do this is with the use of tech tools. One agent recently asked me about casting her listing conversation to a television so that her presentation would be easier to see. 
This is a great idea, though there are a few things to think about! First, would the homeowner be alright with their TV being used? And secondly, do they even have a TV capable of this (the TV requires technology called Wirecast)?  
The True Nature of WireCast
Using Bluetooth technology, you could scan for their TV and pair to it, as long as it's visible. This can be remarkably easy. However, there are several risks that we need to consider, the biggest would be showing up to the appointment, only to discover that your client has a small tube TV that was invented shortly after the end of the Stone Age!  
Then, there are all the other variables that will be out of your control. Will there be cables you need to use to hook up to their TV? Will their TV and your laptop be able to "speak" to each other? Will your listing presentation and fonts transfer over properly? There are a lot of things that can go wrong, and that's precisely what we want to avoid when trying to show how amazing and capable you are! 
Learning From Experience
Before this pandemic, I used to go all over the country to host live seminars, and let me tell you, there are so many different variables between the monitors, cables, software, and my computer not communicating with their computer, and there are so many things that can go wrong when I get up to speak to a live audience. 
I have been doing this for over 30 years, and I had to learn several things the hard way. The biggest lesson was this, "Leave nothing to chance." Murphy's Law states, "Anything that can go wrong will go wrong." Now, when I go to speak at seminars or to clients, I bring all my own equipment — my projector, my microphone, etc. — so that if suddenly there is some sort of compatibility issue, it's not a problem because I have my own stuff and I know my stuff works together. 
So How Can I Wow My Clients?
There are agents out there who use a lot of tech-gadgets, and it may be that some potential clients are so awed by it that they are anxious to sign a Buyer Agency Agreement, but if you aren't a super-tech person, don't feel like you should be.  
Some clients have the kind of TV that has a USB port, or you can use an HDMI cable to plug your laptop directly into the TV, or a Chromecast unit can be plugged into their TV, though their TV needs to be able to support it. This turns their TV into a giant monitor. 
However, using the homeowner's TV may not be something they want you to do, so you might be better off buying a large, portable computer monitor. Some are wireless or have Bluetooth capabilities, but this will give you the ability to make sure your devices can "talk" to each other, and casting from an iPad or plugging it in with a USB cable can look high-tech and professional.  
TIP: Power Agents®, for more information and training on using tech, check out the Tech Tools and Training tab in the classroom. 
The Traditional 3-Ring Binder
I consider myself a pretty tech-savvy guy, but as much as I could do the whole listing presentation to a homeowner, I personally still use the printed pages in a binder while on a FSBO appointment, and here's why. 
It's the distinction between a listing "presentation" versus a listing "conversation". 
Have you ever gone to someone's house and they wanted to show you photos from their trip or their wedding? They are flipping through the pages, and what happens? Everyone starts leaning over to get a look at the photo album. There is something about flipping pages that engages people. It is also a lot easier to jump from page 5 to page 10, then back to page 6, or maybe even page 15. A PowerPoint presentation doesn't let you jump around, you have to go through every slide. It can make your conversation more difficult, and even a little uncomfortable.  
The Secret To Getting the Listing
I'm going to let you in on a little secret…clients don't decide to list with your PowerPoint presentation, or your computer, or your pretty slides. They list with YOU. If they like you, and they trust you, and have faith in your integrity and conviction and enthusiasm for what you do, and you bring THAT to your listing conversation, they will hire you. 
Don't rely on the technology and the visual aspects because those aren't the reasons clients will list with you.  
Combined Forces
This is not to say that you can't use tech and the binder at the same time. If you use the printed pages as your main source of the conversation, but then at certain pages, you can use your laptop or iPad to show them some of your digital tools, such as the branding from your website, your social media, and some other examples of marketing strategies, but then head back to the printed pages so the technology doesn't become the focus.  
What's Next?
Are you ready to start taking things to the Next Level®? If you don't already know what you need to do to get to your next level, we can help!  
Power Agents®, for more strategies and tools for dazzling your sellers, check out the amazing resources in the Listing Conversation tab in the Classroom. Whether you need a boost of confidence or empowering dialogues, we are here to help you get the skills you need to be the go-to agent for the buyers and sellers in your farm area. 
---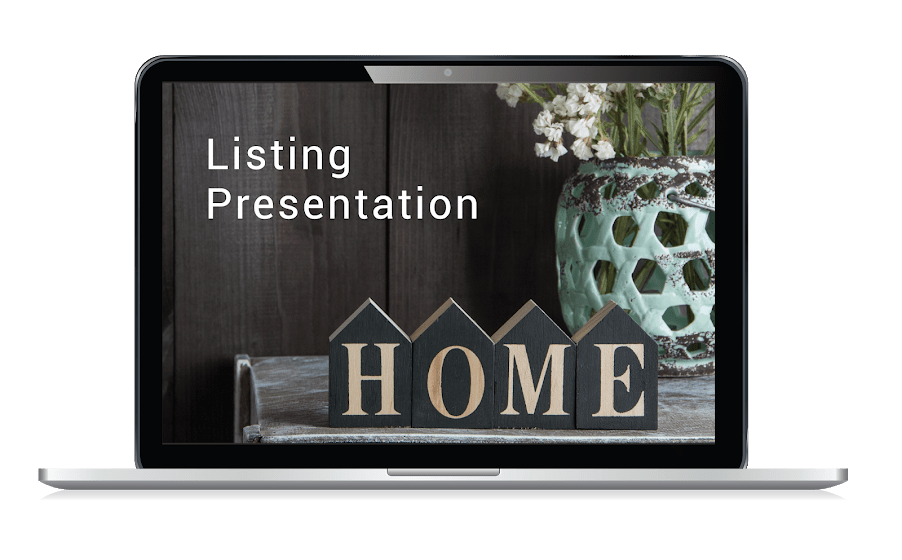 Get the Darryl Davis Newsletter!
Not yet a Power Agent®? Did you know that for LESS than the cost of a Starbucks coffee, you can have access to hundreds of marketing, prospecting, and objection handling tools – live weekly coaching, podcasts, webinars, and more? And as a bonus, get our FREE copy of our incredibly valuable: Multiple Offer Negotiation eGuide for Real Estate Buyers and Sellers and a copy of a completely customizable 103 page listing presentation! 
Start your Power Agent®  trial and have total access to every tool we have including letters, dialogues, training tips, webinars on demand, eGuides, and marketing tools for just $5.
Contact our team today to sign up or get the answers you need: (800) 395-3905!