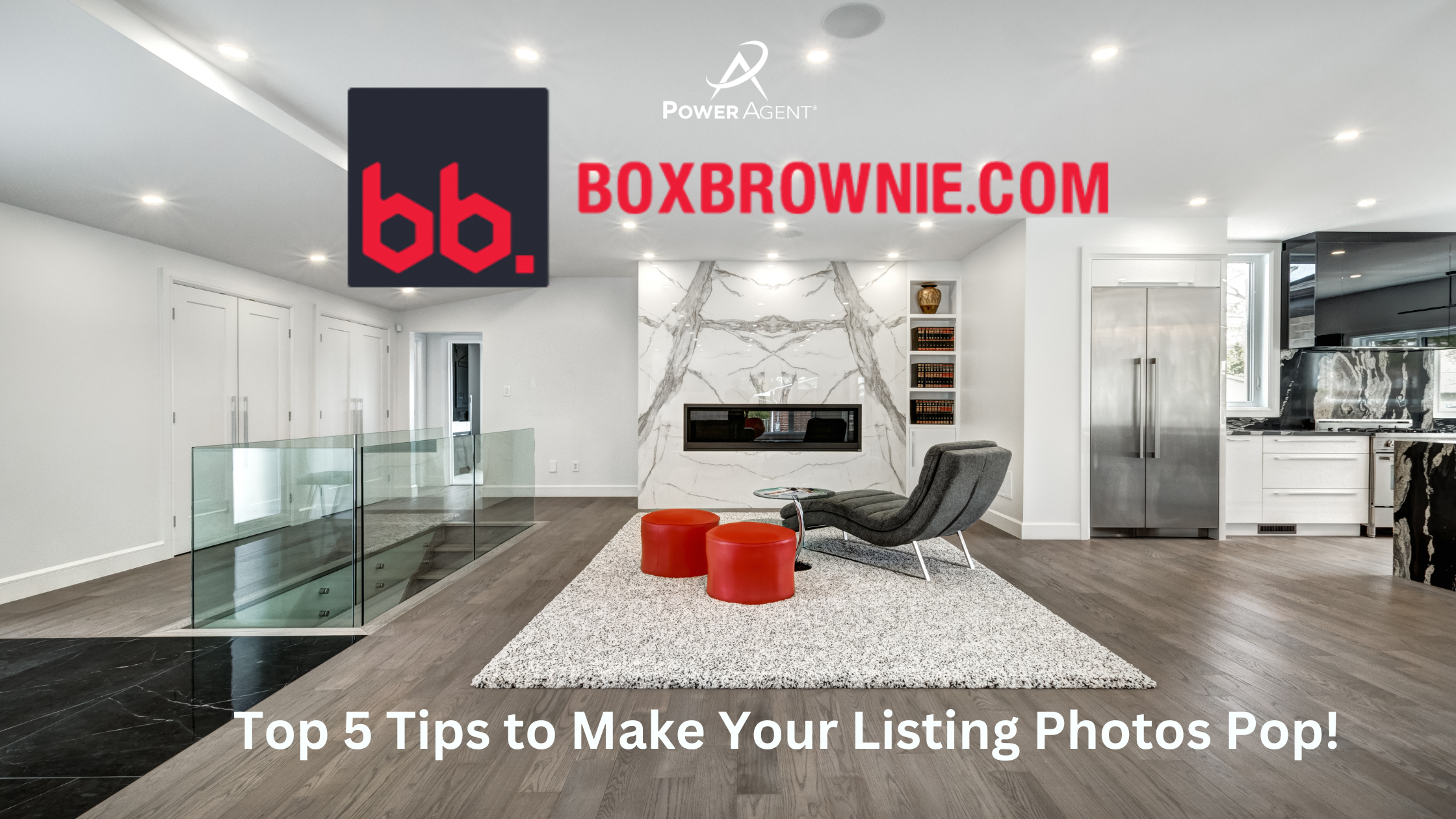 January 19, 2023
Top 5 Tips to Use BoxBrownie to Make Your Listing Photos Pop! 
Are you a real estate agent looking for ways to make your listing photos stand out from the competition? Look no further than BoxBrownie!
This fantastic product can help you improve the quality of your pictures, so they look professional and eye-catching. Keep reading for five tips on how to get started with BoxBrownie. 
As any real estate agent knows, great listing photos can make or break a deal. While professional photography is always the way to go if you want top dollar for your listing, not everyone has the budget for an experienced photographer. Luckily, there are lots of ways to spruce up photos on a budget with the help of tools like BoxBrownie.  
Related reading: The Evolution of Real Estate Photography Tips 
Enhance Interior and Exterior Photos

– Have a photo that's too dark? No problem! With BoxBrownie's Brightness Tool, you can easily lighten up those dark corners so they don't distract from the beautiful features of your listing. You can also use this tool on over-exposed pictures to create the perfect lighting for your images. With BoxBrownie's Enhance Exteriors feature, you can quickly and easily touch up those outdoor shots by adding new paint colors, replacing trees, removing power lines, and more—all in just a few clicks! You can even create Dusk pictures to create the warmth of an evening scene.

Transform Interiors

– If your client wants to show off their home without actually showing off all of their furniture and decor, then the Replace Interior tool is perfect for you! This tool allows you to upload images of furniture and decor items that will fit in perfectly with your existing photos—no need to worry about staging the property yourself! 

Virtual Staging or Update Furniture

– Did we mention virtual staging? This is the perfect solution if you don't have time or money for physical staging. Upload images of furniture and decor items that match your existing photos, and voila—instant virtual staging! If you need to update the furniture in an existing photo but don't have time or money for actual updates, then this feature is perfect for you. With BoxBrownie's Update Furniture tool, upload images of updated furniture pieces and watch them seamlessly appear in your photos—no need to physically change anything!    

Create Floor Plans & 3D

Tours

– Visualize floor plans are great for helping buyers understand how spaces are laid out without ever stepping foot inside the building! BoxBrownie makes it easy by creating stunning visualizations that give potential buyers an immersive view of each room from different angles and perspectives—all without leaving their couch! 

Perform Bulk Edits Quickly & Easily

– With BoxBrownie's bulk upload feature; you can edit multiple images simultaneously, saving time when processing dozens or even hundreds of photos! Plus, their intuitive dashboard makes it easy to manage all your images in one place—so you won't have to worry about digging through folders to find what you need.
Related reading:5 Benefits of Using Virtual Staging for Your Property Listing
Related reading: The Selling Power of Floor Plans 
Watch BoxBrownie.com Co-Founder Brad Filliponi share his expertise and show real estate professionals how they can shoot a property using only an iPhone 14 Pro. 
The Takeaway 
Using BoxBrownie is a great way for real estate agents to get professional-looking photos quickly and easily without breaking the bank! Their advanced editing tools make it simple for anyone—whether a novice or a pro photographer—to create stunning visuals that will draw attention from potential buyers.   
BoxBrownie tools are user-friendly, accessible, and cost-effective and will take your listing photos from DRAB to FAB in no time!    
POWER Agents®: If you are a POWER Agent, head to the Tech Tools & Training tab in the Classroom to check out our BoxBrownie eGuides, training, checklists, and the $40 coupon we have just for you! 
---

Get the latest real estate training tips delivered to your inbox!
Not yet a POWER AGENT®? Did you know that for LESS than the cost of a Starbucks coffee, you can have access to hundreds of marketing, prospecting, and objection-handling tools – live weekly coaching, podcasts, webinars, and more?  
Start your POWER AGENT®  trial and have total access to every tool we have , including letters, dialogues, training tips, webinars on demand, e-Guides, and marketing tools for just $5.    
Contact our team today to sign up or get the answers you need: 631-929-5555!