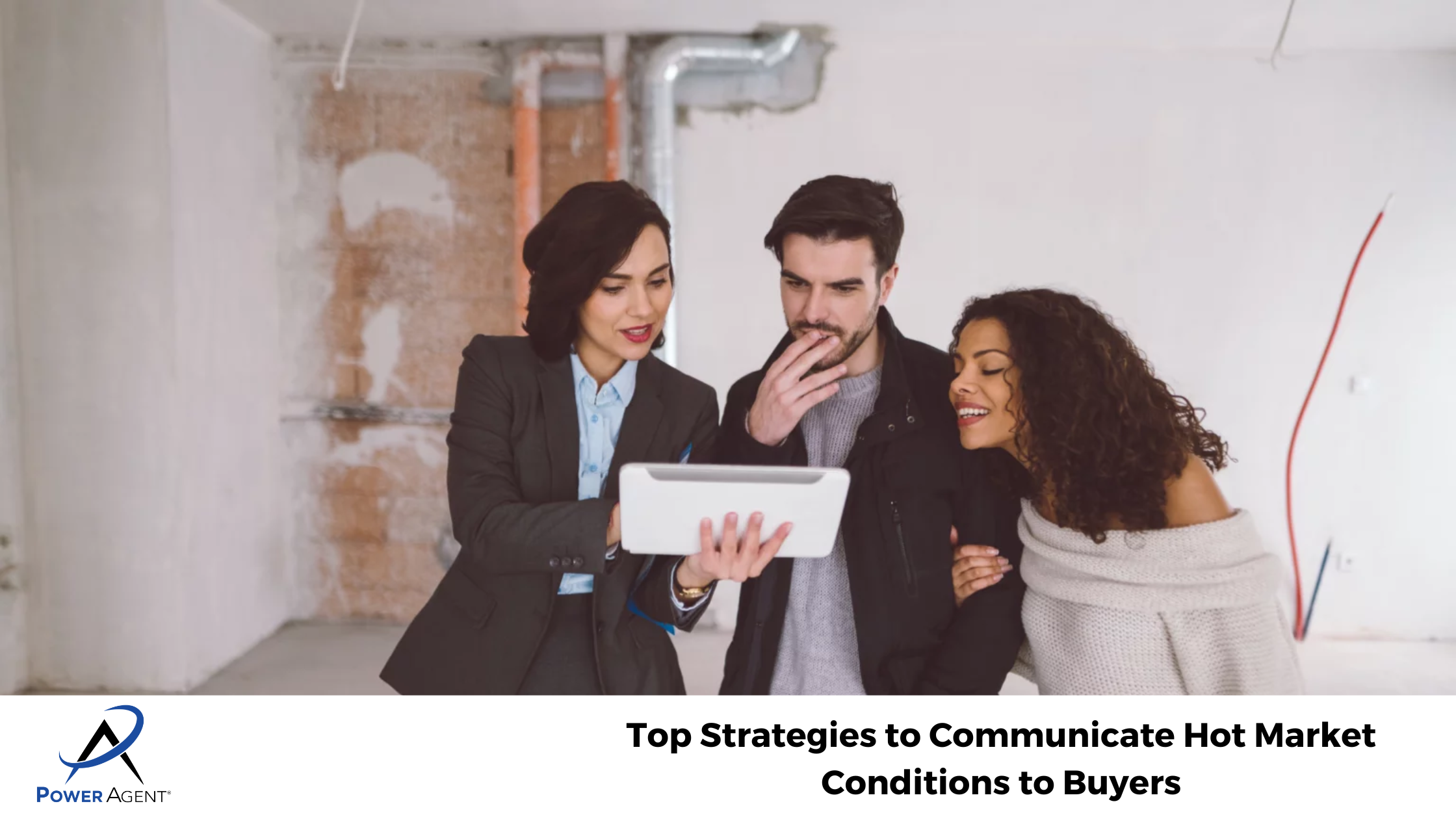 May 1, 2021
Top Strategies to Communicate Hot Market Conditions to Buyers
Powerfact
: "The fear of loss is a greater motivator than the opportunity to gain." When you want people to take action sooner, rather than later, show them what they stand to lose by waiting. 
By Real Estate Coach and Speaker Darryl Davis, CSP
The housing market is going strong; however, many buyers are hesitant to pull the trigger on purchasing a new home, because they believe we are currently in a housing bubble and banking on the fact that it will burst. How do we communicate to buyers true market conditions and that they shouldn't wait to buy if that is what they are really committed to doing? 
Strategies to Communicate Hot Market Conditions
Use Articles to Give a Clear Snapshot of the Hot Market 
The internet is filled with articles about the hot market. I read one just the other day about buyers who were barely closing on their new house and they were already fielding offers from people that were over $400,000 MORE than what they just paid for their home.  
Do your homework by finding, saving, and printing several articles like that one to show to your buyers and tell them, "The market is so hot, waiting even a day or two, and certainly weeks, could result in paying 5 – 10% more for the same home. Buyers everywhere are regretting not pulling the trigger sooner."  
Power Agents®, be sure to search our Facebook Group with #article to find articles that I've specifically pulled to help you communicate market conditions when working with clients.  
Print 
Out Local Data
As a real estate agent, you have the ability to easily pull and print statistics from your MLS.
Show your buyers:
Local statistics for your area such as the number of days on market.

 

The list price over sales price ratio. This is what homeowners are selling for in relation to their asking price. Currently, we're sitting around 102% on average.

The number of listings that were on the market last month versus the month before and point out how it's dwindling.

 
These will help them to understand that what they see today could be gone in a couple of days, or even a few hours! They can't afford to wait. 
Email Them Every Home They Looked at When It Goes into Contract
If your buyers are still hesitating to buy, even though you know they are committed to a new home, start emailing them all of the properties you showed them that are now closing or selling, especially those that go into contract within a few days of your buyers looking at them. Essentially, show them what they are missing.
"Remember that house at 1010 Hunna Hunna Lane that you wanted to see again? It's under contract. The other one that you wanted to reschedule the showing?  It's gone as well." 
If you start showing the buyer the properties they are missing out on because they're hesitating, they will be more motivated to take action. It's human nature.  People don't like to miss out.  
Show What They Can't Have
This is a powerful technique – not showing them what they can have but showing them what they can't. Here is something I was taught years ago by an old mentor, Floyd Wickman. "The fear of loss is a greater motivator than the opportunity to gain." When your buyers begin to see what they are missing out on by NOT acting, it will motivate them and create that sense of urgency.  
Coach, don't close. Serve. Don't sell. Helping buyers to clearly understand what their options are and help them get clarity on what their commitment is the best place to start.
We're here to help.
---
Get the Darryl Davis Newsletter!
Power Agents®, communicating value and cultivating buyer loyalty are more vital than ever. We're seeing some really powerful affirmations from members in our Facebook group who have made the turn after some eye-opening webinars from working with every buyer who calls to insisting on a Buyer Agency Agreement. Know this – if a buyer won't sign an agreement, they are telling you with that one action that they not going to be loyal to you.  
Head to the Webinars on Demand tab in the Classroom today and watch the training on How to Create Buyer Loyalty. It might just be the game-changer you need to stop chasing business and start solidifying your relationships. 
Not yet a Power Agent®? Start your Power Agent®  trial and have total access to every tool we have including letters, dialogues, training tips, webinars on demand, eBooks, and marketing tools for just $5. 
If you're ready to have everything you need to handle whatever the market tosses your way — get started today! 
Need help? Contact our team today at (800) 395-3905!