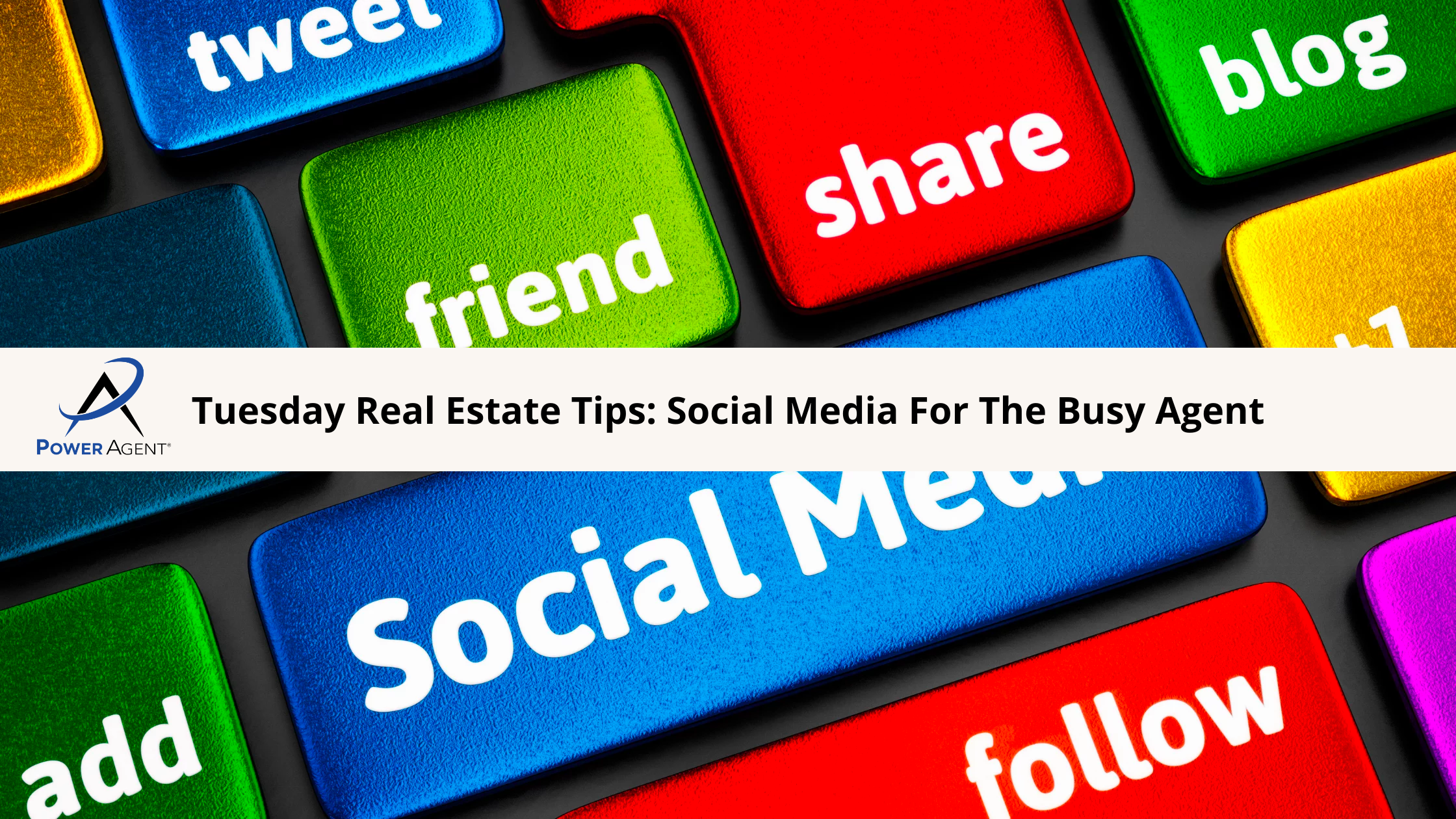 November 28, 2022
Tuesday Real Estate Tips: Social Media For The Busy Agent
Real estate agents are BUSY. Between showings, open houses, and life on the go, finding time to post on social media can be tough. Check out these tips for fitting social media into your busy life.

 
We love to talk about Being vs. Doing here at Power HQ and the difference between being a pro vs. a hobbyist in our businesses. Essentially, we are talking about living and breathing real estate to build your brand.   
Sometimes, it can feel overwhelming to promote yourself 24/7; we get it. Your life is busy trying to keep up with new leads, past clients, marketing, and even the "Joneses" – social media can feel like a whole different animal!  
Fear not! We have the solution to staying front and center in your farm area's minds without needing to invent more hours in the day!  
Maximizing Your Social Media Without Adding to Your Workload
Many real estate pros think social media posting requires a lot of planning, scripting, set design, and a camera crew that Hollywood would envy! It doesn't have to be that complicated! In fact, one of the best ways to keep yourself active on social media is to simply share more of your real life on your platforms.    
For example, you could take a picture of yourself on a webinar or zoom meeting with the text, "Just working on improving my skills with Darryl Davis and my coaching team!" You can tag me, which also helps drive my social media traffic to you as well. You can record a quick video while you are driving to a listing appointment using a phone holder that you can place in your car. You can just hit record and say, "Hey, everyone! I'm just driving to a listing appointment right now to help some awesome homeowners. I'm really excited because I love my business, and I love helping people get to their next level in life. I hope everyone is having a great day! Stay safe!"  
You can create a post around an amazing open house you are hosting – or spotlight the new buyers who you just helped get into their first home. Some agents even do neighborhood tours of the areas they farm and interview the local businesses that serve them!
PLUS – no rule says you must "go live." While some people might be comfortable talking live, it can be better to record yourself and do a few takes until you get it right because having the ability to control the outcome can save you from some stress!
Have fun with it!
Calling All Real Estate Agents!
Are you ready to start taking things to the Next Level®? We have the tips, tricks, and tools you need to find success…at any age!   
POWER AGENTS®, you can check out the Social Media Shareables in the Classroom to help you with both your time and self-management needs! Whether you need inspiration, motivation, or validation, we have it!       
Never Miss a POWER AGENT® Training Event Again! Click here to subscribe to our BRAND NEW Calendar feature! Training, brainstorming sessions, and top agent interviews will automatically be added to your calendar so you never miss out.        
---

Get the latest real estate training tips delivered to your inbox!
Not yet a POWER AGENT®?
Did you know that for LESS than the cost of a Starbucks coffee, you can have access to hundreds of marketing, prospecting, and objection-handling tools – live weekly coaching, podcasts, webinars, and more?      
Start your POWER AGENT®  trial and have total access to every tool we have , including letters, dialogues, training tips, webinars on demand, e-Guides, and marketing tools for just $5.     
Contact our team today to sign up or get the answers you need: 631-929-5555!