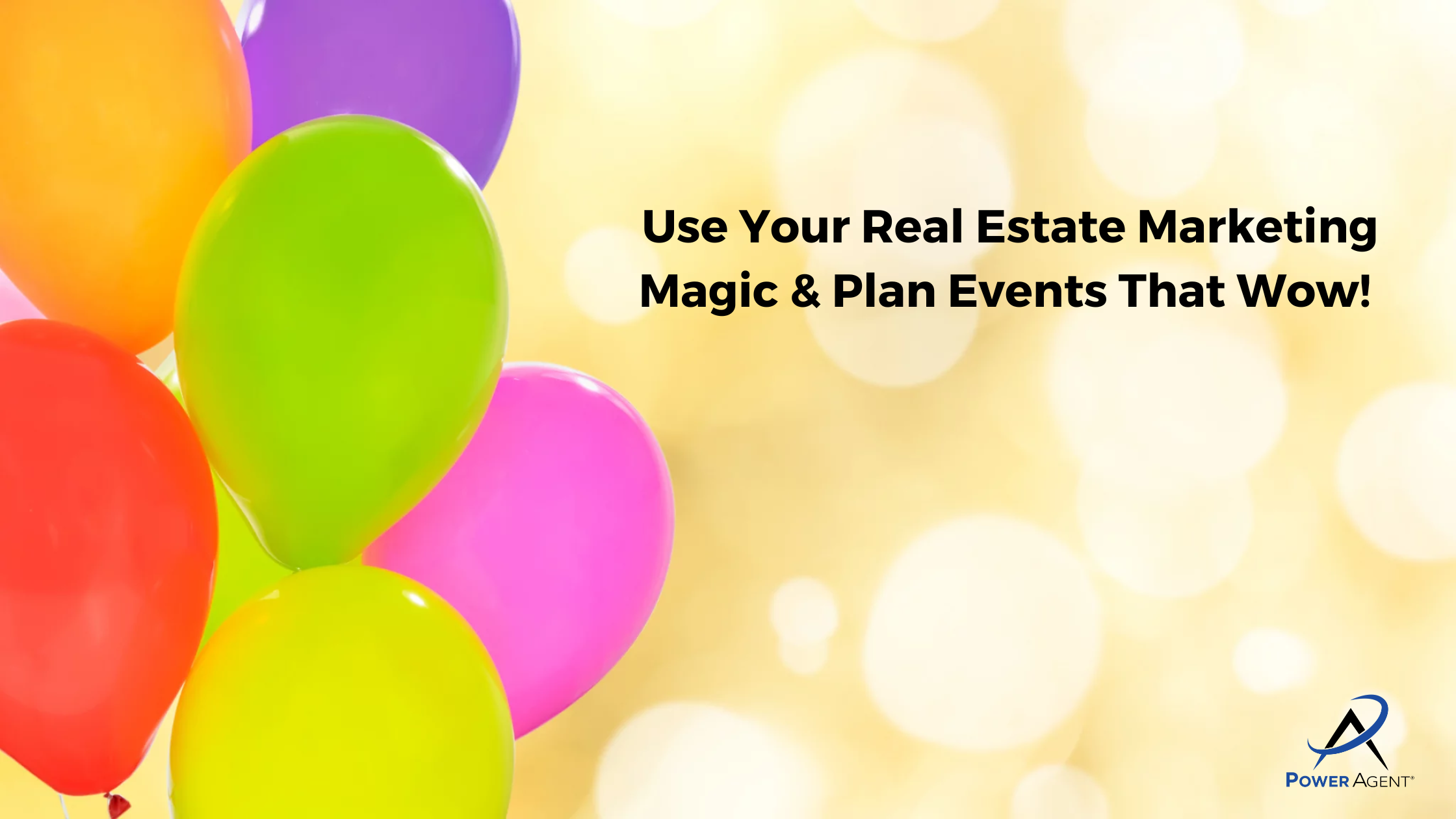 March 18, 2022
Use Your Real Estate Marketing Magic & Plan Events That Wow! 
Standing a head above the rest isn't easy in many farm areas. So, how do you promote yourself in a memorable way that will grab attention and respect? 
Marketing yourself to your sphere and farm isn't always something that comes naturally. In fact, you might feel downright awkward! However, there is hope, and one of the best ways of meeting people in your farm area and promoting yourself (and the whole real estate industry) as THE Agent to call…a party! 
Everything You Need To Know in One Handy eGuide
There are a million different types of parties and events you could host (with several different target audiences) from a Client Appreciation Night to a food festival, to a community games night. No matter what sort of gathering you choose to host, the goal is the same: Get to know the people in your farm area or niche so they can know your name, your face, and what you do for a living.  
Obviously, party planning isn't everyone's top skill, so we're here to help! We have created a Parking Lot Party Planning Guide that helps you create a memorable experience for your sphere of influence without the stress of trying to figure out everything you need to do! 
This incredible guide features a list of ideas for events throughout the year and for every season, though the world is your oyster! This guide also includes flyers, letters, and other promotional materials, to-do lists, volunteer sign-up sheets, among many other organizational tools that you can use throughout the planning process. It's a magical marketing toolkit just for you! 
Create Contests
Not all events need to be in a physical time and space — contests are another fun option, especially for the kids. Coloring contests around holidays can be fun, or if a new community building is being planned, create a "Design Your Community Center" drawing contest. Another good option is "Draw your Dream Home", which is fun, highly creative, and helps you know what they like! (we're sneaky like that!)  
TIP: For some contest ideas for families, communities, and businesses alike, check out this article by StartUp Nation.  
As part of this contest, you can have a celebration night after the promotion ends to announce and celebrate the winners. You can make it a cocktail party, or a barbeque, and have plenty of hors d'oeuvres and opportunities for community engagement.  
Teaming Up With Other Industry Vendors
If tackling a big event like an outdoor movie night or a food festival seems a little daunting to you, consider partnering with a mortgage lender or other housing industry service, with people that you know and would recommend to your clients. 
Event Promotion
This is the most important part of the planning process because, without marketing magic, your event or contest will flop. People can't come and participate if they don't know about it! One of our Power Agents® learned this the hard way when she planned a fun Halloween coloring contest for the school in her farm area, with only one person returning the picture. She was disappointed at the lack of participation, but after we spent some time talking about it, she realized that she had hardly spent any time or effort promoting the contest. 
From mailers to social media to a blurb in your local church bulletins, you want to make sure that every set of eyes sees the advertising for your event (several times)! If you are part of your community's Facebook page, promote it there as well. Encourage people to participate. Phone everyone in your farm area, which is another excuse to touch base and give them a check-in call.  
Just like a symphony has many instruments to create one song, don't stick to only one method of promoting your event. Use several avenues to create harmony in your promotional material. 
You Are Not Defined By Failure
I was so proud of the Power Agent® I mentioned earlier for trying something new because the idea of putting yourself out there like that can cause fear in some agents.  
I want to say this: Sometimes we do things (like event planning) that we have never tried before, and it seems like a great idea, but then the result isn't what we expect. It might even be downright horrible! It's really important to NOT internalize this failure. You are not a bad agent just because it didn't work as well as you expected. It's not healthy, nor accurate! This is when you need to take a deep breath, and use this breakdown to learn from and create a breakthrough. It's a learning experience, and failing forward means you know what to do next time to make your event a massive success!  
What's Next?
Are you ready to start taking things to the Next Level®? We have everything you need to develop new skills and master the ones you already have!  
Power Agents®, check out the incredible content in the Farming, Self-Promotion, and Mailings tab in the Classroom.  Whether you need a boost of confidence or empowering dialogues, Darryl will help you get the skills you need to be the go-to agent for the buyers and sellers in your farm area. 
---

Get the latest real estate training tips delivered to your inbox!
Not yet a Power Agent®? Did you know that for LESS than the cost of a Starbucks coffee, you can have access to hundreds of marketing, prospecting, and objection handling tools – live weekly coaching, podcasts, webinars, and more?  
 Start your Power Agent®  trial and have total access to every tool we have including letters, dialogues, training tips, webinars on-demand, eGuides, and marketing tools for just $5. 
 Contact our team today to sign up or get the answers you need: (800) 395-3905!