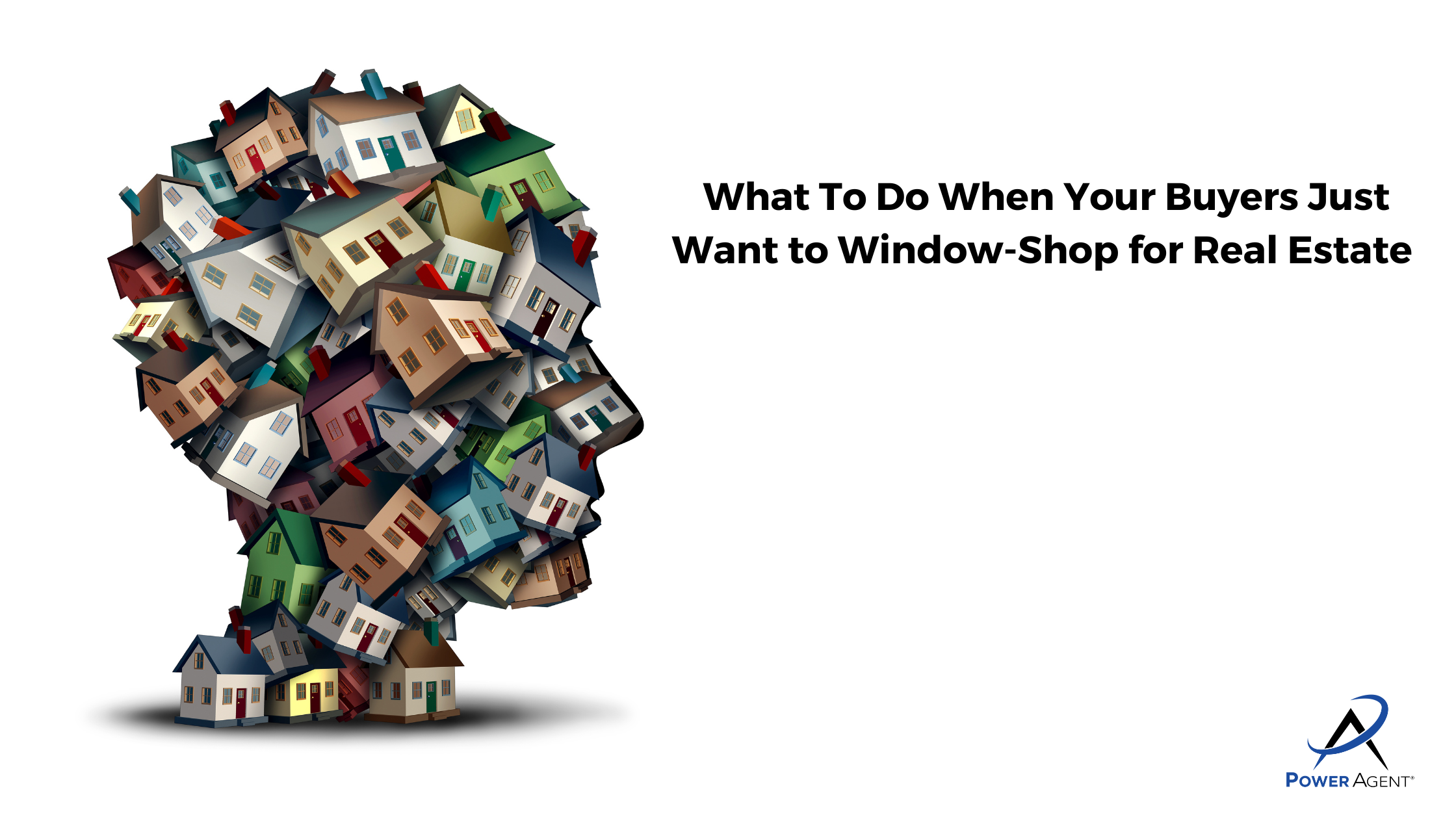 April 10, 2022
What To Do When Your Buyers Just Want to Window-Shop for Real Estate 
Working with buyers in this market is not for the faint-hearted. Here's how to separate the committed from the less committed without sounding pushy.
See if this sounds familiar.  You get some buyers on the line who SOUND like they are ready, willing, and eager to find a home, then you scour the MLS, pull out all the stops to find homes in their range, then they change their minds on what they want.  What's an agent to do? Sit back and let the MLS do the work? Wait until your buyers figure out what they want? Keep working hard to serve your clients? Don't worry, we've got the real estate coaching and training to help you serve your clients. 
Determine Your Buyers' True Level of Commitment
There is a difference between buyers that are committed to looking and buyers who are committed to buying. A lot of buyers are committed to looking until they're ready to buy, and you want to be careful that you don't spend a lot of time and energy on those who aren't fully committed. 
TIP: Check out this related article: "The 3 Phases of Buyer Readiness and What It Means For You" 
How To Set The Stage 
To avoid getting dragged down the buyer rabbit trail, it's best to establish expectations in the initial meeting. Be upfront with your buyers and explain to them how you work, what they can expect from you, and what you expect from them. Part of that conversation might sound like: 
"My job is to help you find a house at the best possible price when you are my client. What that doesn't mean is that I'm going to continually show you houses that don't even work for you. What will save us some time is that you continue to look for homes online and via open houses, and I'll run my searches as well. When we find the two or three really strong possibilities and you're ready to make an offer, then I'll get that set up."

 
Part of what you need to do is set the expectations in that initial meeting about what you will and will not do.  
As part of that initial meeting, to determine whether they are committed to shopping or buying, you can ask them the usual questions about their time frame. They may not have an answer or say they want to spend some time looking around. You can respond by saying,
"W

hen we look today, if the right house appears and you think 'this is it', are you ready to buy?

"
If they say no, then you know they are probably not quite ready to buy now.   
What Do You Do When They Don't Want to Buy Now?
Now you have a choice to make: Do you want to spend the time helping these people get ready, or do you want to say to them:
"

Here's what you should do. If you aren't ready, I think you need to do some legwork first. I'm going to give you some homework this weekend, to go out and see anything and everything. Go to open houses, look online, start looking and shopping and seeing what's out there. Then, when you are ready, we can move on to the next level

."

 
Regardless of what approach you decide to take, the important thing is that the buyer isn't controlling your time.   
The Difference Between Customers and Clients 
There is a difference between customers and clients: Clients are the ones you pour your energy into, while customers aren't the ones you take out to show around. Clients are the ones you call the moment a hot new listing shows up on the market, while customers are the ones you call after if it's still available.  
It's about setting the expectations early and having clear standards. Are you going to show them homes whenever they want? Are you going to have designated days, or times, where you take them out to look? Will you show them homes out of their price range? You decide how you want to work with them, set those boundaries, and stick to them.  
What's Next?
Are you ready to start taking things to the Next Level®? We have everything you need to develop new skills and master the ones you already have!  
Power Agents®, for some great ideas on how to get your buyers committed to buying and excited for the process, check out the fantastic content in the Buyers tab in the Classroom. Whether you need objection handling dialogues or helpful resources, we've got what you need! 
---

Get the latest real estate training tips delivered to your inbox!
Not yet a Power Agent®? Did you know that for LESS than the cost of a Starbucks coffee, you can have access to hundreds of marketing, prospecting, and objection handling tools – live weekly coaching, podcasts, webinars, and more?  
Start your Power Agent®  trial and have total access to every tool we have including letters, dialogues, training tips, webinars on-demand, eGuides, and marketing tools for just $5. 
Contact our team today to sign up or get the answers you need: (800) 395-3905!