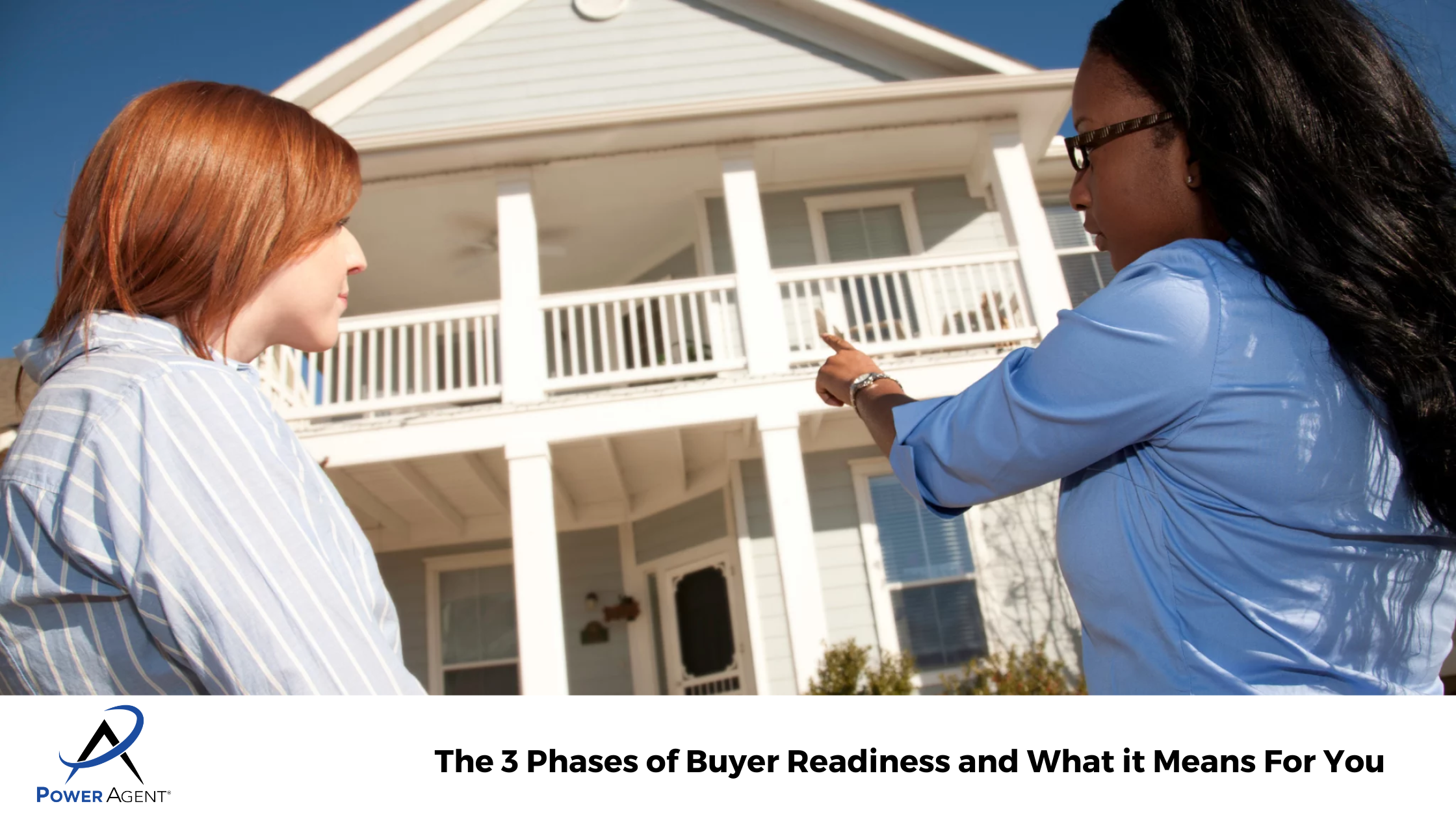 August 7, 2021
The 3 Phases of Buyer Readiness and What it Means For You 
When a buyer decides to buy a home, there are 3 phases they work through, each one unique and requiring different coaching. This article covers how you can coach these buyers successfully through the whole transaction.
Whether you are a new real estate agent, or a veteran in the industry, learning to gauge what kind of buyers your potential clients are can be a challenge. Are they eager beavers, ready to commit and make their move? Or are they seemingly disinterested, and end up wasting your time? What happens if they are both, depending on what phase of the home buying process you are in? How can you identify these types of buyers before you spend all that time trying to help them? 
The Phases of Buyer Readiness
There are essentially three different phases of the home-buying process, and it can be a bit of a rollercoaster of emotion for the buyer, and as agents, we need to explain the ups and downs of each phase and reassure them that the rollercoaster is a normal part of it, but you are there as the objective party to guide them through. Phases one and two can sometimes be disheartening, particularly if what they really want proves difficult to find.  
Phase 1: Discovery
In this phase, buyers don't really know what they want, other than to buy a home. This is usually the point where they start browsing online, and eventually call you, a real estate agent, who will help them accomplish this goal. Once they decide to hire you, have them sign the Buyer Agency Agreement so that you can get to work for them.  
There is a lot of discussion in this phase to determine what they want, and you can suggest they go out to look at a wide variety of houses to see what's out there and begin identifying what they like and don't like. Suggest that they spend time going to open houses, or even check out a few Zillow listings so that they can reach the next phase.  
TIP: Power Agents®, there is a little certificate in the Buyers tab in the Classroom that you can give to your clients so they can show agents at open houses that they are "married" to another agent already.  
Phase 2: Identifying
This is where you sit down with them and nail down what sort of features they are looking for in a home, now that they have seen several open houses and see what's available, creating the "Must-Have" list and the "Nice-to-Have" list. What are their non-negotiables? What would they like, but could live without if all the "Must-Haves" were met? You can discuss locations, what size of the home, and what condition of home as well as the buyer's budget. 
TIP: Homes by Kim Blanton has an amazing checklist for Buyers to help them determine what they need versus what they want. 
Phase 3: Commitment 
This is the "we are buying a house today!" phase. You have identified everything the buyer wants and needs, and they are emotionally, financially, spiritually, and logically ready to buy today. Right now! If they walk into a home and fall in love with it and it has everything they need, they are ready and excited to make an offer.  
The Scenario
One of my Power Agents® came across buyers who seemed to be firmly entrenched in Phase 1. They wanted to buy a home, but not only they were shy about signing the Buyer Agency Agreement, they couldn't even muster up the courage to go to the bank to get pre-approval for a mortgage.  
This agent, trying to get them excited about the idea of buying a new home, was spending her time showing them houses on the MLS and giving them a ton of free information, trying so hard to get them to their lender for their pre-approval. The buyers' criteria kept changing, and now she was frustrated and exhausted and didn't even know what to look for anymore.   
Suggested Dialogue
As I coached her, I told her that she had the right to drive the bus on this. She needed to sit down with these buyers and say, "This is how this is going to work, this is what needs to be done, and this is how we're going to do it." If they are still unwilling to move forward this way, then you stop working with them. You can use this dialogue for that conversation: 
"It's like when you go to the doctor. You either listen to your doctor and do what they tell you, and you get better (hopefully!). If you don't listen to them, there will be consequences. I am the real estate doctor, and I have the prescription on how to find your dream home. Step one, get pre-qualified to find out what your line of credit will be like. Step two, we're going to look at our budget, and based on those numbers, we will start looking to see what homes are out there at that price. We're going to take the time to narrow down what you want, and if there is nothing suitable for you, then we continue to rent, save money, and keep our eyes open."  
It's important to note that if you don't already have the Buyer's Agency Agreement in place, speaking with this level of authority won't go over well if they haven't already hired you.  
If you are still in the early stages of wooing them as clients, then you can use the Six Step Buying Process chart to tell them more about yourself, your company, and your credibility, and tell them that they need to hire you to be their agent, and once they hire you, you can move on through the process.  
What's Next?
Are you ready to start taking things to the Next Level®? We have everything you need to develop new skills and master the ones you already have!  
Power Agents®, for more tools and training to win your buyers hearts, check out the amazing content in the Objection Handling tab in the Classroom.  Whether you need a boost of confidence or empowering dialogues, Darryl will help you get the skills you need to be the go-to agent for the buyers and sellers in your farm area. 
---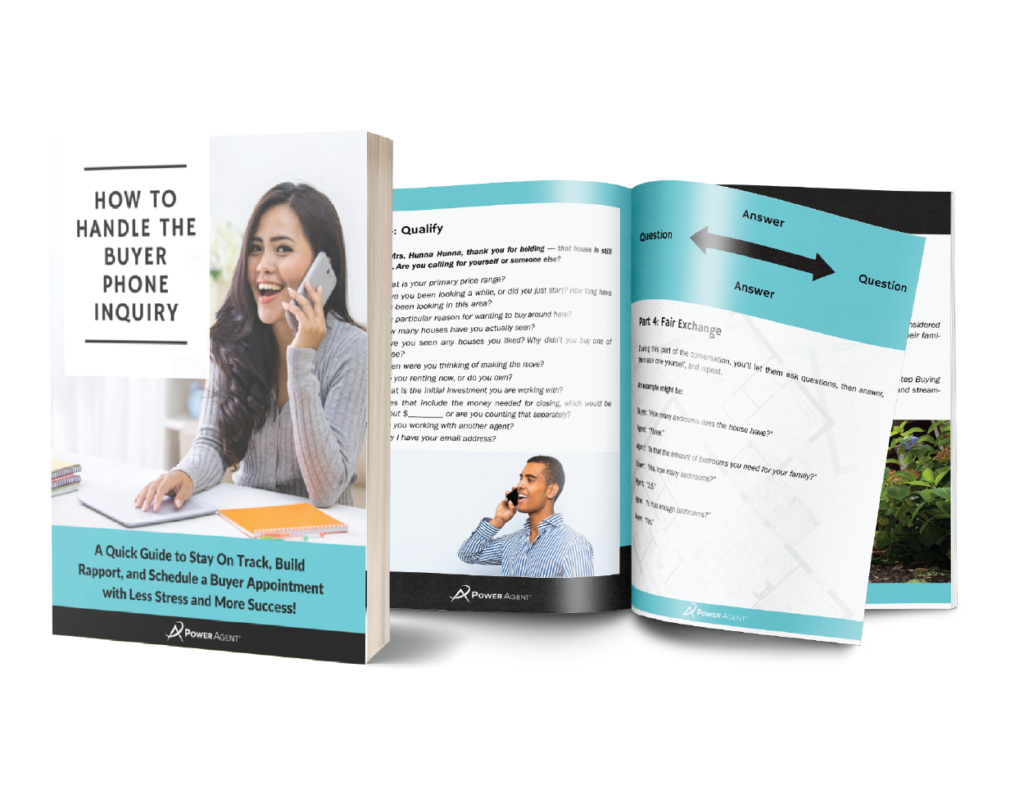 Get the Darryl Davis Newsletter!
Not yet a Power Agent®? Did you know that for LESS than the cost of a Starbucks coffee, you can have access to hundreds of marketing, prospecting, and objection handling tools – live weekly coaching, podcasts, webinars, and more? Check out this article: "Real Estate Success Stories" to see how we can help! 
Start your Power Agent®  trial and have total access to every tool we have including letters, dialogues, training tips, webinars on demand, eGuides, and marketing tools for just $5. 
Contact our team today to sign up or get the answers you need: (800) 395-3905!