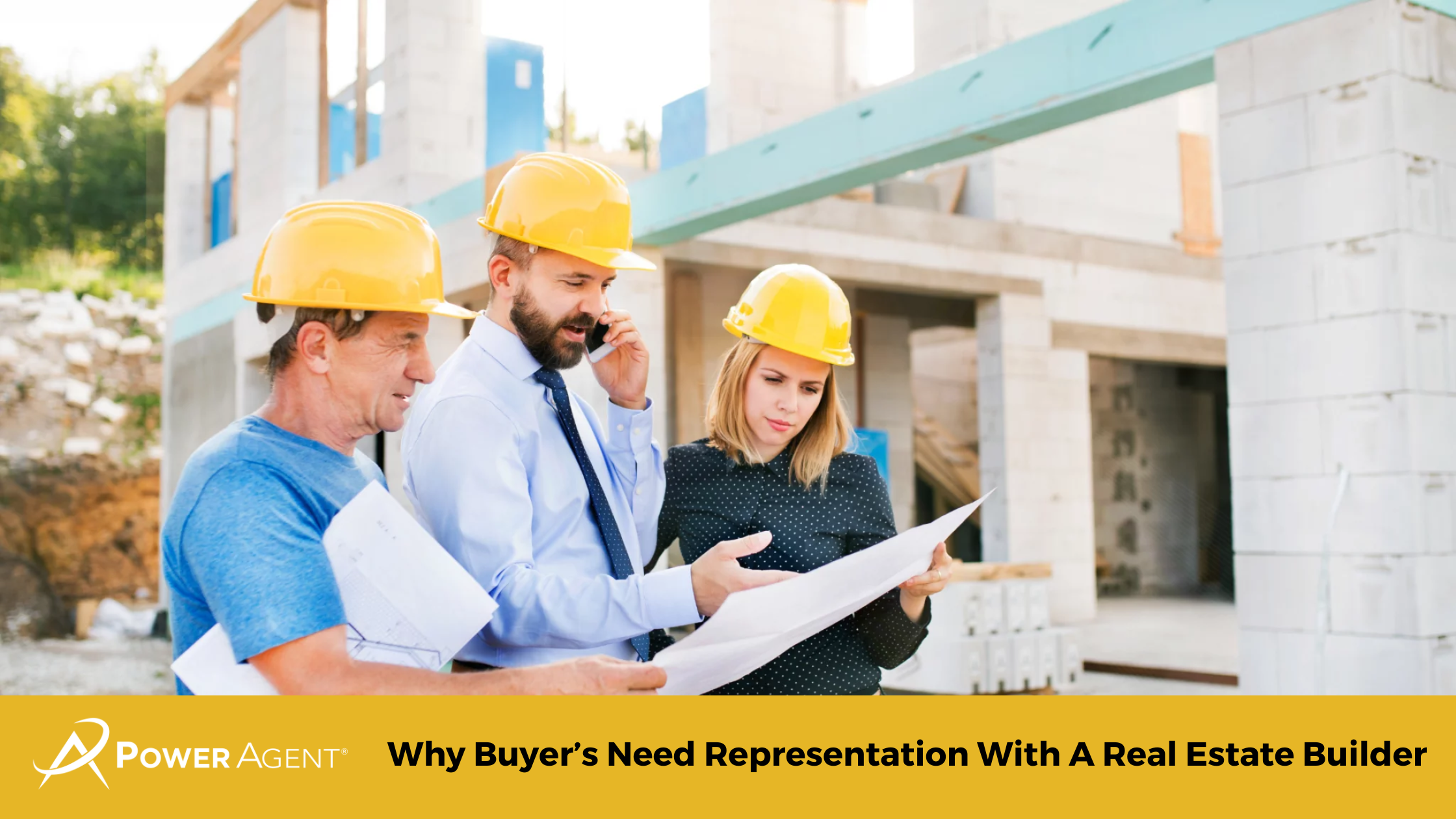 December 18, 2021
Why Buyer's Need Representation With A Real Estate Builder 
Many buyers think they don't need a real estate agent when they purchase a home through a builder, which is why we need to communicate that they, and even their in-house agent, may not have their best interests in mind.
The biggest challenge for a real estate agent is getting a misguided homeowner to believe in the power of the real estate industry. As much as we do for homeowners, many still don't realize how much work goes into the transaction. 
One of our Power Agents® was recently faced with a homeowner who was determined to get into a home in a certain area, and rather than work with an agent, chose to build a new home (even with a long waiting list) because he could avoid the "hurdle" of dealing with a real estate agent.  
How do we communicate our value to them when they are determined to avoid using and agent, all while trusting the builder to take care of them instead? 
The Misconception
Buyers and sellers have this misconception: "all an agent really does is show a home." In the case we just mentioned, these homeowners are falling victim to that incorrect belief. They don't believe they need an agent because they don't need to tour a home — the builder does that with them. While it's true that yes, the builder does show them the home, but these homeowners failed to understand that a real estate agent really earns their money by helping them navigate the real estate transaction from start to finish. 
TIP: This article by The College Investor is a perfect example of the attitudes found by many homeowners: "What Do Real Estate Agents Really Do Anymore?" This is a call for us to combat these beliefs by becoming the must-have agent homeowners wish us to be! 
How To Communicate Your Value
There are a few things the homeowner should know about builders before they make this decision. First, the builders are looking out for their own interests, not the interests of the buyer. They are there to make money off the homeowner! 
If the builder has an in-house agent, I would also be skeptical about who they represent, even if they are supposed to be representing the buyer. At the end of the day, this building company is where they hang their license, and there is bound to be some conflict of interest there.  
These homeowners need to hire an agent of their own choosing to ensure their rights are protected, the transaction goes smoothly, they can get financing in order, the legalities of the paperwork are explained, their interests are guarded like the crown jewels, and so on.  
TIP: Here is an article you can share with potential clients: "9 Reasons Why Real Estate Agents Are Essential For a Trouble Free Real Estate Transaction" 
Being A Licensed Real Estate Professional Is a Big Thing
Real estate agents don't get their licences out of a crackerjack box. It takes, at the very least, 65 hours of classroom time and passing a difficult real estate exam. Its all to make sure that the agents being released into the industry know the ins and outs of the real estate transaction from start to finish so they can provide quality representation for buyers and sellers.  
TIP: Check out this article by Merrimack Valley Real Estate, "10 Deadly Home-Buying Pitfalls" 
The Dinner Analogy
There is an analogy I like to use when explaining how much goes into a real estate transaction. You are going to make dinner for some friends of yours, so you go to the lake, row the boat out, spend hours fishing, and finally catch a nice, big fish. You haul that fish on board, get back to shore, clean and prepare the fish, and head home. THEN, you spend the afternoon cooking it, choosing the best seasonings and frying it up to perfection. You even spring for the garnish on the side of the plate, and it looks delicious, and smells even better. It was a whole process (and perfected with experience) but when you bring the fish out and set it down in front of your friend, they think that all you did was catch the fish.  
Communicating your value happens when these homeowners see that the transaction isn't just one thing, but many things that require and expert hand in managing.  
What's Next?
Are you ready to start taking things to the Next Level®? If you don't already know what you need to do to get to your next level, we can help!  
Power Agents®, for all the tools, resources, and strategies for hosting an incredible promotion and bringing your clients to you, head to the Buyers tab in the Classroom.  Whether you need a boost of confidence, or empowering dialogues, we are here to help you get the skills you need to be the go-to agent for the buyers and sellers in your farm area. 
---

Get the latest real estate training tips delivered to your inbox!
Not yet a Power Agent®? Did you know that for LESS than the cost of a Starbucks coffee, you can have access to hundreds of marketing, prospecting, and objection handling tools – live weekly coaching, podcasts, webinars, and more? And as a bonus, get our FREE copy of our incredibly valuable: "The Farming Field Guide: Plant the Seeds To Generate New Listings and Referrals."
Start your Power Agent®  trial and have total access to every tool we have including letters, dialogues, training tips, webinars on demand, eGuides, and marketing tools for just $5. 
Contact our team today to sign up or get the answers you need: (800) 395-3905!