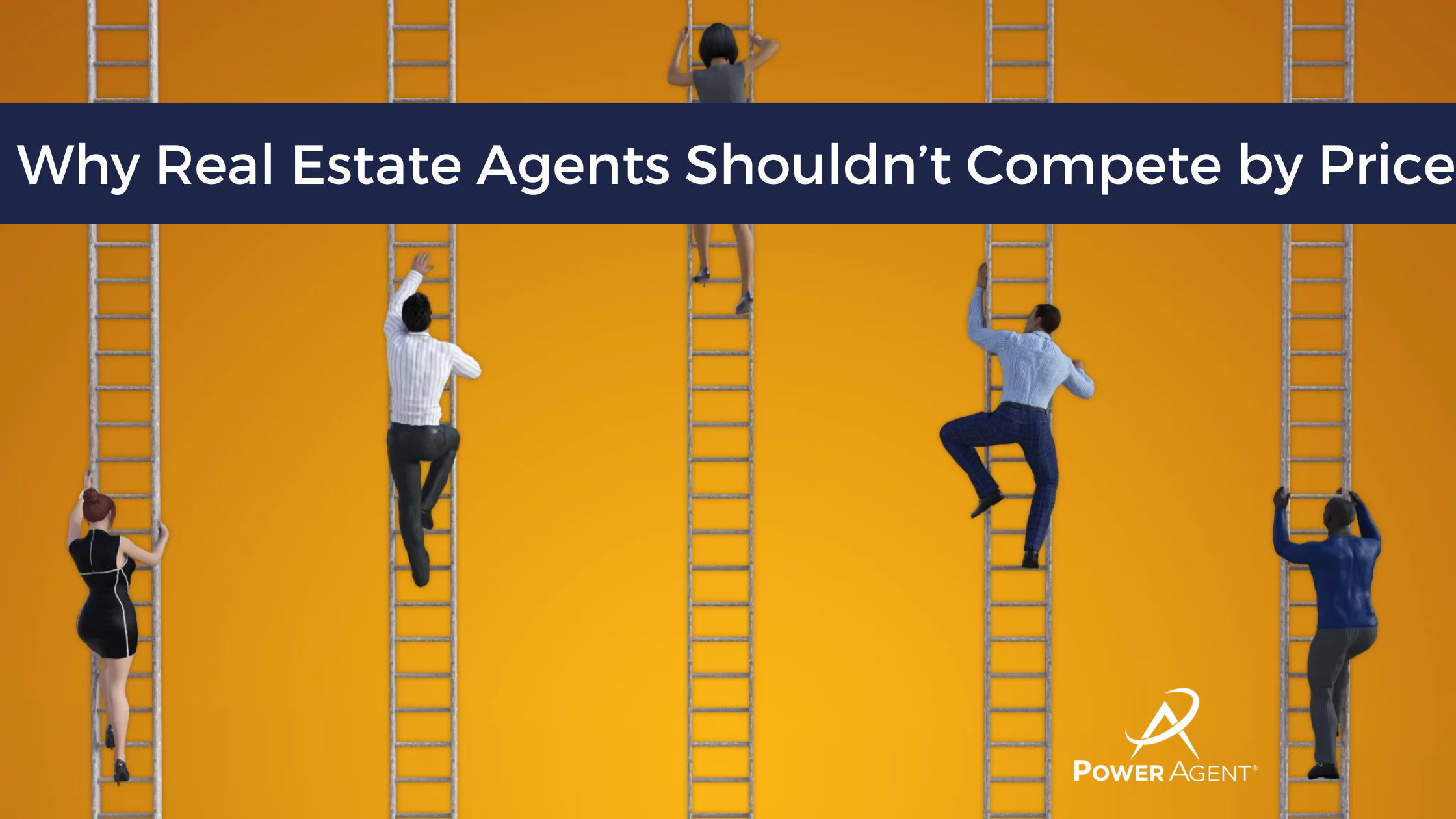 November 30, 2022
Why Real Estate Agents Shouldn't Compete by Price
Competition is fierce in the real estate industry. How can you win over the homeowner and still get the commission you're worth?
It can be disheartening as a real estate agent to discover that other agents and brokerages in your area are cutting their commissions in order to win listings in this low-inventory market. You work hard to earn every penny, and to be undercut is frustrating! 
I was recently asked how to address when the homeowner asks this dreaded question during the listing conversation, "Why should I hire you when those other agents have a lower commission?" You know you're worth it, so how do you prove it?
There Will Always Be Someone Undercutting You to Get Business
The truth is, this problem has been around in previous times (it's the nature of competition, after all) and will be around until the end of time. There's always going to be pressure, and while it would be nice to say this is just a sign of the times with this current market, it's not. 
It's about communicating your value to these homeowners so they can understand why paying a lower commission just proves the old adage, "you get what you pay for." Learning to master objections about paying a higher commission is an absolute must for an agent who wants to be successful.
Related viewing for POWER AGENTS®: "Get More Listings at Higher Commissions" Webinar (May 11, 2022) 
Related reading: The Commission Conversation: You Get What You Pay For 
Using Metaphors and Analogies
I love using metaphors and analogies! One of my favorite ways to handle the commission objection comes from the medical profession.
"Let me ask you, Ms. Seller, if you decide to go for LASIK surgery to correct your eyesight, you might see ads claiming, 'When you pay to correct your vision in your left eye for $299, we'll do the right eye for free and give you this coupon for a gallon of gas!'  As much of a bargain as that might sound, would this be the doctor you want performing surgery on your eyes?

It's a pretty good rule to live by that anytime anyone promotes they are the cheapest, they generally are not the best skilled, because if they were highly skilled, they wouldn't have to promote themselves by being the cheapest! So, you can tell your homeowners that when someone is promoting how cheap they are, it's because they don't have the skills to earn the full commission."
The Distinction Between Selling and Marketing a Home
Most homeowners hold to the generic belief that an agent is there to sell their home, usually by putting it on the MLS, sticking a sign in the yard, and then waiting for a buyer to show up.  
However, we know that there is so much more to it than that, so you need to make that distinction for your sellers. Here is a dialogue you can use: 
"Who you are hiring, Mr. and Mrs. Hunna Hunna, is not just an agent who is there to sell your home, but an agent who is going to market your home. What a real estate agent actually does is market a property not just to buyers – but to fellow agents and THEIR buyers. Which is better? To have one buyer who wants to buy, or 10? Ten, of course. Ten buyers fighting over your home will drive up the closing price, and who benefits from this? You! My job isn't to sell your home, it's to market your home to bring in the highest and best offers, protect your legal interests, and get you the best possible return for your investment."
Related reading: The Close – How to Anticipate & Overcome Emotional Seller Objections 
Good, Better, and Best
No two real estate agents are the same, and when it comes to marketing, there's good, there's better, and then there's the best. The best knows how to take a property and market it to drive demand, and that kind of expertise will reflect in the commissions paid.  
An analogy you can use with your homeowners to explain this is this: 
"Let's say you want to go out for dinner tonight. You could go to McDonalds, or even Red Lobster, but if you want a really high-quality steak or lobster, you go to something like Peter Lugar's Steakhouse. (Or name the best quality steak house in your area.) It's better food, higher quality services, and usually prepared by a reknowned chef. Now you need to ask yourself, do you want a McDonalds meal experience for your home, or a Peter Lugar experience? I'm Peter Lugar – I'm the high-end meal. You can hire a cheaper agent, but you'll get a cheaper result because you get what you pay for."
Never compete based on price; compete on value. Compete on what skills and expertise you bring to the table. You can explain to the homeowner that in ALL aspects of life, when we are looking to hire someone for something important, we don't go with the cheapest.  
"If you are about to be sued for hundreds of thousands of dollars, you want to find the best skilled lawyer. If you need brain surgery, you want the best neurosurgeon, right? You're not gonna skimp on your brain for heaven's sake. When you want to sell one of your biggest assets, your home, for the best price, you hire the agent with the best skills. Sure, you can hire the cheapest, and there will always be other agents who will do it for less, maybe even for only 2%, but they probably aren't going to have the skills, and that will hurt you in the long run."
The commission conversation is one of the most daunting conversations for agents because they may not feel prepared to handle the objection without feeling like they are being greedy, but it's not about greed. It's about knowing your own worth and knowing that your skills and experience will serve the client better, which is why you are worth that commission.  
Related reading: How To Communicate Value
Calling All Real Estate Agents!
Are you ready to start taking things to the Next Level®? We have the tips, tricks, and tools you need to find success…at any age!   
POWER AGENTS®, you can check out the Objection Handling tab in the Classroom for more metaphors, analogies, tips, tricks, and tools to help you easily handle any objection. Whether you need inspiration, motivation, or validation, we have it!    
Never Miss a POWER AGENT® Training Event Again! Click here to subscribe to our BRAND NEW Calendar feature! Training, brainstorming sessions, and top agent interviews will automatically be added to your calendar, so you never miss out.        
---

Get the latest real estate training tips delivered to your inbox!
Not yet a POWER AGENT®? Did you know that for LESS than the cost of a Starbucks coffee, you can have access to hundreds of marketing, prospecting, and objection handling tools – live weekly coaching, podcasts, webinars, and more?  
Start your POWER AGENT®  trial and have total access to every tool we have , including letters, dialogues, training tips, webinars on demand, e-Guides, and marketing tools, for just $5.     
Contact our team today to sign up or get the answers you need: 631-929-5555!