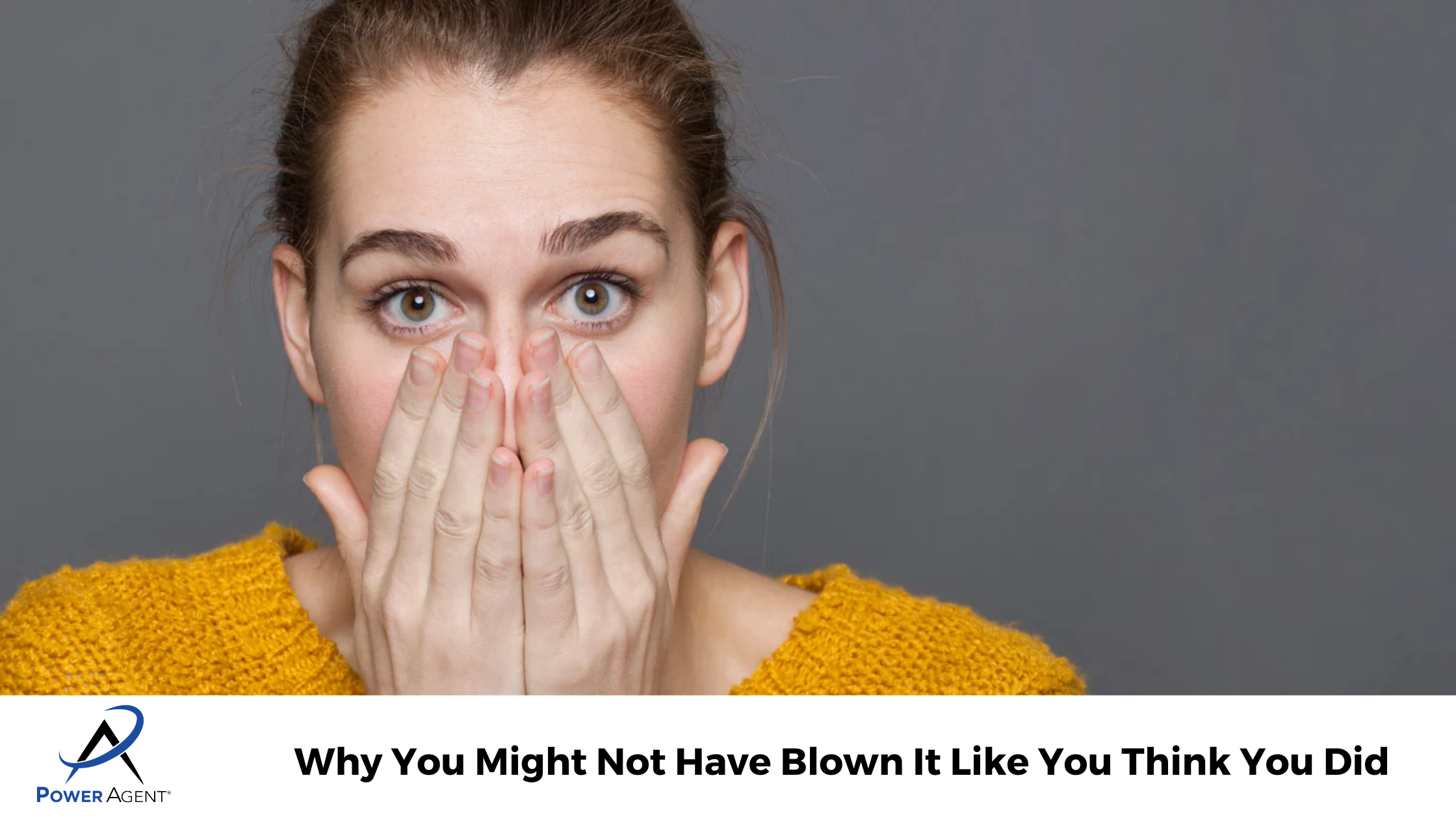 October 23, 2021
Why You Might Not Have Blown It Like You Think You Did 
Every agent, at one point or another, is sure they blew the listing conversation. But did you really? 
Every mistake is a learning experience, and trusting your unique perspective can change the situation around. 
"I think I blew it." This was the comment one of my Power Agents® made recently before telling me about the situation. One of her neighbors messaged her out of the blue not long ago asking what she thought his house was worth. Since she is usually a buyer's agent, not a listing agent, she spent hours working up a Comparative Market Analysis (CMA) for him and presented it. She admitted that she lacked the confidence in presenting a CMA, and when he responded to her suggested price with doubts, she began to doubt the price herself!  
TIP: For some tips on presenting the CMA, check out this related article: "How To Present The CMA Without Boring Your Clients." 
He pointed out that due to the high square footage of his home, it should be worth more, which prompted further conversation. At the end, he asked how he would go about hiring a real estate agent rather than just asking to work with her, and THEN added in that he was in the middle of a divorce and desperately needed top dollar for the home, which really threw her for a loop! Needless to say, she felt like she blew it. 
TIP: For more insight into the CMA, check out this article by Rocket Mortgage. 
Every Mistake Is a Teaching Moment
First and foremost, when you feel like you've blown it, don't beat yourself up over the mistakes you might have made. It's great to be able to identify the areas where we might have erred, but remember that you aren't stupid, and this experience will give you the ability to avoid that same mistake again in the future. As a buyer's agent, this Power Agent® could provide a unique perspective to sellers that other listing agents lack, and like her, you also have unique perspectives to offer, so trust in yourself! 
The Recipe Analogy
I love baking, though I haven't done it for a long time. When my son was little, however, I used to bake once a year around the holidays. Since a whole year would go by without me baking, I had gotten into a habit. Now, the very first year, I took the recipe and made it exactly like the recipe said, but then as I discovered things, like maybe I needed to bake it a little less time, or add a little more sugar, etc. I would make those notes on the recipe so I would know for next year. Every year, I would make those little improvements and note any mistakes that I made also, fine-tuning the recipe. After several years, the baking turned out beautifully (and deliciously!). It's the same with our business. We fine tune our verbiage and our presentations a little more every time we do them. 
Maybe You Didn't Blow It After All
Now, with the Power Agent® above who was sure she blew it, maybe she didn't. I am going to be assumptive here, but this is my impression: the fact that he even asked that agent how to list with a real estate agent means that he is likely interested in hiring her. If he didn't want to hire her, he wouldn't have even asked. He would have just ended the conversation and the relationship with "Sorry, thanks for your help", and gone on to find another agent.  
I read his question as an invitation. It might not have been worded very well, but I believe that he's asking, "What's the next step for us?" 
TIP: Check out this related article, "The Truth About Pricing and Appraisals In A Competitive Market." 
How To Manage A Divorce Home-Sale
Selling a home that belongs to a couple in the midst of a divorce settlement can seem a little daunting, particularly if the couple is not so willing to work together. However, this can still run smoothly if the agent is prepared. Assuming that both the husband and wife are listed on the deed, the wife would need to come into the conversation because both signatures would be needed. 
Here is my recommendation for that Power Agent® to pull all these parts together and get hired. Send a message to the client saying, "I have a plan for us to move forward on this. We can sell your home at the best possible price, but we need to bring your wife into the conversation, because both of you will have to sign the listing agreement. Is this going to be possible? We can jump onto a call and talk through this some more."  
This assertively moves the process forward down the path assuming he is going to hire her. Since he brought up pricing, and everyone is concerned about pricing correctly, that can easily be turned into part of the game plan. She could say to him, "I'm willing for us to give it a try, pricing your home at this higher number and put it on the market, and hope that I'm off in the numbers and we can get that higher price. My job as your agent is to market the house and give it exposure, but it's really the housing market that dictates the pricing, as well as availability. That's why we need to speak to your wife, if she's still in the house, we will need to plan for that and not create resentment by inconveniencing her. We can create a set schedule for days and times we show the home, and get on the same page moving forward." 
TIP: For more information regarding divorce and home sales, read this Homelight article, "Seasoned Pros Answer Your Top 15 Divorce and Real Estate Questions." 
Another Chef in The Kitchen
If, like the Power Agent® in the above situation who hasn't done a lot of listings in awhile, it would be a good idea to bring in another agent that you can trust who has more experience with this sort of sale. They can be a support system for you, as well as a sounding board and guide so that this isn't all on you, plus, it shows this seller that you are really committed to helping him with this scenario and ensuring that this home sale goes smoothly.  
What's Next?
Are you ready to start taking things to the Next Level®? We have everything you need to develop new skills and master the ones you already have!  
Power Agents®, for more tools and training to WOW clients, check out the amazing content in the Prospecting tab in the Classroom. Whether you need a boost of confidence, gripping dialogues, or empowering strategies, Darryl will help you get the skills you need to be the go-to agent for the buyers in your farm area.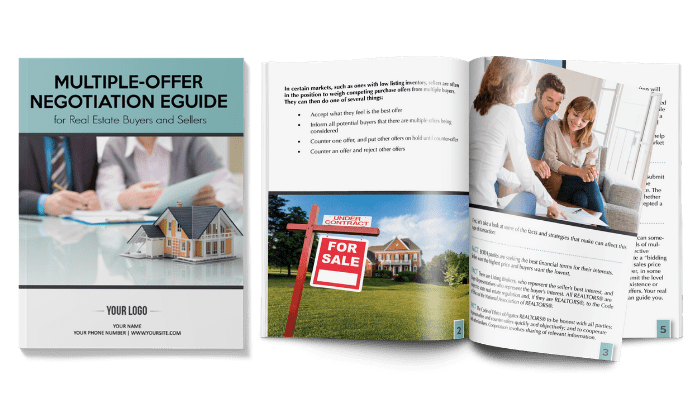 ---
Get the latest real estate training
tips delivered to your inbox!
Not yet a Power Agent®? Did you know that for LESS than the cost of a Starbucks coffee, you can have access to hundreds of marketing, prospecting, and objection handling tools – live weekly coaching, podcasts, webinars, and more? And as a bonus, get our FREE copy of our incredibly valuable: Multiple Offer Negotiation eGuide for Real Estate Buyers and Sellers. 
Start your Power Agent®  trial and have total access to every tool we have including letters, dialogues, training tips, webinars on demand, eGuides, and marketing tools for just $5. 
Contact our team today to sign up or get the answers you need: (800) 395-3905!