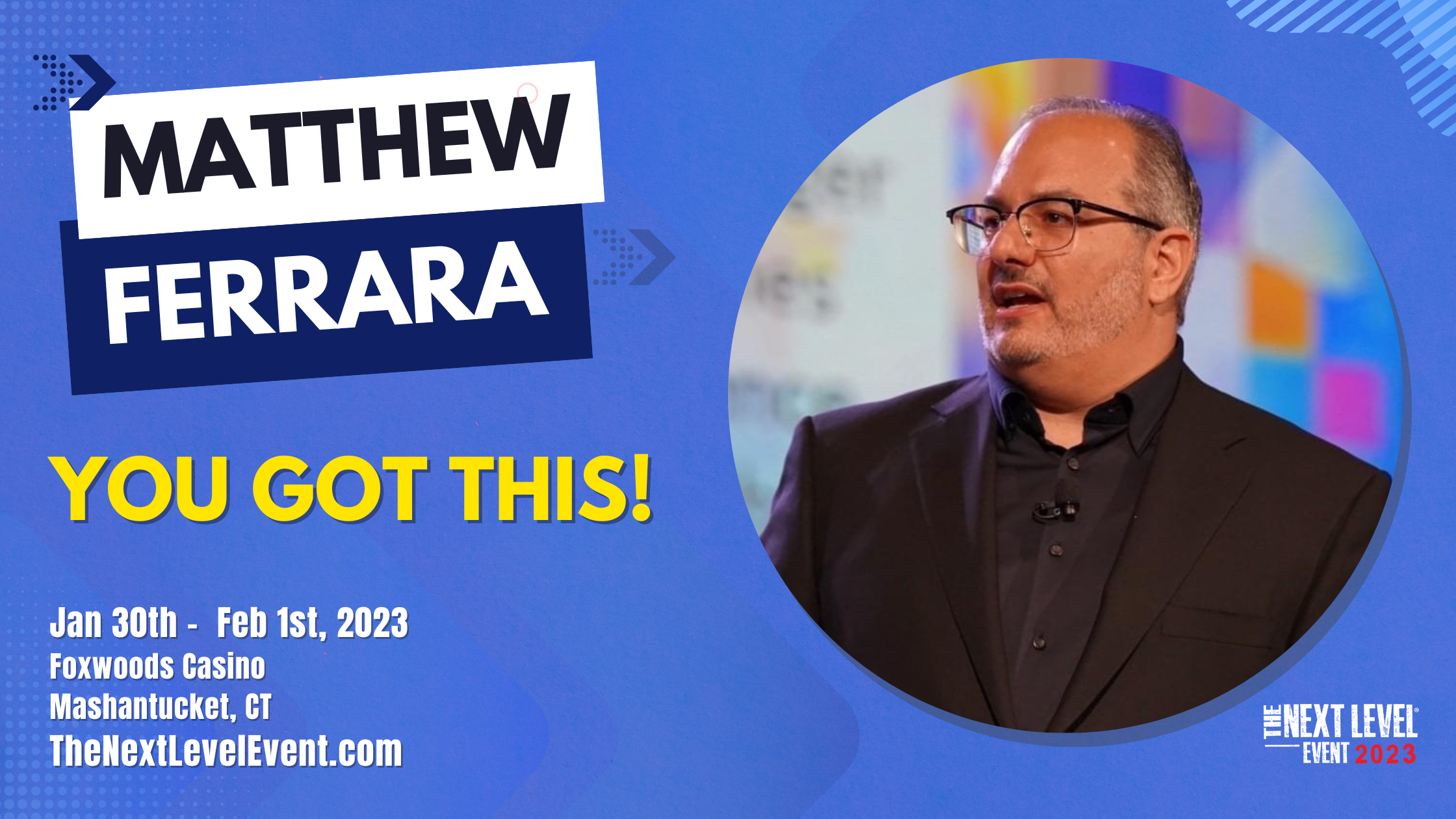 November 10, 2022
You Got This! Empowering Your Mindset with Matthew Ferrara
In a world full of doubt, our good friend, philosopher, and real estate icon Matthew Ferrara reminds us to keep our cool and trust that "You Got This!"
There's no doubt we have (and are) experiencing rapid change in the real estate industry over the last three years. If you read the news, you'll see worry-worthy headline after headline regarding the real estate market – with newsmakers squarely placing the blame and burden on our industry even though WE don't set mortgage rates or create fiscal policy. 
For some inspiration and perspective, we asked our good friend Matthew Ferrara, who is a philosopher, photographer, speaker – and literally one of the smartest people we know to share his thoughts. Matthew has been traveling the world to inspire and motivate people for more than 28 years, and during a recent conversation, he talked about his own experiences over the last few years and gave us a sneak peek of what he's going to cover during the Next Level® Event.  
What Matthew Will Share
"You've got this!" Matthew wants you to know. "We are at the right place at the right time with the right training and the right support. We are the right leaders and right organizations." Matthew goes on to give the following points: 
This isn't like 2008 because we have more training, more agents, more online knowledge, more amazing conferences, and more remote classes. If there is ever a time for difficulty to occur, then this is our time to show that we've got this. If not you, then who?

 

We have everything necessary to navigate the "normalization" of the market, not the decline of the market. The last three years were abnormal, and we are now on track to where we should have been in 2019. Where we are now is NOT bizarre, it's just normalizing.

 
Matthew's Pandemic Story
In March of 2020, when everything started shutting down due to Pandemic lockdowns, he went from 35 bookings to zero in 24 hours. An entire year's worth of revenue was wiped out – just like that. "You can't just replace bookings," he told us. "It takes months to a year to develop those. It was a disaster. No one was doing zooms. I was traveling a quarter of a million miles a year. So, like everybody, I pivoted and tried to start using Zoom. About three months later, my assistant says, 'you know, boss, we went from 30 live events to zero in one week, but in six months, we've gone from zero to over 150 paid Zoom gigs. You could never have done 150 paid gigs in five years.' I couldn't have done them as far away as we've done them or as frequently as we've done them and touched as many people as we had." It was a production level that he had never anticipated, and he laughed as he told us that his accountant had taken his call, expecting him to declare bankruptcy, but was blown away by how well Matthew was doing. The accountant asked, "How are you doing this?" 
That was when it hit. "I was just doing what I was trained to do. I was trained to speak. I wasn't just trained to speak when I could physically take a stage or get on a plane, I was trained to speak, no matter what medium I used." The accountant was dumbfounded and said, "Well, I think you're doing it better than ever. You've got this." And Matthew realized he was right!  
Matthew went on to say, "The idea that we cannot handle something is self-defeating garbage. We can look in the mirror every morning and know that this is what we are trained for. This is what we have our systems and tools for. This is what my colleagues will help me with. This is what my managers are here for. This is what my company, brand, and network are for."  
If there is anything that Matthew wants to impress upon real estate agents everywhere is that "You got this!" 
Join Matthew Ferrera at the
Next Level® Event
! In Matthew's session, you will learn the following:
Why you're the right person at the right time for your clients and career

 

Your personal #Mantra for sustained success 
Developing a ready-for-anything attitude 
How to direct attention to the data and disciplines that matter to success

 

How to "Change, The Story" to spark action in your Sphere of Influence

 
Matthew is going to lead us in the exploration of positioning our mindsets to be unstoppable. To be immune to negativity, immune to naysayers, and develop a mantra to help us stay focused. One that will become a compass as we navigate each day. 
We can't WAIT to take it all in!  
Click here for details, special registration offers, and more!   
See you in January!   
Eager for another motivational success story? Read about another of our exciting Next Level Real Estate Event and Conference Speakers Rudy Ruettiger here!
The NEXT LEVEL Real Estate Event and conference will be a game-changing way to kick off 2023.   
Join world-class speakers, industry experts, and top-producing panelists, as well as agents from all over North America, for three days of intensive real estate training and tools to reset your mindset, strategies, and skills. This event is designed to help you transform your business into a high-performance machine that will generate repeatable, reliable results year after year!   
Create exponential growth in your business and life by learning how to build a sustainable business system that runs 24/7. We're delivering the cutting-edge marketing strategies, sales and communication skills, and proven systems agents need to increase production quickly without burning out. If you're ready to create more balance between your work and life by taking control over the number of leads you generate and close daily—and what happens when they reach out to you (or don't) – don't miss this event.  
Next Level® Real Estate Event Attendees Can Expect to Learn How to:
Become a listing machine with inventory-building intensive sessions 

 

Position yourself as a sales LEADER in your market 

 

Unlock your fullest potential by breaking through fear and limiting belief systems that hold you back 

 
Learn more about early bird pricing, VIP ticket options, and SPECIAL-priced sleeping rooms at the casino (but the room blocks are going fast). Check out http://www.TheNextLevelEvent.com