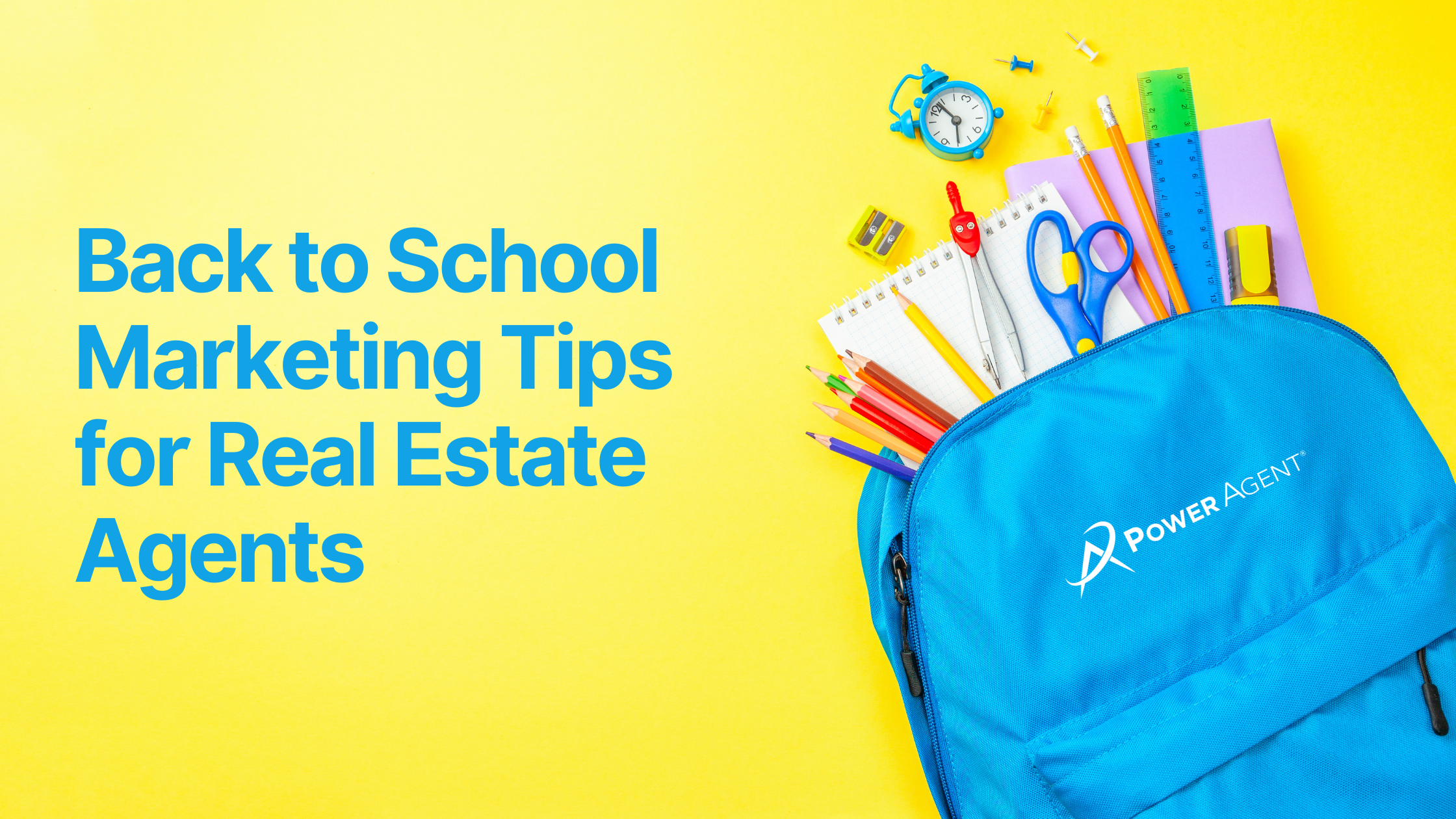 August 11, 2023
Back to School Marketing Tips for Real Estate Agents 
The changing of the seasons is always a great time to market yourself to your farm area, and back to school  time is no different. Here are some tried-and-true methods to make you memorable to the parents and families in your farm area.
Back to School season has long been a time that marks the biggest change as we transition from the carefree days of summer to kickstarting the school routine. This shift is also the perfect time to start a marketing plan aimed to parents and families, providing countless opportunities to get involved in that sphere of influence. 
What are the best ways to market to this part of the community? 
Highlight Schools in Your Farming Communities
If you were to ask any parent what one of the first things they look for when shopping for a new home is it's proximity to schools. 
Coordinate with the schools and their leadership in your farm area to ensure that buyers have access to all the school information in your market.
Host a "Stuff the Bus" Parking Lot Party
The Stuff-The-Bus fundraiser has grown in popularity over the last few years, becoming a fun way to gather donations of school supplies while issuing a fun challenge to the community! 
Here are some some ideas of supplies that can be donated: 
Pens/pencils

 

Erasers

 

Markers/pencil crayons/crayons

 

Lined paper/Graph paper

 

Photocopy paper

 

Binders

 

Presentation folders

 

A backpack or insulated lunchbox for students in Grades K-5

 

A pair of headphones for online learning

 

A personal hygiene items (deodorant, toothbrush, toothpaste, etc.)

 

Backpacks 

 

Scientific calculators

 

Disinfectant

 

Dry erase markers

 

Photocopy papers

 

64g flash drives

 
Imagine filling an entire bus with these useful things so the school can spend their dollars on other things that will benefit the kids? 
For more ideas on running a "Stuff-The-Bus" campaign, check out this article by First Coast News. 
Power Agents®, you'll find an entire eguide with instructions, flyers, ideas and more for parking lot party ideas here in the Farming tab of your classroom!
Goody Bags with your Branding
Door-knocking has always been a popular choice when marketing to your farm area and showing up with a goody bag is even better! Keeping with the Back-to-School theme, cute erasers or fun pencils along with your card or a flyer of value will be sure to have members of the community remember you and what you do. Even notebooks branded with your company name and logo isn't costly and can be a great gift. 
These little goody bags can also be left at the front office to be handed out at the start of school, or you could team up with the PTA and work directly with the parents there.  
For some fantastic tips on building your brand, check out this article: "Have Fun With Your Brand." 
Sponsor a PTA Meeting
It isn't hard to find out when the PTA meeting is, and providing dinner for them, or a selection of appetizers to enjoy during their meeting, and when you serve them to the PTA members yourself, you can engage in conversation and talk about how important it is that their kids and the school succeed. 
You can also donate money to support their events as a sponsor, which puts your name and logo in front of other parents and staff at the school.  
Host a Back-to-School Celebration Event
Hosting a picnic or a cookout to kick off the new year will have everyone in a festive mood, and will get you face to face with parents, teachers, other staff, as well as various other members of the community. Consider inviting local restaurants to partner with you to offer their best dishes, appetizers, desserts, or beverages. 
While it's a celebration and you don't want to talk real estate the whole time, introducing yourself as an agent, and answering any questions that come up is a great way to connect with others, and if possible, collect phone numbers and email addresses to keep in touch.  
For more ideas on what types of events you could plan for this celebration, check out "Plan a Fun Back-to-School Event." 
Host (or Sponsor) a Charity Bake Sale or Food Drive
Bake sales have been one of the top traditional forms of fundraising for schools since the invention of the cupcake, and it's still as true today as it was then. Whether you host your own, or sponsor a school-run bake sale, this is a great way to get in front of the kids, parents, and teachers.  
If this isn't a fundraiser for the school itself, then donate the proceeds to the charity of the school's choice.  
Sponsor a Teacher (or Two)
You can sponsor your school's teachers.  Teachers spend an unbelievable amount of their own money to set up their classrooms each year. Many now set up an Amazon Wish List so that others can contribute to help offset the cost of these underpaid, often financially overwhelmed heroes. Connect with your school administration to see if their teachers have such lists or ask the teachers that you personally know if they have a list and help them create one if they haven't! 
Sponsor a Sports Team
You can sponsor one of the school's sports teams. Connect with the principal and offer to buy the team's jerseys in exchange for having advertising on them. This is something low on the school's priority list as they are typically already lacking funds, so with the cost for new jerseys running between $200-$300, it's a reasonable price to pay to have your name in front of parents and schools (not to mention the parents at the away games!) for a whole season (potentially for several years to come). 
Write a School-Related Blog, or Plan Back to School Social Media Posts
If you are an agent that enjoys writing and blogging, create a blog article focused on the Back-to-School season, or even a series of articles that share valuable information about this time of year, from buying, selling, market information, and how this change of seasons affects Back-to-School. 
Not a writer? No problem! These valuable tidbits can also be shared using social media posts!  
Here are some related articles on how to use Social Media to your best advantage: "How to Leverage Social Media as A Real Estate Agent" and "5 Important Tips for Posting on Your Real Estate Social Media Accounts."  
There is no need to do ALL of these marketing strategies that we included, as that can become time-consuming and exhausting! Whether you pick just one thing and do it really well, or 2 or 3 things throughout the year, these are sure you get you connecting to the school and the community in amazing ways! 
What's Next?
Are you ready to start taking things to the Next Level®? We have everything you need to develop new skills and master the ones you already have!  
Power Agents®, check out the Parking Lot Party eGuide for ideas and the flyers for creating a memorable and successful Back-to-School parking lot party in the Farming and Self-Promotion tab in the Classroom.  Whether you need a boost of confidence or empowering dialogues, Darryl will help you get the skills you need to be the go-to agent for the buyers and sellers in your farm area.
---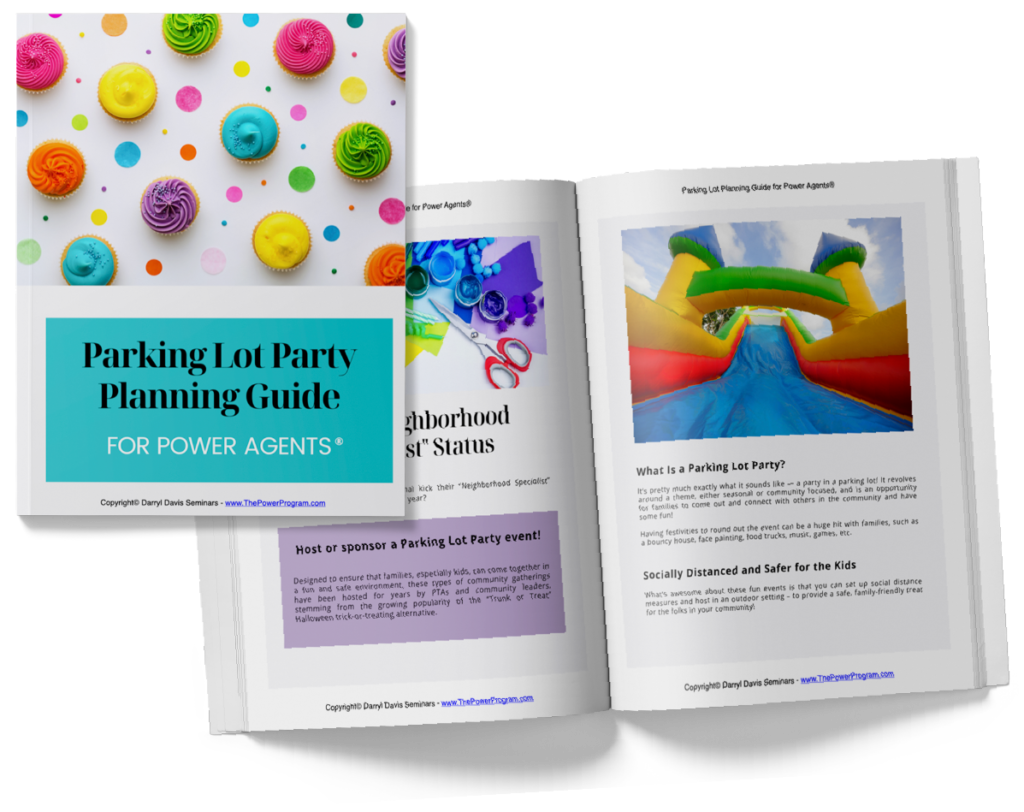 Get the Darryl Davis Newsletter!
Not yet a Power Agent®? Did you know that for LESS than the cost of a Starbucks coffee, you can have access to hundreds of marketing, prospecting, and objection handling tools – live weekly coaching, podcasts, webinars, and more? 
You'll even get the 46-Page Parking Lot Party eguide to help you create memorable, referral-maker moments with your sphere and farm!
Start your Power Agent®  trial and have total access to every tool we have including letters, dialogues, training tips, webinars on demand, eGuides, and marketing tools for just $5. 
Contact our team today to sign up or get the answers you need: (800) 395-3905!