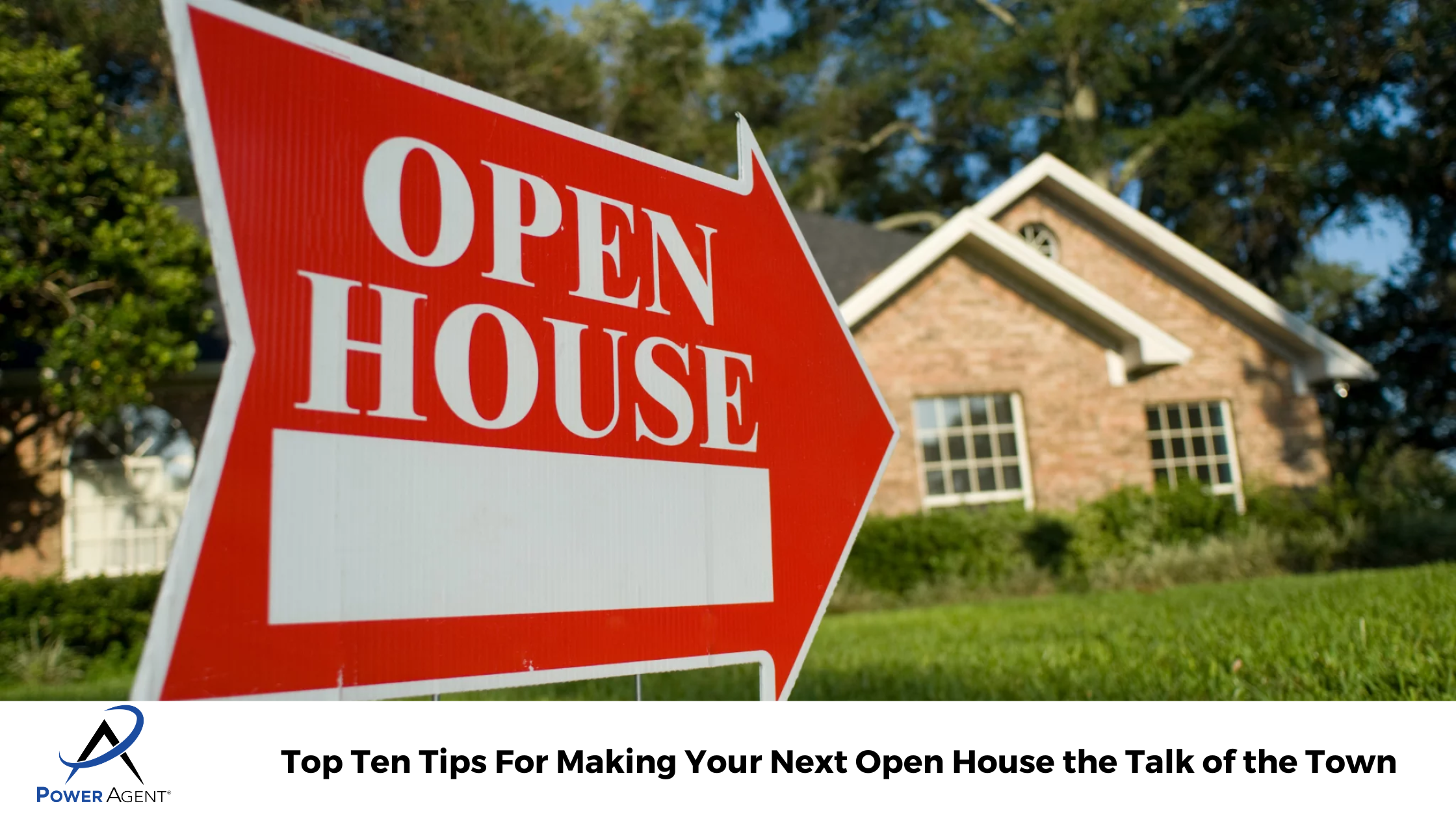 August 4, 2021
Top Ten Tips For Making Your Next Open House the Talk of the Town 
Open Houses can be a real estate agent's best friend…when they're done right! We have 10 tips for hosting an open house to get the listing sold, and get you a long list of leads!
Open houses are one of the most useful tools in the savvy real estate agent's toolbox. Not only is it a fabulous way of showcasing a listing, but it's also an incredible way to showcase YOU!  
TIP: Read this article by The Balance for successful Open House tips from preparing the home to when NOT to host an open house. 
How can we plan an open house that is sure to be a big hit to find a buyer, and a long list of leads? 
Promote, promote, promote!

 Feature your upcoming open house on your favorite real estate websites, promote on social media, or send out mailers to the community.

 

Schedule your Open House with the potential buyers' time in mind

. Most agents schedule their open houses between the hours of 11 am to 2 pm. With all those happening at the same time, buyers can't get to all of them! Scheduling your open house to be open outside those typical hours, for example 10 am to 2 pm, or noon to 4 pm, you allow the buyers to get to your open house at a better time. Also, be open for longer than the traditional 2 hours! 

 

Partner with local restaurants and shops to offer samples of local cuisine

. This is a great way to network with local businesses as well as give potential buyers an idea of what restaurants are in the area.

 

Hold a raffle or contest with an exciting prize.

 It doesn't have to be a big prize, but something like a small television, a kitchen appliance, or event tickets can spark interest and draw people in. A coloring contest for the kids can also keep them engaged. 

 

Invite Brokers to come to an Open House designed especially for them

. By promoting your house specifically to Brokers like a "Special Preview Event", they are more likely to promote that listing to their buyers.

 

Schedule an elite "Neighbors Only" open house before you schedule the public open house

. Rather than have "nosey neighbors" wasting your time during the open house, host one for them (by invitation only). This allows you to give them a tour, you aren't trying to sell them the home, you are gaining neighborhood information and talking to them about selling their own home. Then, they will help you promote your listing by bringing potential buyers to the public open house.

 

Create a visually appealing information packet.

 I highly recommend creating an actual pamphlet to give out, rather than printing off the listing and stapling your business card to it. Things to include are the statistics about the house, floorplan, neighborhood amenities, nearby schools, brochures from local businesses, and a rundown of utilities costs, mortgage information, etc.

 

Create a board that highlights features of the house 

and

 the neighborhood

. If your open house is a self-guided tour, you can even put little signs throughout the house to point out upgrades or unique features that you want to draw potential buyer's attention to. New countertops? Create a sign! Renovated bathroom? Create a sign! 

 

Be prepared to answer these questions

 (or risk appearing like a rookie!): 

 

"Can you tell me more about the home?"

 

"Why is the seller selling?"

 

"How long has the home been on the market?"

 

"Have there been any recent improvements or renovations?"

 

"What is the neighborhood like?"

 

"How much are utilities?"

 

"Have any offers been made?"

 

"When are the sellers planning to close?"

 

Have a Greeter at the door/yard to get visitors signed in and connect and talk to buyers.

 This is especially important in the case where you have a line-up due to social distancing. Having the hosting agent inside answering questions and talking with the buyers in the house while having someone outside greeting people and taking care of the sign-in details will build that rapport even before the buyer gets in the door!

 
TIP: For more tips on what to do (and what NOT to do) for an open house, check out this related article: "5 Top Tips for Hosting a Successful Open House" 
TIP: For other suggestions on making your open house a hit, read "11 Open House Ideas for the Modern Agent." 
What's Next?
Are you ready to start taking things to the Next Level®? We have everything you need to develop new skills and master the ones you already have!  
Power Agents®, for valuable handouts, tools, and ideas to create an incredible Open House experience, check out the amazing content in the Servicing Sellers tab in the Classroom.  And 1000% be sure to watch Darryl's webinar on demand – How to Generate a SURGE of Listings From One Open House in the webinars on demand tab in your classroom – it was amazing! 
---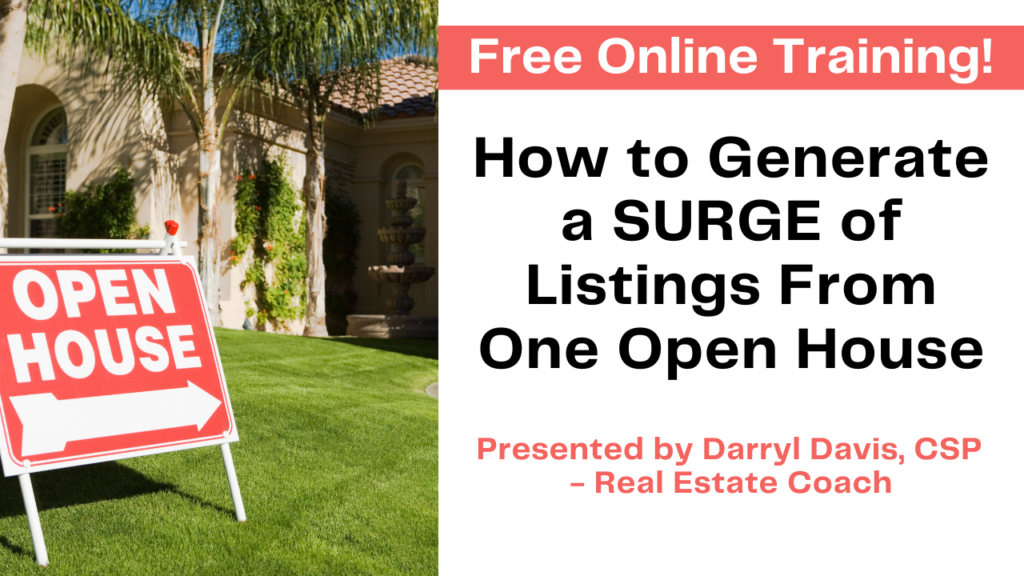 Get the Darryl Davis Newsletter!
Not yet a Power Agent®? Did you know that for LESS than the cost of a Starbucks coffee, you can have access to hundreds of marketing, prospecting, and objection handling tools – live weekly coaching, podcasts, webinars, and more? Check out this article: "How To Achieve Your Real Estate Goals" to see how we can help you do just that! 
Start your Power Agent®  trial and have total access to every tool we have including letters, dialogues, training tips, webinars on demand, eGuides, and marketing tools for just $5. 
Contact our team today to sign up or get the answers you need: (800) 395-3905!