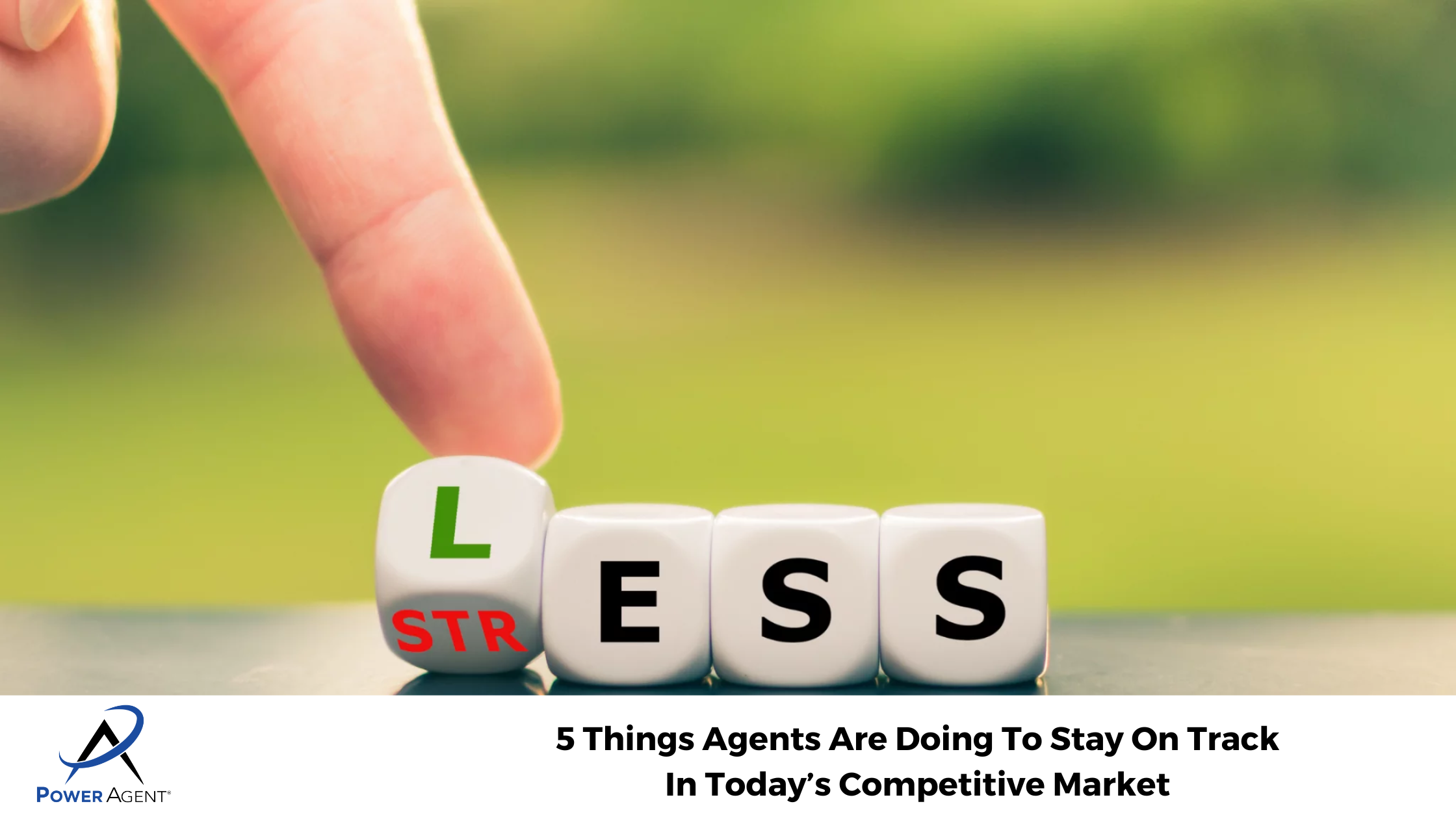 March 13, 2023
5 Things Agents Are Doing To Stay On Track In Today's Competitive Market
Don't let competitive real estate markets make you stressed – remember – when the going gets tough, the tough get strategic!
Staying on track for your real estate goals in a changing, and sometimes challenging market can feel overwhelming at times, we know. That's why we work hard to ensure that agents have all the tools they need to succeed. From time management to listing to buyer agency to negotiating to even navigating social media – it's important to have empowering, easy-to-use resources at your fingertips in order to take your business to the Next Level®.
It's absolutely wonderful to see our Power Agents® taking the tools and resources available to them in their Classroom and putting them to work creating momentum and magic in their lives and designing careers worth smiling about! (Always a great goal!)
To help YOU strategically get on track, we wanted to spotlight a few of our awesome members who took the time to share what THEY are doing to make a difference in their businesses!
One: Motivation is Easier When You Can SEE the Results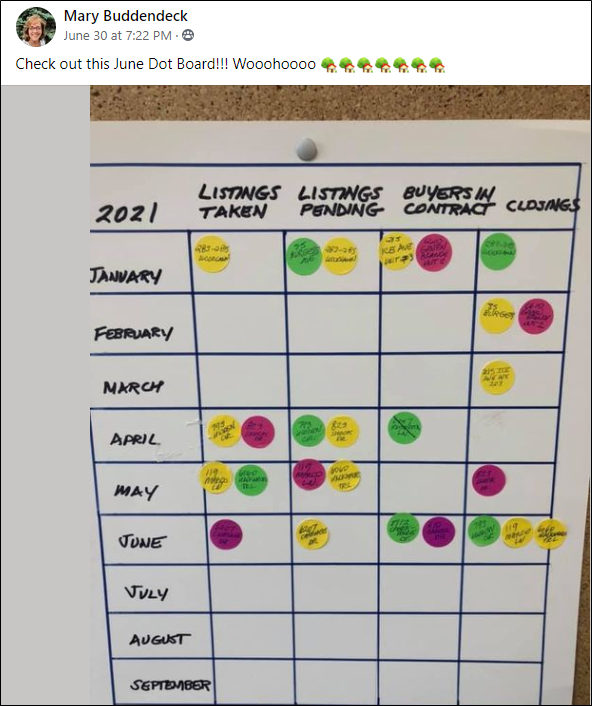 Go Mary! She's using the much-loved "Dot Board" to gamify her productivity and stay motivated!
What is a dot board? It's a simple chart that allows you to visually see where you are every week and every month in relation to your goals. It shows when you're on a STREAK – and when you might be off track. Who says prospecting can't be fun?
Power Agents®, get your copy of the Dot Board here.
Many agents create a large, foam or white board version to make their vision REALLY big! The dots are easily found on Amazon or even in your local Target or Walmart usually where poster board and office supplies are found.
You can write the property address, client name or both on each dot to keep track of the transaction details.
Create your own, have some fun with it – and get those DOTS!
Two: Always be Willing to Ask For Help!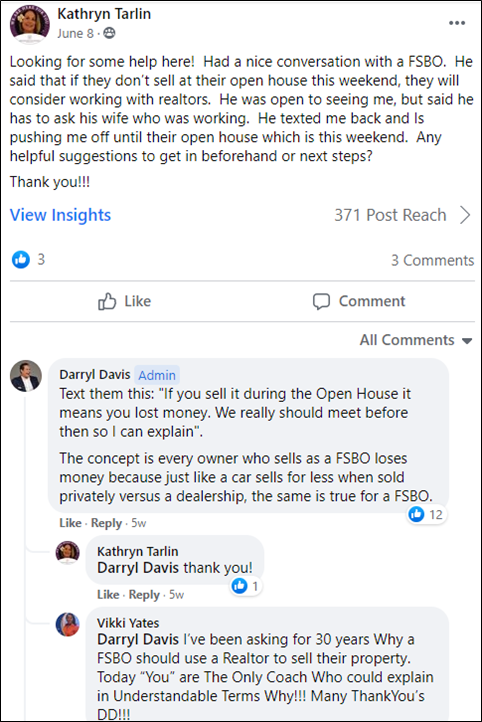 Top agents don't go it alone. They have coaches and networks in their corner because it's the best possible way to shorten learning curves, get answers quickly, serve at their highest level, and keep burn out at bay.
Every Monday at 11 AM Eastern and every day in our Power Agent® Group, we're in the thick of it with agents. Answering questions, problem solving, celebrating wins, and turning breakdowns into breakthroughs.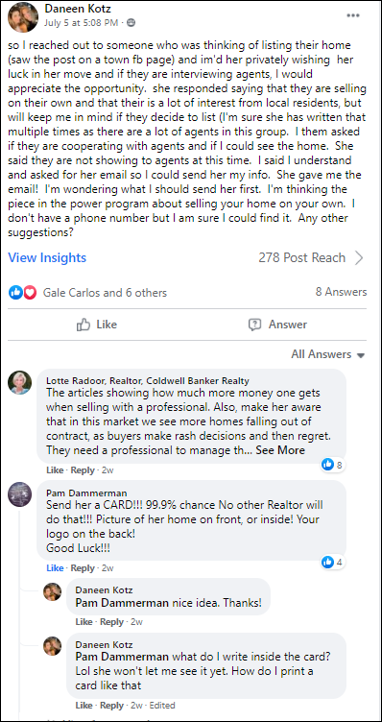 It's powerful to have the experience, wisdom, and generosity of thousands of like-minded agents from every corner of North America all in one place to help each other out and rooting for each other's success.
Bottom line: When you have a support system in place you have less stress and more success.
If you're not currently using weekly coaching and training to increase your skill and development in this competitive market – try us for 30 days, risk-free for just $5!
Three:  Don't Shy Away From Social Media!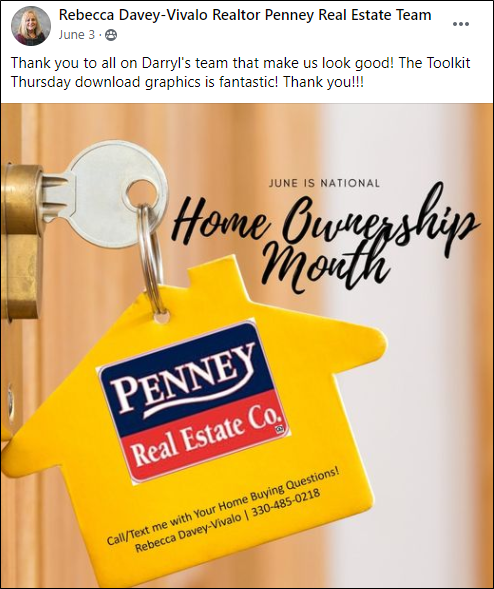 Social media – love it or hate it – is here to stay. Branding yourself and staying top of mind in your communities and with your sphere is essential to being a competitor. Fortunately, we do a lot of the heavy lifting for our members. From a full classroom tab filled with Social Media graphics to a robust CRM that has auto-posting tools, to how-to guides and expert training for setting up social media systems for success.
Kudos to Rebecca who does a great job of customizing the social graphics from her classroom each month and sharing it with her followers on social media!
The Keys to Social Media Success
Be consistent. Post at least 3 times per week.  We found this terrific article from Sproutsocial.com with some of the best times to post.
Be a resource – not a salesperson! For every 6-7 helpful, fun, or interesting posts – you can post a listing or open house.  Posting nothing but listings and sales isn't social, it's selling!
Start with where you are. A lot of people make the mistake of waiting for "everything to be perfect" to get started. Just get started!
Here's a great article from Buffer on the Top 8 Tips to Quickly Master Social Media for Business Professionals. 
Power Agents®. You don't have to reinvent any wheels. We've got you covered.
FOUR: Use metaphors and analogies to better communicate with clients and prospects.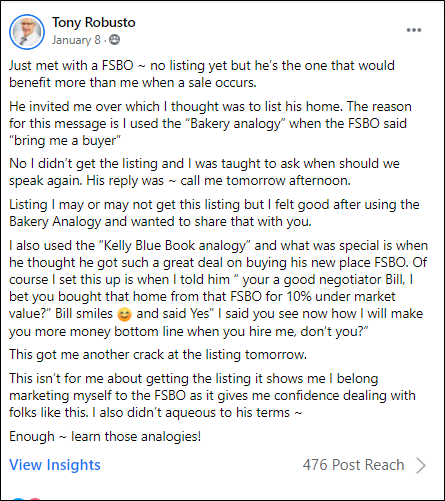 We're huge believers in the power of using metaphors and analogies as opposed to trying to memorize scripts or canned speeches. Once you get the concept of using metaphors, you'll more easily stay present during your listing and buyer conversations, speak from your heart not just your head, be able to communicate the value of what you do and your services, navigate objections and questions with ease, and get better results.
Learn more about using metaphors and analogies here.
Good communicators use metaphors and analogies to make new, unfamiliar, even complicated concepts easy to understand for your clients.
Let's Use the Baker Analogy as an Example
Ever have a FSBO say, "Bring me a buyer and I'll pay you a commission"? (Who hasn't?) Here's how to handle that…
"Mr. Hunna Hunna, suppose you had a daughter and she was getting married and you were shopping for a wedding cake. You then went around to all the cake-bakers in town and said, 'Bake me your best, most beautiful cake and I will choose to pay for the one I like best among all the bakers.' How many bakery chefs do you think would put in the time, effort, and expense to bake a cake with zero commitment from you?  Probably not too many-right?  That's a little like we are talking about here. There aren't too many agents will put in the time, effort, and expense to market your property. Can you see that?"
Five: Keep Your Sense Of Humor!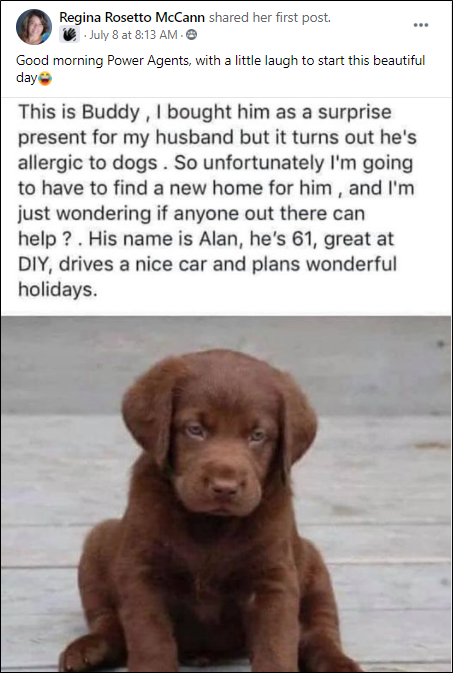 Regina had us all cracking up with that post!
One of the missions of our team members that has been whole-heartedly embraced by our Power Agents® is to help one another design lives and careers worth smiling about. Humor is good for the soul, and it's good for your business.
You'll often find #SmileDOSE mentions in our feed – a reference to what Darryl has taught us about the Science of Smiling – and how it releases a DOSE (dopamine, oxytocin, serotonin, and endorphins) of feel-good chemicals into our systems.
We know there are times when this business can feel frustrating or overwhelming. Fueling your sense of humor helps – a lot.
Loved this article from the Mayo Clinic on how humor helps us combat stress! 
Kudos and big thanks to the many Power Agents® who help to keep everyone smiling and to our real estate coach Darryl Davis for making humor such a powerful part of the learning and coaching process for everyone!
Next Steps
So, what are YOU going to do to stay on track, competitive, and fuel your mental well being moving forward? Dot board? Coaching? Connecting? Social Media? Metaphors and analogies? Humor? All of the above?
Know that we're here to help you grow your business with more grace, humor, ease — and a whole lot less stress!
Power Agents® – head over to the Facebook group and share what's working for you this week! We can't wait to see!
---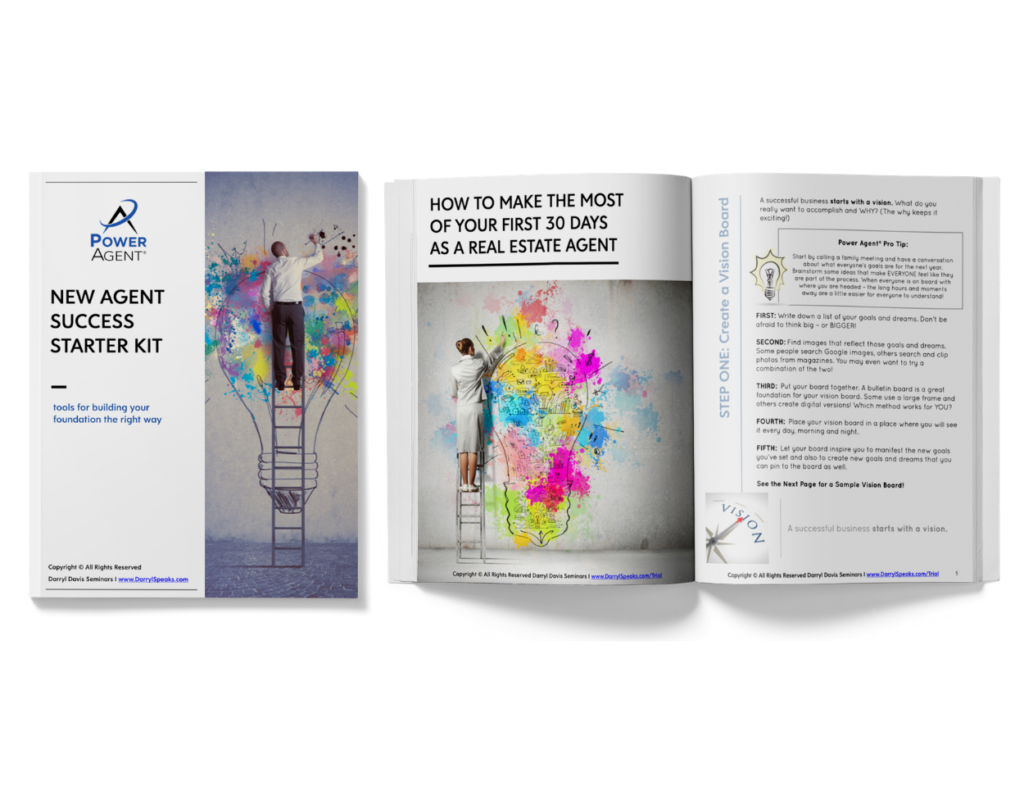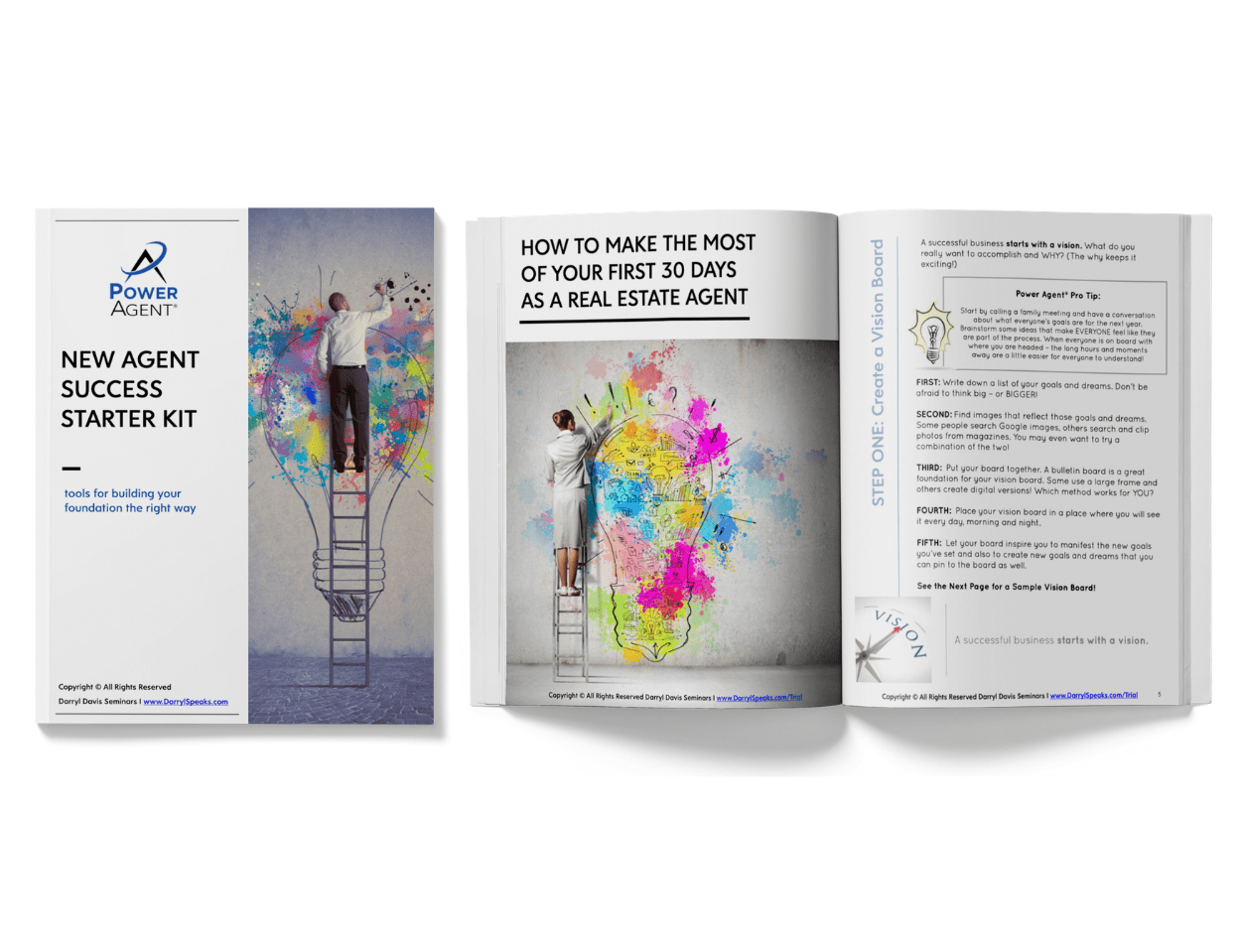 Get the Darryl Davis Newsletter!
Not yet a Power Agent®? Click here to learn more about how you can access hundreds of marketing, prospecting, and objection handling tools – live weekly coaching, podcasts, webinars, and more! Need help? Contact our team today at (800) 395-3905!