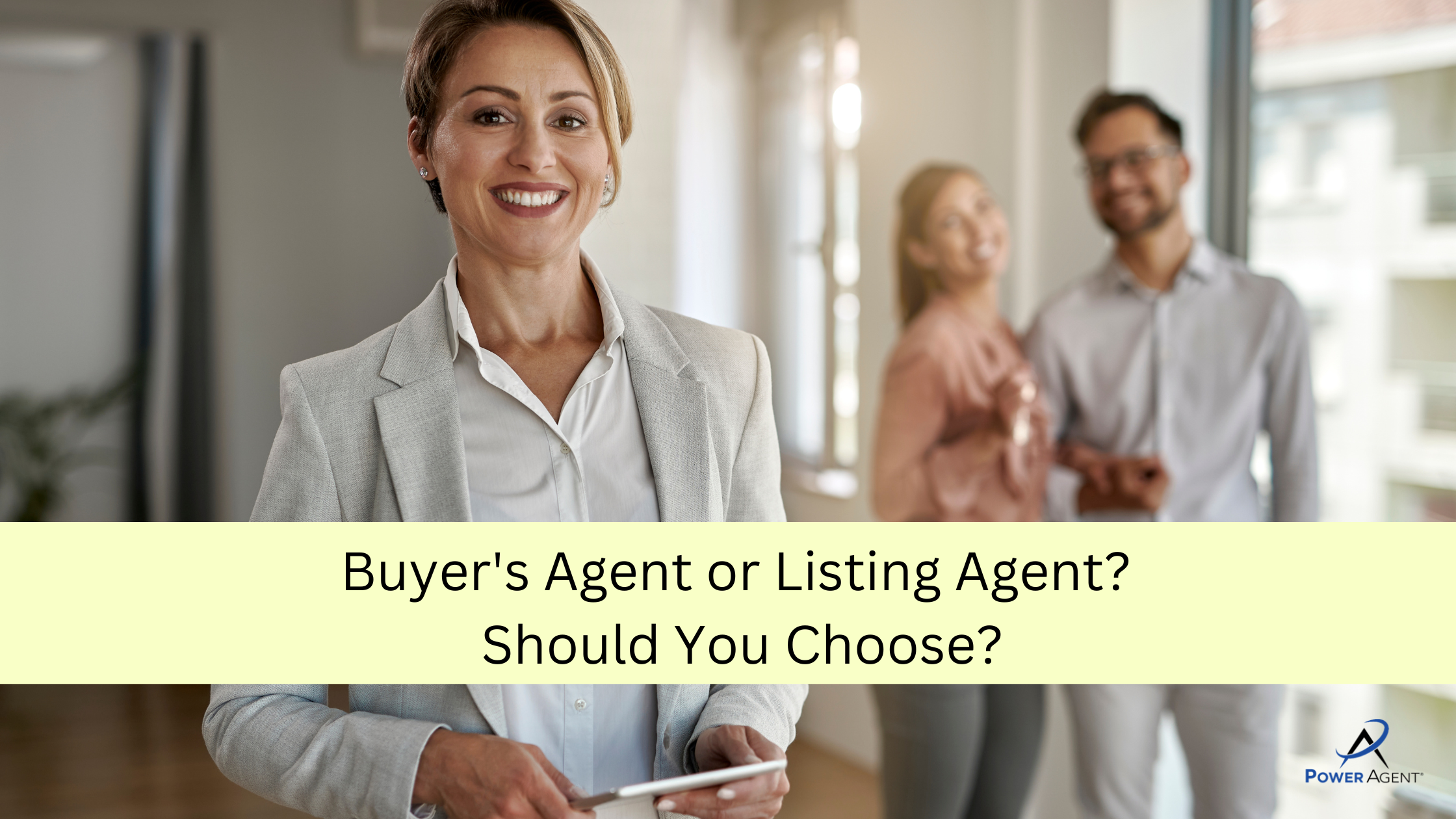 September 30, 2022
Buyer's Agent or Listing Agent? Should You Choose?
Real Estate Agents usually like to primarily wear either a Buyer's Agent or Listing Agent "hat."  Here's why top agents wear both!
Steve Jobs once said, "Your work is going to fill a large part of your life, and the only way to be truly satisfied is to do what you believe is great work. And the only way to do great work is to love what you do. If you haven't found it yet, keep looking. Don't settle. As with all matters of the heart, you'll know when you find it." 
We are surrounded by choices, expectations, and uncertainty. We look at what others are doing and what others say we SHOULD be doing, but what do we do when those "shoulds" are not what we want? 
The Scenario
Recently, one of our POWER AGENTS® asked for advice during our Mindset Monday coaching call. She loved working with home buyers (seniors in particular), but her brokerage's in-house real estate coach told her that she had to focus on listings instead and let her buyers go. Her stress came from her dislike of managing listings after a few bad experiences. Being told she had to start being a listing agent put her in a funk. She did not know what to do — stick with buyers and refer out any listings, or bite the bullet and start mastering listings?
We talked through her options and wanted to share them here – in case you too have found yourself deciding which "hat" to wear.
Related reading: Two Keys to Working with Buyers and Having More Fun. 
How To Continue Working

With

Buyers

Confidently
The landscape of buyers is changing. How much it is changing remains to be seen until the National Association of REALTORS® lawsuit (regarding the commission and the relationship that an agent can have with the buyers) ends. Once that is settled, we may have to adjust how we work with buyers. However, we continue on as we always have until something changes. 
Having your buyers sign a Buyer Agency Agreement is a must. It will help ensure that the work you do with your buyers is worth your time and effort because you have the reassurance of getting paid. You can be confident that your buyers are loyal to you, just like you are loyal to them. To put all the time and effort into buyers who aren't completely committed to working with you is a poor use of your time and erodes your confidence when they suddenly buy from someone else.  
Do What Makes Your Heart Smile
My wife is a real estate agent, though she no longer actively works with homeowners. Now, I'm the guy who's all about getting listings, always have been, always will be. So, you would think my wife would also be a listings master. However, even with 24/7 access to me, she doesn't like listings. Her passion is working with buyers and always has been. Which is perfect cause she's exceptional at relating to them. I've seen her treat ME like a buyer when we looked at properties.  It's like she has become a different person! She just loves the buyer side of real estate, and her confidence and passion for it shine through. 
If taking buyers out to show houses and helping people get into a new home, or even their first home, makes your heart smile, then that's what you should do.
Why Listings Are So Important
Now, let's chat about why listings are so important to get, even if you prefer working with Buyers. For this, we're going to bust out an analogy -because who doesn't love a good analogy? Let's say you decide to sell shoes for a living. You can accomplish this in one of two ways — you can find a vacant property to lease, decorate it with the latest shoe store fashion, set up all the shoe racks, purchase a vast number of shoes wholesale, hire staff, and host a big grand opening and advertise your business and draw customers to your shore to buy your shoes. You keep up with inventory to restock your shelves as shoes are sold.   
The other way is to find someone who is looking to buy a pair of shoes, take them in your car and drive them from shoe store to shoe store to find that one person a pair of shoes they love, then once they find a pair, they pay you for your service!
Now here's the question: Which way is better?
We could make a list of pros and cons for each, but the answer is pretty clear when you think about it from a money-making perspective. It's the same with real estate, where each pair of shoes is a home. If you have no listings, you have no shoes to sell, and you spend all your time searching for "shoe" buyers rather than letting them come to your "shoe store," aka – your listings.  
Expanding Your Horizons
I get it. We've all had bad experiences that color our opinion and lead us to prefer to work with one niche and not another, but I want to encourage you to step past your reluctance.   
There is a difference between not wanting to do it and not knowing HOW to do it.   
We learn from our experiences, both good and bad, so committing ourselves to the process of learning is how we get better at it.  
To grow in this business, you'll have to push past comfort zones and wear many different hats. That's not a bad thing. To be a well-rounded agent is to be a more successful agent. 
It's more important than ever to have the skills to work with BOTH buyers and sellers so that you can take advantage of the most possibilities in this ever-changing market.
THEN, if you really decide you ONLY want to work with one or the other, that's when it might be a good time to join forces with another agent. 
Creating Partnerships
If working with just buyers is what makes you smile – then partner up with an agent who LOVES listings. That's a win-win. You take the buyer leads, they take the seller leads, and every client gets to work with someone who is passionate about what they do. 
Related reading: Creating Successful Real Estate Partnerships 
Calling All Real Estate Agents!
Are you ready to start taking things to the Next Level®? We have the tips, tricks, and tools you need to get your buyers and sellers off the fence and live from their commitments!   
POWER AGENTS®, you can check out the Buyers tab and the Seller's tab in the Classroom for dialogues, metaphors, strategies, brand-building tools, and ideas. Whether you need inspiration, motivation, or content to get started with, we have it!    
Never Miss a POWER AGENT® Training Event Again! Click here to subscribe to our BRAND NEW Calendar feature! Trainings, brainstorming sessions, and top agent interviews will automatically be added to your calendar, so you never miss out.     
---

Get the latest real estate training tips delivered to your inbox!
Not yet a POWER AGENT®? Did you know that for LESS than the cost of a Starbucks coffee, you can access hundreds of prospecting, and objection handling tools – live weekly coaching, podcasts, webinars, and more? 
Including a beautiful Real Estate Buyer Guide and Real Estate Seller's Guide (in both English and Spanish!) PLUS – so many more incredible done-for-you marketing tools.
Start your POWER AGENT®  trial and have total access to every tool we have including letters, dialogues, training tips, webinars on demand, e-Guides, and marketing tools for just $5.    
Contact our team today to sign up or get the answers you need: 631-929-5555!