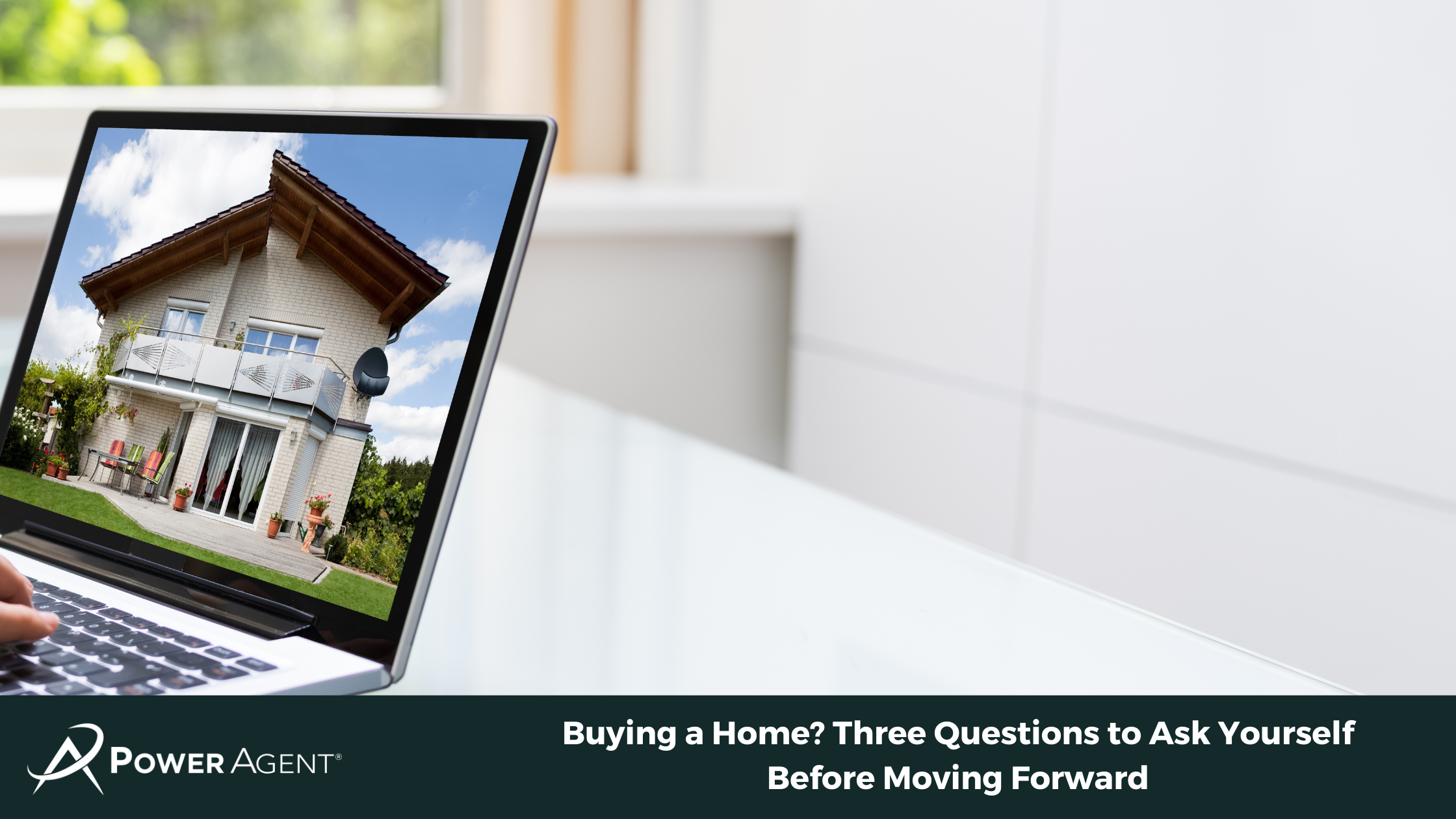 August 28, 2021
Buying a Home? Three Questions to Ask Yourself Before Moving Forward
The more you know, the better your odds when jumping into the home ownership ring.
Have you been in the market for a home for a while? Have you been searching and searching or have you already found the home you see yourself living in? Maybe you have been on the fence and still need some more time to decide what you're going to do.
What an incredibly exciting time. You have probably been saving up for years and are just about to take the leap with your first down payment. But do you have all the information that you need to make the best decision? There are some important factors to recognize and understand for any new home buyer. 
If you're thinking of buying a home, here are 3 questions to ask yourself before moving forward. 
1. Will You Qualify For A Mortgage?
One of the biggest challenges you can have is deciding between renting and buying. But before you get too far into the home buying process, contact a lender to make sure that you will qualify for a loan. A lender can also let you know how much money you qualify to borrow.
This is in large part determined by your debt-to-income ratio. If you discuss the details with a lender and you qualify, then purchasing a home might be a great next step. If not, you might have to spend some time organizing your finances and fixing any bad credit.
To help you get started with making a decision, do a quick online search for a rent vs buy calculator. It can provide you insights into whether or not the cost of homeownership is a better deal for you compared to renting. 
2. Can You Afford All the Closing Costs?
You have been saving for years and have finally put enough in the bank for a down payment on a home. But did you know there are additional upfront costs that are involved in buying a home? It's not always as simple as the price that you see on the listing. 
For example, all the closing costs can add 3% or more to the overall price tag of your home. So, if you're buying a $500,000 home then you can expect to have to pay thousands of dollars upfront. And this is in addition to the down payment you have already made. 
3. Can You Afford the Neighborhood You Want to Live In? 
Chances are you have been browsing homes for a while. You also probably have the ideal neighborhood or community that you want to live in at the top of your mind. But when you're considering the overall costs of homeownership there are some things to consider depending on the location.
The price of insurance and property tax is going to vary depending on your community and where it's located. To help you get as much information as possible to make an informed decision, check with your local tax office.
They can help you determine the property tax rate in your area. And they can also calculate what you can expect to pay based on your home's assessed value. 
Key Takeaways 
Buying a home for the first time is going to be one of the biggest decisions you will make in your life. It's a huge financial obligation and it comes with significant responsibilities. And there is a lot to take into account when you're going through the buying process. 
You might have been saving for years to make a down payment on your dream home. Before you move too far ahead, ask yourself a few questions. Will you qualify for a mortgage? Can you afford the closing costs? Are the property taxes going to be too high in the neighborhood that you want to live in? 
Take some time to contact a lender or discuss your questions with your licensed real estate agent. They can provide you with valuable insights and help you with making the right purchase decision.
It can be a big jump from living with your parents or renting to purchasing your first home. There are some risks, but making sure you are prepared will help secure the future of your dreams. 
About the Power Agent ® Program  
The Power Agent Program® is one of the premiere coaching and training programs in North America for real estate professionals. A Power Agent® is an agent who personifies the culture and commitment of serving, not selling, and is part of a wide network of like-minded professionals who want to take their businesses to their personal NEXT LEVEL® by bringing their best selves, skills, mindsets, and potential to the communities they serve.  
Founder, Coach, and Speaker Darryl Davis, CSP has trained and coached more than 100,000 real estate professionals around the globe. His topics such as How to Design a Life Worth Smiling About and The 7 Habits of Highly Effective REALTORS® makes him an audience favorite. 
He is a bestselling author for McGraw-Hill Publishing. His book, How to Become a Power Agent in Real Estate tops Amazon's charts for most sold book to real estate agents.   
Want to learn more? Contact our team today at 800-395-3905.