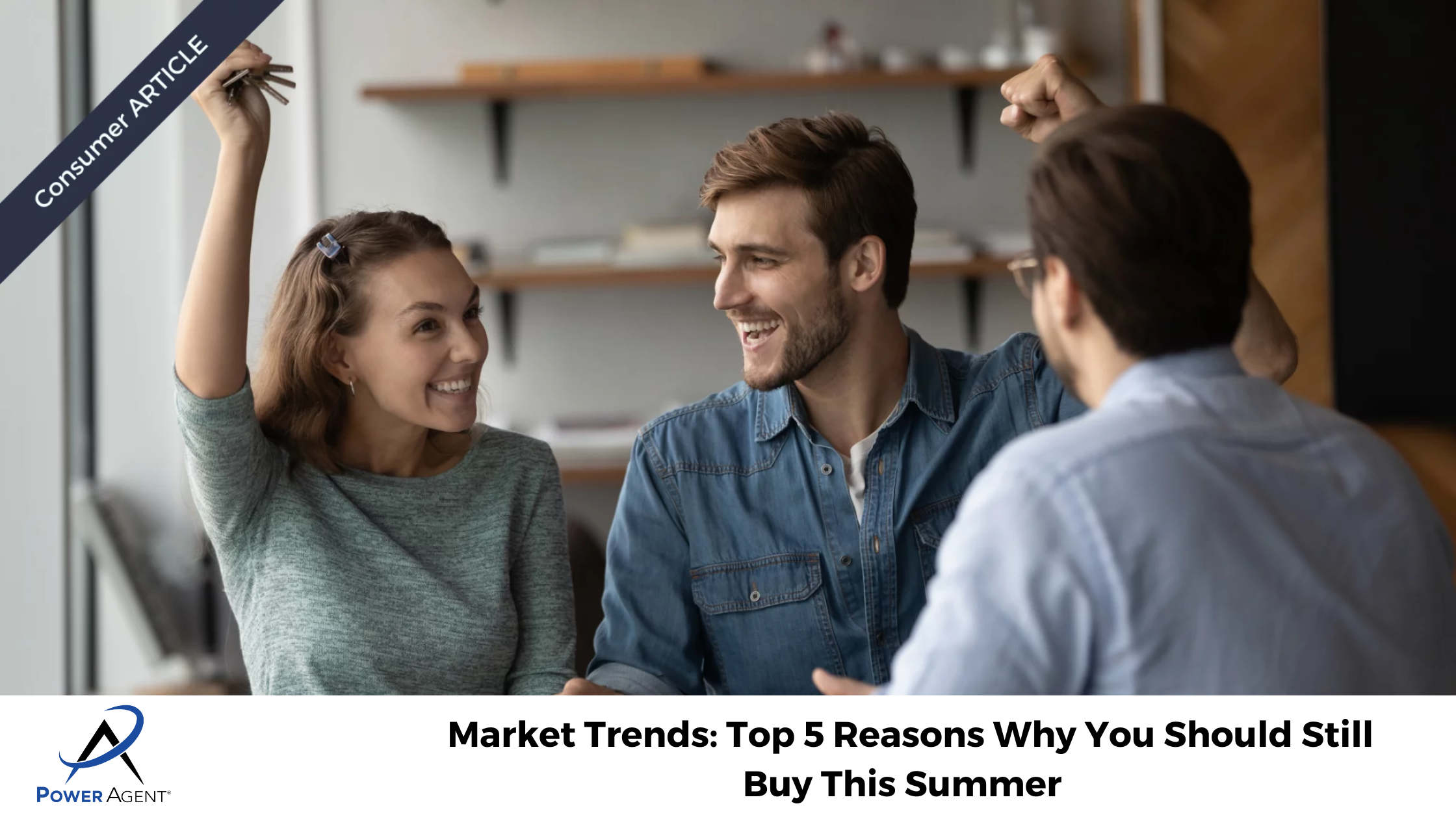 August 8, 2021
Market Trends: Top 5 Reasons Why You Should Still Buy This Summer  
It might seem counter-intuitive to buy in a seller's market, but there are many factors that you can take advantage of that might be too good to pass up, making buying now a great idea if you think strategically. 
Buyers and sellers have been feeling the pinch of this current housing market, and while homeowners everywhere are holding their breath, waiting for the bubble to burst, that doesn't seem to be on the verge of happening anytime soon, according to Norada Real Estate Investments. 
It seems a little baffling to think this crazy market is still going strong, but here are some reasons why buying this summer is still something worth doing: 
The market has just passed its peak, and is slowing just enough to allow homes to be on the market a little longer

 

There is an increase in new listings coming onto the market

 

Listing prices are stabilizing as more inventory comes onto the market

 

Mortgage rates are predicted to remain around 3%, giving borrowers more buying power.

 

Home listing prices have slowed when compared to recent months but are still predicted to continue a slow climb. 

 
Buying Strategically
While this market is still a sellers' market, things are finally beginning to slowly shift back towards a more balanced market, and while rising home prices might make it a little more difficult to get into a home, buying strategically can still make purchasing a home an excellent investment.  
Get preapproved for a mortgage

Having that pre-approval letter in hand means that when you find your dream home and want to make an offer, the process goes much faster because you already know you have financing in place. The offer has a greater chance of getting accepted because the seller's have that reassurance that you can afford the home as a qualified buyer, and you close on the deal that much faster. Mortgage rates vary by institution, so it's a good idea to shop around to see who can give you the best rate.


 

Choose a Real Estate Agent to Work With

With this market, some houses are going under contract even before they hit the market while others are getting multiple offers. Having an agent looking out for your best interests is vital because they can see the listings early, and can help negotiate the best deal to get your offer accepted by the seller.

The asking price is often the starting price for offers

You will need to search for homes in the price range that will allow you to offer more than asking because according to Redfin, the average home sold for 2.2% more than it's asking price, with 54% of all homes selling for above asking price.

Price isn't the only negotiating factor, so consider waiving some contingencies

Gone are the days of negotiating a lower price, but you can also offer desirable terms as incentive for the seller to accept your offer. Waiving some contingencies or offering terms surrounding the home inspection or financing can also make your offer more attractive. A real estate agent can help you determine what contingencies you should keep or discuss other terms to offer. 

Hang in there!

It can be easy to become discouraged during this current market when it seems every home is snapped up before you even have a chance to look at it, or every offer you make loses to another buyer, but keep smiling, because as inventory increases and the market evens itself out, this process will get easier!

 
There is no question that buyers also face challenges in purchasing a home, but that doesn't mean it's impossible. While we can make predictions and project what the future might hold, we don't actually know what will happen tomorrow, much less months from now. Today, it's still a seller's market, and even though it seems to be shifting back to a more balanced market, taking advantage of the low mortgage rates and buying a house this summer can be the best decision you make.  
The Power Agent Program® is one of the premiere coaching and training programs in North America for real estate professionals. A Power Agent® is an agent who personifies the culture and commitment of serving, not selling, and is part of a wide network of like-minded professionals who want to take their businesses to their personal NEXT LEVEL® by bringing their best selves, skills, mindsets, and potential to the communities they serve.  
Founder, Coach, and Speaker Darryl Davis, CSP has trained and coached more than 100,000 real estate professionals around the globe. His topics such as How to Design a Life Worth Smiling About and The 7 Habits of Highly Effective REALTORS® makes him an audience favorite. He is a bestselling author for McGraw-Hill Publishing. His book, How to Become a Power Agent in Real Estate tops Amazon's charts for most sold book to real estate agents.   
Want to learn more? Contact our team today at 800-395-3905.