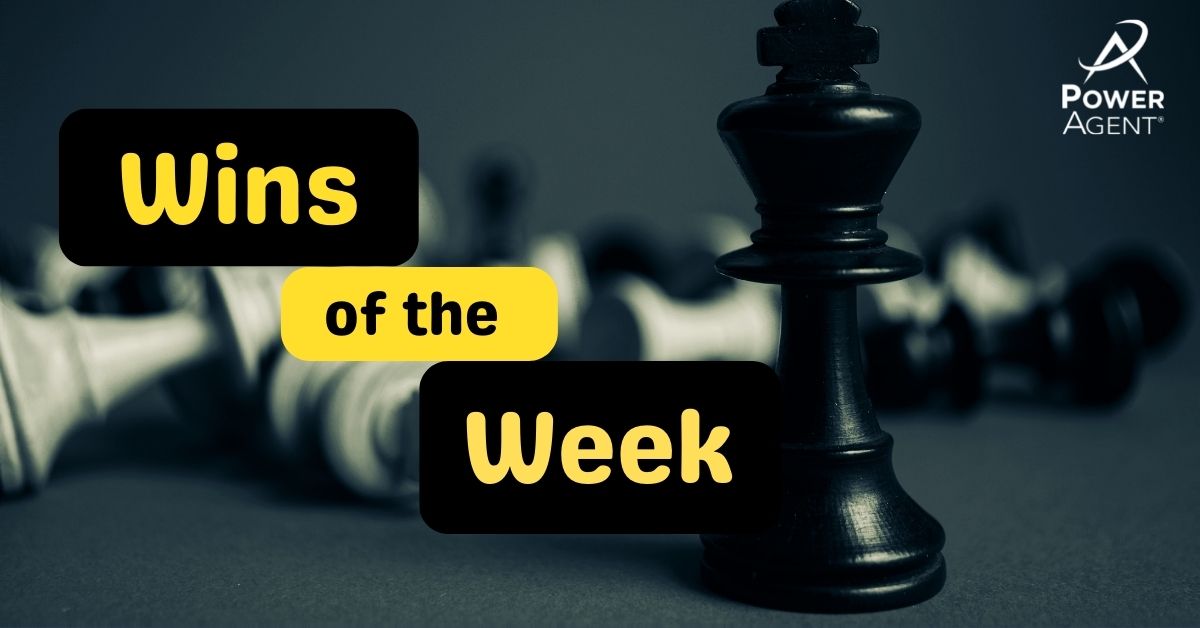 October 17, 2022
Got Wins? (Our Real Estate Coaching Members Do!)
Check out how our real estate coaching program helps add more wins to the week, along with celebrating them!
One of the biggest perks of  The Power Program® are the weekly coaching calls with Darryl Davis. On each Monday Mindset Call, Darryl starts with a "Win Party", where coaching members share their real estate wins from the previous week and how this program is helping them to become even more successful.
Check out what a GREAT week our

POWER AGENTS®

had:
12 New Listings

7 New Closings

6 Planning or Participating in Buyers/Sellers Workshops

 

3 Working on Mailing Campaigns – 3 Listings Under Contract 

3 Held Open Houses 

2 New Sales 

2 New Listing Appointments 

2 Got New Referrals

2 Joined the

POWER AGENT® Program!

Closed a Transaction in Less than 30-Days

Got a New Buyer Under Contract

Got Invited to Lunch by Two Lenders

Went on their First Listing Appointment

Mailed Out 50+ Marketing Post Cards 

Put an Offer Together

Started Planning a Buyer/Seller Seminar

Got a Home Inspection Done

Hired a New Bookkeeper

Converted a Tenant into a Buyer

Got a Tenant for their Rental Listing 

Got a Million Dollar Referral

Implemented a New System in their CRM

Prospected for an Open House

Wrote Out Hand-Written Notes

Started Planning a November Customer Appreciation Event 

Closed a Tough Deal 

Landed an Out of Town Seller for a Listing Appointment 

Learned more about the World of EXP Realty from their Sponsor

Started their First Mailing Campaign

After Previously Only Working with Buyers, Landed their First Listing!

 Prepared their AMCards for October Birthdays, Anniversaries, etc.

Prepared a Farming Schedule

Got a Full Price Offer on a New Listing

Joined a New Brokerage

Started Working with a New Investor 

Got 3 New Prospects 

Reconnected with Leads and Got them Moving on Financing

Prepared their Buyers and Sellers packet for 2023 and Included a Loanopoly Hand-Out

 Completed 2021 Taxes with Only $200 Due

Prepared a New Mailing Campaign with a Magazine for the Christmas Season

Researched Equestrian Associations for More Listing Exposure

Helped a Client Reunite with her Missing Cat
We LOVE celebrating these wins each week and LOVE seeing the changes these weekly real estate coaching calls make in our members' lives!
Recommended reading: The Importance of Acknowledging and Celebrating Your Achievements
Ready to share YOUR real estate wins for the week?
POWER AGENTS® – Be sure to join us on the next Coaching Call to share those triumphs and cheer the weekly WINS of your fellow POWER AGENTS®! 
Real Estate Coaching is an essential piece for agents eager to create transformative results in their careers and life and create the kind of 
real estate success stories
 they see in other agents.
If you're not yet a Power Agents®- no stress!
You can try us on for size for less than a cup of Starbucks!  
You can open the door for an all-access 30-day trial of this extraordinary, success-fueling program for just $5.  
That's it. $5. No contract. No long-term obligation.
Just a wide and wonderful network of success-minded agents with a love of learning and a passion for helping one another, plus Darryl, plus our terrific team, plus a classroom literally packed to the rim with tools and training for every conceivable aspect of your business.  
Imagine what you could do if you had just a snippet of what's inside The Power Program®! Just a fraction! 
Hope to see you on the "inside"! Here's to your success!  
---
Get the latest real estate training tips delivered to your inbox!