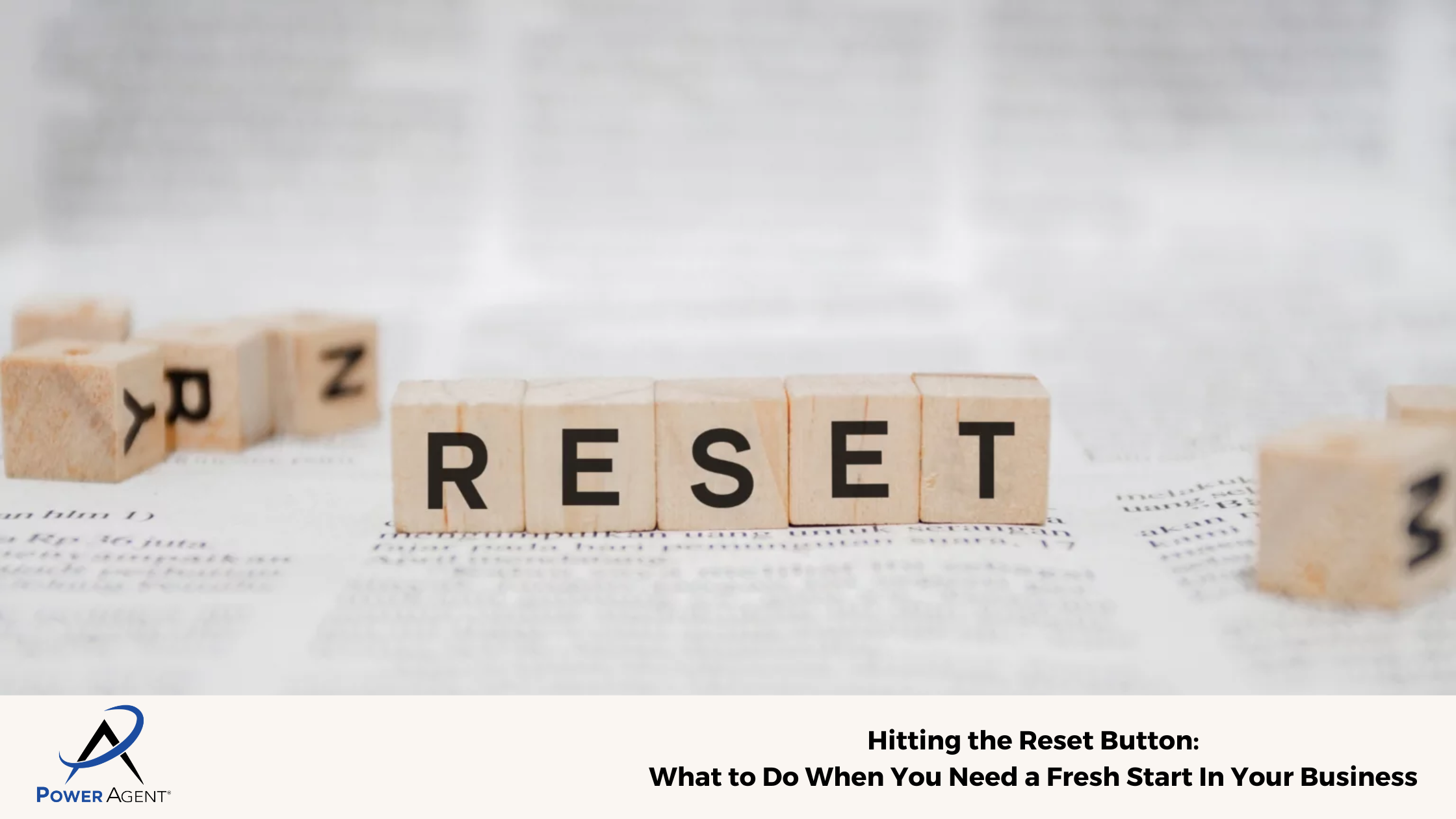 July 19, 2021
Hitting the Reset Button: What to Do When You Need a Fresh Start In Your Business 
In this business, it's sometimes easy to start feeling like you're on a slippery slope that's not moving in the right direction. When that happens? It's time to hit the reset button!
There are a lot of training programs out there, and a plethora of "Ten Thousand Things Every Agent Should Do Every Day" lists that it's easy to get overwhelmed and frustrated. I have had several agents tell me over the years how it felt like treading water — they work so hard to keep their head above water, but never got anywhere! 
I don't have ten thousand suggestions (well, actually, I do!) but I always advise my overwhelmed and frazzled Power Agents® to hit the reset button and simplify their day, starting over with a basic schedule.  
The Basic Schedule
 — 
Pick One Thing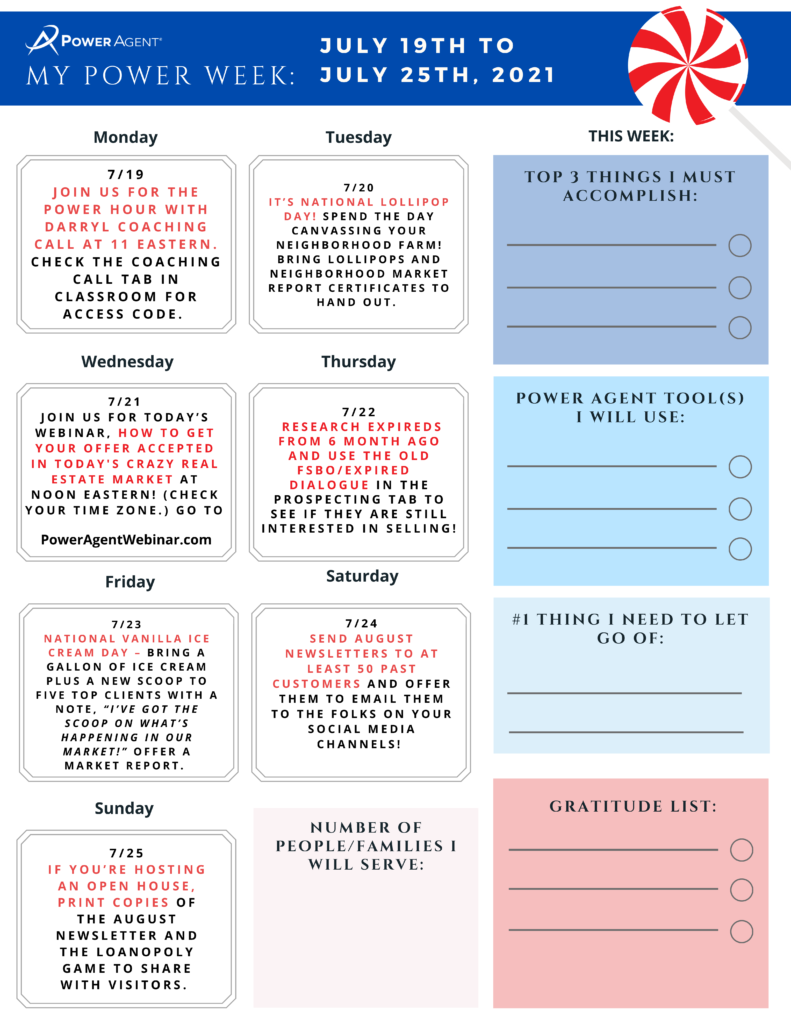 Power Agents® get a monthly calendar with a tip a day to help them stay focused and on track – and I love it.  But what I REALLY love is the weekly calendar we give them. Why? Because it not only breaks down a tip a day that can help them combat that feeling of overwhelm and burnout – but there is a little section entitled Top 3 Things I Must Accomplish.
That allows agents to really focus on just THREE strategies or ideas they want to implement each week. That focus — means everything when you are ready to reset and feeling overwhelmed.
"I can't do it all!"
Everyone feels that way at times, and the truth is no one SHOULD try to do it all. Our goal is to give our Power Agents® strategies, tools, ideas, and coaching every week to help them navigate change, grow their business, and build relationships. BUT – we aren't suggesting they put in place everything that is in the classroom tomorrow — or ever frankly. It's like a buffet in there – take a little from here, a little from there – see what suits you – leave the rest. 
10% Per Month
What if instead of trying to do it all, you just tried to improve your skill and business by 10% per month? That really equates to just adopting one or two new ideas, adding it to your skills, and growing without the stress – just the excitement of watching new things fall into place! How awesome would that feel? Implement one new idea might equal one or three more listings per month – or more!
It will also increase your confidence and excitement about getting out of bed every day and doing what you do!
Here's Just ONE Idea to Try
For the next two weeks, try this… Contact as many people in your farm or sphere as you can and offer them an updated market analysis report for their property.
Go into this project with the belief and knowledge that EVERY homeowner should have a market check up done for their property once a year, just like a health or dental check up! It's a service people need and one you can easily provide! 
Don't stop at your list!
Whether you are walking your neighborhood farm, showing a property, dropping some laundry off at the cleaners, or picking up some food at the grocery store, strike up conversation. 
"By the way, I don't know if you know this, but I'm in real estate and I'm currently doing something for members of our community right now. The market is so hot right and changing so fast, I am offering an updated market analysis for anyone who wants one. I call it a neighborhood market report, and it's just something that tells you how much your home is worth. Since it's one of most people's biggest assets, it sure would be good to know what this market means to YOUR bottom line, right?  I'm happy to help. Let me know if that's something you'd be interested in."
Just offering this one item of value for the next two weeks will make you feel of service, empowered, and have an amazing REASON to talk to people! (That's half the battle when you need that confidence boost! Then find the next item of value in the classroom that makes you SMILE, like the Seller's Guide or Buyer's Guide!
"The information, tools and coaching provided by Darryl and his team is priceless. There is so much information that it can be a bit overwhelming. Pick one thing and start there . . . becoming a 'doer' will bring confidence and results. Looking forward to seeing my changes month-to-month! – Valerie Thompson  
TIP: Feeling stuck?
Check out this related article about "The Simple Daily Activity That Will Drive Your Business Forward." 
Get To Know the RPR
If you haven't been making use of the Realtor's Property Resource to it's fullest potential, then you should make learning the ins and outs the next thing on your To-Do list.  
I sat down to look at RPR myself recently, since I'm currently looking at properties, and one of the reports was about 43 pages, and it was pretty detailed. You can customize and edit the comps as if you were an appraiser, look at features compared to other homes in the area, and so much more. I recommend every agent sits down and spends time getting to know this invaluable resource and then use these beautiful reports as your neighborhood market report when you sit down with these potential clients. 
What To Do About the Bizarre Comps We Are Seeing Right Now
Yes, the market is still hot, and a little crazy, and using comps has grown difficult because sometimes they just don't make any sense! 
Even with these comps that seem completely out of this world, the RPR allows you to control as much as you want, though you may have to dive in a little deeper. If the comps aren't showing up for the property or area, you can change the area like an appraiser would to get to give them an idea of what a home like that might be worth. 
RPR will also show other things that are happening in that neighborhood such as trends in the community. Are property values going up? Going down? What are the average days on market? There is so much that the RPR can do to help give your potential clients a thorough report. It's your best weapon in your arsenal…the best asset you have to show your potential clients that you have your thumb on the pulse of the area. The best part? It's free because you are a real estate agent! 
Get Excited!
Get so excited about this that you can't help but talk about it to everyone you meet! You know how you go to a great movie, and you can't help but tell everyone you know that it was great, and they should go see it? Get THAT excited about RPR.  
When you get that excited about something, it's no longer prospecting. It goes past prospecting and into sharing. There's a difference. When you are excited about something and you share it with others, it's because you value people. It's about giving, not getting, and because you care about them and want them to get the same benefits from it as you do. 
One of our Power Agents® loves to use an app called Homesnap. This is another way send out a CMA, and has a lot of user-friendly functions in it. It also promotes the agent with their photo and data. This is the app that she gets really excited about. And I mean really excited. She will use it every single chance she gets!  
Getting that excited about using these incredible tools helps us move from "Doing" into "Being" because the passion for what we do just flows right out of us. Sharing becomes a natural part of our day because we are excited, and we can't help it! 
What's Next?
Are you ready to start taking things to the Next Level®? If you don't already know what you need to do to get to your next level, we can help!  
Power Agents®, for more strategies in coaching your sellers, check out the RPR Learning Center tab in the Classroom.  Whether you need a boost of confidence or empowering strategies, Darryl will help you get the skills you need to be the go-to agent for the buyers and sellers in your farm area. 
---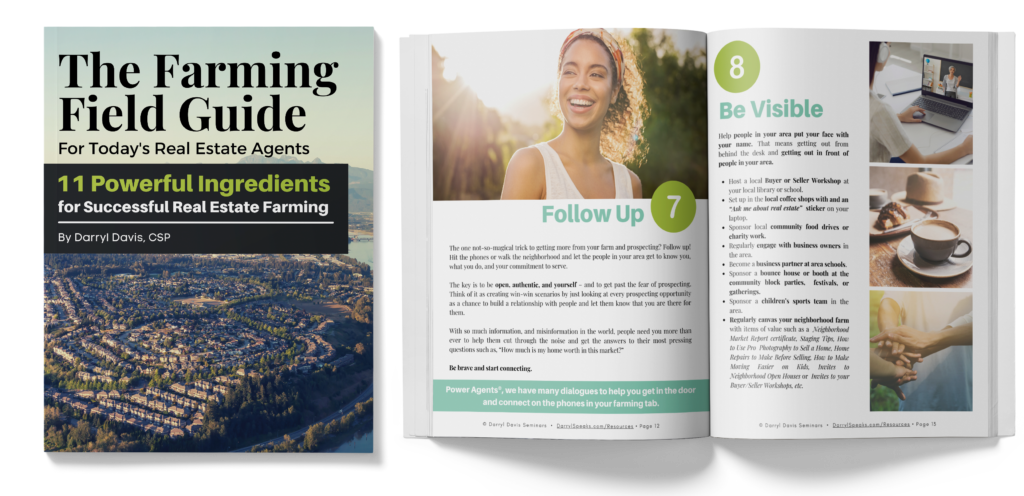 Get the Darryl Davis Newsletter!
Not yet a Power Agent®? Did you know that for LESS than the cost of a Starbucks coffee, you can have access to hundreds of marketing, prospecting, and objection handling tools – live weekly coaching, podcasts, webinars, and more? And as a bonus, get our FREE copy of our incredibly valuable: "The Farming Field Guide: Plant the Seeds To Generate New Listings and Referrals." 
Start your Power Agent®  trial and have total access to every tool we have including letters, dialogues, training tips, webinars on demand, eGuides, and marketing tools for just $5.