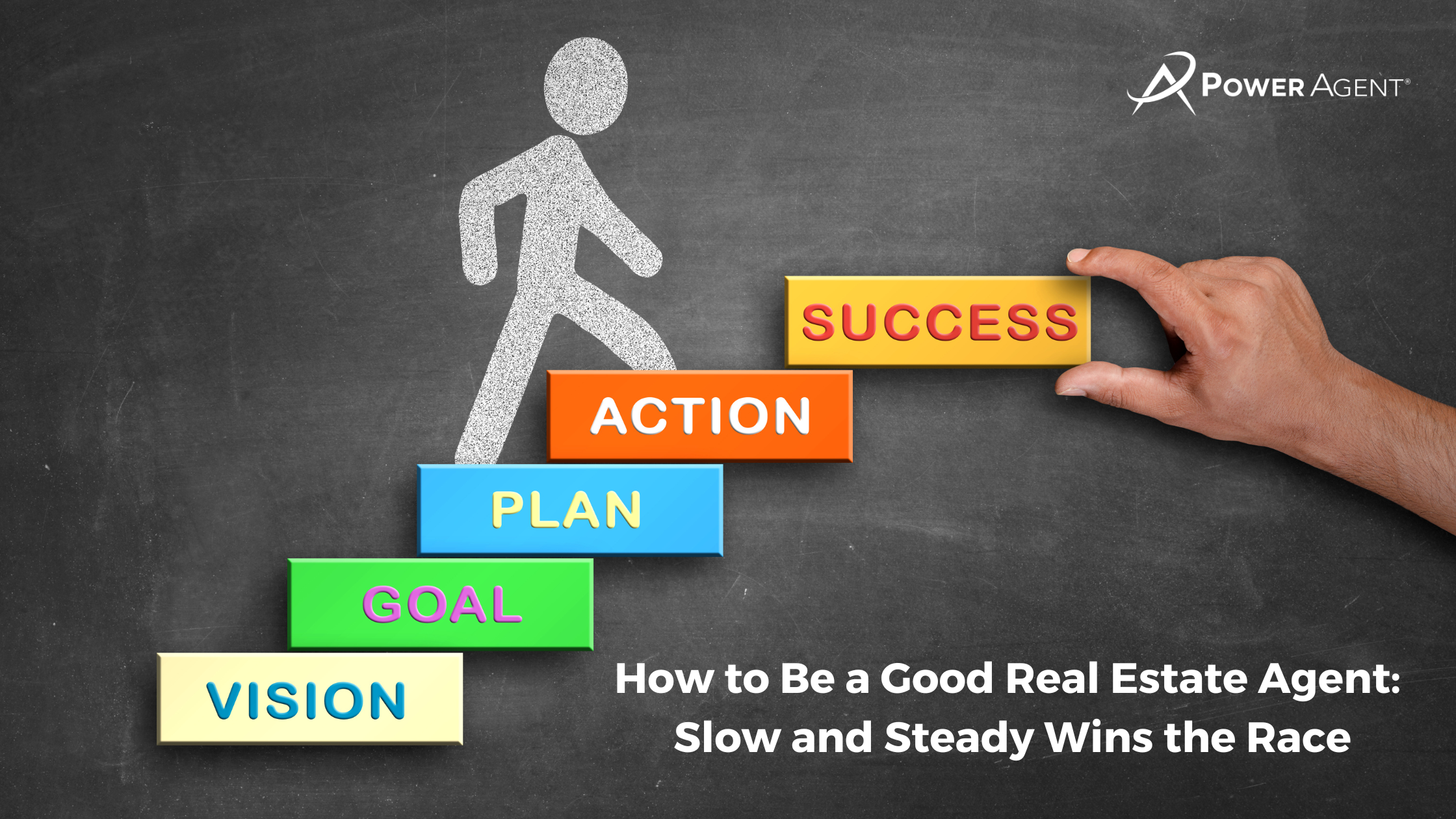 February 6, 2022
How to Be a Good Real Estate Agent: Slow and Steady Wins the Race
Fables are life lessons wrapped in a story, the tortoise and the hare included. What can a real estate agent learn from them? Be steady and consistent!
We all know the story about the tortoise and the hare. They decide to have a race, and the hare takes off like a rocket and quickly gains a sizable lead, so he stops to take a nap because he thinks there's no way he could possibly lose! As you probably remember, he napped too long, and the tortoise won. I bring this story up because I have my own tale to share about how slow and steady wins the race. 
Recently, we got hit with a big snowstorm here in New York, and once it ended, I headed outside to dig us out. I was trying to clear the snow covering my driveway with my snowblower, but the snow was so high that I had to pack the snow down before I could try and move the machine over it. I was sweating from all the work trying to get rid of the snow — and I'm seriously not a guy who likes to sweat. 
I finally gave up trying to push the snow down first and what I discovered is that when I went slowly and gave it a more determined push, I was SO much more effective, and the work was much easier. Sure, it was slower, but the slow pace and consistent pressure pushing against the snow was the more effective way to go, rather than exerting all my energy to try speeding the process up. 
Don't Rush It
In our businesses, when we're trying to succeed and get to our Next Level® and sometimes we try to rush it. When that happens, we end up working too hard and not reaching our goals effectively. Slow and steady (and consistently) wins the race! 
Take a look at your business this week. If you feel like you've been pushing the snow uphill (hello metaphor) and you've not been gaining any traction, then do what I did — slow it down and look for the consistent things you can do every day to move the needle on your real estate success.
Things You'll Find on a Successful Real Estate Agent's Daily Schedule
A commitment to speaking to someone every day about selling their home.
A commitment to speaking to someone every day about buying a home.
Touching base with at least one person in your sphere or farm
Calling a FSBO or Expired
Scheduling or hosting an Open House
Time blocking
An hour of real estate training or coaching or both
Practice or skill-building
Gratitude
Slow and steady. If you do these things daily, eventually, you will see the results. You might even catch some of your competitors napping and gain a little of their market share!
Remember You're a Business, Not Just a Real Estate Agent!
"It was my second year as an agent and I generated 40 transactions in 12 months. This represented an increase of 76% over the previous year because I learned exactly what to say and how to run my business like a business." Beth Baker Century 21 Alliance
What's Next?
Are you ready to start taking things to the Next Level®? We have everything you need to develop new skills and master the ones you already have!  
Power Agents®, for monthly and weekly calendars, and a daily productivity chart — head to the Time and Money Management tab in the Classroom.  
---

Get the latest real estate training tips delivered to your inbox!
Not yet a Power Agent®? Did you know that for LESS than a drive-through take-out item, you can have access to hundreds of marketing, prospecting, and objection handling tools – live weekly coaching, podcasts, webinars, and more?  
Tip: Check out How to Get the Best Valued Real Estate Coaching for $1.55 Per Day! 
Start your Power Agent®  trial and have total access to every tool we have including letters, dialogues, training tips, webinars on-demand, eGuides, and marketing tools for just $5. 
Contact our team today to sign up or get the answers you need: (800) 395-3905!