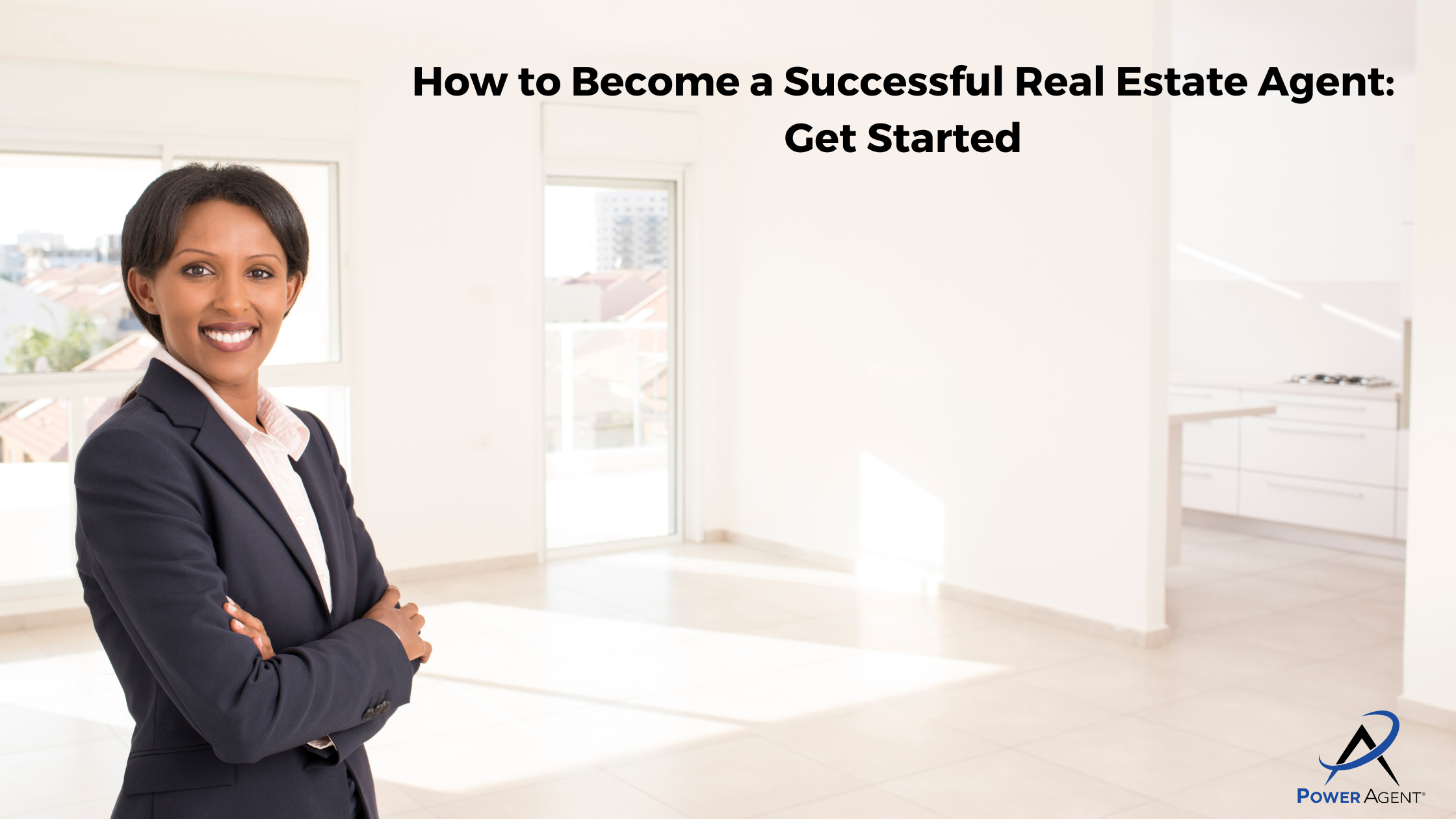 February 6, 2022
How to Become a Successful Real Estate Agent: Get Started
Is becoming a new real estate agent a good idea in 2022? Absolutely! The key is to treat your business like a business right from the beginning.
If you are fresh out of real estate school as a new agent or even a long-time agent who is ready to shake off the dust and re-energize your business, we're here to help. 
You've probably got a LOT of questions! Like…
How do I get started?

Will my real estate company train me?

How do I become successful if I have no experience?
Make time to work IN your business not just ON your business. This is where most agents struggle. They're so anxious about chasing down new business, that they don't put a foundation in place. 
We've got you.
Let's dive into your questions and get you some real estate coaching answers. Sound good? 
First, how do you get started?
Start Thinking Like A Businessperson, Not A Salesperson
Whether you are just getting started or giving your business a facelift, you start in the usual place. You get licensed, you create a solid real estate business plan, then you commit to prospecting and creating relationships. 
One piece of advice that I offer agents is to stop thinking like a salesperson and start thinking like a businessperson. A salesperson often just moves from transaction to transaction without a plan. A businessperson creates a plan, then puts that plan into action. 
A salesperson often takes the approach of "I'll just call until I get an appointment".  A businessperson creates a system and database for prospecting and then forges good habits to make it part of their daily practice.
If you want to become a successful real estate agent, then you need to be a great combination of both salesperson and business person.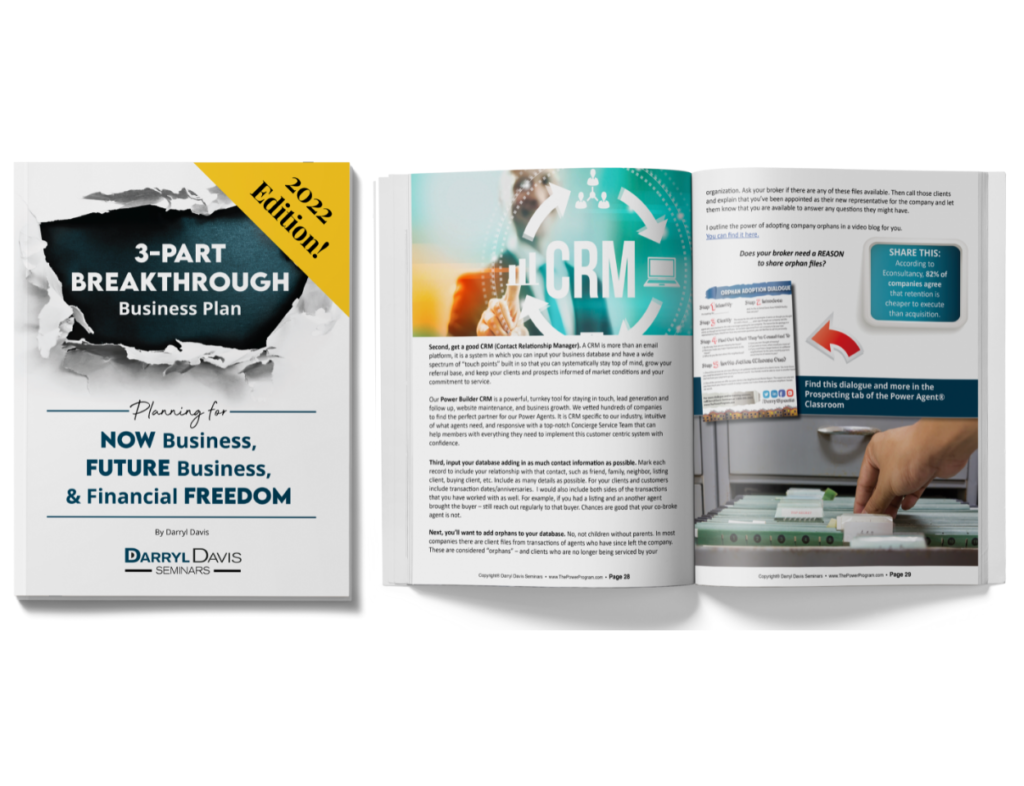 As a Businessperson and a Salesperson – You Need to Get a Business Plan
Let's start off by giving you a real estate business plan you can work with. It's my gift to you.
Get your copy of the Breakthrough Real Estate Business Plan here. It can help you develop NOW business, FUTURE business, and even create a path for financial freedom!
Next, Consider a Real Estate Coach
We know, that might sound self-serving, but hear us out. Business professionals, athletes, performers, and yes –real estate salespeople can shave years off their learning curves and succeed both faster and with more ease by connecting with a real estate coach. We actually offer free training every Wednesday, which might be a great place for you to get started and help get some of your questions answered. You can register at www.PowerAgentWebinar.com. No charge! 🙂 That's on us too! 
Your company may very well provide training too – and if so, kudos to them and to you. Commit to learning. Make it part of EVERY WEEK in the early days of your career, even if it is just 30-60 minutes of online, on-demand training. Not only will it help you feel more skilled, but it will also help you feel more confident! 🙂
"When I took Darryl's course, I was a new real estate agent. That year I generated 71 listings & 64 sales because of the great source of ideas.  Darryl is one of the best real estate coaches in the business. I highly recommend his program to anyone serious about real estate!" – Michael Ardolino,  Realty Connect USA​
​TIP: Not sure whether you need a real estate coach? Check out RIS Media's "Top 3 Reasons You Need a Real Estate Coach" as well as our "8 Great Tools for Creating Real Estate Success Stories"   
It Takes a Balance
There are two parts to this business, and the trick is to balance them. First, there is the "behind the scenes" work, like setting up your CRM, creating an ad campaign, or practicing your dialogues for the listing presentation, or objection handling. Then there is the "on stage" work, where you are actually doing the money-making activities like phoning FSBOs, knocking on doors, having real estate conversations in the grocery store, and showing properties. 
The reason why I'm differentiating these two parts is that when we focus on the back-end of the business, we aren't making money. It's just busywork. It's too easy to say, "But I need all these things in place before I can go out and do the money-making activities! I need to have my CRM updated and I need my PowerPoint to be perfect!" There is a lot of getting-ready-to-make-money, but not a lot of actually-making-money.  I'm not saying you're wrong, those things are important, but if there has ever been a time to learn time management, it's now. Map out your time for working IN your business and ON your business if you want to STAY in business.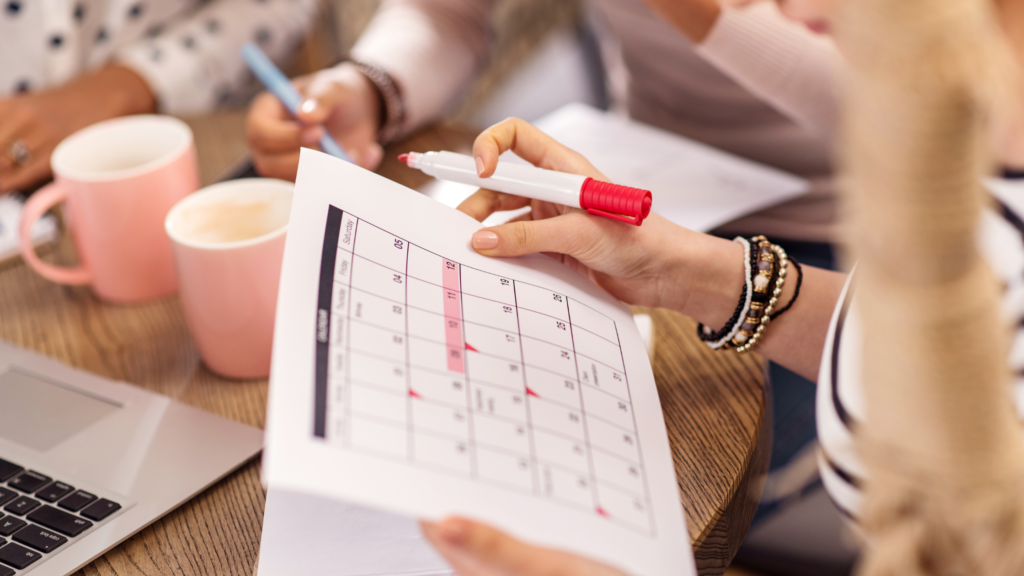 How to Start Blocking Your Time in Real Estate
Take your daytimer or calendar (or whatever you use) and block of time dedicated to working on your business. That frees you up to spend the rest of your time prospecting and making your phone calls and showing homes. If you commit to having two conversations about real estate every day, one with a buyer and one with a seller, even if you are the worst conversationalist, you will start to improve. It will start becoming a natural part of your day. You can't improve in this business if you aren't doing it.  
TIP: For more information on starting your own real estate business, check out this article by Fortune Builders. 
The Piano Analogy
If I wanted to learn how to play the piano, I could hire a teacher, buy all the books, get a piano, even put stickers on the keys to tell me which note that key is. I can even sit at the piano and polish it up so it's shiny and beautiful. I can even put my fingers on the keys, but until I actually start playing and practicing, I'm never going to play a song.  
When I go get around to practicing, I'm going to sound about as good as my cat running across the keyboard. I'm going to make a lot of mistakes, and my neighbors might call the police with a noise complaint. But, the more I practice, the better I get.  
In real estate, you will get better with every phone call, every listing appointment, every open house, and every objection handled. Sure, in the beginning, you may bomb. For sure,  you'll make mistakes. It's inevitable, but it's OK because it makes you better. 
Power Agents®, we have the Onboarding Program in the classroom. This amazing program will take you step-by-step through the process of getting started, building strong habits, or even giving your business a boost! Each module has tasks, reading, videos, and more to help acclimate you to both the real estate industry and the Power Program®.  
TIP: This article, "Real Estate Career Reboot" dives into giving your business a much-needed jumpstart.  
The Most Important Thing
The biggest and most important suggestion we can give you is this: be kind to yourself. You are learning and re-learning how to do this business, so it's OK to not be perfect. It's much too easy to beat ourselves up because we feel stupid, or unproductive, and it can be frustrating when we know we are capable of doing better. That's not empowering, and it's not useful.  
You have succeeded in other areas of life, whether it was a relationship, kids, or a previous career, so you already know it doesn't happen overnight. It takes time, patience, and practice, so be kind to yourself as you grow.  
TIP: Check out our article on Inman: "Failed it! 5 Ways to Grow From Your Mistakes" 
What's Next? 
Are you ready to start taking things to the Next Level®? We have everything you need to develop new skills and master the ones you already have!  
Power Agents®, for some great ideas on how to spread some love and build your brand, check out the fantastic content in the Farming, Self Promotion, and Mailings tab in the Classroom. If you haven't yet, peek into the Time and Money Management tab as well for some tips and tricks to work on the business side of real estate. 
---

Get the latest real estate training tips delivered to your inbox!
Ready to become a successful new real estate agent or know someone who does?  Join us for this week's free webinar at www.PowerAgentWebinar.com. 
Tip: Check out How to Get the Best Valued Real Estate Coaching for $1.55 Per Day! 
Contact our team today to sign up or get the answers you need: (800) 395-3905! 
About Darryl Davis, CSP, Darryl Davis Seminars and the Power Agent® Team
We deliver proven, valuable listing and sales technique training that empowers real estate sales professionals to be more effective and present when they are face-to-face with a buyer or seller. We accomplish this through an online training system and marketing platform at a cost-effective price. We differ from our competitors by teaching a more consultative, relationship-centric training which focuses on helping agents to serve, not sell and to coach not close. 
A one-stop shop for real estate agent success, we deliver the competitive, timely, affordable real estate coaching, training, and customizable marketing tools that allow sales agents to dramatically increase listing inventory, build a stronger business foundation, create customers for life, feel more authentic and confident, have less stress, and design a career and life worth smiling about. 
If you're an agent, we invite you to tap into the platform that has everything you need to succeed with more ease. If you are a broker, industry leader, or education director – we invite you to learn more about how to bring Darryl in for your next sales or leadership meeting and the topics that can help your team get to their personal and professional Next Level®.