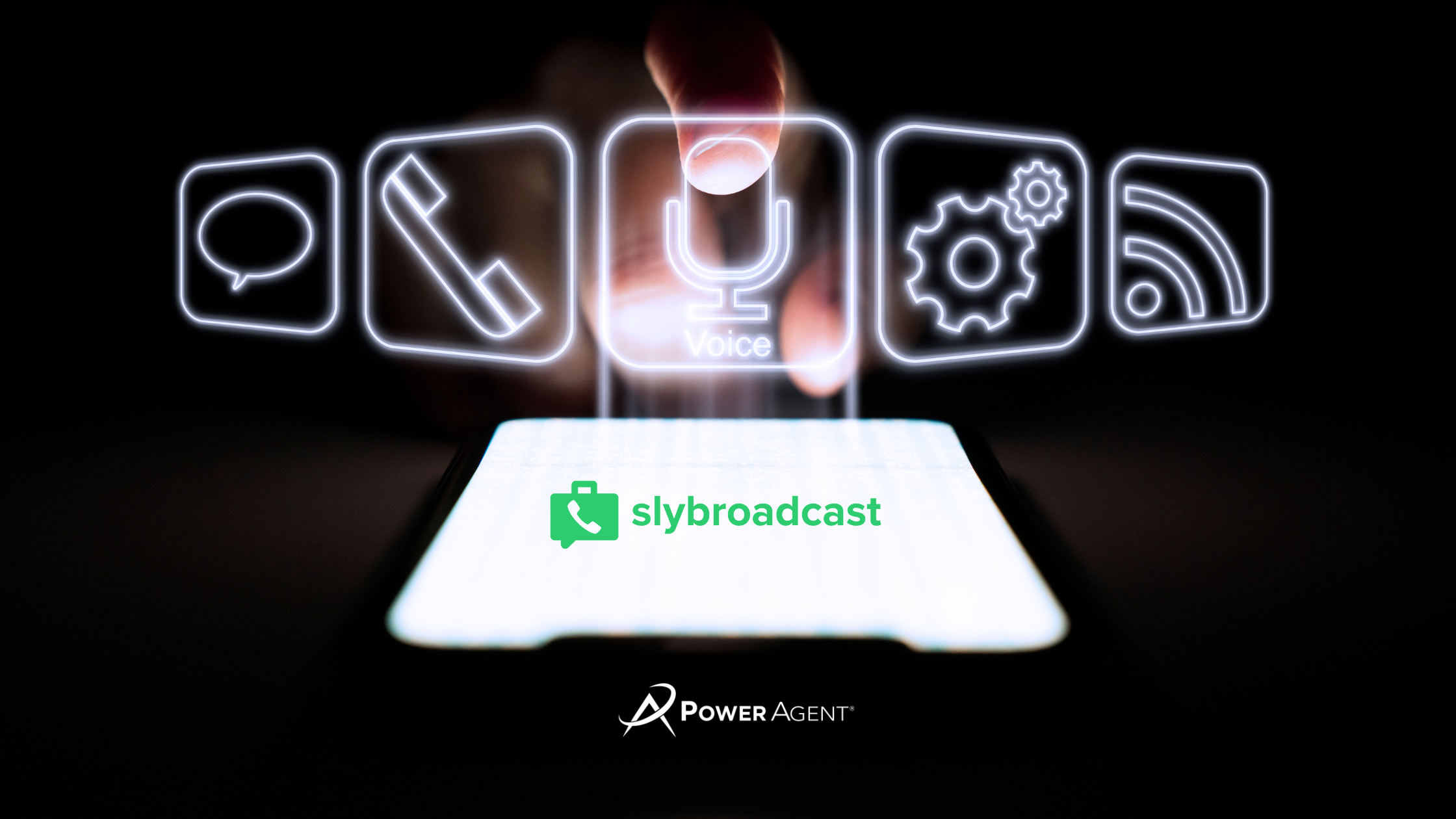 March 10, 2023
6 Slybroadcast "Voicemail Scripts and Texts" for Prospecting
Real estate agents constantly try to stay ahead of the competition, and finding new tech to help save time is one of those ways. Slybroadcast is here to help!
We at POWER Headquarters are always on the lookout for tools that can help real estate agents build and maintain their businesses. This is why we are excited to show you Slybroadcast, which gives you the ability to send voicemails to your sphere and farm areas without the ringer going off and possibly disturbing the people you are trying to win over.  
How Slybroadcast Works
When you first sign up with Slybroadcast, you have the option to choose either a monthly subscription or a Pay-As-You-Go option. At POWER Headquarters, we use Pay-As-You-Go because the number of voicemails we send out each month fluctuates. If you have a steady number that you send out, then a subscription plan may be better for you. Personally, we recommend you start out with Pay-As-You-Go because it doesn't cost you anything until you start using it. 
Slybroadcast is also an incredible time saver because all your calls go out within minutes, which means you aren't on the phone all day! You have the option to schedule your calls to go out when you want them to, and their campaign tracker allows you to measure the success of your call campaign in real-time. 
One of the neat things about Slybroadcast's software is that it doesn't make people's cell phones ring; the message goes straight to voicemail. When you record your message, speak like you are leaving a voicemail and it will sound more personal. Then they see a missed call and listen to your voicemail, and they think it was you personally calling.  
So, how does this process work? Once your account is set up and you have recorded your message, you upload the list of phone numbers that you want the message to go to. You can upload from your CRM or even RedX's Geo Leads and Cole Directory. When you upload your list, Slybroadcast will prompt you to name that list so it can store it for you to use again at a later date. Your messages will also be saved to be used again, so making them more generic when you don't need specific addresses, dates, or times, will help you get more use out of each message.  
What Kind of Messages Can You Send?
The short answer? Any kind you want! Here are a few voicemail dialogues for common situations where Slybroadcast can come in handy: 
Open House promotion for Neighbor's Open House –

"Hi! This is [NAME] from [COMPANY], and the reason why I am calling is that I'm doing an open house for one of your neighbors on [DATE], and I wanted to personally invite you to come. Also, you are welcome to bring anybody that you know. It's a beautiful house. The address is [ADDRESS], and the open house will be between [TIME]. If you have any questions, you can call or text me on my cell at [NUMBER]. Thanks!"

Open House Follow-up Option #1 –

"Hi! This is [NAME] from [COMPANY]. I'm sorry I missed you. Thank you so much for coming to my open house on [DATE]. I don't know if you liked the house or not, but I just want to reach out to everybody who attended. It looks like we're getting several offers, so if you're thinking about putting in an offer, just let me know. If not, but you're serious about looking, I have some other listings that may not be on your radar, so I encourage you to get back to me. My phone number is [NUMBER]. Thanks!"

Open House Follow-up Option #2 – "Hi! This is [NAME] from [COMPANY]. I'm sorry I missed you, but I wanted to reach out to you right away. You came to my open house at [ADDRESS] yesterday. Thank you so much for coming. I don't know if you had any interest, but it turns out we've got a couple of offers coming in, and the deadline is tomorrow for all offers to be presented. So, if you're thinking of it at all, please reach out to me. And even if not, I have a couple of other houses in the same price range that I'd be happy to talk to you about if you're interested. My cell number is [NUMBER]. Thank you!

Just Sold Voicemail – "

Hi. This is [NAME] from [COMPANY]. The reason why I was calling is I just sold one of your neighbor's houses that you may know: [ADDRESS]. The problem is that that listing generated such an interest in the neighborhood, and we have all of these buyers that are looking to buy, and there's really no inventory in the community. So, I just want to reach out to all the neighbors; so if you hear of anybody that's thinking about selling – please pass my number on to them or call me. Also, if you're interested and you want to know what your house is worth, I have what's called the neighborhood market report. I believe every homeowner should do a yearly assessment of their home's value, so I'd be happy to do that for you. There's no charge. I'm just looking to build relationships with you and the neighbors as well. Here's my cell number, [NUMBER]. Feel free to text me if you prefer or call me direct. Thanks!"

Hosting a Buyer's or Seller's Seminar – "

Hi! This is [NAME] from [COMPANY]. I'm just calling because I wanted to personally invite you to our upcoming event, [EVENT NAME], taking place on [DATE & TIME] at [LOCATION]. This seminar will be packed with valuable insights on the current real estate market, as well as strategies to help you achieve your real estate goals. We have some fantastic speakers lined up, and I'm confident you'll gain a lot from attending. To RSVP or learn more about the event, please call me back at [NUMBER]. Space is limited, so be sure to reserve your spot as soon as possible. I hope to see you there! Thanks!"

Prospecting Pre-Foreclosure Homes –

"Hi, this is [NAME] from [COMPANY]. I'm calling because I specialize in working closely with homeowners who have found themselves in mortgage distress, especially during these difficult times and challenging economic situations. Financial struggles for families are at an all-time high, and coping with banks and crises is more than stressful. Just so you know, I have these conversations all the time, and I think it's terrible what these banks and big businesses have done to many homeowners. So, what we're trying to do is help homeowners through this process. I have a seller success system that helps homeowners navigate these challenges, so if you are interested in talking further about this, I can help. You can call or text me at [NUMBER]. Thank you."

 
POWER AGENTS®, check out the Prospecting tab in the Classroom for more voicemail dialogues you can use when calling leads. 
Calling All Real Estate Agents!
Are you ready to start taking things to the Next Level®? We have the tips, tools, and training you need to find Real Estate Agent success, no matter where you are at in your business!  
💡 POWER AGENTS®, you can check out the Time and Money Management or the Tech Tools and Training tabs in the Classroom for even more help building your business, not to mention the fearless mindset to make it happen! Whether you need inspiration, motivation, or validation, we have it!   
💡 Join us on April 18th when Beth George, from Slybroadcast, joins us for "Talent Tuesday" to talk about their services and how to use them to your best advantage! She will host a Q&A, so bring your questions and get ready to learn. 
Not yet a POWER AGENT®? Learn more about the POWER AGENT® PROGRAM!
Join Darryl's Inner Circle Facebook Group.

We are always posting fresh ideas, training tools, strategies, and templates, along with hosting important, timely discussions with real estate professionals across the globe who are committed to their Next Level® of success and life.

 

Subscribe to our newsletter.

Click the button below to fill out a simple form and tap into new resources, free downloads, premium content, and exciting promotions.

 

Reach out and talk to us.

Not sure if this coaching program and community is right for you? Click that blue chat button on the bottom right of the screen, or call us at the number in the header. We are here to help! 
---

Get the latest real estate training tips delivered to your inbox!
Not a POWER AGENT® yet? Give us a go! This comprehensive program provides affordable coaching, training, and customizable marketing tools for real estate agents. It's proven to help thousands of agents significantly boost their listing inventory, solidify their business, cultivate lifelong customers, enhance authenticity and confidence, reduce stress, and craft fulfilling careers and lives.
Start your POWER AGENT® trial and have total access to every tool we have, including letters, dialogues, training tips, webinars on demand, e-Guides, and marketing tools.     
Contact our team today to sign up or get the answers you need: 631-929-5555!